11 SHADES OF ROSÉ….MUCH BETTER THAN 50 SHADES OF GREY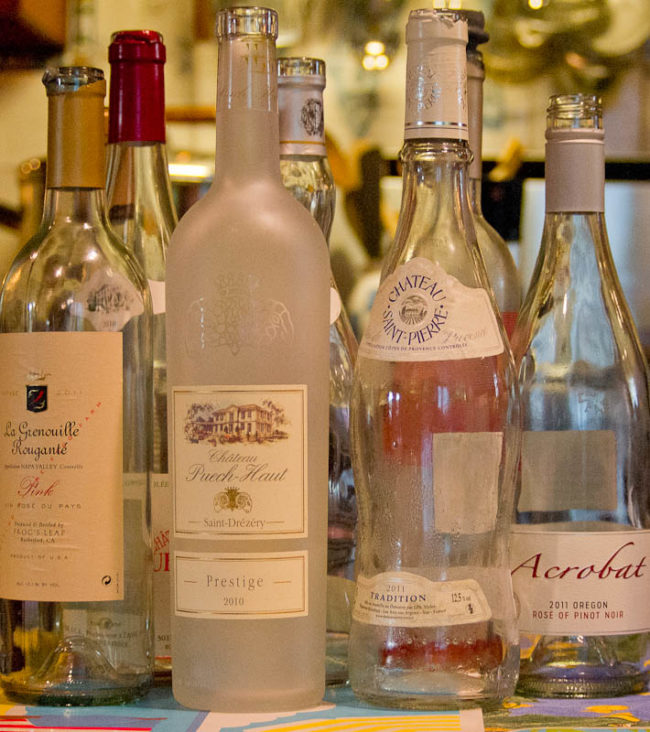 We opened ten bottles of rosé within 24 hours last week. Good friends David and Mark were visiting their old stomping grounds here in Portsmouth. Since we had enjoyed so many rosés while we were together in Provence in 2008, we made those pink wines, now very trendy, our theme for a tasting.
I've always been drawn to a good theme, a propensity that no doubt stems from growing up with my mother who had one for every rendezvous, be it birthdays—Huckleberry Hound, Raggedy Ann, The Munsters, Pink Elephants from Loch's Bakery—or dinner parties—Mexican, seafood, San Diego Chargers. If my mother couldn't get every aspect of the theme to fall in line, she would apologize as if the event was hopelessly inadequate.
In the case of wine tastings, themes are easy to come by, fun, and usually the most instructive approach to tasting wine. For example, do you like Pinot Noir? How about tasting Pinot Noirs from around the world? The same grape in different terroirs? You may be familiar with Pinots from California and Oregon, but how about comparing those wines with some from the Burgundy region of France—where some of the finest red wines in the world are made from Pinot Noir grapes? Add a bottle from New Zealand and that is a terrific wine tasting!
Rosé is made from red grapes. Which red grapes depends on the region where it is produced, but commonly used grapes are Grenache, Syrah, Cinsault, Mourvèdre, Tempranillo, and Pinot Noir. Cabernet Sauvignon and Zinfandel are also used. Several other grapes, in very small quantities, are often blended in, particularly in Provence. Aside from Provence, rosé is produced in Spain, Portugal, Argentina, South Africa, and in the United States, most notably Oregon and California. In a tasting, depending on how it is set up, one may hone in on a comparison of grapes, châteaux, regions, and vintages. These pink wines are a terrific theme!
Warm summers call out for rosé wines in our house and apparently in more and more households around the world—the demand for rosé wine has soared in recent years. Provence, where rosé is enjoyed year-round, is the largest producer of rosé and has long been the standard-bearer of dry rosé. Exports from that region to the U.S. alone grew 62% in 2011. It seems the U.S., where sweet White Zinfandels long dominated this niche thereby scaring away any sophisticated palates, has finally seen the light…and it is pink: retail sales of imported rosé jumped 26% last year.
To whet our taste buds for the following evening of our tasting of rosés, we opened two of our favorite rosés produced in the Luberon: Gargas' Cave Aureto (Indication Géographique Protégée, Vaucluse), a rosé and a whole winery about which I will be writing more soon and Lourmarin's Chateau Constantin-Chevalier (Appellation d'Origine Controlée, Côtes Luberon, a rosé about which I have already raved.
The award-winning Aureto Tramontane (2010) rosé is one of our very favorites. Yes, my dear friend Pierre is the responsable des ventes aux particuliers at Aureto, meaning he is the person who manages the retail side of the winery's cave, but beyond that connection, their rosé is incredibly appealing.
It is a big but elegant rosé that seems to be especially created for spicy Provençal cuisine—think bouillabaisse–but lovely on its own, too. Even the bottle is big and elegant! It is a blend of Syrah, Grenache, and Chenanson. Some of the comments elicited in our tasting include: "a taste of honey suckle," "nectarine or maybe plum," "a finish of peach," "a full-body texture," "beautiful pale rosé color," and "street lights in Paris on a foggy night." I always have a difficult time describing what I taste, but I can say categorically that this is an exceptionally enjoyable rosé.
As faithful readers will recall, we really like the Pétale de Rosé produced by Chateau Constantin-Chevalier. It is a blend of Syrah and Grenache. Among its many pleasing attributes—please read our earlier post—it is "light but has identity," as a friend of mine says.
We thoroughly enjoyed both wines. Accolades were bandied about the table. Interestingly, the alcohol content of both wines is relatively high, reflecting a growing trend among rosé producers to make a more potent wine: the Aureto rosé is 13.5% and the Constantin-Chevalier is 14%. Between the two, the Constantin-Chevalier is a better aperitif wine and the Aureto holds its own better with food.
This was a good warm-up to the next evening's blind tasting of eight bottles of rosé from around the world. We had invited five guests—Rebecca, Nancy, Doreen, Anne, and Vance—to make a total of nine people, a nice number for a wine tasting (somewhere between 4 and 12 people works well). David,
author of Cocoa & Lavender
, prepared a veritable parade of outstanding appetizers and small plates to enjoy with the wine—a good idea when tasting so many wines. Wine tasting purists might shudder at the lack of formality with regard to our pairings of food and wine—we did avoid taste-busters like artichokes and asparagus—but this was about friends and fun!
How do you keep track of your thoughts about the wines you are tasting when there are so many? When we lived in France, I was often frustrated because by the time I was on #5, I had definitely forgotten the details of #1. (I often relied on my husband who has a much better mind for wine details than I do.) And juggling a pen, the stack of paper on which I had scratched my notes, and the wine glass is an acrobatic act I was never destined to do well. In Bandol, at a tasting of new vintage wines, I dropped my notes and the wind quickly swept them into the harbor!
So, based on an approach we had seen (and used) in Beaune, charming village renown for producing some of the world's legendary white Burgundies, we created "wine rings" and later wrote a booklet that simplifies the tasting of wine. When tasting a lot of wines, it is a terrific way to record your thoughts about the wines—by the end, the beginning is much easier to remember and since the rings are wrapped around the stem of the glass, there is no chance of them blowing in the wind.
Tasting wines is personal. It is all about what appeals to you. It is a social experience because everyone experiences taste and smell differently and, even when you all agree that the wine is good, you may each describe it differently…and that is where the fun begins. I say "peach" and you say "banana." Hmmm.
A blind tasting means that we do not know what we are tasting—wine bottles are placed in bags and identified by a number—which makes for even more fun. I love blind tastings—the discussions are lively and results can be very surprising!
For our wine tasting, each guest was asked to bring a bottle of rosé. We didn't provide any other instruction (such as region, price, grape variety, or vintage). Upon arrival, we whisked the bottles away and into our wine cellar (read basement with wine racks) where we determined the order of presentation, bagged, numbered, and tied with a ribbon each of the bottles. I tried to order the wines from lightest to heaviest (as you would in any wine tasting) while also bearing in mind the grapes that were used (so that comparisons would be made between, say, 100% Tempranillo and 50% Tempranillo with 50% Grenache).
Not knowing what our guests would bring, we had purchased several bottles of rosé to enable interesting comparisons of factors like grape variety and region. Fortunately, we invited friends who were really excited about the tasting and all brought interesting and good bottles of wine.
We began our tasting with two bottles (and a crudité with homemade curry mayonaise). Since some of us had never met and others had not seen each other in a long time, I thought that we could casually taste two bottles and still chat with one another. We started in our living room with a bottle of Château Puech-Haut (2010) from Coteaux de Languedoc and a bottle of King Estate Winery's Acrobat (2011) from Western Oregon.
The first wine is a blend of Grenache, Syrah, Mourvèdre, Cinsault, and Carignan. The second wine is a single variety rosé of Pinot Noir. They are both very pleasant, relatively light rosés with the same alcohol content (13%) but with distinctly different noses, tastes, and, finishes. Also, the wines were very different colors.
The French rosé was a very refreshing wine to start the tastings. "Grapefruit," "Plum," "Citrus," "Lyrical," and "Floral" were descriptions that poured forth. The Pinot was distinctly different and a real treat. "Berries" was the dominant response and more specifically "Cherries" and "Raspberries." "Chocolate cherries" was another. The colors were strikingly different: the first wine being a beautiful coral color (in an elegant frosted bottle) and the second wine being a lovely wild salmon color. I would (and later did) buy these wines.
We then moved into the dining room where six wines awaited us, along with more food. Each bottle was wrapped in a brown paper bag, tied with a ribbon, and numbered 1 through 6. They were chilled, with cork or screw-top removed, ready to be tasted. Each person had six rings, also labeled 1 through 6, a pen, and the wine-tasting booklet. (There would be no time to read the booklet, but the long list of adjectives used to describe wines is often helpful.)
The first wine was very light: (2011) from Coteaux d'Aix-en-Provence, a French rosé composed of a blend of grapes almost the same as the first wine tasted but from a different region. It was more dry, perhaps due in part to the addition of Cabernet Sauvignon to the mix. I did not find it appealing—to my palate, there was very little nose, taste, or finish. This is a wine that, to me, is "quaffable." But, everyone else liked it. (It might be noted that I was the only one who knew that it was a very ordinary bottle and very inexpensive.)The second bottle was a Portuguese rosé made from Syrah (50%) and Tempranillo (50%) grapes: Defesa Rosé (2011), produced by Herdade do Esporão. It had a much more defined presence than the first wine. "Berries" were what several people said, referring to black berries, raspberries, and cherries. "Cigars" was a descriptive that initially silenced the table while everyone thought about it and then replied with a resounding "yes" that it did have the vague essence of cigars! The nose was pleasant and the finish was short and pleasing. It went really well with our bruschetta with tomatoes and saffron and potted salmon. I would definitely buy this wine.
The third bottle, from Southern California's Temecula Valley (not exactly on the radar for producing particularly good wines), was the surprise hit of the night: South Coast Winery Tempranillo Rosé (2010). I had just been to Temecula where my brother John and niece Annie and I had done a little tasting—we had a great time but struggled to find wines we really liked. I picked up the aforementioned rosé, not because I was such a huge fan of it but because I thought it would be an interesting point of comparison at around $14.00. It is slightly sweet and very fruity, moving in the direction of a Sauterne. At our tasting, everyone loved it, including me! It was probably a nice switch from the dryer rosés and I think it went exceptionally well with the curry hummus and the mushroom caps stuffed with chèvre.The fourth wine, a Spanish wine, was not surprisingly made with Tempranillo (50%) and Grenacha (50%). Called Cortijo III (2011). It elicited more descriptions of various berries—I would definitely agree—but also of rosés and grapefruit. I think that this wine was refreshing, particularly following the South Coast Winery single-varietal Tempranillo. It went very well with our (delicious) verrines of lobster, mango, avocado, and tarragon.
The fifth wine was a classic rosé from Tavel, an appellation that produces only rosé. Grenache dominates the blend of grapes that may also include Syrah, Cinsault, and Claret. This wine came from Chateau d'Aqueria, one of the oldest and largest estates in the area and well-known for their robust, spicy wines infused with berry, herbal flavors. This 2010 bottle was full of flavor—adjectives were flying around the room. "Zingy," "Hearty," "Strawberries, "Fresh cut grass" are among those I remember. The color is a lovely deep pink and the alcohol content is 14%. Tavels are heartier than those from further south in Provence. I more partial to those further south, but this was an outstanding Tavel and would make me seek out more!
The sixth wine took us back to California, to Napa Valley which is much further north than Temecula Valley. This wine is a blend of very different grapes than those tasted earlier: 59% Valdigue and 41% Zinfandel. La Grenouille Rouganté (roughly translated "The Red Frog") is produced by Frog's Leap in Rutherford, California. This 2011 bottle has a label that is designed to look like a French label, suggesting perhaps that it is a worthy comparison to French rosés. Perhaps so. Our group thought "Berries," "Spicy," "Cinnamon," "Tannins," "Watermelon," "Soil." By the end of the evening, our taste buds were fading and me the note-taker was more concerned with the salad that we all agreed went really well. (It was made of arugula, fresh figs, pistachios, and parmesan and tossed with a balsamic vinegar dressing.) We all agreed that we liked this California rosé.
We ended the evening with an unveiling of all the wines and the opportunity to compare and contrast them again. Dessert was an exquisite peach tart.What a memorable time!
A couple of post-tasting notes that I want to pass on.
We opened one more bottle, in the name of research of course, to prime the mood to write this post. It is a 2011 Château Saint-Pierre, Côtes de Provence Appellation. Located in the heart of the Var Department where many wonderful rosé wines are produced, this is a gem. I taste the most elegant creamsicle I've ever had. "Ethereal" is a word that others have used to describe this one. "Watermelon, strawberries, and vanilla bean" my husband says. It is an exceptionally pleasing rosé (and certainly contributed to producing the right mood to write this long piece!).
Support your local wine merchants. They will help you select wines and many merchants will keep track of what your guests have purchased so that your tasting will not have duplicates. They are a wealth of information and ideas. In Portsmouth, New Hampshire, we are lucky to have several, two of which we regularly patronize and encourage you to do so, too!
Eight wines are a lot of wines to taste in a given setting. Make sure to have a spittoon (i.e., an attractive container for disposing of wine left in the glass or for spitting).We had some wine left over. Of course, we drank some the next day but we also marinated sliced peaches and pluots in the rosé with a little lemon rind and mint. We served it on a semolina cake the following day!
I want to underscore how well rosés go with food. This article focuses on tasting rosés but I could easily—and will in the future—write about foods that pair exceptionally well with rosé. The list is quite extensive—almost any Mediterranean meal, traditionally Provençal food, pizza, salads, burgers, grilled meats and seafood, to provide just a few examples.
We will be travelling to Provence soon, to our beloved Lourmarin, where we will be tasting rosés from the Luberon and well beyond. We are huge fans of Bandol's Domaine Ott and Chateau de Pibarnon rosés—who isn't?—and might even dip down there. I don't claim to be a well-educated wine-taster, but I can pass on what we like—so, I will take good tasting notes for future articles.
We have, for several years, considered taking groups of folks on rosé-tasting tours, punctuated by visits to markets, cooking classes, and peeks at whatever else is in season when we go…truffles, lavender, and concerts. Let us know what you think!