NO NEED TO GO TO PARIS ANY MORE—I'VE LEARNED TO MAKE MACARONS!
by Susan Manfull

MacaRONS versus MacaROONS
First, let's establish that I am referring the famous Parisian macaron that, in recent years, has become trendy on this side of the big pond: the colorful meringue-based cookie that forms a sandwich around ganache, buttercream, or jam filling. The other cookie, the macaroon, is an American creation: the dense, thick single cookie made with coconut. Macaroons are delicious but they are no macarons.
There is some confusion here because the English translation of "macaron" is "macaroon." Most French words that end in "-on" become "-oon" in the English language. Think balloon (French: ballon) and festoon (French: feston).
By the 1500s, the macaron—which is not the macaron we know today—had emerged as a dessert in Italy, Spain, France and England. It was called "macaroon" in England. At that time, it referred to a (single-layer) cookie made with almonds and egg whites as well as rose water and spices and herbs today's cook would consider exotic. Interestingly, this cookie probably had its start in Sicily but its origin has been traced back to an Arab sweet made of almonds that was popular in the 9th century in what is now Tunisia. The earliest recipe for this cookie was found in Martha's Washington's handwritten cookbook that her family brought to the New World in the early 1600s. (At the risk of confusing matters further, the First Lady's recipe referred to "mackroons.")
In France, shortly after its introduction, the macaron began to evolve toward today's cookie (without the rose water and other herbs and spices from its Arab roots). In 1652, the first modern recipe for the single layer almond macaron was published in The French Cook, a cookbook written by François Pierre de la Varenne.
It was not until the late 19th century, when coconut entered the picture in the United States, that today's coconut macaroon was…
born. Recipes for this new cookie appear in Jewish cookbooks in the late 1800s, with grated coconut replacing the finely ground almonds. It remains a popular cookie today, especially during Passover.
Meanwhile, in France where the macarons were served in pairs—flat sides together like an empty sandwich—a clever baker got the idea to put some ganache or almond paste in the middle. Apparently, two Parisian bakers take credit for the idea—Claude Gerbet and Pierre Desfontaines—but it is generally agreed that it was a relative of Desfontaines, proprietor of the tea and pastry shop Ladurée, who made the new Macaron Parisien famous.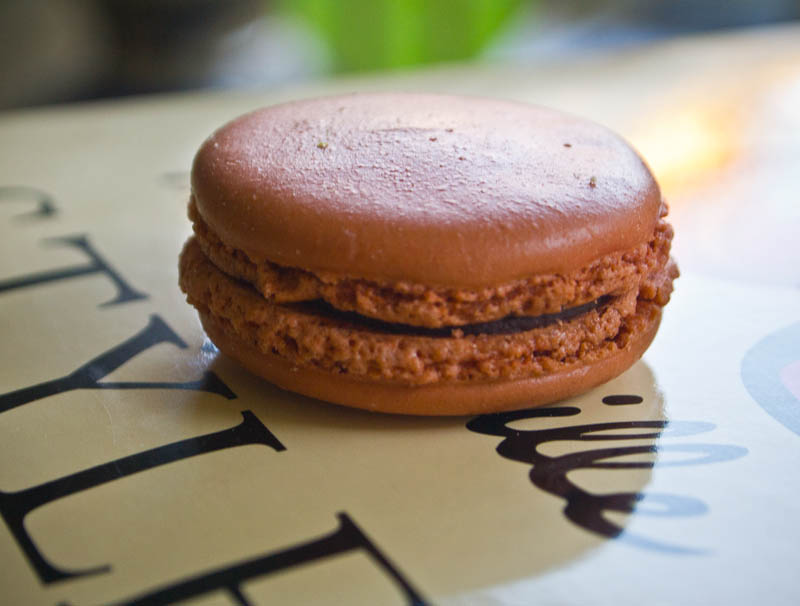 And the rest, as they say, is history. For the full version of the long and convoluted history of these two cookies and their relationship to macaroni, read Macarons, Macaroons, and Macaroni: The Curious History.
Now, back to macarons.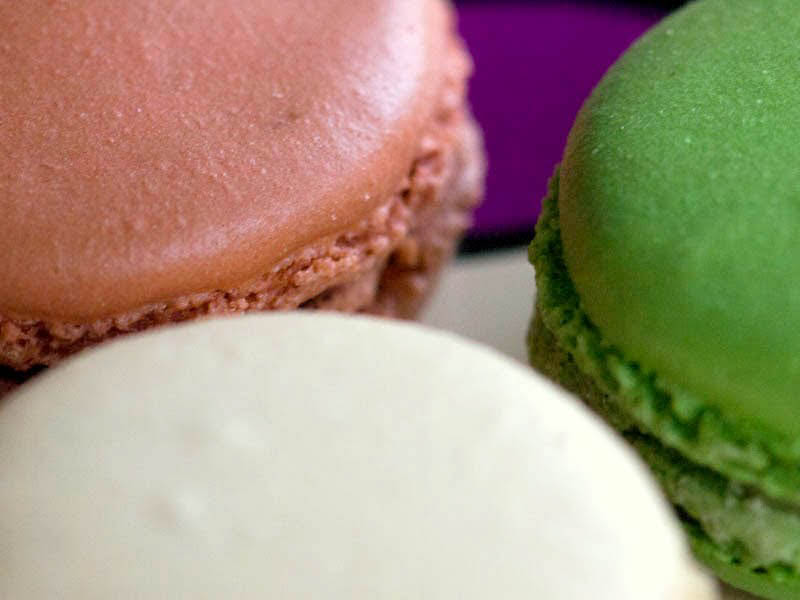 Our French Macaron Class at Mille Feuille Bakery
It was a much anticipated class for us. As faithful readers may recall, Towny and I discovered Mille Feuille Bakery in New York City's Greenwich Village several weeks ago and were bowled over by the authenticity of their pain au chocolat and other French pastries.
Although we had devoured several pastries already and were expected at lunch soon, we couldn't resist the temptation to try just one macaron—a salted caramel version. It was exquisite: two perfectly formed round meringue wafers, each with a firm smooth surface and an ever-so-slightly chewy center that, together, sandwiched a rich mound of salted caramel. As I wrote, pinch me 'cause I think I've been transported to Paris!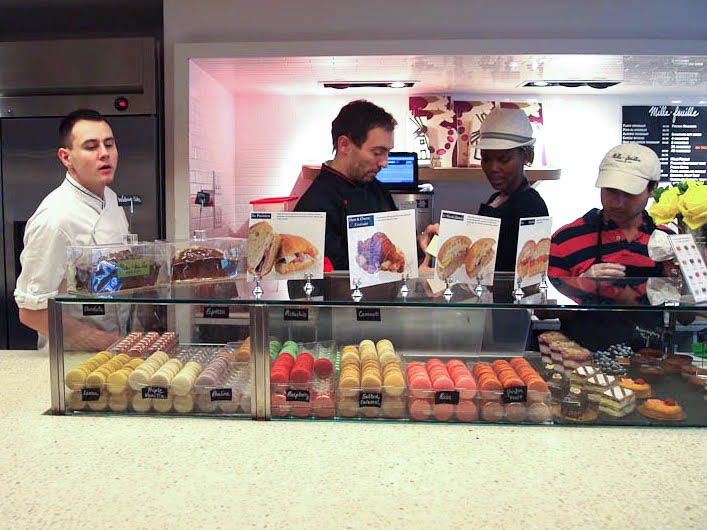 We vowed to return for the class to learn how to make our own macarons. Last week we did.
We had a full class: Sarah Gorz, who is studying to be a chef and flew in from Chicago to take the class: Helicopter, who spends a fortune satisfying his love of macarons: Rebeca Villarello who also loves macarons and accompanied her friend, Swany Velazquez who plans to make macarons for a very special upcoming event.
Owner and Chef Olivier Dessyn led the class with excellent assistance from Jérémy Jan. Our goal was to learn how to make three flavors of macarons: chocolate, vanilla, and pistachio. And, we would go home with a box of 30 macarons to prove it to friends and family. We were all giddy with anticipation.
After our initial introduction to the pastry we were about to learn to make, we began with preparing the "macaron dough" for the meringue cookies/shells. We divided into pairs and a huge spoon was thrust into one partner's hand with instructions to mix the confectionary sugar and almond flour.
Then, we switched to a spatula and folded in the egg whites and the coloring (to complement the filling). Chef Olivier was adamant that we "folded" in the egg whites—not stir them in—and that we do it consistently from the back of the bowl to the front of the bowl.
It was the first of many examples of this exceptionally talented chef's attention to detail in order to achieve a perfect result. I thought I knew how to "fold" in egg whites, but he patiently worked with me—and the others—to demonstrate exactly how to accomplish this task. He placed his hand on top of my hand—which held the spatula—and together we moved the spatula from the back to the front of the bowl until I got the technique just right. The dough eventually began to change form. It would be ready when the batter would fall from the spatula like a ribbon.
Already my pastry-making skills were challenged but both teachers were very patient and there was a lot of laughter as we all watched our respective batters change texture and color. The color of each batter grew very intense—folding rather than stirring was a particularly important component to this process.
For the next stage, I was really glad that Sarah, the soon-to-be-chef classmate, was my partner. We had to carry out two critical tasks simultaneously: in a pot at the stove and in a bowl with a blender!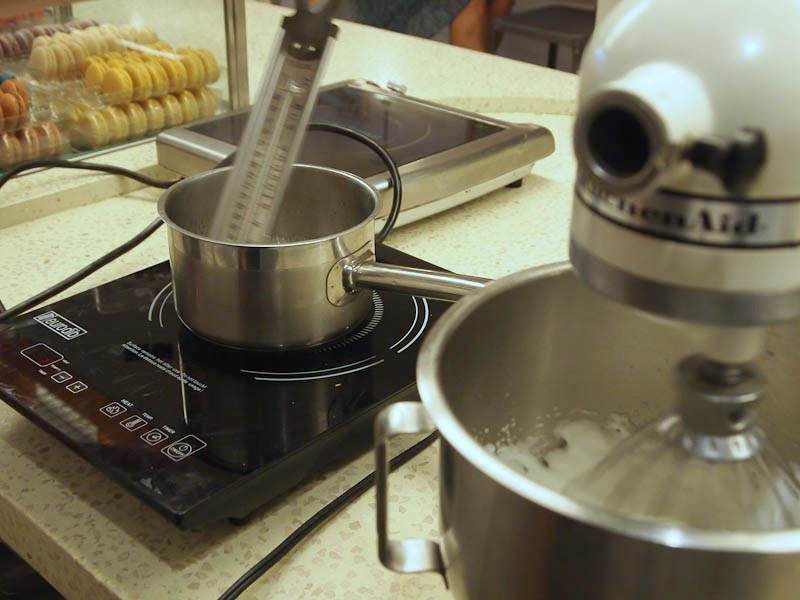 As the pot of sugar and water was heating up, we began to gently whip the egg whites (liquid and dry). When the sugar melted and the mixture boiled, we were to increase the speed of the blender. We needed to monitor both—if the egg whites were getting too stiff too fast, we had to lower the speed all the while watching the thermometer in the pot so that we would be ready to immediately pour that liquid into the properly stiffened egg whites when the temperature reached 118 C (245 F). Laughter subsided as the kitchen filled with concentration.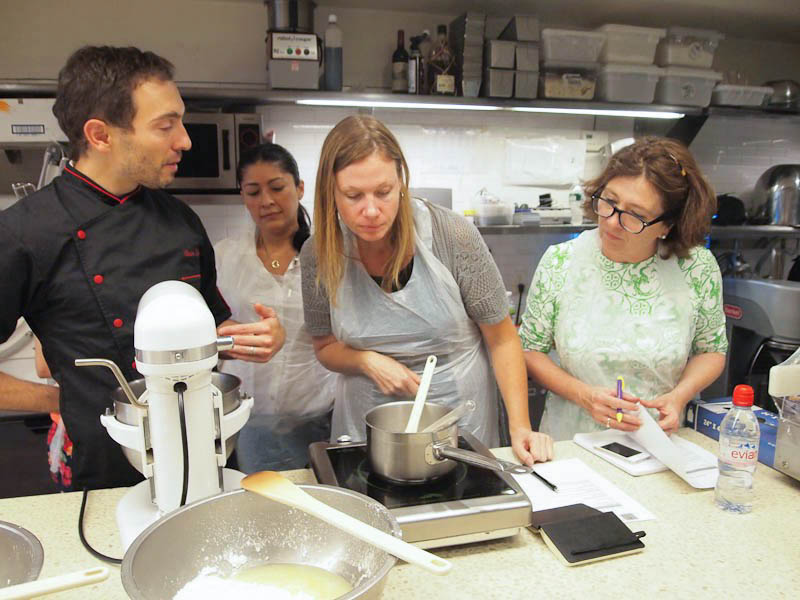 Chef Olivier demonstrated how to pour the hot liquid into the egg whites, along the side of the bowl while raising the speed of the mixer, so that the sugar is blended well. We continued mixing it for several minutes and then folded that mixture into the first mixture. At that point, our batter was complete. A collective sigh was audible.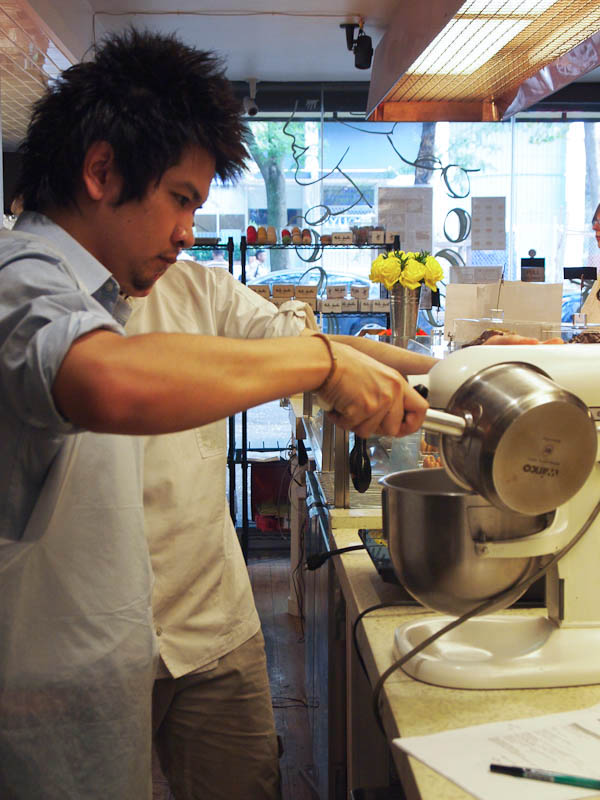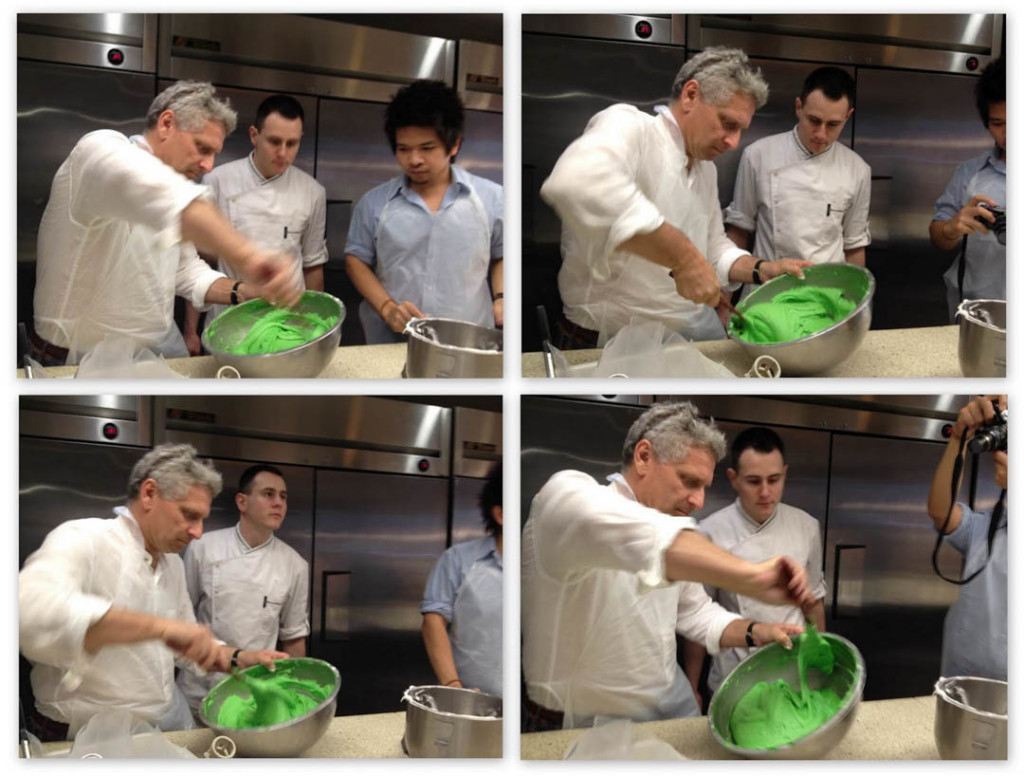 For the next stage, we were each on our own. Armed with a pastry bag and tip, we were going to make the meringue cookies. But first, we had to fit the tip into the bag and fill the bag with one of the batters. Sound easy? I felt that I had two left hands. To avoid the batter coming out the tube while filling it, one had to twist the bag just above the tip and shove that twisted part into the tube. Well, my twists were just not working!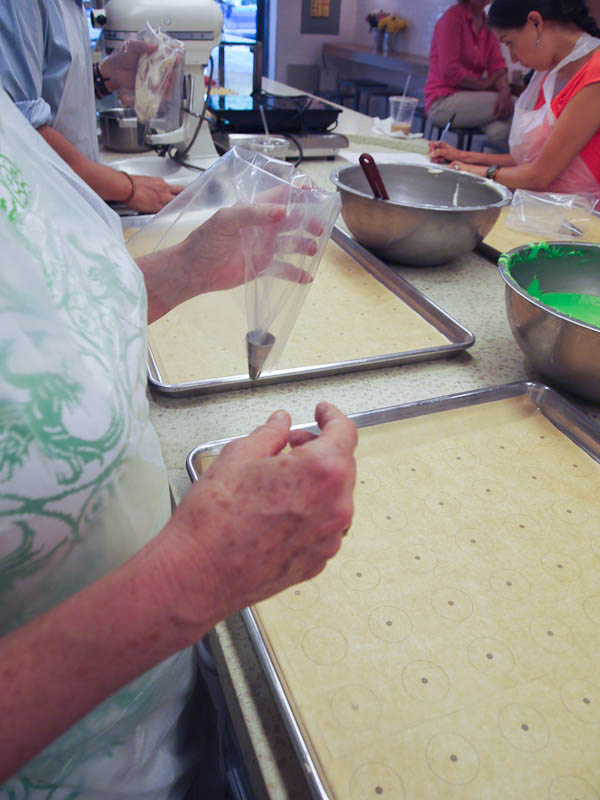 Jérémy came to the rescue and, seeing that I was not destined to be a pastry chef, he stood by my side for the rest of this stage…whew!
We each received a large tray that was lined with paper imprinted with rows of the correct-size circles for the shell and then topped with parchment paper. We were to pipe six rows (two of each color) of circular mounds of meringue dough on to the parchment paper. The imprinted circles were to make this task much easier—good macarons are perfectly uniform in size—but it was still not easy! You don't want the mounds of meringue to be too thick either!
Jérémy was very patient with me—he politely shook his head and scooped up my ill-formed mound of batter from the parchment paper and put it back in the bowl. This went on at least a dozen times. He patiently demonstrated how to hold the bag of macaron dough, how to squeeze it out, and how to terminate the process—until I got it right. Perfect. I thought I never would!
But finally I did…and was so pleased!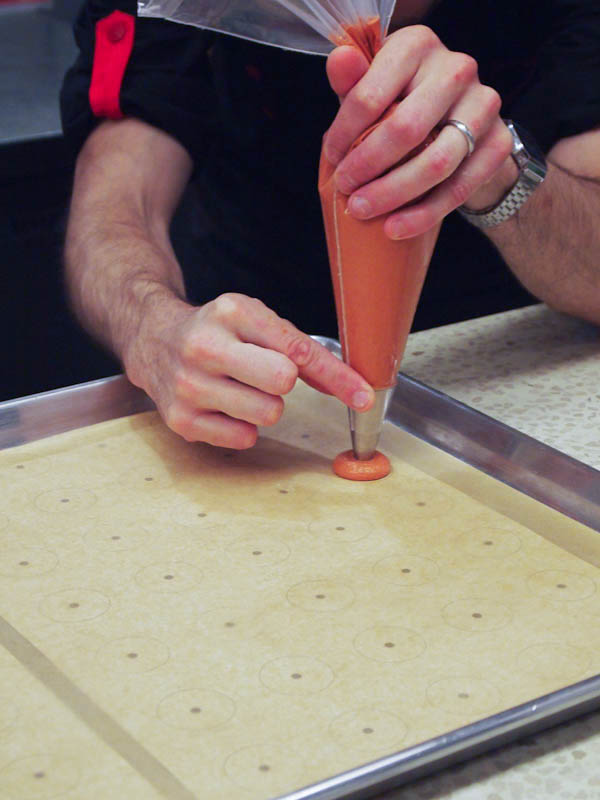 After two rows of one batter, we moved on to the next batter and two rows, and then to the third batter. After completing each of the two rows, Jérémy or Chef Olivier would carefully check them and then give the bottom of the pan a good wallop (to help to ensure uniform size and thickness). We each proudly wrote our name on our pan.
While the meringue cookies rested at room temperature, we proceeded to make the ganache. Chef Olivier uses ganache because he prefers its taste and feels its texture works best with the meringue shells. Buttercream, he said, gets too hard in the refrigerator and, when macarons with buttercream centers are brought to room temperature, the filling gets to soft and soaks into the shells. He uses real fruit purée occasionally, but never jam.
We made three versions of ganache: chocolate, vanilla, and pistachio. Chef Olivier always uses Valhrona chocolate, always uses vanilla beans (never liquid or paste), and always uses unsalted butter (I don't think salted butter is available in France). (For those of you who don't spend a lot of time in the kitchen, Valhrona chocolate and vanilla beans are very expensive.)
We each got to have a tiny taste—the fillings were heavenly and I wished I were home so I could "lick the spoon."
The cookies rested for 30 minutes and then baked for 11 minutes at 160 C (320 F). They would be ready when they were not sticky. While we waited, Jérémy filled more pastry bags with the ganache.
It was so gratifying to receive our respective pans of meringue cookies. Mine, of course, were perfectly formed so it was easy to pair cookies by size. The next task was to pipe the ganache on to one cookie and carefully place the matching cookie on top. Here, again, both teachers were fastidious with regard to the correct amount of filling to be used—not too little but not too much. And, any remaining crumbs that had attached themselves to a cookie were brushed off. Macarons clearly are divine creations of taste but also of appearance.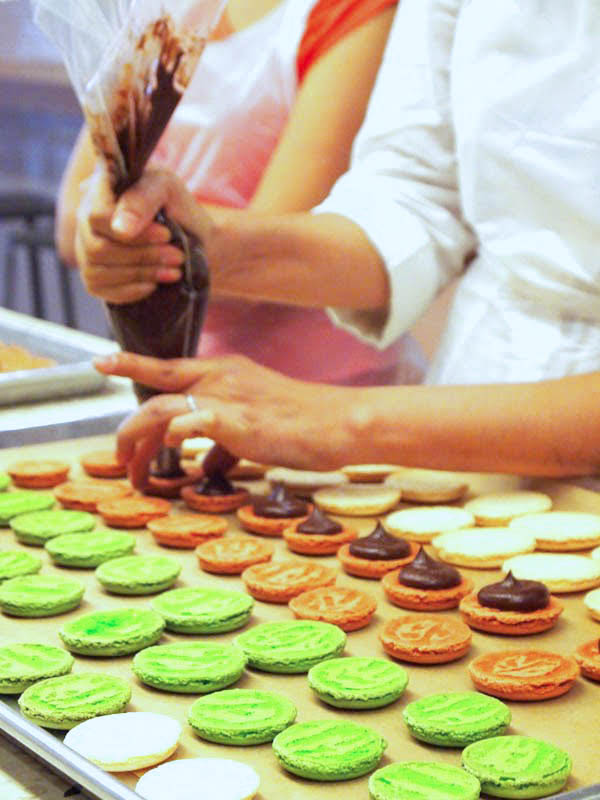 We were ready to fill our respective boxes with our own macarons. Huge smiles emerged on every face in the kitchen. Three hours had flown by and we each were leaving with a beautiful box of 30 macarons, a real sense of accomplishment, and clear understanding of why macarons are as expensive as they are.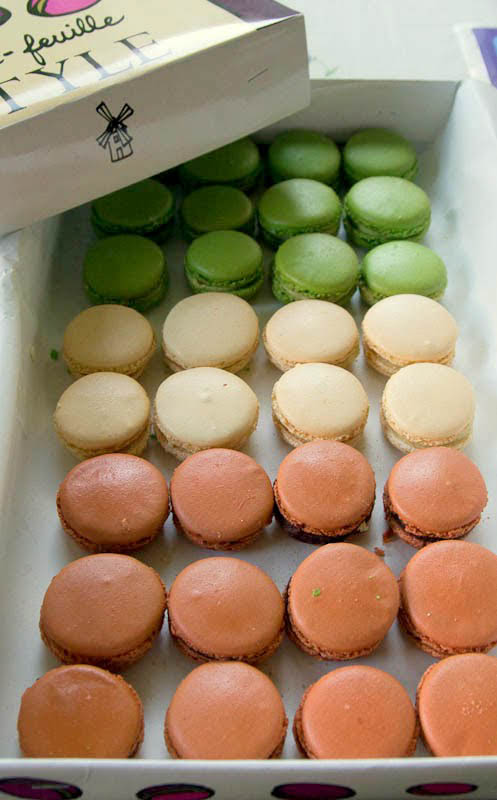 This class was terrific! I think we will sign up for the croissant class!
I may have exaggerated a little in my title—I may not need to go to Paris for macarons, but I still need to go to Paris!
_________________
The macaron classes are offered on Saturdays in the kitchen of the bakery. The cost is $120 – $135 per person, depending on how many people sign up with you; my husband and I both signed up, making the fee $130 per person. The class lasts 2 ½ hours to 3 hours. Click here to sign up for macaron or croissant classes