BETTER CALL WALTER
by Susan Manfull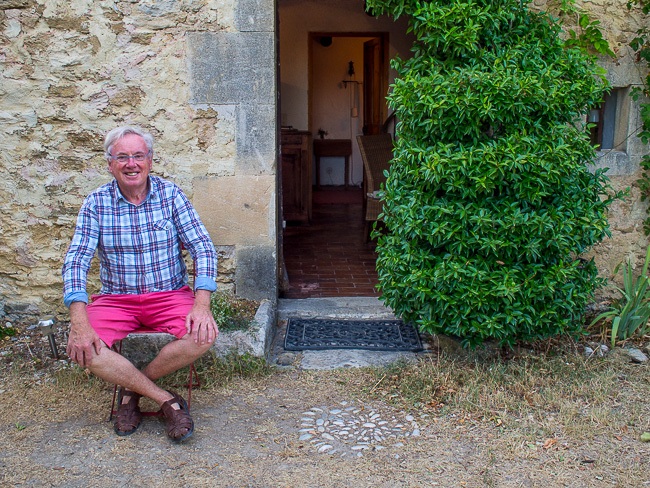 Last year, about this time, my daughter and I were on our way from Lourmarin to Château d'Esclans in La Motte, about 150 kilometers away in the département of the Var. There, we were to meet with Tom Schreckinger, Communications Director for the Château, and Patrick Léon, chief oenologist for the château, for a tasting and conversation at the harvest lunch. It was the middle of the vendange in that part of Provence and, per the custom at that estate, they were serving a leisurely, multi-course meal for the grape pickers and assorted guests. It is about a one-and-a-half hour drive due east, mostly along the A8, and we had planned our time accordingly.
We stopped by Café Gaby for reinforcements of caffeine and protein, dropped off the week's stock of recycling, and lastly, filled up the rental car with fuel in Puyvert. With some degree of smug self-satisfaction, I thought we were on our way — mentally complimenting myself on a morning efficiently spent, a departure smoothly orchestrated, with plenty of time to spare — but as we pulled away from the service station, the car abruptly jerked. Did I shift into the wrong gear? No. The gas pedal was not as responsive as it should have been.
I replayed my actions at the service station; then, my heart stopped. "I couldn't have," I thought. But, mon Dieu, perhaps I had.
I had filled the diesel-powered car with — gas. And worse, driven away. As for why my brain let me down at this particular moment, having rented many diesel cars over the years, this would be a futile exercise. In the aftermath, the rental agency employees made a kind-spirited gesture in saying there should have been a sticker inside the cap cover reminding me of the fuel type. But, no matter what the reason, we had a real, serious problem: a non-functioning car, sitting 150 kilometers away from an event beginning in two-and-a-half hours, with time swiftly evaporating.
Better call Walter.
Walter, of Rent Our Home In Provence, specializes in finding the right vacation property for travelers from around the globe, each with varying wants and needs but all with the desire to find the right home for his or her holiday. He oversees about 25 properties in and around Lourmarin and does an impeccable job. And crucially, at that moment last September, Walter is, well, a fixer.
Walter answered his mobile phone in two rings. I explained to him what I thought I had done, as well as where I needed to be. There was his characteristic "uummhhh" — half pitying sigh, half the sound of Swiss-born rapid mental calculation — that followed as he absorbed the full extent of the disaster at hand.
"I will call a driver and have him meet you now," he said. "He can take you to get another car or to La Motte."
I finally exhaled. I called Hertz who, as I wrote above but it bears mentioning again, were very kind and even comforting. There was no judgment in the representative's voice when he plainly informed me the car could not be driven without extensive repair so he would send a tow truck and arrange for another rental car to be waiting for me at the Aix-en-Provence TGV station, the closest rental car location. Remarkably, the truck rolled up about 15 minutes after I called and, as if choreographed, Walter's driver pulled in right behind him. I had planned to have the driver take my daughter and me to the TGV station to pick up the new car but, somewhere between the "misfueling" episode and learning that the expensive consequences were not covered by insurance, I decided I was not going to be a designated driver — I wanted to savor a full glass of Garrus, Château d'Esclans' renowned top-of-the-portfolio rosé.
In the end, it turned out to be a great day. We got to taste the latest vintages of the full line-up of d'Esclans rosés with the indomitable Tom Schreckinger; my daughter was thrilled to have a tour of the cave as well as the chapel where her beloved Whispering Angel was conceived; and I had the immense pleasure of chatting with the renowned Patrick Léon. I shudder to think, however, what I would have done without Walter.
When one travels to a another country, it's nice to have someone on the ground to help. Even before you set foot on the foreign ground, you may want someone to fill your refrigerator, make dinner reservations, arrange concert tickets, pick up rental bicycles, find a chef-au-domicile. These are rather mundane tasks that you could do yourself but, especially if your vacation is the typical American one-week off, such help is very practical.
Walter finds great pleasure in working with clients from around the world and, having traveled widely himself, is sensitive to different cultural experiences. Many of his customers come from the United States, the United Kingdom, Australia, New Zealand, Scandinavian countries, and South Africa. Walter works closely with people to find the right vacation home, whether for a short-term/vacation stay or a long-term stay, and, if he doesn't have availability in the right home, he works with other property managers. He feels particularly gratified when he has return visitors, a second time, third time and then every year.
"It's very rewarding to learn that they are returning because they enjoyed my services," Walter told me.
When you find yourself in a jam in a foreign county, such help is a godsend. The array of possible ways for things to go awry is endless. We have been popping in and out of Lourmarin for nearly 20 years. There was the time we needed advice about which hospital to take a good friend and, the friend needed an ambulance with which Walter assisted. If one needs, for example, an English-speaking cardiologist, Walter keeps a list of physicians. When my car was broken into, Walter advised what to do.
Walter often find himself helping clients adjust to the countryside. People tend to forget that Provence is covered in a patchwork of farmland and forest, with cities scattered about the region. So, on occasion, when folks are starkly reminded that they are in the country — frogs or scorpions in the house or wasps in the pool, for example — Walter is there to intervene.
Walter has been fixing things for people who vacation in Lourmarin for over 10 years now. This slender man with thick white hair and a deft appearance that belies his age hails from Switzerland and came to this area on his own vacation some 20 years ago and, like so many people, fell in love with this part of Provence. It wasn't long before he made the Luberon his home.
Who knows–you may fall in love with Provence yourself and Walter is there is help you find the right real estate agent and provide tips about what to look for in your quest. "Make sure to visit the home your are interested in when the mistral is blowing," he told me, "to make sure you know how the house responds with such fierce wind."
Today, he works with his companion Marie Christine — known to most of us as "MC" — to provide a full range of services for not only travelers but also vacation home owners (which is, actually, is how we first met Walter: we owned two small apartments that we rented).
This summer, we are renting a gorgeous maison village — home in the village — that Walter oversees. We have a diesel car again (as is often the case in Europe). As my daughter and I pulled onto the A8 a few days ago — this time on our way to Château Léoube in Bormes-les-Mimosas on the Mediterranean — we laughed about our escapade. It was finally a funny story.
Notes:
To contact Walter:
walter@RentOurHomeInProvence.com
www.RentOurHomeInProvence.com
WhatsApp: 00 33 6 32 40 35 23
To contact MC:
lourmarin@MCconciergerie.com
www.MCconciergerie.com
For more information on putting the wrong fuel in your car, see:
http://www.telegraph.co.uk/cars/advice/what-should-i-do-if-i-put-the-wrong-fuel-in-my-car/