Provençal Pairings: Wine with Food
Eat Dessert First?
by David Scott Allen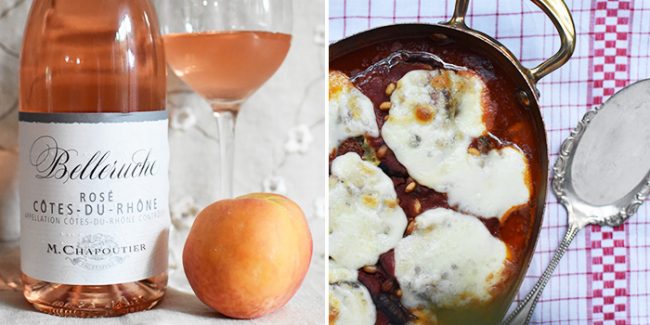 Winery: M. Chapoutier
Cuvée: Belleruche
Appellation: Côtes-du-Rhône
Type: Rosé
Vintage: 2016
Grape Varieties: primarily Grenache, with Cinsault and Syrah
Alcohol: 13.5%
Average Retail Price: France €8.35 – U.S. $12.00
I saw a display of Belleruche rosé at my local upscale grocery store. It was new to me and from a region I trust, thus it caught my attention. I was surprised to see it priced at $8.99, so I picked up a couple of bottles out of sheer curiosity. Only later did I find it at the Big Box wine store for significantly more. And, while it was unfamiliar to me, Susan brought to my attention the full page ad for Belleruche in The Wine Spectator last month; evidently, it is not unknown to others.
I imagine you are wondering about the title of my post. As mentioned, I bought two bottles for tasting purposes and had something in mind – but I will get to that later. A couple of nights before my intended tasting, we had an impromptu dinner guest, which is never a problem for except when it comes to dessert. All I had on hand were some peaches – no cream, no cookies, nothing else to go with them. Then I hit on the idea to slice the peaches into some wine. We do this in Italy all the time – perhaps it is done in Provence, too? This required opening a new bottle of wine, and I chose the Belleruche. It was perfect – the light, slightly salmon pink looked so beautiful with the sliced peaches mixing all the imaginable warm hues of pinks, peaches, and oranges all on one glass. And it tasted wonderful, too. I highly recommend this simple and elegant dessert any time you can get fresh peaches.
Several days later, I held the actual tasting paired with a gratin of eggplant, lamb, tomato, and pine nuts – the original recipe from the New York Times, updated and "fixed" by me. You can get my version of the recipe at Cocoa & Lavender. This is a pretty flavorful dish, and I thought the Belleruche would be sturdy enough for the pairing. While it wasn't a knock-your-socks-off marriage of flavors, it was perfectly good and I would do it again.
I got distinct strawberry and tart cherry on the nose, and a nice balance of acidity and sugar on the tongue. The Grenache and Cinsault combination made this fruit-forward wine a very nice pairing with the lamb and eggplant, tugging only a bit with the tomatoes. It is a nice blend of red fruits and citrus – and perhaps a touch of pomegranate. After the gratin, we once again added some peaches to our wine to add closure to our meal.
This is definitely a nice summery wine to keep around and, at this price, I will be getting several more bottles for the wine rack.