DON'T FORGET PROVENCE IN THE WINTER
As one drives toward Les Alpilles, along the D24 between the tiny villages of Orgon and Eygalières, about 30 minutes from Lourmarin, there's a very tiny chapel. Framed by lovely cypress trees van Gogh surely would have painted had he ventured a little further from the hospital in St Remy, the 12th century chapel stands atop a stony knoll now dotted with olive and almond trees and an occasional patch of grass. Chapelle St-Sixte was erected on the site of a pagan temple that was built in reverence to a nearby spring. Rituals involving that spring still exist today: a couple must drink water from the spring on the day they are engaged and marry within a year or the husband-to-be will die. It is one of the most photographed sites in Provence.
I knew none of this when Pierre drove up to the site on our way to Chez Bru for lunch on the eve of the New Year, 2003. I just knew it was another glorious day in Provence – bright blue skies speckled with puffy clouds and a crisp air that invigorates the spirit – and that, at home in New England, there was over a foot of snow waiting for us. Ah, Provence, you speak to me any season.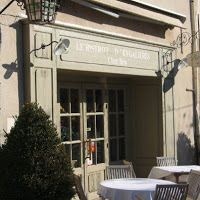 Chez Bru
There is much that draws visitors to Provence in the late fall and winter, otherwise known as the "off-season" and, in fact, some people prefer to visit then.
There are Christmas festivals galore, including many devoted to Provence's beloved Santons. These tiny clay figures that inhabit Nativity scenes in Provençal homes include the traditional three wise kings, shepherds, Joseph, Mary, baby Jesus, and all the animals, but also regional characters who are on their way to the Nativity. On December 4th, St Barbe Day, when the holiday season officially starts in Provence, families set up their crèches and fill them with these characters. Santon fairs and exhibitions begin in November and are held through the first part of January; people come for inspiration as well as to add to their collections of Santons.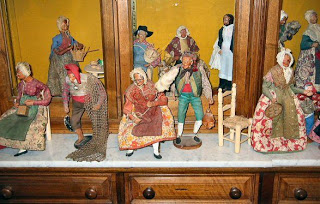 Santons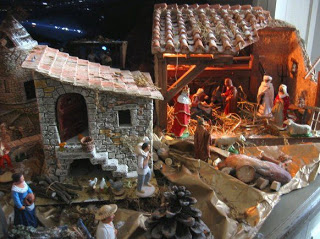 Creche with Santons
The word "Santon" is said to stem from the Provençal word for little saint, "Santouon," but it is no doubt related to the shortened version, "santoni," of the Italian word for beautiful saints, "Santi Belli." Although the first church crèches in Provence date back to at least the 13th century, they became more common in the 16th and 17th centuries and also included living crèches.
Santons, as we know them today, were introduced in the late 18th century when the Revolution caused crèches and nativity plays to be banned and churches to close. Not to be deterred, the Provençals created their own crèches in their own homes and, in 1797, entrepreneur Jean-Louis Lagnal who had originally made figures for church nativity scenes, created a few Provençal characters to add to family crèches. The Santons were an immediate hit,…
 a cottage industry was launched, and Santons are now enmeshed in Provençal tradition.
Santon Market in Aix-en-Provence
Our own collection, purchased throughout the years at festivals in Aix, Marseille, and Aubagne, as well as other specialty shops, includes the baker, the hunter, the fisherman, the musician, the mayor, the village policeman, the Gypsy, the Mistral, Cezanne, the crazy person, lots of animals, and many more characters. Santons range in size from just a couple of centimeters to thirty centimeters high and are dressed in typical 19th century clothes, as they would have been when first introduced by Monsieur Lagnal in Marseille.
The festivals also include music, lots of traditional holiday foods, and gift ideas. You will also see sets of three terra cotta dishes—the Trinity—with a few grains of wheat or lentils on moss. The seeds are traditionally planted on December 4th with the hopes of successful germination that will bring a successful year!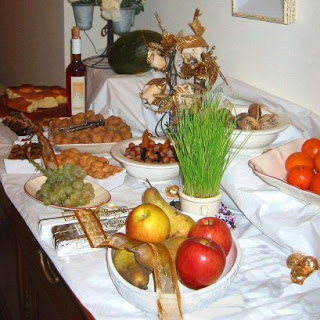 Traditional 13 Desserts for Christmas
While all the holiday festivals have many culinary delights, for a real treat, consider visiting the Le Marché des 13 Desserts in Aix-en-Provence, where you may sample (and purchase) all of the 13 desserts traditionally served after Christmas Eve Midnight Mass.
There are other more secular festivals devoted to food and wine such as those festivals to celebrate just wine, olive oil, olives, lemons, and, of course, truffles.
The truffle festivals are truly wonderful. A couple of years ago, we attended the truffle mass in Richerenches, held every year on the third Sunday in January. On that day, The Brotherhood of the Knights of the Black Diamond – all dressed in long black robes and matching wide-brimmed hats and draping swathes of yellow fabric from which a large medallion hangs – leads the procession to the church where the truffles are blessed. Following that ceremony, there is an auction and then a fabulous multi-course (I lost track of the number after seven!) lunch. This is a once-in-a-life-time experience!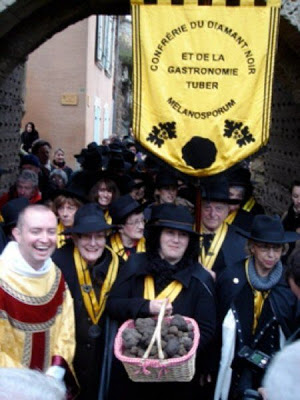 Blessing of the truffles in Richerenches
Truffle markets abound this time in Carpentras, Asps, Rognes, Richerenches, and Vaison-la-Romaine, to mention just a few places. A friend of ours is working with the owner of a truffle farm (a trufficulteur?)to set up visits to his property where there are hectares galore of oak trees under which the coveted truffles lie.  (More on this later!)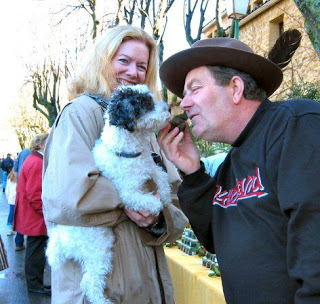 Pam and d'Agneau enjoying the aroma of a fresh truffle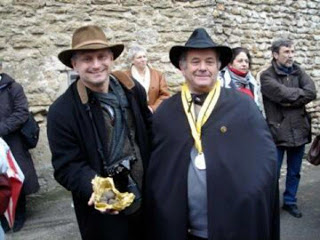 Towny is hugely successful at the auction
And, then there are sales! Les Soldes! Sales are strictly regulated by the government: French stores are only allowed to hold sales two times a year, in the winter and in the summer. This year's Winter Sales, soldes d'hiver, will take place in Provence (and most of the rest of France, including Paris) from 12th January through 15th February, 2011 (http://www.date-soldes.fr/date-soldes-hiver-france ). Steep discounts are offered, making that exchange rate look a little better!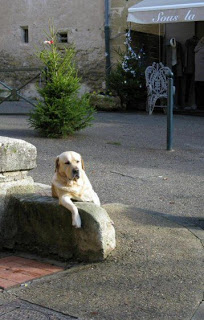 Winter Sales not impressing
the dogs of Lourmarin
There are many reasons to consider a short trip to Provence. From pristine days to truffles, from fewer tourists to more opportunities to practice one's French, the "off" season can be very inviting! The average temperature is in the mid- to high-50s Fahrenheit (12 to 14 degrees Celsius). International flights are less expensive.  For example, Air France has flights in February from JFK to Marseille for only $692 Round trip!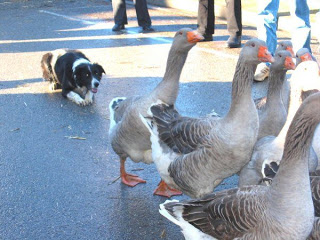 Working dog demonstration at the Lourmarin market
Vineyards in the winter
And, now, La Bonbonnière, in homage to the 13 desserts, is offering 13 special weekends at La Bonbonnière. During December, January and February, we are offering 13 four-day week-ends at reduced prices. We have found that in the off season, people like to spend long weekends in Provence, arriving in time for the Lourmarin market (rather than Saturday to Saturday week-long stays). To accommodate that desire, we are offering stays that commence on Thursday (in order to include Lourmarin's market day on Friday) and end on Monday morning. (Of course, you may add additional days.) See below for availability and, again, check out the calendar of events on our website;
http://www.rentourhomeinprovence.com/
.
                                                           Long Weekend Specials
                                                           Week 1 – 12/2 to 12/5
                                                           Week 2 – 12/9 to 12/12
                                                           Week 3 – 12/16 to 12/19
                                                           Week 4 – 12/23 to 12/26 – Booked
                                                           Week 5 – 12/30 to 1/2 – Booked
                                                           Week 6 – 1/6 to 1/9
                                                           Week 7 – 1/13 to 1/16
                                                           Week 8 – 1/20 to 1/23
                                                           Week 9 – 1/27 to 1/30
                                                           Week 10 – 2/3 to 2/6
                                                           Week 11 – 2/10 to 2/13
                                                           Week 12 – 2/17 to 2/20
                                                           Week 13 – 2/24 to 2/27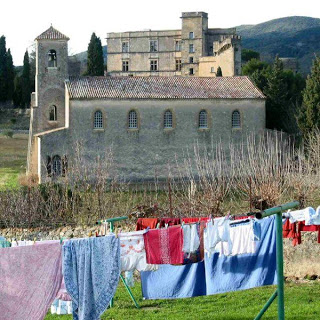 Laundry day in Lourmarin
You may want to consider spending a few days in Paris first and then taking the TGV down to Provence, about three-hours of very relaxing time. See our earlier article for more information on taking the TGV: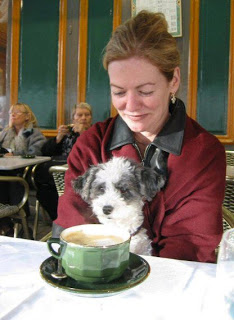 Pam and d'Agneau keeping warm at
Les Deux Garcons in Aix-en-Provence
There is much to do, but you may find that you fall into the Provence style of living and move a little more slowly. Maybe enjoy a café and croissant in the morning, cruise the markets for ideas for dinner, have a leisurely lunch, and luxuriate in the Provençal moment.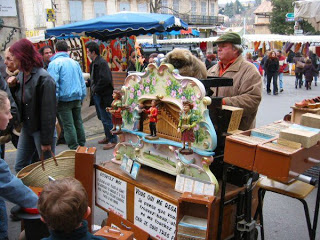 Market at Forcalquier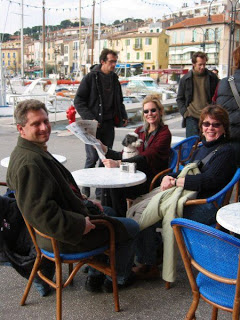 Cafe in Cassis in December
Pack your woolies – it can be cold if the Mistral wind decides to visit, too – and come knowing that some attractions and restaurants may be closed. But, what could be nicer that a hearty Provençal daube with a bottle of earthy Gigondas wine, a baguette and a little cheese? Okay, how about some Vin Chaude around the fireplace? Should you find yourself near Eygalières, stop by the chapel and have lunch in Chez Bru. You won't be disappointed.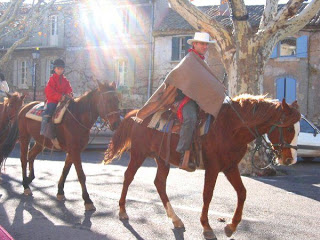 On horse back in front of Chez Bru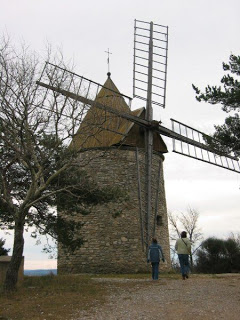 A walk by Daudet's windmill in Fontveille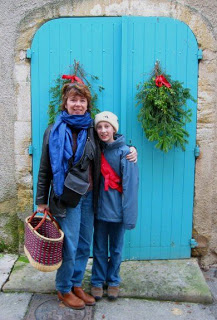 Susan and Alex in 2002
Les Baux in the winter – no tourists!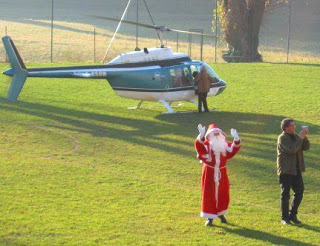 Santa arrives by helicopter in Lourmarin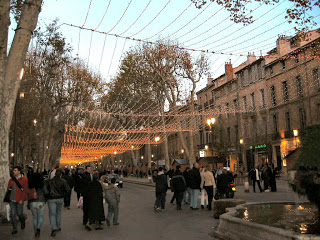 Aix en Provence decorated for the Holidays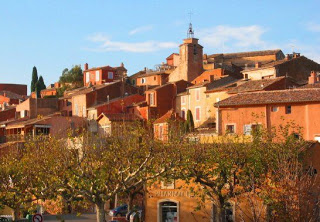 Roussilon in winter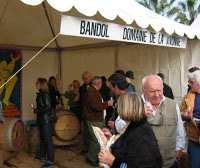 Bandol wine festival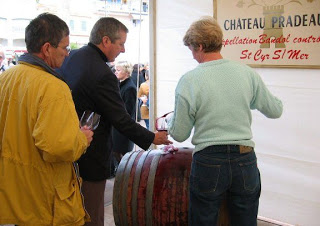 Bandol Wine Festival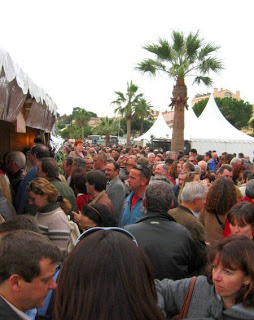 Bandol Wine Festival