ENCHANTING EVENING IN PROVENCE: WINE TASTING AT CAVE AURETO AND DINNER AT "LE JARDIN DANS LES VIGNES" IN LA COQUILLADE (AT AN ENCHANTING PRICE, TOO!)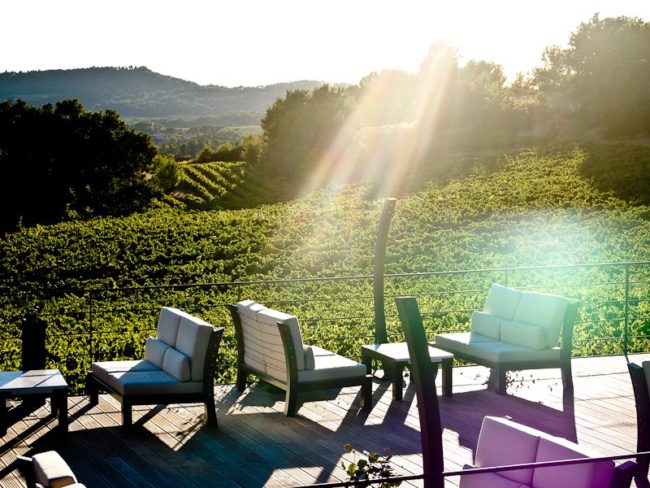 We began at Cave Aureto where we met our friend Pierre Schott, the retail cavistes of the winery's cellar. After a very interesting tour of their uncommonly modern winery and a tasting flight of their award-winning wines, we made our way to the terrace overlooking the vineyards from which the grapes were harvest. Just before we eked out the last light of the setting sun, we moved to Le Jardin dans les Vignes, the wonderful restaurant that lies under the vine-covered arbor and stands above the long rows of lavender—it is the casual companion to the property's gourmet restaurant with the newly acquired Michelin star. The weather was warm, the air was fragrant, and the sky was luscious. Time seemed to stand still. This is Provence at its best.
La Coquillade, a 28-room luxurious hotel with deluxe rooms and suites, sits atop a small hill in the Parc Naturel Régional du Luberon in the very heart of Provence. You will find this regal complex in Gargas, between Apt and Rousillon, about 30 minutes from Lourmarin, where we love to hang our hats. Surrounded by 32 hectares (75 acres) of vines that melt into a verdant valley framed by the Vaucluse and Luberon mountains, the views are stunning and the ambiance is inspired.
Every time we drive up the long cypress-lined road that leads to this Relais & Châteaux property, I feel my pulse begin to slow and my body begin to relax. I imagine that les coquillades*, one of the migratory birds that have long chosen this area as a resting place, feel the same way. To rest is a natural state among such beauty.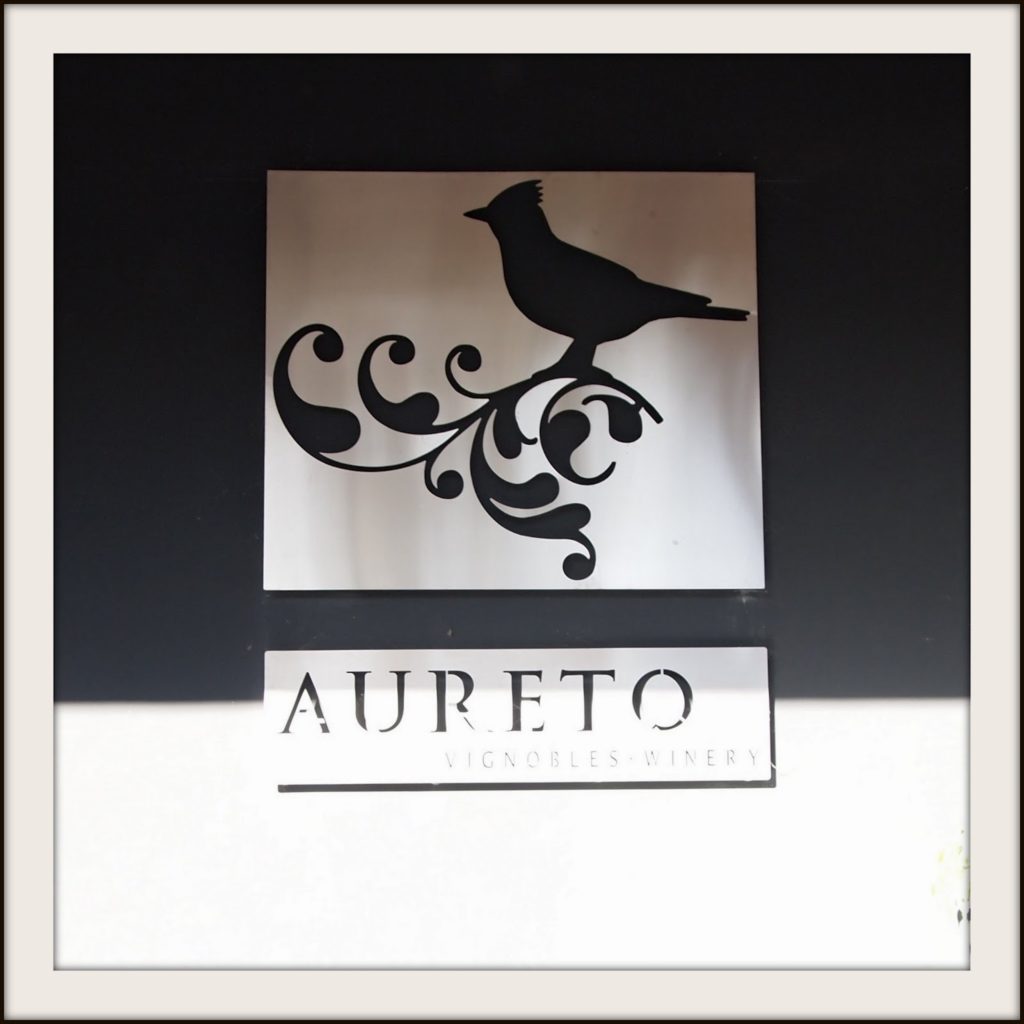 The lovely stone buildings date from the 11th to the 18th century and house a gastronomic restaurant, a piano bar and lounge, a bistro, and accommodation for banquets and meetings. There is a fabulous 20 meter pool, tennis courts and a pétanque court. There is also a cycling center where anyone can rent high-end BMC bicycles for the day—BMC is a Swiss company that supports a Tour de France team.
But, we weren't there for any of that. We were there for the wine tour and tasting and then drinks and dinner overlooking the beauty of the Luberon.
Wine has been produced on this site since the 13th century. Cave Aureto emerged in 2007 when the current Swiss owners, Werner and Carmen Wunderli, with investor Andy Rhis, bought Cave Coquillade and renamed winery for the gentle breeze, "Aureto," that blows across the warm Provence countryside. The name of the estate, Le Domaine de la Coquillade, was retained and is evidenced by the small bird that graces the label and barrels. The vineyards fall into two Appellations d'Origine Protégée (formerly AOC): Ventoux and Luberon. The winery also produces an Indication Géographique Protégée (formerly VDP): Vaucluse. As faithful Trobador readers know, we really like the IGP rosé that they produce, but we also thoroughly enjoy the reds and whites that we have had.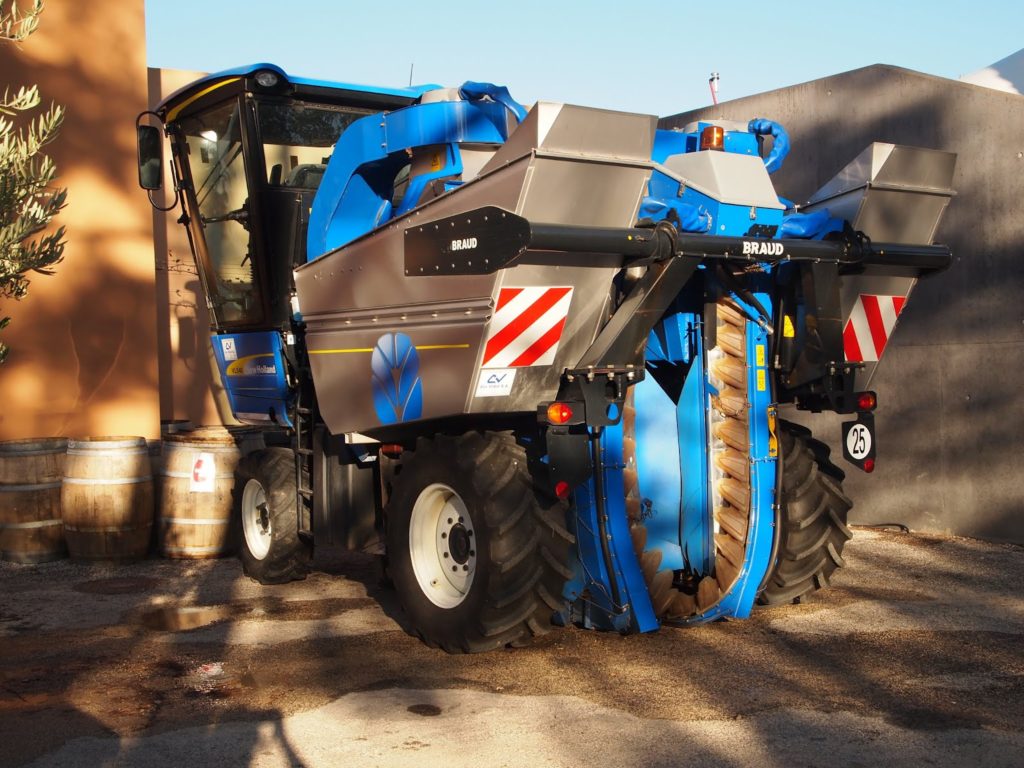 Pierre begins our tour with a look at the ultra-modern "grape picker" that looks more like a giant Zamboni machine than anything that could gingerly traverse the vineyards to pick the grapes. A vendange verte or "green harvest" had recently taken place—this refers to the removal of grape bunches (in late July or early August) while still immature, leaving about six to eight bunches of grapes to, in my words, invigorate the remaining grapes so that they ripen with more complex rich flavors. Vignobles Aureto produces just one-third to one-half as much wine as the AOP guidelines permit. Quality not quantity is the goal of Aurélie JULIEN, maître de chai-oenologue.
We then proceed to the huge cellar, built two-thirds beneath the ground in order to maintain the natural beauty of the property. One immediately meets the gleaming vats and high tech systems with computerized controls—it is enough stainless steel to blind you and initially seems out of place in the heart of old Provence! But, Pierre assures us that all this modernity and innovative technology is ultimately controlled by the humans who constantly monitor the process and taste and smell the product as it moves toward becoming wine. Of course, like the pudding, the proof is in the wine!
Pierre next took us into the room that houses the oak barrels where some of the wine will age in new- or old-oak barrels: the whites generally age 4 to 8 months and the reds for as long as 13 to 14 months.
Back in the stainless steel room, we get a closer look at the computer screen where the wine maker Aurélie can assess, in real time, precisely what is going on in each of the vats and make adjustments to produce exactly the wine they want. It was pretty amazing to see the precision with which they are able to work; but, in the final analysis, it is the nose and taste that will dictate how to proceed. We were now primed for the tasting flight.
We began with a white called Autan AOP Ventoux blanc 2011, a blend of Roussanne (50%), Clairette (40%), and Marsanne (10%) . This is an elegant wine with a little floral taste with a light freshness that belies its 14% alcohol content. It is an excellent aperitif wine but also pairs well with food. Pierre recommended seafood, especially moules (mussels).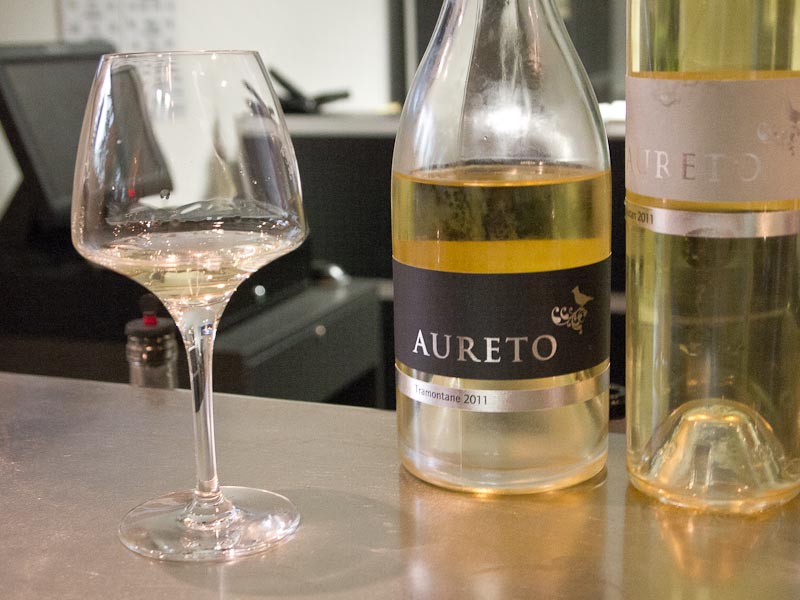 Then, we went to another white, Aureto's highly regarded Viognier (60%) that is blended with Roussanne (40%): Tramontane IGP Vaucluse blanc 2011, a well-balanced lightly oaked wine with hints of honeycomb that feels full in the mouth. Pierre further described this wine as having "beaucoup de grasse" which, in English, literally translates as "full of fat." Although this description may not jump out at you as appealing, I assure you it was exceptionally enjoyable. "Unctuous" is the word that came to my husband's mind when he tried to capture the richness of this Viognier. It begs to be paired with roasted chicken or pheasant although I have served it with a simple preparation of scallops in a cream sauce and it certainly delighted our guests. Pierre also said that it is the perfect companion to one of his very favorite foods, foie gras poêlé, and also pairs well with cheeses like comté. Remembering the lobsters he had at our home in New Hampshire, he suggested that the Viognier would be an excellent accompaniment to that famous New England meal. We were not surprised to see that this wine has 14% alcohol, a level it carries well.
The rosé, a wonderful blend of Caladoc (60%), Syrah (30%), and Grenache (10%), was our third wine: Tramontane IGP Vaucluse rosé 2011. The alcohol content is 13.5%. Being unfamiliar with Caladoc grapes, I asked Pierre about this grape; he explained that it is a "relatively new grape" (1958) and a cross of Grenache and Malbec. Apparently the grape is not permitted in any of France's appellations and I don't think it is widely used in rosé, but I am glad this grape found its way into this IGP wine! I wonder if the Caladoc contributed to this rosé's "roundness" and "complexity." Like all Tramontane wines, this one comes in a bottle that is a replica of the 1859 burgundian bottle, like a champagne bottle, which, I think, highlights the beautiful deep rose color of this rosé. It is an elegant wine with a nose that suggests citrus and a mouth that has a faint creaminess. This rosé works particularly well with food, even spicy dishes. I love this wine with a simple pâté de campagne and a crusty bread.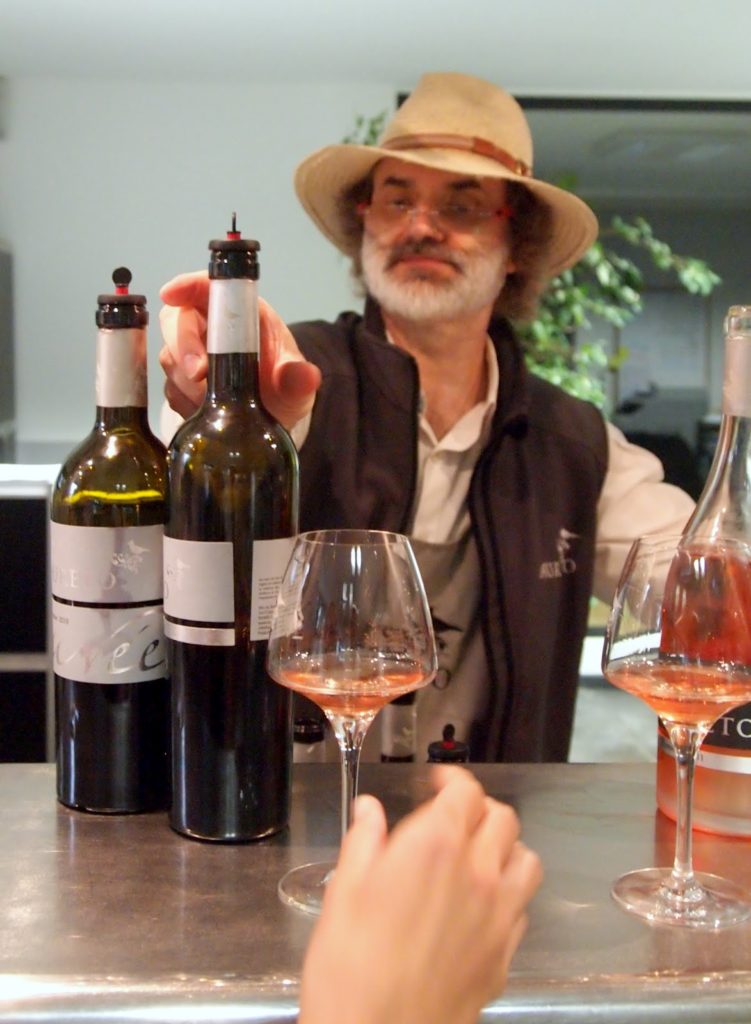 The final wine, a Tramontane IGP Vaucluse rouge 2010, is a blend of Caladoc (35%), Marselan (25%), Syrah (25%), and Cabernet-Sauvignon (15%). Another relatively new grape (1961), Marselan, is a cross of Cabernet-Sauvignon and Grenache that yields a grape with the elegant structure of Cab and the liveliness of Grenache; it is used for blending as well as on its own. (I later found a Bloomberg Business Week piece about the grape, published in September 2011, with the enthusiastic title, "Miracle Marselan: A Marvelous New Varietal.") This wine was outstanding—a conclusion shared by the judges in a competition in Paris that resulted in the Medaille d'Or (Gold Medal). Our noses detected black berries and currants and maybe vanilla. The bold body (with 15% alcohol) was full of tastes of dark chocolate, dark berries, and hints of pepper. The finish was lovely. This wine would pair perfectly with a hearty daube.
We thoroughly enjoyed these wines and left laden with many bottles of the wine to prove it. (Someday I will write about getting the wine home!)
We also bought a bottle of Marc de Provence, Aureto's version of brandy. Pronounced "mahr" in French, it is made by distilling the skins, pulp, and seeds that are left over from the Syrah and Caladoc grapes after they have been made into wine. With 45% alcohol, it is not for wimps. It's a very popular after-dinner drink—digestif—in our home. (I guess we don't invite wimpy guests to dinner!)
Pierre is exceptionally well versed on the wines produced under the Aureto label but he also has a wealth of knowledge about French wine in general, which made for a very interesting tour and an exceptionally informative tasting. Pierre's delivery is engaging and he effectively injects a little humor into all the facts and figures that he has at his command. And he speaks English and German (as well as his native French).
Drinks on the Terrace and Dinner in "Le Jardin dans les Vignes"


The views from the terrace are intoxicating. When traveling in the Luberon, I am always struck by the multitude of beautiful greens and blues. Who knew that those two colors had so many shades? Under the brilliant Provençal light, I am so often moved by the natural beauty of this region that my family no doubt tires of listening to my oohing and awing. But from our vantage point on the terrace, in the midst of vineyards that seemed to stretch to Mont Ventoux, we were all awestruck.
After the tasting, we were so smitten with the white wines that we all opted for white wine aperitifs: two of us chose the Viognier and the other two ordered the Roussane. Although we were content to settle into the plush chairs on the terrace, enjoy the lovely views, soak in the relaxing ambience, drink wine, and eat the addictively delicious rosemary encrusted cashews—the waiter kindly refilled our small bowl several times—we knew we had a delicious dinner in store for us.
Chef Christophe Renaud is the relatively young man (in his early 30's) who sits at the helm of La Coquillade's culinary complex. He is responsible for the Michelin star that was awarded last year to La Coquillade's gourmet restaurant. He hails from two other Michelin-starred restaurants in Arles and a stint at the Ritz Carlton in San Francisco. His meals have been described as "culinary masterpieces" and as "imaginative" with a focus on regional cuisine. His menu changes daily, depending on what's available locally, and it seems to always emphasize vegetables (which he has said are the most interesting part of the menu, to him).
Although we have not eaten in the gastronomic restaurant where the chef undoubtedly spends most of his time, we can attest that his influence definitely trickles down to the more casual Jardin dans les Vignes, where we have had dinner three times. On each visit, we have found exceptionally pleasing food, professional but unpretentious service, and incomparable ambiance. We have particularly enjoyed the service which is devoid of any of the airs that one might expect in a restaurant on the grounds of such a posh property; on the contrary, we have always felt that we were dining at a friend's home (although we don't have any friends who live a property like this one!) And, I hasten to add that it is one of the best culinary bargains—usually an oxymoron—in the region.
We all opted for the prix fixe meal and, with four of us at the table, were able to try every item on the menu. I regret that we were too busy enjoying the food and talking to take photos (but I have included photos of other meals we have enjoyed in years past). I can confidently report that everyone thoroughly enjoyed their choices (with the possible exception of our daughter who was not completely taken with her Tiramisud à Tomate—although I was!). My Maigre de Méditerranée (which is a light white fish) was replaced with a tuna (which made our wine selection easier!). The food was simply but elegantly prepared and presented as if the plate was the chef's canvas. We ordered the Tramontane red that we had enjoyed so much in the tasting and it worked very well the menu.
It was indeed an enchanting evening, made even more so by l'addition. With each prix fixe menu at €32, we were doubly enchanted.
The vendage—the annual harvest of grapes—begins next week. What an exciting time to visit La Coquillade! Say hi to Pierre for us!
*I think that this bird, in English, is the crested cochevis or crested lark which, in the old Provencal language, translates as couquihado or coquillade.
__________________________________________________________
Cave Aureto
www.aureto.fr
Tel. 011-33-4-90-74-54-67
Open every day from April to October
10am – 12:30pm / 2:00pm – 7:00pm
(closes at 6:00pm in October)
La Coquillade
84400 Gargas (Vaucluse, France)
www.coquillade.fr
011-33-4-90-74-71-71