ISLE-SUR-LA-SORGUE MARKET IS MY FAVORITE PLACE TO BUY ESPADRILLES
by Susan Manfull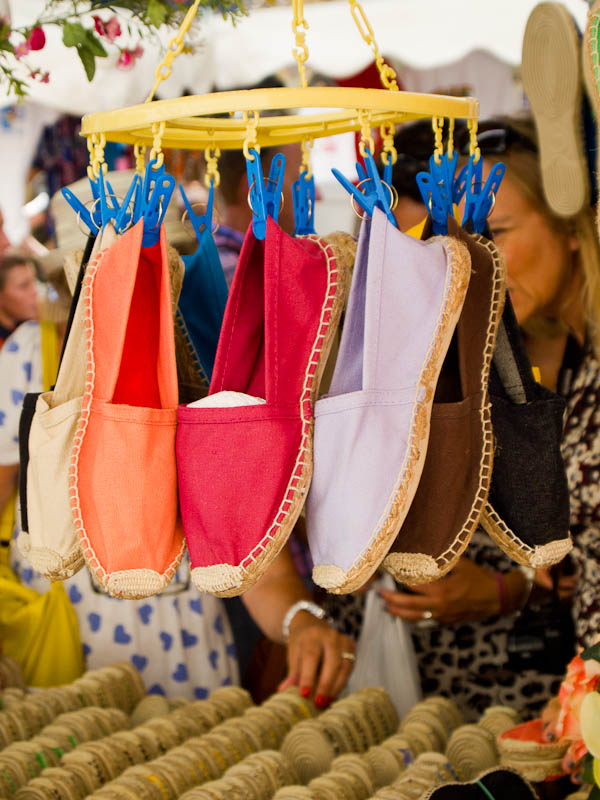 I know, I know: it's the antiques that draw people from all over the world to the Isle-sur-la-Sorgue market. This pleasant but otherwise unremarkable Provençal town is the indisputable go-to place in the South of France for serious antique shopping and its huge market on Sunday mornings is a magnet for those looking for things like the perfect Louis XIV chest of drawers or a Napoleon Bonaparte bust in bronze.
In my visits to the Sunday market over the years, I have been known to find room in my suitcase for a pair of brass candle sticks, a couple of wrought-iron wine bottle carriers, and a set of six 2002 FIFAWorld Cup soccer glasses (clearly not yet antiques). But unless you have gobs of money and a shipping container to fill, I would remember what Peter Mayle is said to have said: The only thing you can't get in Isle-sur-la-Sorgue is a bargain. Then head straight for the espadrilles.
Espadrilles, those flat shoes with jute rope soles and fabric tops of bright solid colors or stripes, actually originated in Spain but have become as inextricably tied to the South of France as lavender and pastis. When friends hear that we are going to Provence, they often ask me to bring home a pair.The word espadrille is French and comes from the Occitan (and Catalan) word for shoes, espardenya, which in turn stems from esparto, a perennial grass native to Spain that is woven to make things like baskets, belts, and, until recently, espadrilles.
Espadrilles have been around for hundreds of years, perhaps thousands—if the dating of a pair of espadrilles in the Archeological Museum of Granada is accurate, people were wearing a primitive version in 2000 B.C.E. Around the 13th century, teams of handcrafters–each person responsible for a different part of the process such as the esparto sole and sewing the fabric to the sole–began to appear in the Pyrenees, which enabled increased production; by the 19th century, they were found on the feet of soldiers, priests, and mine workers in Spain; and by the end of that century, they were exported to South America.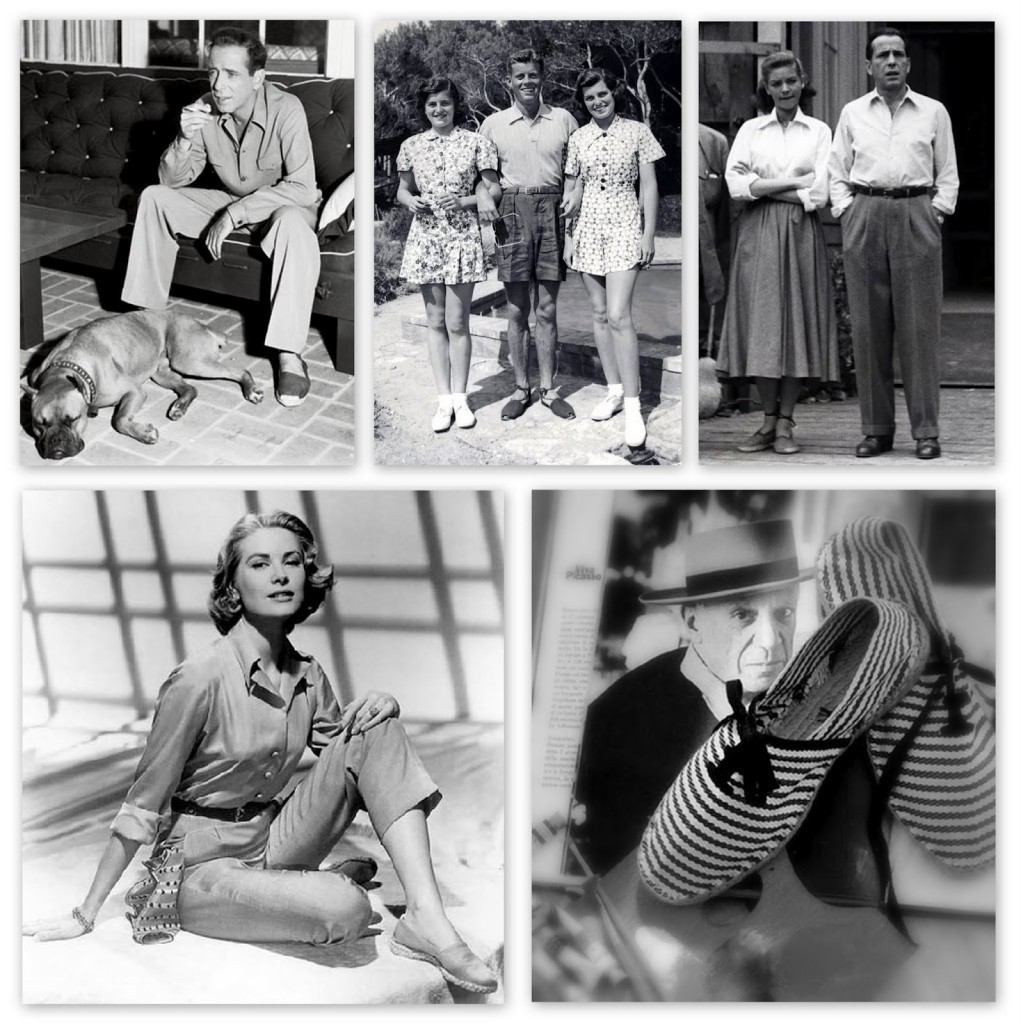 In the mid-20th century, they became very stylish in the States, with the help of the likes of Lauren Bacall, Humphrey Bogart, Grace Kelly, Jackie Kennedy, John F. Kennedy, Catherine Deneuve, and Sophia Loren. Pablo Picasso, Salvador Dali, and Ernest Hemingway contributed to their popularity among those with more bohemian tastes. And Don Johnson of Miami Vice (Sonny Crockett) revived their popularity in the 1980s.Espadrilles are traditionally very basic, but they can have laces that wrap around the ankle. (The laces actually serve a practical purpose of holding the shoes on one's feet!). They are typically flat, but can also have a heel. In the 1960s, Yves St-Laurent was the first to place an order for espadrilles with heels for a special event in Paris; after that, the popularity of the heeled version soared. The original espadrilles were black or natural; today they come in some pretty wild colors—fluorescent pink and lime green—and on our recent visit to Isle-sur-la-Sorgue (last week), I saw them with polka-dots.
In Isle-sur-la-Sorgue, on the place de la Liberté between the Baroque 17th century church (definitely worth a peak) and the lovely fin-de-siècle Café de France (definitely worth a stop for a café crème or a salade chèvre), you will find Jacques Lambertin's bustling stand of espadrilles.
Monsieur Lambertin has been selling espadrilles for over 50 years. For the last six years, he has sold only espadrilles and now has them made for him in France. (Many espadrilles are made in Bangladesh.) In my humble opinion, he has the best quality and widest selection of this cool shoe for the lowest prices in all the markets in the Luberon. His stand is always busy.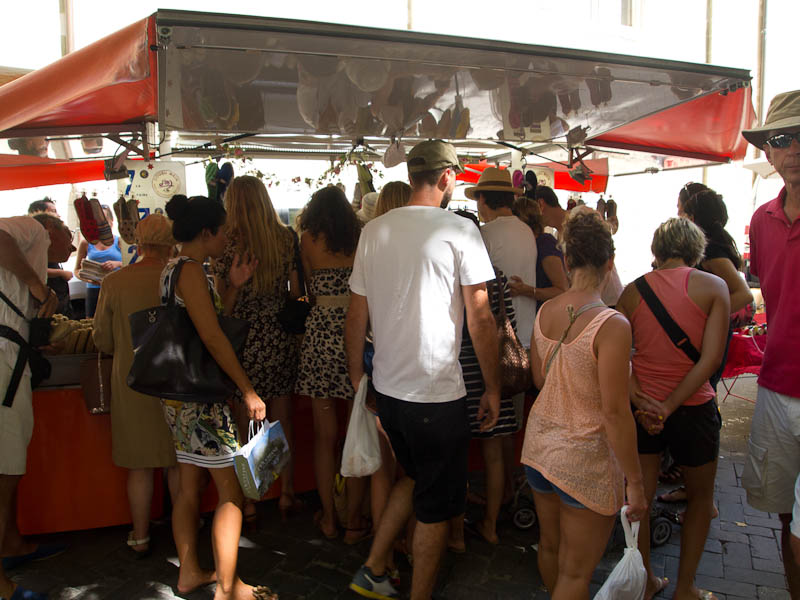 Monsieur Lambertin and his wife have espadrilles in every color you might want to wear on your feet. They also have several striped and several polka-dot versions. There are chairs strategically located next to carpeted mats so that you can try on the shoes and not soil the bottoms. (If you don't use the mats, Madame Lambertin will let you know—in no uncertain terms, regardless of your language—that you had better get those espadrilles over to the mats!)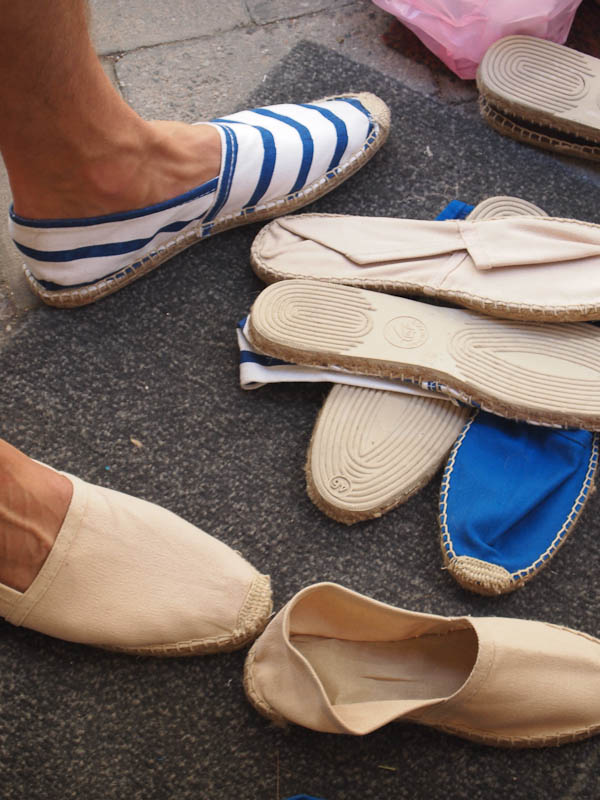 The Lambertins sell their espadrilles every Sunday in Isle-sur-la-Sorgue. On Fridays, you can find them in the Carpentras market and on Saturdays, they are in the Arles market. Madame Lambertin told me that if those days don't work, you can make an appointment to go to her home in Rochefort-du-Gard.We had fun trying them on and each of picked out a pair. I wore mine nearly every day while we were in Provence. At 4 for 24 euros, they were a bargain. Imagine the number of espadrilles I could carry back–in my suitcase–rather than that antique garden fountain with the oversized fleur de lys. And I felt so stylish, too. (Mine are in the front!)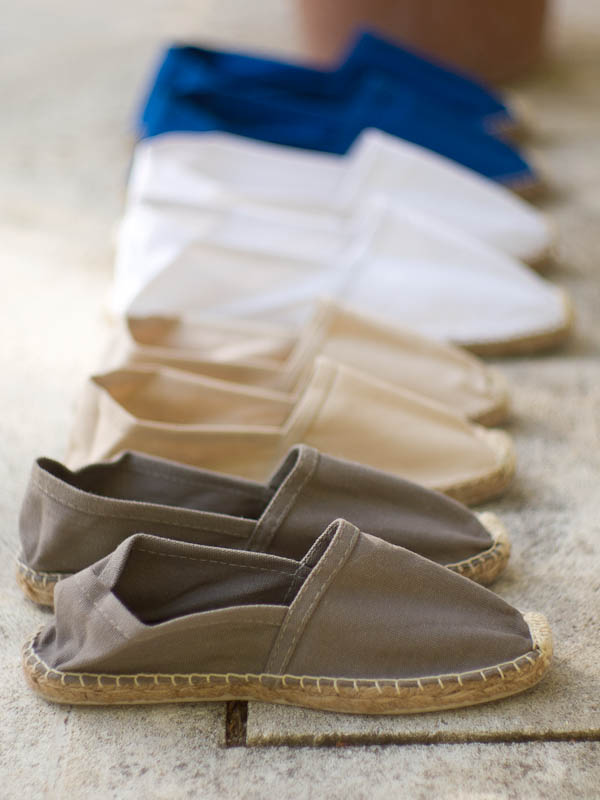 ____________________________________________________________________
Jacques Lambertin
ESPADRILLES
104, route d'Avignon
30650 ROCHEFORT-DU-GARD
jacques.lambertin@orange.fr
06-98-21-09-98
06-31-68-13-82
For a list of other The Modern Trobadors (TMT) posts about markets in Provence,
click here
.