GORDES MARKET: I DIDN'T WANT TO LIKE IT…BUT I DID
by Susan Manfull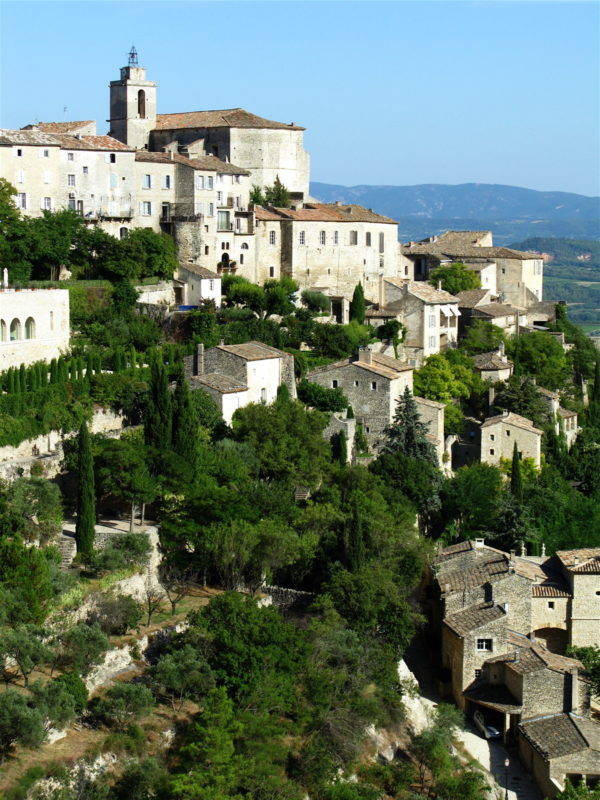 Gordes, the village, has never been one of my favorite places. Just a little too trendy for my tastes. From a distance, it is a picturesque hilltop village. It is a simply stunning sight as the sun sets and a golden hue is cast on the ancient stone dwellings that climb the hill. (As you approach the village on D15, pull over and get your camera out—it is a picture perfect shot of Provence.) So quintessential, it beckons you to visit.
My visits, however, have always been disappointing. Even though it is listed as "One of the Most Beautiful Villages of Provence," Gordes has always seemed to lack personality. It feels more like a reproduction village for a film set than a real town.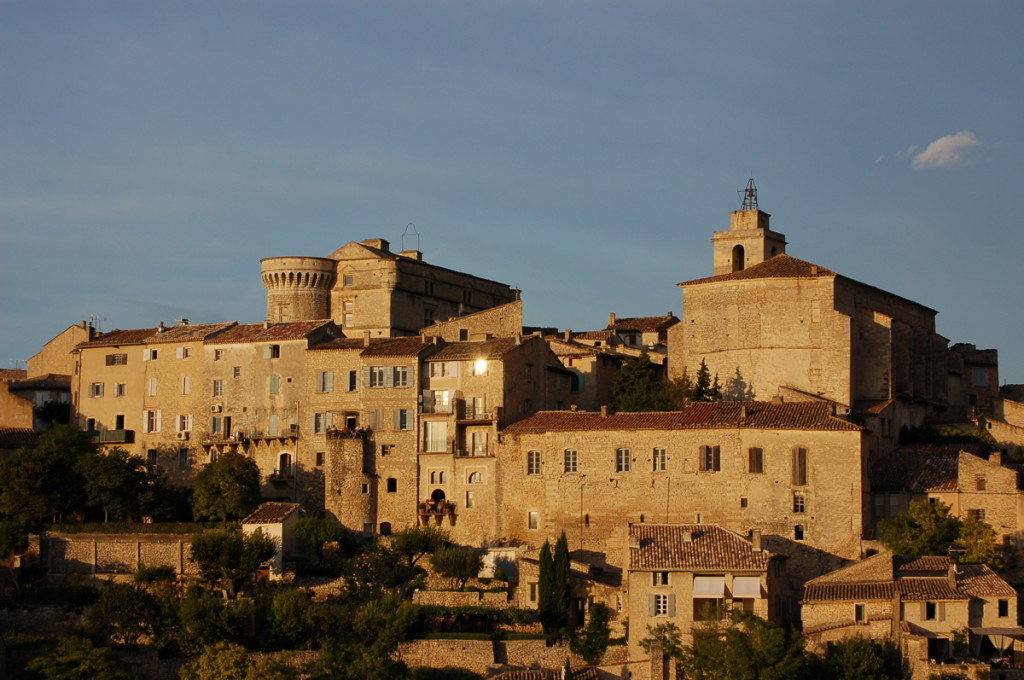 In fact, it was a film set for a movie: Ridley Scott's A Good Year, based on Peter Mayle's novel of the same name, starring Russell Crowe, Abbie Cornish, and Albert Finney. Gordes, I thought, with nod to irony and an air of superiority, was the perfect setting for a movie because it was already filled with props and one dimensional backdrops….and film directors and actors who list Gordes as one of their summer residences.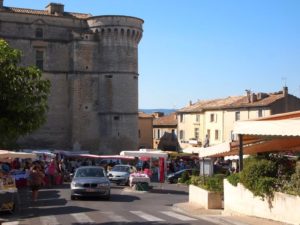 So it is probably not surprising to the reader that it took me a long time—fourteen years—to visit Gorde's weekly market, held every Tuesday, even though it is just 30km from where we hang our hats in Lourmarin. But, to my great surprise, I really liked the market and would definitely recommend visiting it. Go in the summer—although the size of the market swells in the summer, that's when it has its greatest appeal.
It was predictably crowded as we approached the village in August. It was 9:00 a.m. and traffic along the D15, also known as the Route de Cavaillon, had already formed a bouchon. (I love the French word for traffic back–up which literally means "cork," as in wine.) The first parking lot was full but after a drive on the main street through the village, you will find another parking lot on the other side of town with plenty of spots. Both parking lots are a short distance to the market, although the walk from the second lot is a bit steep.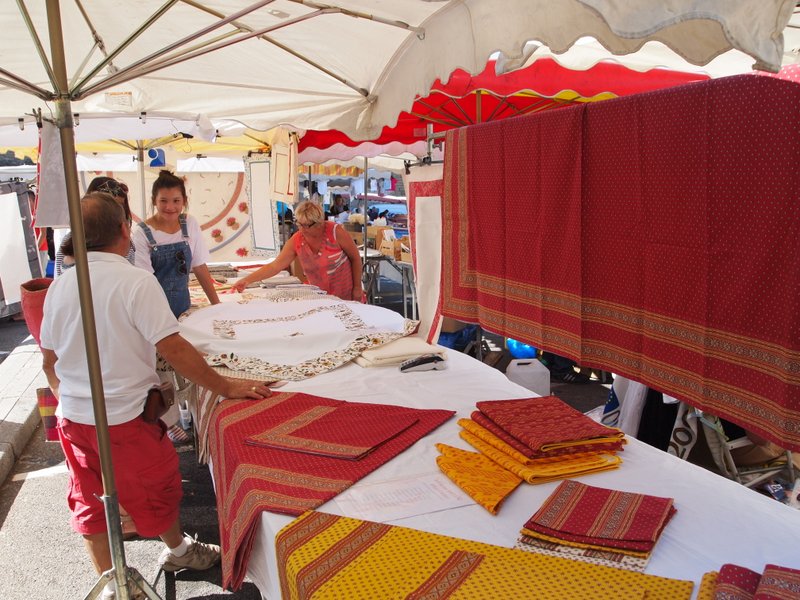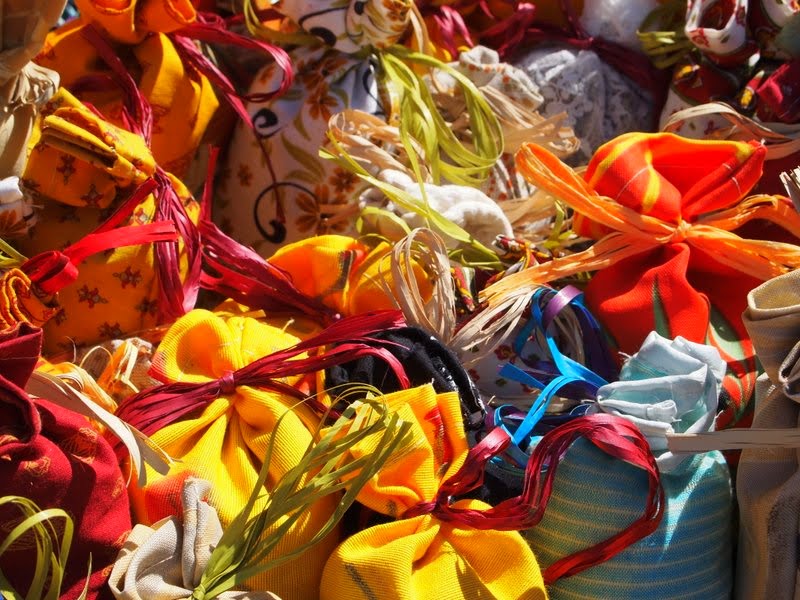 The small but upscale market wraps around the base of the austere medieval château, providing vivid colors and a lively spirit that is immediately engaging. Highlights for us were the lovely fabrics—yes, I bought a table cloth—a terrific selection of herbs and natural teas, very pretty bags of lavender and bouquets of dried flowers, a long table of salamis, several cases of tempting cheeses, several tables of neatly arranged pastries and breads—buy the croissants—local wines and liqueurs, local olive oils, pottery, and Provençal style hats.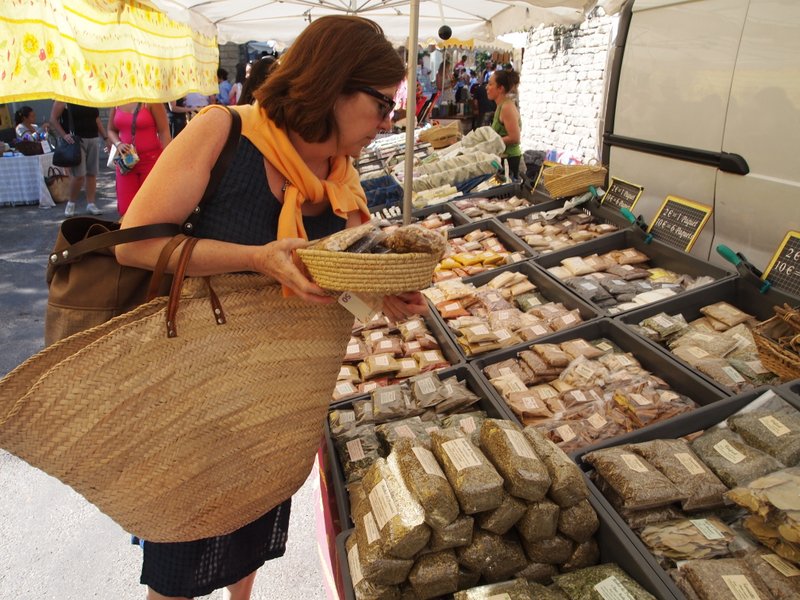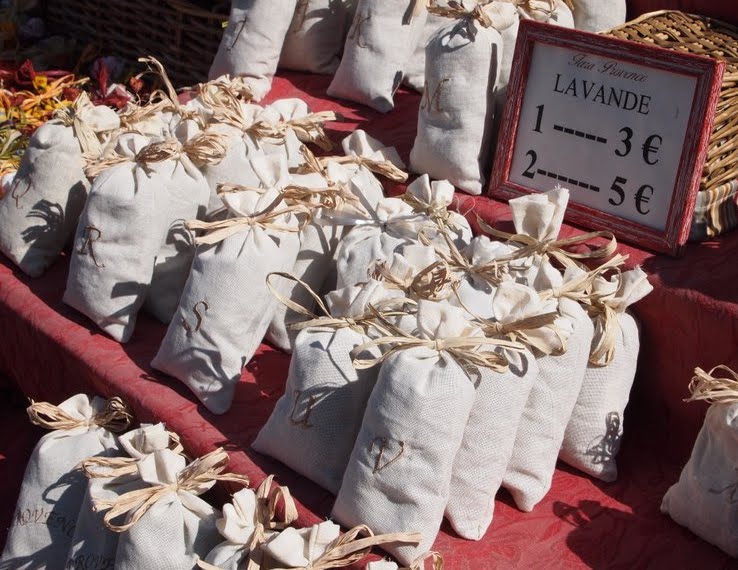 Our favorite gadget and porcelain bakeware vendor was there (he is in Lourmarin on Fridays, too) and we bought two sets of crème brûlée ramekins and a teapot in the shape of an elephant (for my friend Patti who, like me, grew up visiting the elephant Nosey in the Fresno Chaffee Zoo).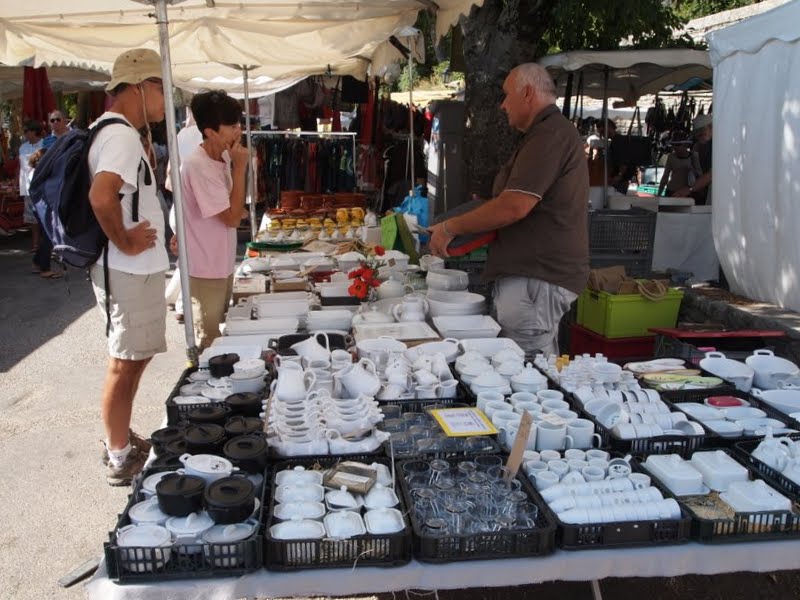 We found some beautiful peaches and berries although there are not many produce vendors in this market.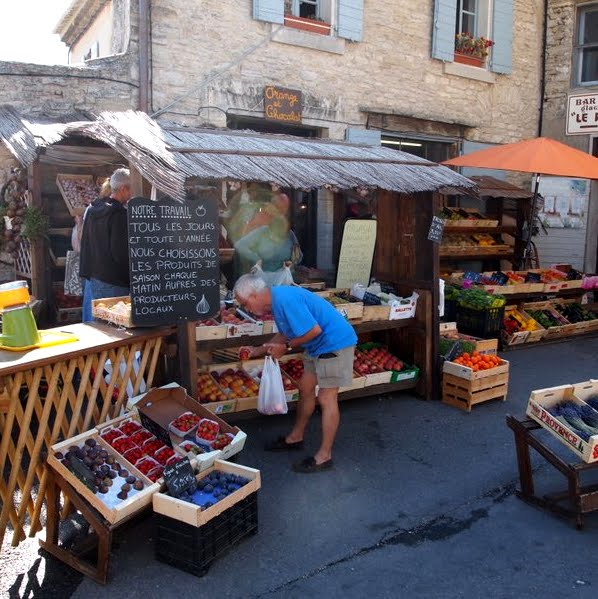 The market winds around the château to the left and to the right. If you are in the mood for an espresso, go to the right. You will find more vendors and the pastries I mentioned earlier and a little further along, a cluster of cafes.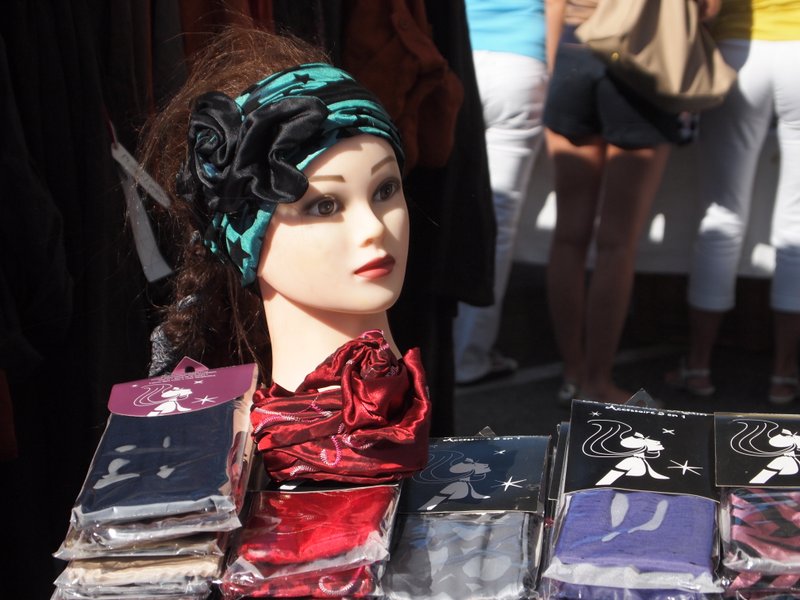 If you are not ready for a break, go to the left where the road, lined with vendors, dips down to a group of Peruvian Indian musicians singing to recorded music. I can't say for sure that they are always there in the summer, but I hear they are a pretty regular attraction. An enthusiastic crowd had gathered around them on the day we were there, but we preferred to buy food and went back to select our cheeses and salamis.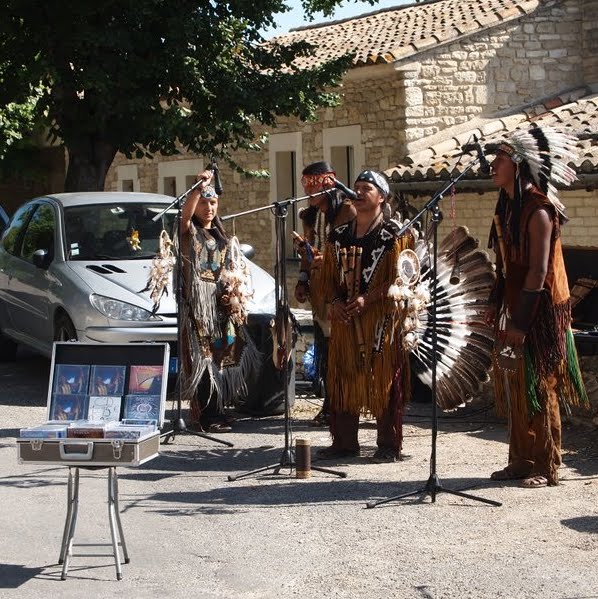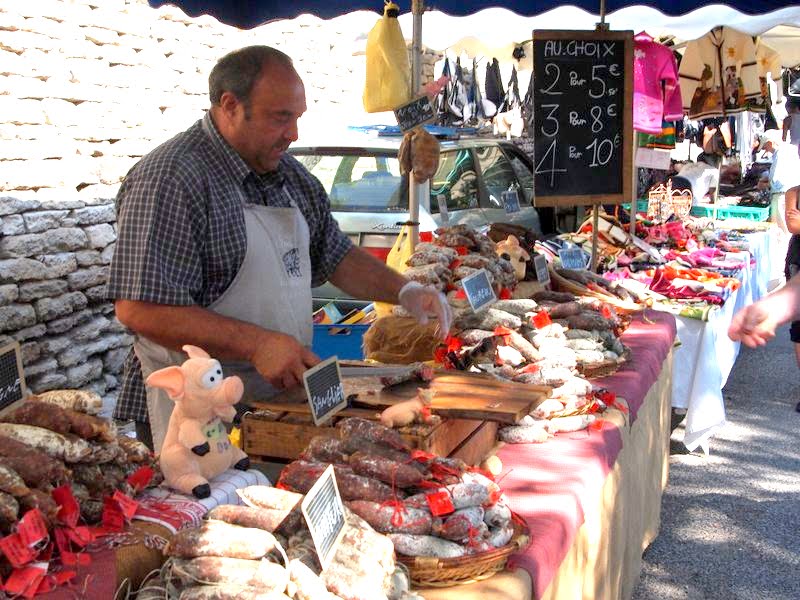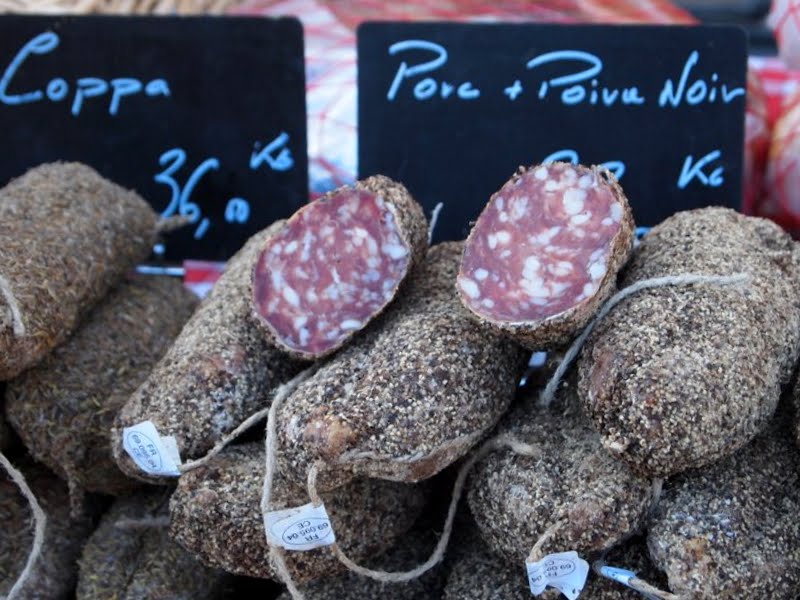 The market winds down between 12:30 and 1:00. If you have wrapped up your shopping with a little time to spare before lunch, two nearby sights are definitely worth a stop: the Abbey de Senáque and the Village des Bories. (I highly recommend these stops were children.)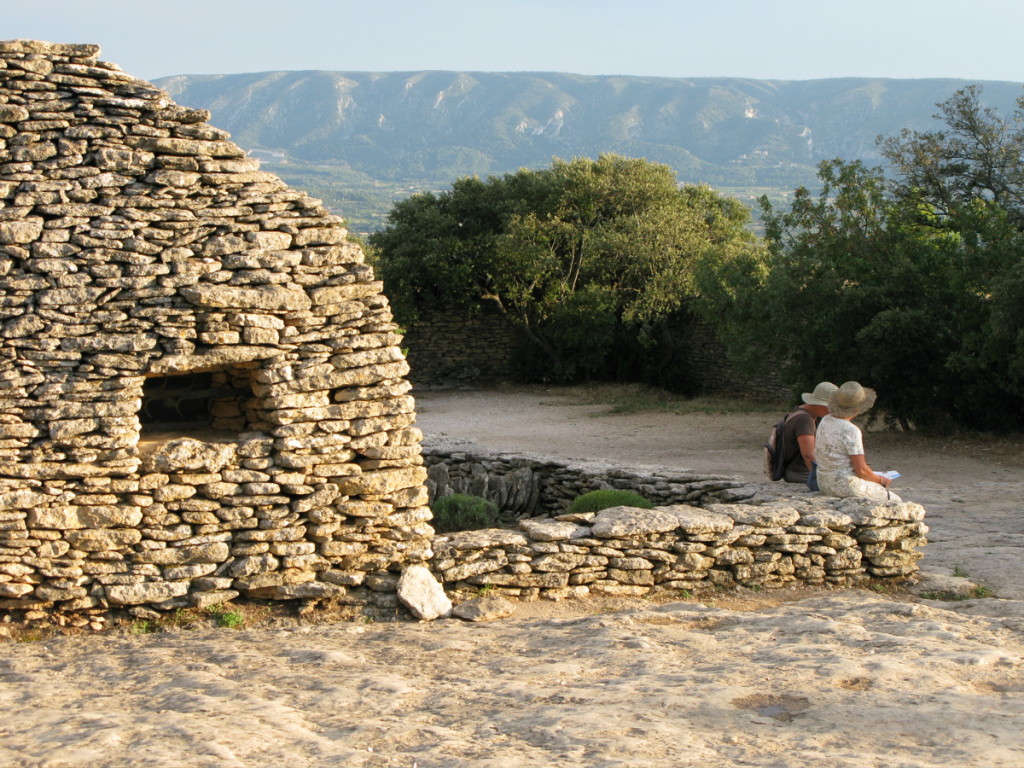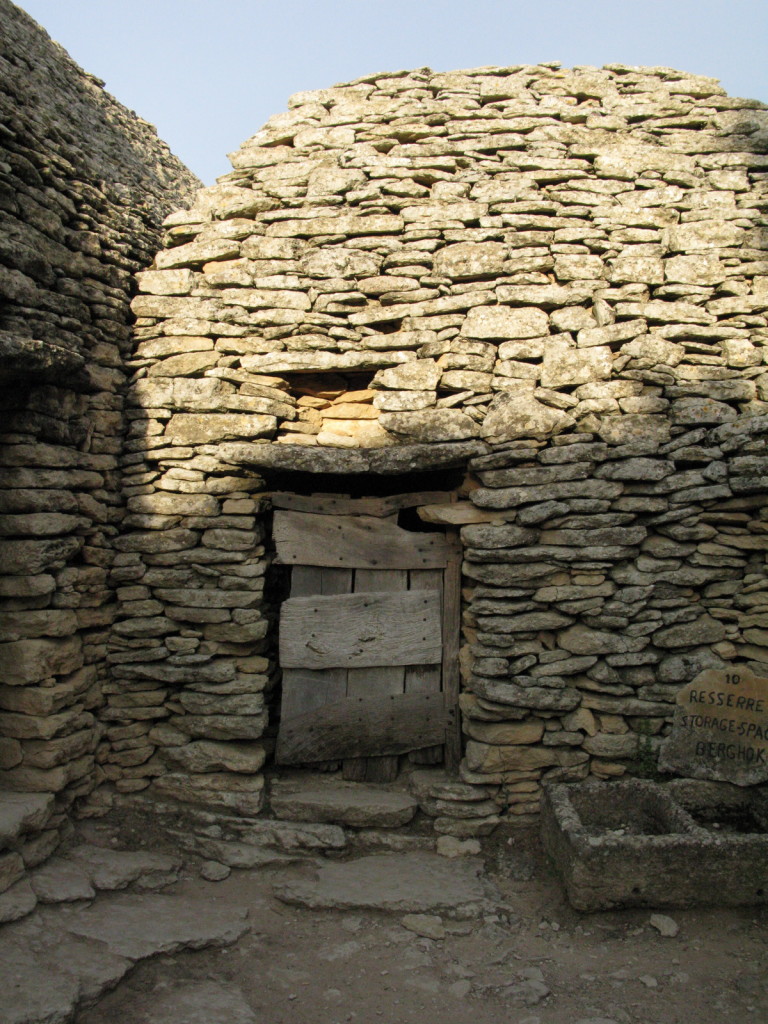 The Village of dry-stone structures dates back to the 17th century and was occupied for about 200 years, although their full history is unknown: Were they inhabited full time or on a seasonal basis or were they used by people seeking refuge. This village comprises five hamlets or clusters of buildings—dwellings, animal pens, bread ovens, workshops and so on, all of which may be explored by visitors. Similar stone villages were probably in existence before the Romans. That these elaborate structures were build without mortar is pretty impressive. It is fun, especially with children, to imagine what life in a borie village might have been like.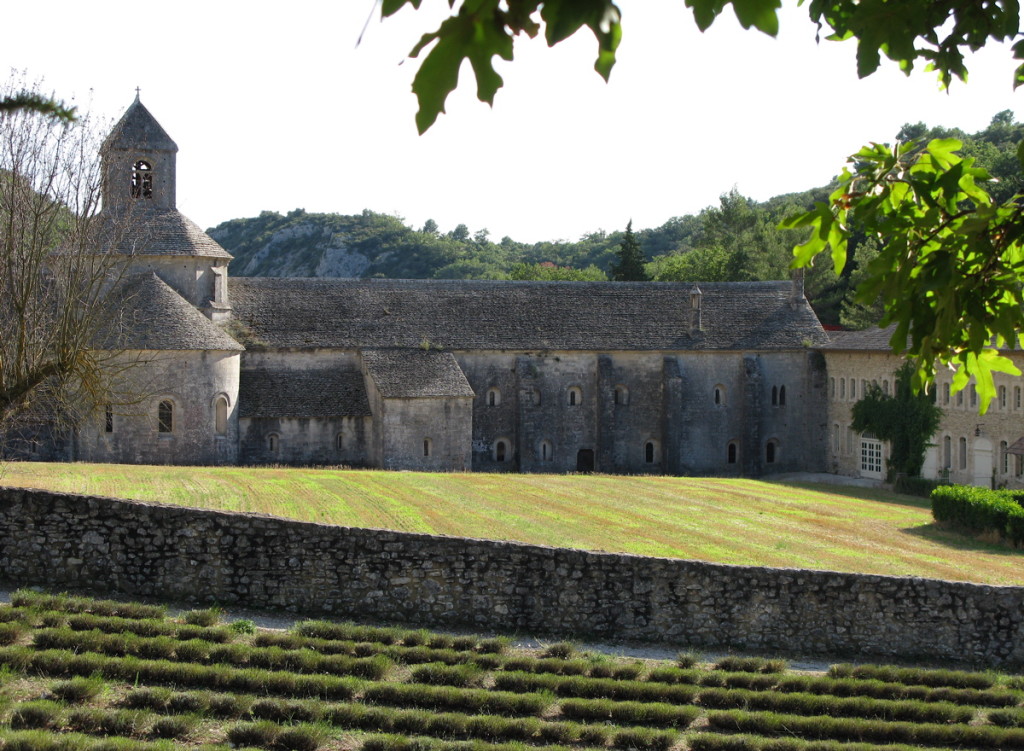 The Cistercian abbey, built in the 12th century, is older than both the bories and the château and is still in operation as a monastery today. This was the first of three Cistercian abbeys known as the "Three Sisters of Provence." The church, cloisters, and many of the main rooms may be visited. Church services are still held, some of which are open to the public. In fact, on one of our recent visits, we were able to hear an evening service. In July, the rows of lavender in front of the Abbaye are in full bloom and lovely. The gift store is known for its locally produced lavender oil, honey, and liqueur. In spite of the many tour buses you may see here in the summer months, the ambiance is somehow still very peaceful but, if you want to avoid the crowds, go just before closing.
Gordes may not be my favorite village but I certainly recommend the market! I also recommend A Good Year—critics panned it, but I thought it was a lighthearted romance with wonderful scenes from Provence.
For a list of other The Modern Trobadors (TMT) posts about markets in Provence, click here.