20 FAVORITE RESTAURANTS IN AND AROUND LOURMARIN
by Susan Manfull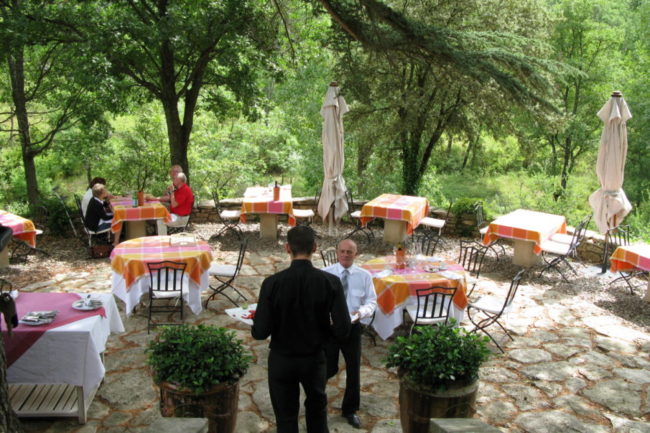 While we are in Provence, we spend a lot of time around the table, thoroughly enjoying the food before us. Most of the time that table is our own (although we are also fortunate to often find ourselves around the table in Pierre and Muriel's home!).
Readers of The Modern Trobadors know that we love to go to local markets and fill our baskets with goodies to take back to our own kitchen to cook. But, we also love to eat out.
Several people with whom I correspond are each planning a trip to Lourmarin in the very near future—Kirsten in California and Sharon in Massachusetts come to mind—and they have asked me where we like to eat when we go out. I haven't written about our favorite restaurants in and around Lourmarin since 2008 and, with tourist season just beginning, I thought it would be a good time to revisit our list of our favorite places to enjoy a memorable meal.
My list is mainly confined to Lourmarin and its Luberon neighbors, thereby excluding several of our very favorite destinations—like La Coquillade, Chez Bru, Monte Cristo, and Le Chateau—but I promise to write about them very soon.
I highly recommend securing reservations for most of the restaurants I've listed. Check out their websites (if available) and don't hesitate to call about what's on the current menu. By not mentioning a restaurant, I don't necessarily mean to suggest that it is not good—rather, these restaurants are on our list because they are our particular favorites. We have been to most of them over and over again and hope to return again and again. If I have left out one of your favorites—or you disagree with our favorites—please post a comment to let us know!
In Lourmarin:
Our top choice for dinner is La Louche au Beurre. The atmosphere is lively and the food is terrific. This is not a gastronomic restaurant, but for excellent casual dining, we go here and, in fact, our stay would not be complete without an evening in La Louche au Beurre. It is located on boulevard du Rayol, across from the soccer field and, from an outside table, you have a lovely view of the château. I have to confess that we have not fully explored the menu because we are ecstatic about the thinly sliced (premium quality) beef that we grill on the tabletop hot stone. It is to die for, according to some members of our family, and I am inclined to agree. The gratin dauphinois or (and?) frites are perfect accompaniments. Definitely order a salad—we prefer à l'ail –which, as in all French restaurants, will follow the main meal. A nice selection of…
regional wines is available. For dessert, we always have crêpes and recommend their specialty, crêpes Suzette. The crème brûlée is also excellent. Reservations are almost always required. (04 90 68 00 33)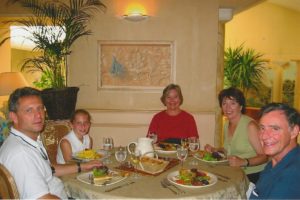 L'Antiquaire is another of our favorite restaurants in town for an excellent meal that fulfills our desire for haute cuisine, but in a less stuffy atmosphere and at a reasonable price. The décor is Provençal, pleasant with the traditionally muted color palate although some of the furnishings appear less antiquaire and more Restoration Hardware. David Dubouchet, chef and owner, strives to create food and service worthy of those coveted Michelin stars, but is not interested in the requisite accouterments (nonsense?) that accompany the stars. The food is Provençal-inspired, beautifully presented, and attentively served. My plat principal is almost always fish but the meat preparations are excellent, too. The restaurant is located on rue du Grand Pré; it has an inviting street level entrance, but the dining area is upstairs. You will hear the pleasant buzz of patrons enjoying their meals as you walk up the stairs to a surprisingly light-filled dining area. Something to note is that the acoustics are particularly good–we are often been struck by how easy it is to have a quiet conversation even though the restaurant may be filled with patrons. The air conditioning is a welcome relief from the warm Provençal sun. The restaurant is small and popular, so reservations are suggested. (04 90 68 17 29)
A great choice for take-out dinner in the village is pizza from Le Pan Garni, on Place Temple. The pizza can—and, in the peak of the tourist season, should be—ordered in advance. A Végetaríenne with mushrooms, onions, peppers, artichokes, and tomatoes or a Luberonnaise with cream, chèvre de Buoux, honey, bacon, and emmental cheese are two of our very favorite dinners. Our daughter loves the very simple but delicious Margharíta pizza. (04 90 68 84 43)
A good choice for dinner or lunch is La Treille. This very small restaurant is just a couple years old but has already established itself as a very good choice. It was originally called La Place des Délices but has just recently changed owners and names. The chef, Patrick Barbaux, and the menu remains the same. It offers outdoor eating sur la terasse and a small number of tables indoors. It is located next to Le Moulin de Lourmarin (but is not part of the hotel). The prix fixe menus offer interesting and varied choices and the à la carte menu includes some vegetarian options. The food is Provençal inspired with an emphasis on fresh herbs. An outstanding dish is "Le carré d'agneau du Luberon rôti à la fleur de sel de Camargue servi infuse su thym et romarin dans sa cocotte en fume." Space is limited, reservations are recommended. Closed Wednesday. (04 90 79 00 46)
La Récréation is an excellent choice for Sunday brunch when the day is sunny and the terrace is open. Although if the weather doesn't cooperate, the ambiance inside is warm and welcoming, especially around the fireplace. The menu is extensive from very light omelets and salads to braised meat dishes. My husband loves the lamb although, to my taste, the sauce is a little heavy. The cuisine is traditional Provençal with an emphasis on regional and organic products. The portions are generous and the price very reasonable. Tea is served in the afternoon as well as ice cream. This is a restaurant we frequent for a light brunch in the summer months and dinner in the cooler months. Reservations suggested. Closed Wednesday. (04 90 68 23 73)
Pizzeria Nonni is a casual Italian restaurant located in what was once a stable; the area on the wall that once held the feed for the animals is still there. In the winter months, the ambiance is cozy and inviting, especially in the back room around the fireplace; in the summer months, the outdoor tables, lined along the sidewalk and scattered around the Fontaine la Cordière, are filled quickly. I think the pizzas and pastas are good, but it's the al fresco dining that really draws me there. (04 90 68 23 33)
Our go-to place for a grand crème in the morning or a pastis in the evening is Café Gaby. (At Gaby's, pastis is always available in the morning, if that is your preference…and you won't be alone if it is!) Their salads are really good, too.
We should note that the restaurant in Le Moulin de Lourmarin has just reopened, after a three-year hiatus in operations. We have not heard a peep about it other than it is a Bistro menu and not the gastronomic restaurant that it once was.

Just outside Lourmarin:
La Fenniere is technically in Lourmarin but is a five-minute drive from the village center. Although we have not been for several years, our experience was that it is definitely a worthwhile drive for a fabulous gastronomic experience. For us, the price deems La Fenniere a special occasion destination (although we have found two special occasions to have dinner there.) The Michelin Guide has bestowed one star on this restaurant and with good reason. Reine Sammut, the renown chef of this restaurant serves a fabulous multi-course menu inspired by traditional Provençal cuisine as well as other cuisines around the Mediterranean, including North Africa. In a field traditionally dominated by men, this woman has garnered the respect of foodies from near and far.The menu changes along with the seasons and Reine creates her dishes based on local products. Friends of ours had a menu in which every course comprised local olive oils. Regardless of the season you choose to go, the food will be memorable. The farm house setting is lovely. Reservations required. Open for lunch and dinner and offers outdoor dining when weather permits. Closed Monday and Tuesday except in July and August when it opens for dinner on Tuesdays. Cooking classes are also offered
Reine and her husband opened a more casual restaurant on the same grounds several years ago. La Cour de Ferme offers mostly outdoor dining –it is the courtyard of the farm—and bistro fare at half the price. We have not been here, but hear that it is good. Closed Wednesday and Thursday. (04 90 68 11 79)
Close by, in the sweet village of Ansouis, a wonderful lunch or dinner may be found at La Closerie. This is a tiny restaurant with exquisite food. It is one of our very favorite restaurants. The prices belie the caliber of the food. If you go during daylight hours (lunch or early dinner), make sure to request a table outside. The tables may look as if they are in the street; they are but very few cars pass by. Anyway, with such a commanding view of a beautiful verdant field, and after a few sips from your bottle of local rosé, an occasional car will not matter at all. Reservations are a must. (04 90 09 90 54)
In nearby tiny Cucuron, home of one of our favorite markets (on Tuesdays) is a La Petite Maison. Opened just five years ago, chef and owner Éric Sapet quickly earned a well-deserved Michelin star. He was already a well respected chef in the region and beyond, including Paris where he was head chef at some of the city's top restaurants. Locals got to know him when Édouard Loubet, famed chef and owner of the restaurant in Le Moulin hired him to take his place when he left to begin another restaurant in Bonnieux. Sapet easily endeared himself to the locals, some of whom came to prefer his cooking to Loubet's and certainly preferred his unassuming manner. His preparations are less edgy than many of the current Michelin-starred chefs in that he relies less on unusual ingredients and more on local seasonal products that he impeccably fashions into some of the most memorable meals one might ever have. This gregarious man with a personality than rivals his size, is passionate about his cooking. He often comes out from the kitchen to see what his patrons have to say about their meals and beams when they are pleased. (I suspect he is always beaming.) His wine list is extensive and revolves around his current menu. His prices are incredibly reasonable compared to many of his peers. He also offers cooking and wine-tasting classes. La Petite Maison is located in the center of the village on Place Etang. (04 90 68 21 99)
Along the route d'Apt, just a few miles outside of Lourmarin in the opposite direction of Ansouis and Cucuron, lies Auberge de l'Aiguebrun. It is nestled in the woods of the Luberon near the Aigue Brun river and offers dining outside on a lovely terrace or inside in an inviting atmosphere that includes a roaring fire in the cold weather. If you want a short hike before and after your lunch, you can park along side the route d'Apt and have a lovely walk there.
Once on the route toward Apt, drive about five kilometers until you see a wide spot on the right-hand side by a sign foretelling the narrowing the road. (We had to drive by several times before finding the pull-out along side the road but it is there!) Follow the dirt road toward the river and you will find a lovely path that parallels the river and passes a perfectly preserved 17th century bridge with a sun-burst design cut into the stone. I can't recall exactly how long the walk takes, maybe an hour including photo-stops. Wear walking shoes. The food is very good. Reservations suggested. (04 90 04 47 00)
In Buoux, there are two casual, traditionally Provençal restaurants we highly recommend. Because the drive entails narrow winding roads, we usually do lunch to avoid a drive back at night. Lunch also allows for a hike up to Fort de Buoux where the panoramic views of the area have attracted soldiers since Roman times. (There is also ample evidence to suggest that prehistoric residents sought shelter in the overhanging rocks and that pagan ceremonies, including sacrifices, may have taken place on a curious basin carved into the stone at the top of a plateau.)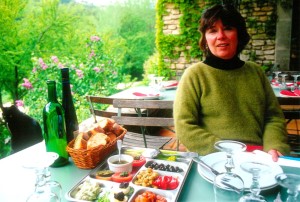 Auberge des Seguins offers dining on their terrace, amidst a stunning setting of steep canyon walls that surround open green fields. Rock climbers can almost always we seen climbing up and repelling down the tall canyon walls. Our meals typically begin with a bottle of local rosé and a huge platter of delicious hors d'oeuvres. The food is good, but one goes there for the setting and the relaxing atmosphere. (04 90 74 16 37)
Auberge de la Loube offers a beautiful setting as well. In the winter months, we find the tables near the fireplace to be especially inviting. In the summer months, the terrace offers a lovely view. The food is more refined than Auberge des Seguins, but its appeal is still in its simplicity. It is delicious and one of Peter Mayle's favorite restaurant destinations. (04 90 74 19 58)
If you want to drive just a little further to Sivergues, one of our very favorite places for lunch is Le Castelas, a working Provençal farm in a fabulous open setting surrounded by the Luberon Mountains where your meal is served on long wooden tables in the company of other patrons as well as goats, pigs, and an occasional cat. Everything on the menu comes from the farm and includes chèvre–at various stages of the aging process—ham, baguettes, and salad. Of course, local wines are served. Since lunch has always been a wonderful meal and a most memorable experience, we tried dinner last summer and thoroughly enjoyed that meal, which featured delicious roasted pork as well as the other courses found at lunch. To eat under the open sky of thousands of stars was a dreamy experience. (04 90 74 30 81)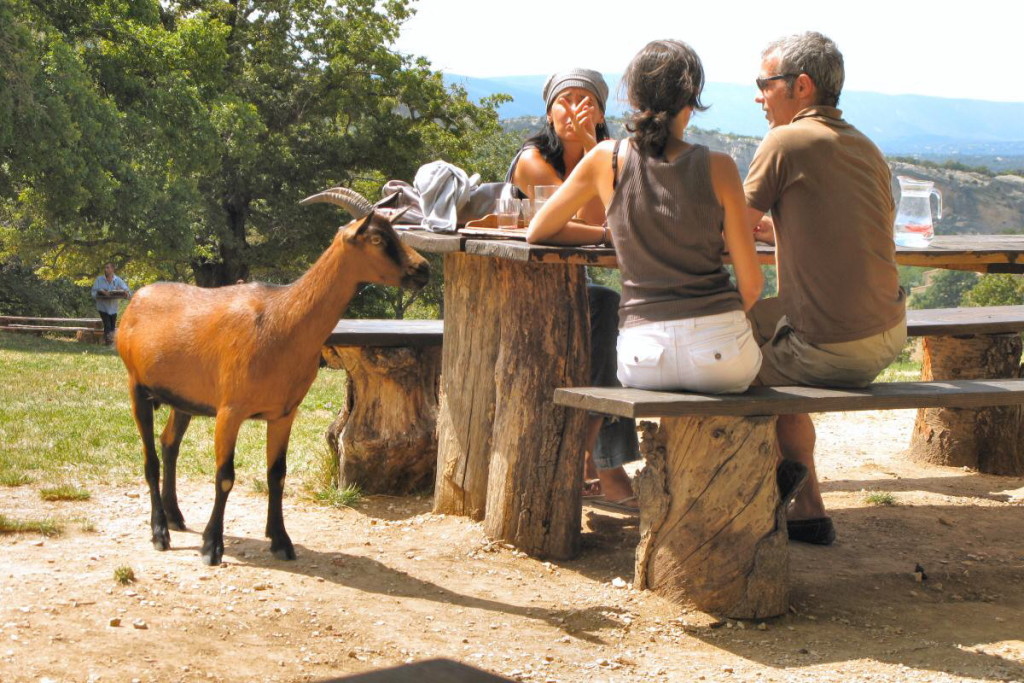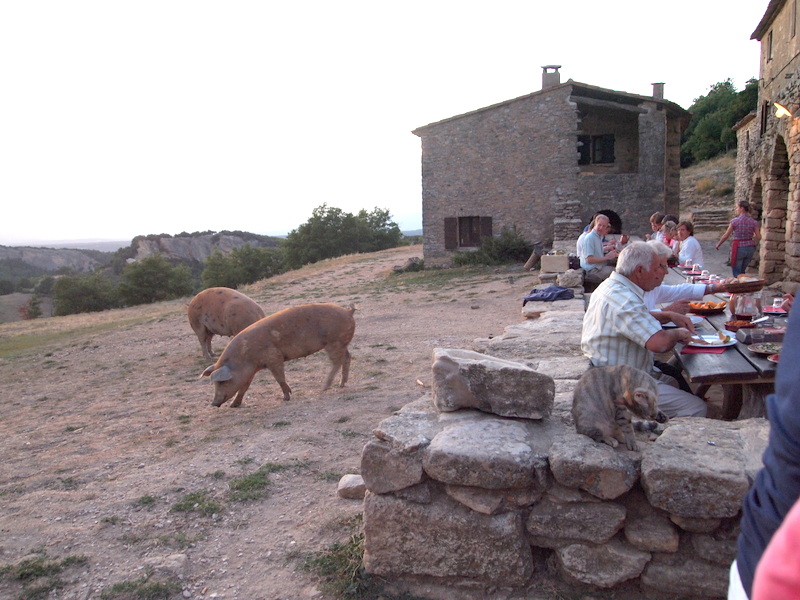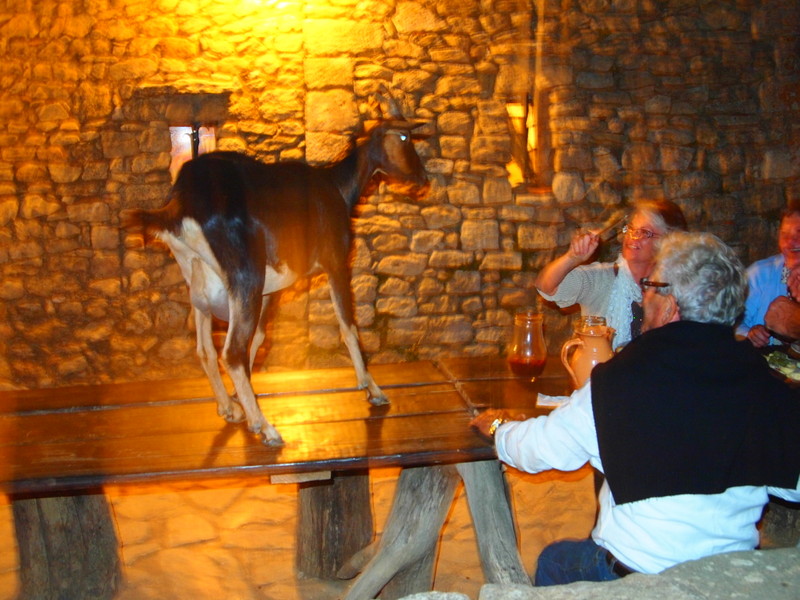 In Bonnieux, the strikingly beautiful hill top town to the west of the route d'Apt, we would recommend Le Fournil. Le Fournil, literally translated means "bake house" and indeed this restaurant is located in a building where bread was once baked. The former bakery, tucked into the side of the rock upon which part of the village is built and overlooking a terrace, has been completely transformed into an interesting, warm, and inviting atmosphere. At first glance, it may seem that the furnishings are far too contemporary for the exposed stone setting, but the surprising juxtaposition provides an edge and definitely works. In the warm months dining takes place on the terrace, under canopies that, for the most part, protect the customers from the intense Provençal sun. The food, Provençal with a modern eclectic twist, is excellent and attractively presented. The menu changes about every four weeks. The restaurant is popular, so we recommend reservations, particularly on market day (Friday) and for the Sunday afternoon meal. (04 90 75 83 62)
Another favorite is L'Arôme in Bonnieux. Located on rue Lucien Blanc, in a very narrow space dating by to the 14th century, the front part of the restaurant has an exposed beam ceiling that meets the walls of exposed pale white stone and the anterior portion of this restaurant features a vaulted ceiling of the same stone. Combined with the flowing light fixtures, white linen table cloths, and flowers, L'Arôme is immediately inviting. The food did not disappoint.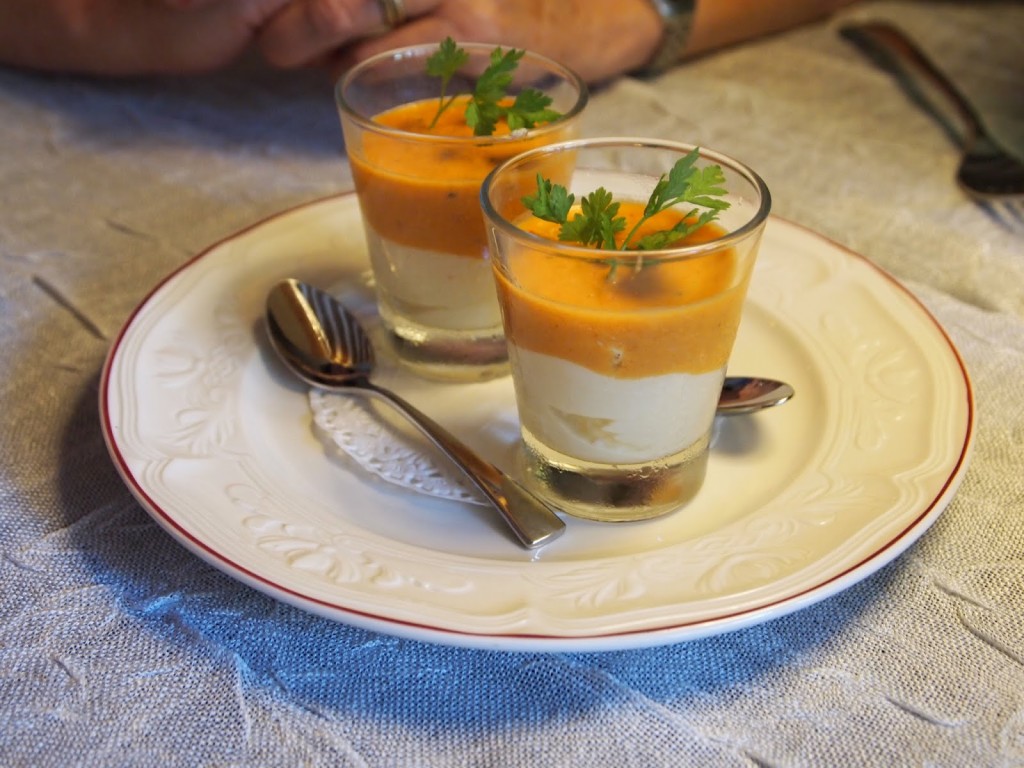 We began a recent lunch there with an amuse bouche which was a verrine of fresh mozzarella topped with a creamy gazpacho. My appetizer was an eggplant caviar with chèvre mousse and tomato and basil coulis. Towny's was a trio of cucumber gazpacho, tomato and feta aspic, and tomato sorbet . Both appetizers were as beautiful as they were delicious.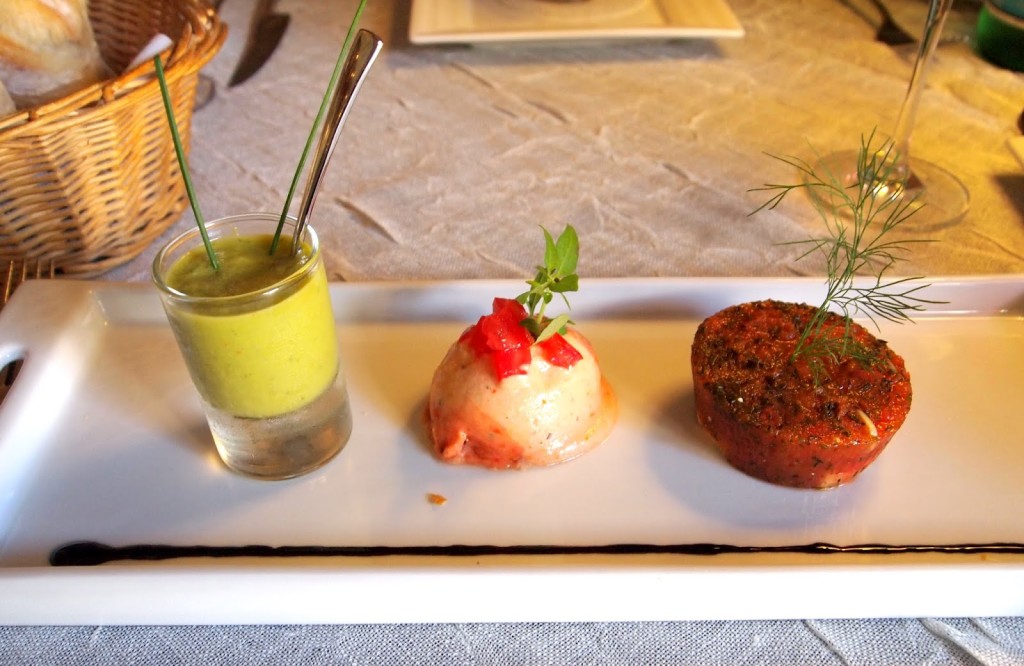 Towny's main course was a duck breast with an apricot sauce and violet potatoes. Mine was a filet of sea bass with a fennel mousse sauce. Both were exquisitely presented and terrific.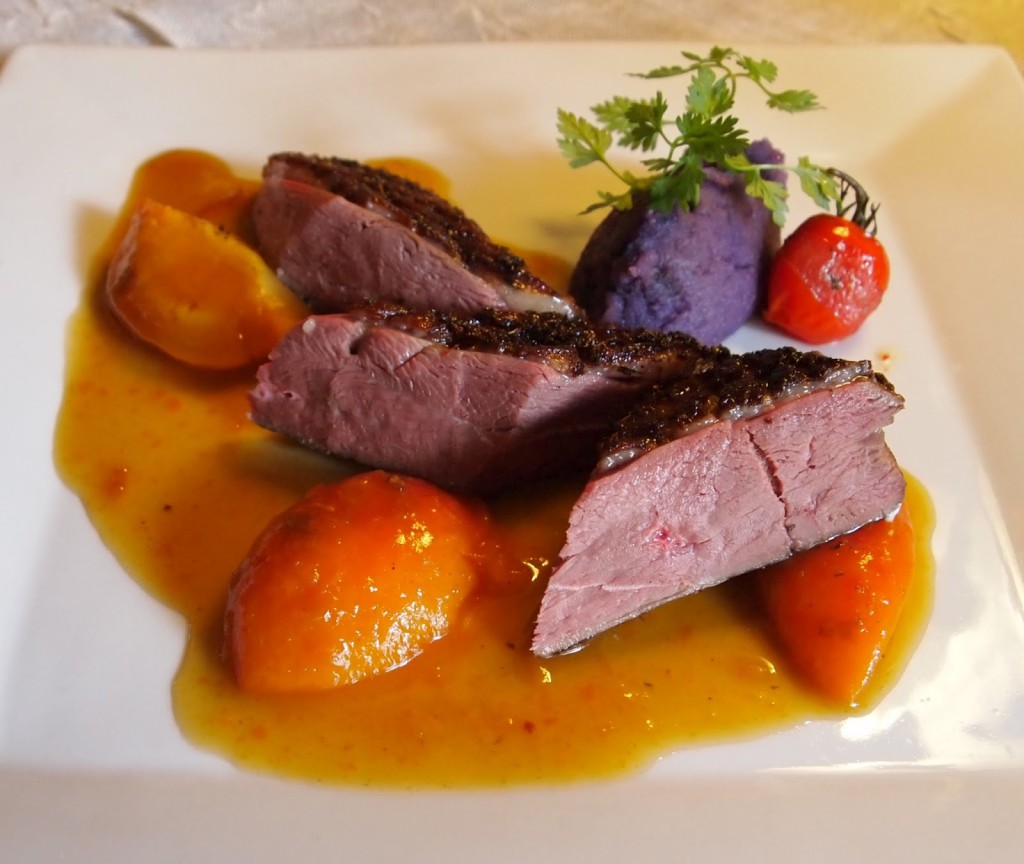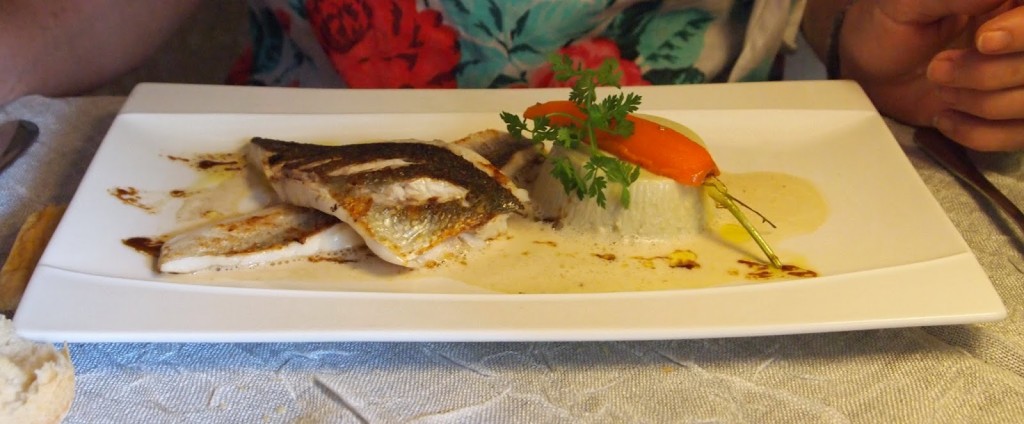 Next, we opted to include the chèvre course with honey and olive oil for dessert table (for an extra 4 euros), an excellent decision. Dessert was crème brûlée nougat with a honey mousse.
Macaroons and tiny almond cookies accompanied our espressos. My notes reveal that this outstanding multi-course meal was 29 euros (plus the extra 4 euros for the cheese course) which seems a terrific bargain for a most memorable meal. Chef Jean-Michel and his wife Clara Pagès have been in the restaurant business for over 20 years and have been at the helm of this restaurant for over five years. We can't wait to return. Closed all day Wednesday and for Thursday lunch. Reservations recommended, particularly on market day (Friday) (04 90 75 88 62)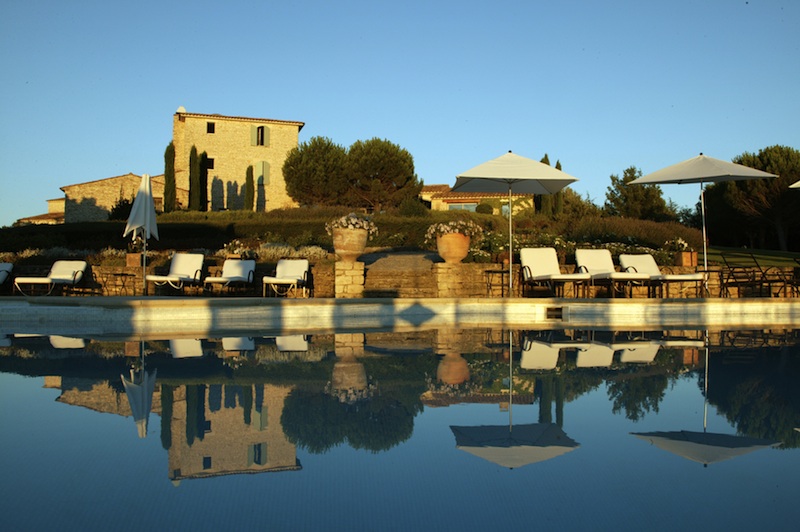 Édouard Loubet's new gastronomic restaurant, La Bastide de Capelongue, is located just outside the village of Bonnieux. This celebrated chef used to run the restaurant in Le Moulin in Lourmarin where he distinguished himself as the youngest chef ever to receive two coveted Michelin stars and had a dedicated following. He created a reputation for himself with his creative herbal infusions and interesting combinations of tastes and textures that result in exquisite dishes. La Bastide, his second gastronomic restaurant now has two Michelin stars—the only restaurant in the Vaucluse with two stars—and Loubet has just been named Chef of the Year 2011 by Gault Millau. We have not yet had the opportunity to visit La Bastide (although we have visited the beautiful property) but, not surprisingly, we hear it's excellent but, as all those stars would suggest, it is very expensive. Dining is available on the patio in favorable weather. Both lunch (including a "light" lunch) and dinner are served. Reservations are recommended (04 90 75 89 75)
South of Lourmarin, in the small dare-I-say non-descript village of Lauris, is a restaurant called Lou Pèbre d'aï . The outside is as unremarkable as the rest of the village but those in the know realize what lies inside: a lively restaurant with terrific food at rock bottom prices. Needless to say Lou Pèbre d'aï has a huge fan base that precludes an impromptu visit. I have not been here, but my husband was invited there for dinner by our banker who lives in Lauris. (An American doing business in France easily befriends the banker as any transaction is entangled in so much bureaucracy that a lot of time is spent together!) Towny's report was excellent and matched the consensus of local opinion: very good food and a lot of it! It's like French comfort food, Towny says. He highly recommends it. Reservations essential. (04 90 08 27 00)
If you have a hankering for Asian food, as we often do, you are in luck. In Cadenet, there is Saveurs Indochine (04 90 68 28 91) which serves Vietnamese and Thai food and in Pertuis, there is Baie d'Along (04 90 79 42 09) which serves Vietnamese and Chinese food. Both are excellent.
I can't resist including our favorite ice cream parlor. Located just past the main village of Ansouis, over the hill and around the bend as if you are going to grandmother's house, is L'Art Glacier where sixty flavors of award winning ice cream await you. We have been there many times!
Children are welcome in restaurants in France. There is often a menu enfant that features smaller portions of good food—not chicken fingers and fries or hot dogs and chips—usually served in three courses. Maybe a simply prepared white fish or unadorned pasta, green beans, salad, and cheese or dessert.
If the restaurant does not have a menu enfant, they usually will offer to prepare something to the child's liking. During our first dinner at Le Moulin when Édouard Loubet was still chef, the waiter looked at our then eight year-old daughter and inquired, "And what would the little princess like?" "Rack of lamb" popped out of her mouth and, although not on the menu, the waiter did not flinch. Soon, a simple but elegant arrangement of three racks of lamb appeared in front of a very happy young lady.
In a country that adores food as much as this one, going out to eat is always a treat, whether the destination is a simple bistro or a famous gastronomic restaurant. We have had some duds (yes, even in France), but every restaurant on this list has been a memorable culinary experience.
Bon Appétit!