LE CHÂTEAU DE LOURMARIN TO HOST RENAISSANCE FESTIVAL IN APRIL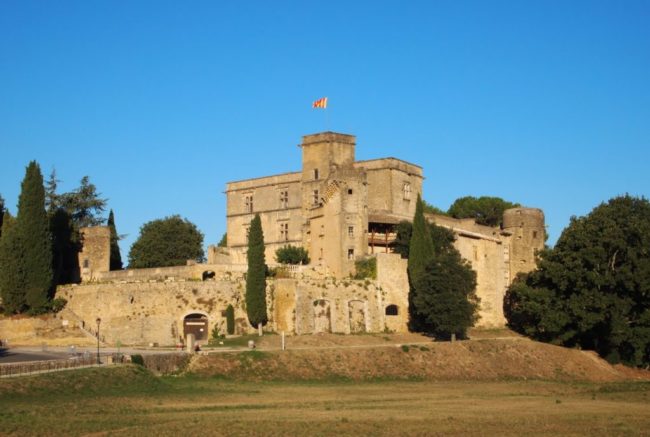 As we roll in to our favorite village in Provence, I always feel good when I see Lourmarin's charming profile–the one that graces the masthead of The Modern Trobadors–and I know that when we round a few more corners, we will see its majestic château. This (mainly) Renaissance château, the first of this period in Provence, sits atop a hill, dominating the western view of the village, as it has–more or less–for at least 600 years.
Today, this majestic building draws visitors from around the world–tourists who simply want to see this lovely castle as well as young artists, writers, and researchers who are invited to pursue their studies in this inspiring environment. It hosts concerts featuring internationally recognized musicians throughout the summer and lends its space to exhibits of the art work of internationally known artists. It is home to Les Caves du Château, one of our favorite places to taste and buy wine. And, its grounds are a wonderful spot to have a picnic. If all these reasons are not enough to motivate a visit to this château, I'm writing to let you know about another reason: A Renaissance Festival!
On the last weekend in April–the 27th and 28th–the château will go back to its roots. I am told there will be jousting and sword fighting, strolling mistrals and maybe even the opportunity to buy your own shield and sword–let's hope you won't need it!–or a goblet to fill with wine from Les Caves! As the photos reveal, people will be in costume–you are welcome to come in costume, too!–and, with the château as backdrop, you may feel as if you have been transported back in time.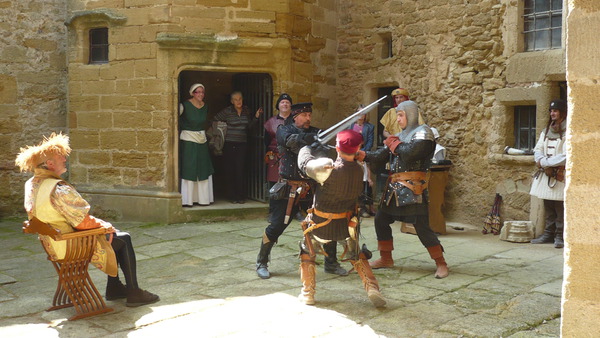 It's a Renaissance Festival but it sounds like we might see some activities that extend back a few more centuries, too. And that would make historic sense on this property that was built on what is probably a 12th century foundation. As I wrote above, the château is mainly Renaissance in style–there is also its medieval foundation upon which Gothic style towers were built and later the Renaissance elements that dominate the castle.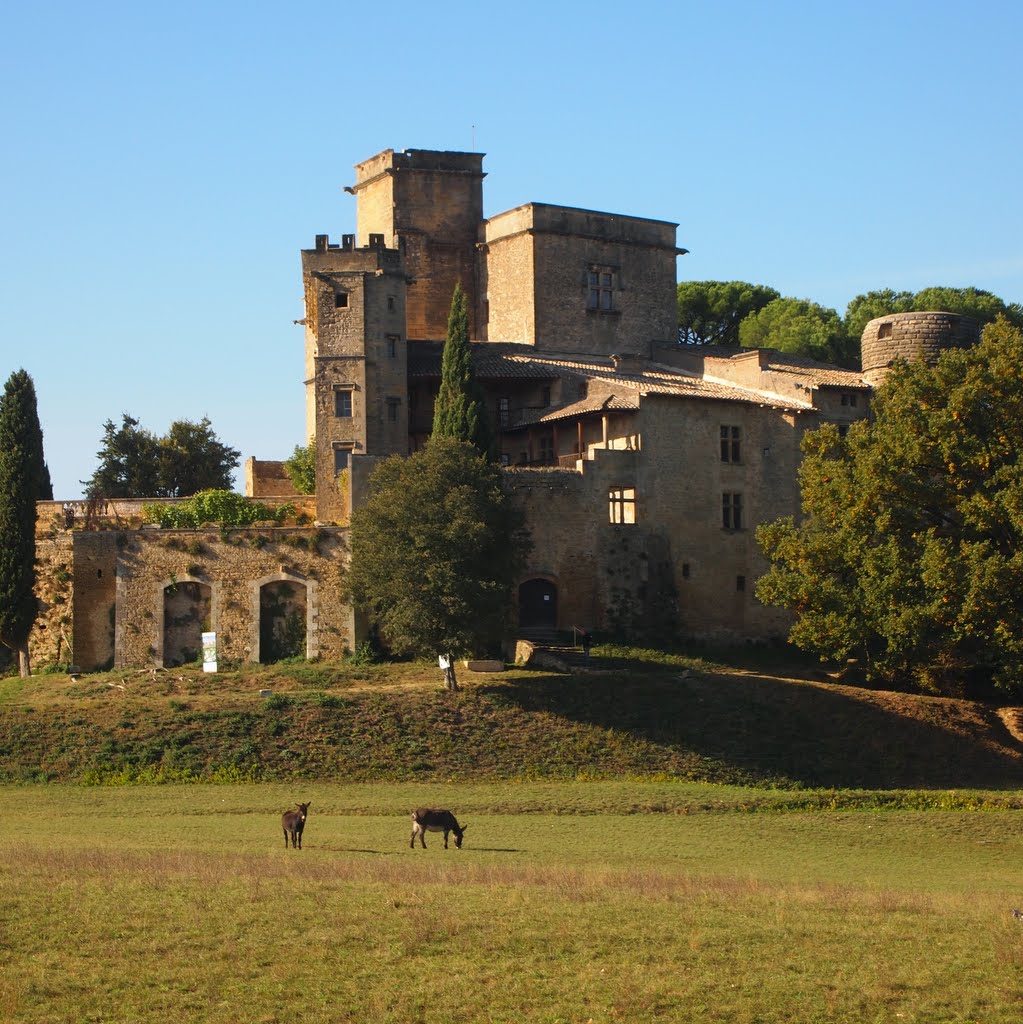 A little history might be helpful here. The 15th century marked a new beginning for Lourmarin. After a long period of decline due to frequent pillages and the 14th century plague, Lord Foulques d'Agoult began transforming what was left of the 12th century fortress into a castle. In order to accomplish this formidable task, he arranged to have around 50 Vaudois families moved to Lourmarin to do the work. What is left of this effort is referred to as Château Vieux and consists of the Gothic style round tower on the Northeast corner and the hexagonal tower on the Southeast corner.
The construction of the remaining portion of the château began in 1526, under the guidance of the great-grand-nephew of Lord Foulques d'Agoult, Louis d'Agoult-Montauban, and his wife. There were interruptions over the next couple of decades, but with encouragement from King François I who visited Lourmarin in 1537, the work was completed in 1542. The final result was the Château-Neuf with a distinctly different style, reminiscent of the châteaux in the Loire Valley. The spectacular double spiral staircase adorns the interior of the château comes from this period.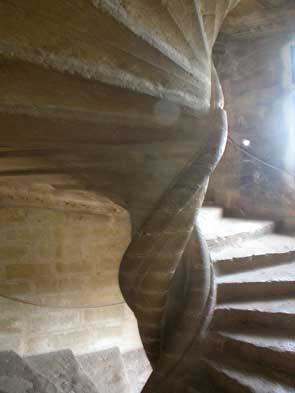 Sadly, just a few years after the completion of the château, the religious wars of Provence broke out, followed by the brutal attack on the Vaudois inhabitants of Lourmarin (and surrounding villages). As many as 3,000 people in the Lubéron were slaughtered. The village was destroyed and the castle damaged and abandoned. Later, it escaped destruction during the Revolution only to be faced with its last days again in 1920. In the meantime, it was occupied by small farmers and "gypsies" making pilgrimages to Saintes-Maries-de-la-Mer. The latter group is said to have put a curse on the château as evidenced by their graffiti in the château of a sailboat encircled by strange birds with human faces.
It would seem that the gypsies' curse did not work–or was not a curse at all– because just as plans were being drawn up to sell the property so that it could be dismantled for its stones, a scholar and successful industrialist, Robert Laurent-Vibert, purchased Lourmarin's château so that it could be brought it back to life. He set up the Foundation de Lourmarin Laurent-Vibert with the goal of establishing the château as a residence "open to art, intellect, and friendship."
Sadness descended on the château again when Laurent-Vibert was killed in an automobile accident in 1925; but, the residents of Lourmarin worked to finish the work he had started. The château was restored and the foundation was created. In 1973, the château was classified as a Historic Monument.
Today, who can imagine Lourmain without its proud château? Although it now stands sentinel over Lourmarin, it ironically owes its very existence to the residents of this tiny village who, throughout the ages, worked to build, rebuild, and ultimately save its château.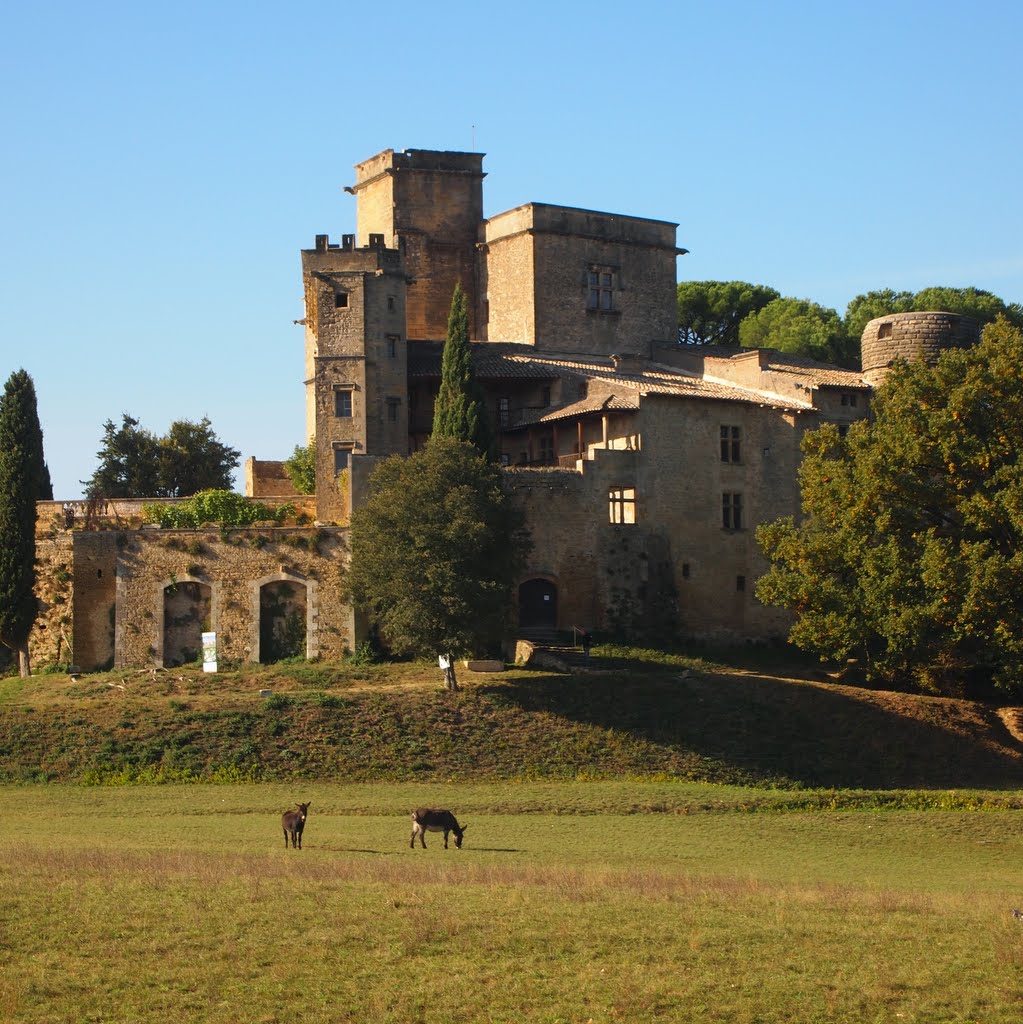 I hope this brief history puts you in a mood to go back in time. I suggest starting with a grand crème at Cafe Gaby's, of course, before heading over to the château for an morning of Renaissance fun. Then tour the castle and let your imagination take you back in time. Taste some wine at Les Caves on your way out and, if you have a late picnic planned, pick up a bottle to toss in your basket. If you were fortunate enough to book a place to stay through RentOurHomeInProvence (our website where we list just a few lovely homes in Lourmarin), go back and pick up your basket and find an inviting spot near the château.
Caroline Galina, Adjunct Director of Cultural Affairs with Le Château de Lourmarin, said that this event debuted last year and was a huge success. About 1400 people attended and word on the street revealed that visitors had a whole lot of fun. This year's festival, Ms. Galina reports, will be even better! Mark your calendar!