LOOKING FOR WINE IN THE LUBERON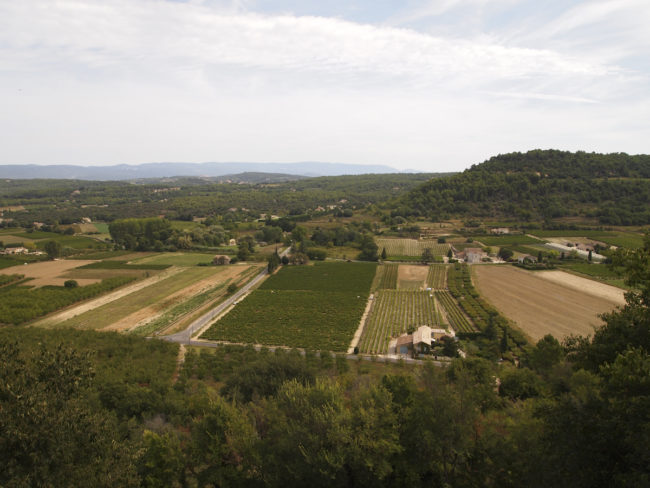 What is the Luberon? It is a range of mountains called the Grand and the Petit Luberon divided by a valley called the Combe de Lourmarin; a regional park called Parc naturel régional du Luberon; a cultural region that has long drawn an eclectic mix of writers, hikers, and well-heeled Parisians; and, as of 1988, an Appellation d'Origine Contrôlée (AOC), meaning its wines achieved a high enough level of quality to merit their inclusion in the government system that protects the integrity of French wine by governing its production and origin, among other factors.
With so many reasons to visit Provence's Luberon, it's hard to choose just one to sit at the top of the list. There's the sunshine, the lighting, the laid-back lifestyle, the Roman ruins, the bories, the hiking, the biking, the fêtes, the markets, the food, the wine, the lavender, the perched villages and their narrow winding streets, the art, the music, the châteaux, the fabrics, the antiques, and so on. The wine certainly hovers around the top of this long list of reasons that, for us, the Luberon always beckons.
Wines were produced in this area long before the Romans arrived; but when they arrived in 124 B.C., just a year after landing in Marseille, they certainly contributed to organizing the vineyards. They divided the land into squares about 2,330 feet on each side and distributed the plots to the most deserving of its army commanders. Called the "centuriation" system, this grid of square plots can easily be seen from one of the hilltop villages and is worth a stop to take a look when you are on your way to taste wine in the Luberon. Other evidence of Roman occupation can be found on several properties that I recommend visiting.
French Wine Regions and Appellations
Before you begin your winetasting tour of the area, it may make sense to review the basics of the French system of organizing vineyards (and regulating wine production). If you are already familiar with this complex system (or just want to get to the winetasting part), skip the next few paragraphs and dive right into our recommendations.
In contrast to the United States, for example, where grape variety drives organization, in France, geography drives organization (in the broadest sense). There are thirteen regions that produce most of the wine in France. Bordeaux, Burgundy, Champagne, and the Loire are probably the most familiar regions to the average person outside of France. In Provence, there are two major wine regions: Provence and the Rhone Valley.
Each of the major wine regions is further divided in to appellations. There are over 300 wine appellations that have been designated by the Institut National de l'Origine et de la Qualité (previously called Institut National des Appellations d'Origine and still identified as INAO), a branch of the French Ministry of Agriculture. Officially referred to as an Appellation d'Origine Contrôlée (AOC) or "controlled designations of origin," wines produced in a particular AOC must adhere to strict laws governing the geographical origin, production (including the types and percentages of grapes used), quality, and style of wine. (The same organization also grants appellation status to other agricultural products such as cheese, butter, meat, honey, and lavender.)
About half the wines produced in France meet the AOC criteria. The others are labeled Vin Délimité de Qualité Supérieure (VDQS, about 10%), Vin de Pays (about 33%), or Vin de Table (around 12%). The AOC wine is not necessarily better than the VDQS or the Vin de Pays wine, but it is very likely better than the table wine (that only needs to meet the criteria that the producer and the origin are from France).
In 1951, Luberon wines were designated as VDQS status, meaning that these wines were waiting to become AOC wines. In 1988, the wines finally met the criteria to be designated AOC.
Now, to make things just a little more confusing, after six years of planning, the wine classification system was overhauled and a revised one was introduced in 2012. Essentially, the changes are as follows: the AOC wines are now be referred to as Appellation d'Origine Protégée (AOP) wines; the Vin de Pays wines were replaced by a category called Indication Géographique Protégée (IGP); and the Vin de Table label was replaced by the label Vin de France. The VDQS wine category was dropped; wines that would have fallen in that category need to be elevated to AOP wines or lowered to IGP wines.

Lubéron Wine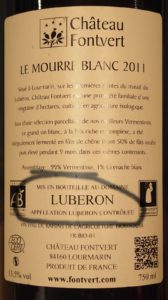 Luberon wine, also known as Côtes du Luberon wine, is an AOP that is part of the Rhone Valley region, specifically the Southern Rhone Valley. It is approximately 2700 hectares (6671 acres) in size and comprises 36 villages in the Vaucluse department of Provence and around 450 vineyards. It lies adjacent to the Côtes du Ventoux AOC (7000 hectares) and many producers make wines for both appellations.
About 60% of the Luberon wines made are red; 20% are rosé, and 20% are white. AOP Luberon wines must be produced from a blend of several varieties. Reds and rosés are made primarily with the AOP permitted varieties of Syrah, Grenache Noir, Mourvèdre, Carignan, and Cinsault; secondary permitted varieties include Picpoul Noir, Counoise Noire, Gamay Noir, and Pinot Noir. (Reds may include up to 10% white grape varieties and rosés may include up to 20% white grape variety.) White wines rely on the permitted varieties of Grenache Blanc, Ugni Blanc, Vermentino, Clairette Blanche, and Bourboulenc; secondary grapes include Roussanne, Marsanne, and Viognier.

Lubéron Wine Tour
Lourmarin, the charming village where we have been fortunate to stay for long stretches of time, lies at the southern entrance to the Luberon . It is a wonderful base from which to explore the vineyards of the Luberon (and, Provence, in general).
If you are staying in Lourmarin, we recommend starting in the village itself: at Les Caves du Château—Cave à Vin, located, as the name suggests, beneath the village château, and at La Cave à Lourmarin, otherwise known as the wine cooperative, located on the place Henri Barthelemy. Both places offer tastings and wines to purchase.
In the Cave at the Château, under the knowledgeable and fun tutelage of Florian Girbal, you may sample wines, depending on what's open, from the all the major producers in the Côtes du Luberon. (He also has wines from the Côtes de Provence, the Côtes du Ventoux, Pierrevert, Bandol, Gigondas, Vacqueyras, to mention just a few appellations.)
If you are able to visit just a few châteaux and are not sure which ones to include, taste and/or buy a few bottles for a tasting. All of the Luberon wineries offer drop-in tastings; no appointments are necessary.
In the Lourmarin Cave, you will find wines made from local grapes in the cooperative and wines from smaller vintners in the area. Recently, this cooperative began working with grapes from Cadenet, Lauris, and Cucuron, too. Wine may be purchased in the bottle or you may bring your own containers to fill. Two stand outs are the highly acclaimed Terrasses Sarrazines (white) and the very popular Domaine de la Bastide de Rhodares (red).
Our Favorite Producers in the Lubéron
Aureto Vignobles
Gargas
Telephone: 04 90 74 54 67
www.aureto.fr
Wine has been produced on this site since the 13th century. Cave Aureto emerged in 2007 when the current Swiss owners, Werner and Carmen Wunderli, with investor Andy Rhis, bought Cave Coquillade and renamed the winery for the gentle breeze, "Aureto," that blows across the warm Provence countryside. The name of the estate, Le Domaine de la Coquillade, was retained and is evidenced by the small bird that graces the label and barrels.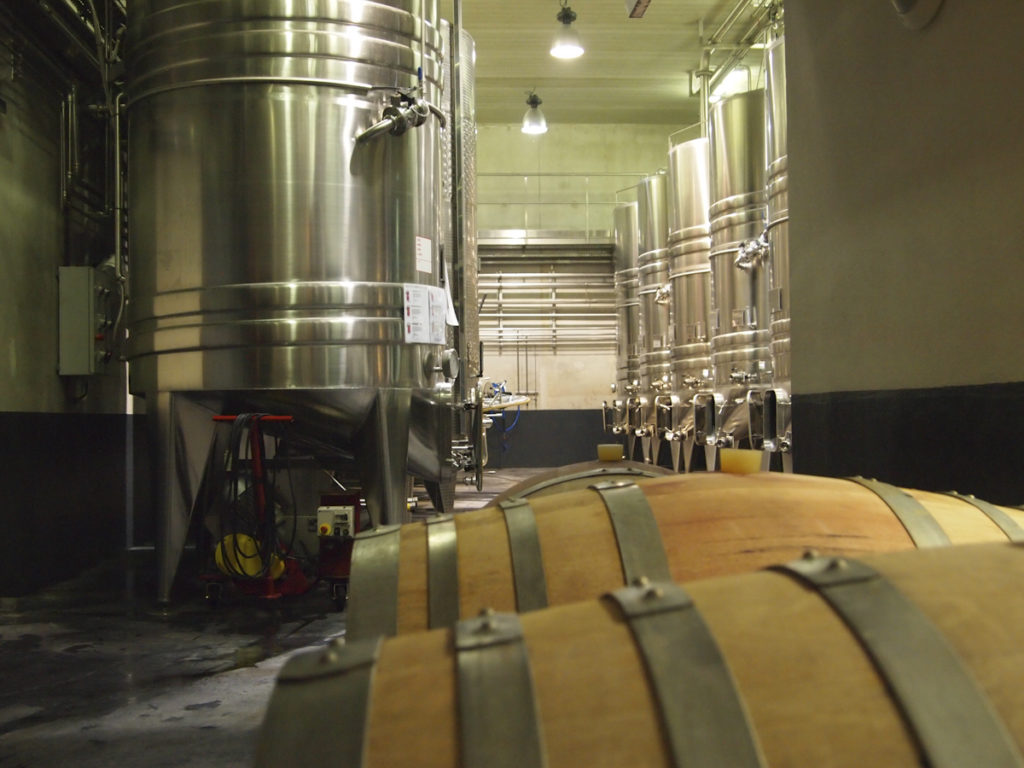 The vineyards fall into two Appellations d'Origine Protégée (formerly AOC): Ventoux and Luberon. The winery also produces an Indication Géographique Protégée (IGP, formerly VDP): Vaucluse. As faithful Trobador readers know, good friend Pierre Schott is the retail caviste of the winery's cellar and you may recall that we really like the IGP rosé that they produce; but we also thoroughly enjoy their reds and whites.
The winery shares the property with La Coquillade, a 28-room luxurious Relais & Châteaux hotel, a gastronomic restaurant, a piano bar, and one of our favorite casual restaurants, Le Jardin dans les Vignes. This winery, nestled in a beautiful setting, is an ultra-modern facility and, with the very knowledgeable and friendly host, Pierre, is sure to be fun and informative. We highly recommend a stop for wine tasting followed by dinner overlooking the vineyards.
Château Constantin Chevalier
Lourmarin
Telephone: 04 90 68 38 99
I have visited Château Constantin-Chevalier several times. I had the pleasure of meeting Allen Chevalier, who with his wife Marie-Laure, bought the Château in 1990 with the goal, I am told, of making the best wines they could. Their dedication, I am told, transformed the winery into what we see today. Although I am always raving about their rosés, it is their wonderful white wine that has garnered the most attention, with many awards of distinction. The 2009 Pétale de Rosé—composed of equal parts of Syrah and Grenache—is one of my very favorites. Peter Mayle raves about this vineyard.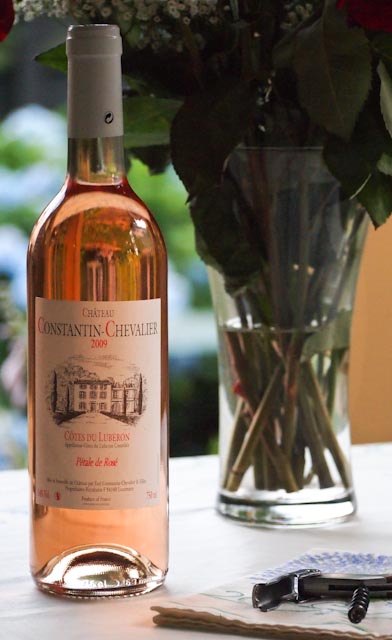 Sadly, Monsieur Chevalier passed away about two years ago. We hope that whoever has purchased Château Constantin-Chevalier will keep the dreams of this family alive.
Château de l'Isolette
Apt
Telephone: 04 90 74 16 70
My husband rates all the wines from this château—all colors—as being exceptionally well-made, well-balanced, and pleasant. Their reserve wines have greater complexity than standard labels but all are excellent. Therefore, we always stop off at Château de l'Isolette, usually at their tasting room on Route d'Apt (separate from the château). But, the château is worth a detour to see their wine-making museum.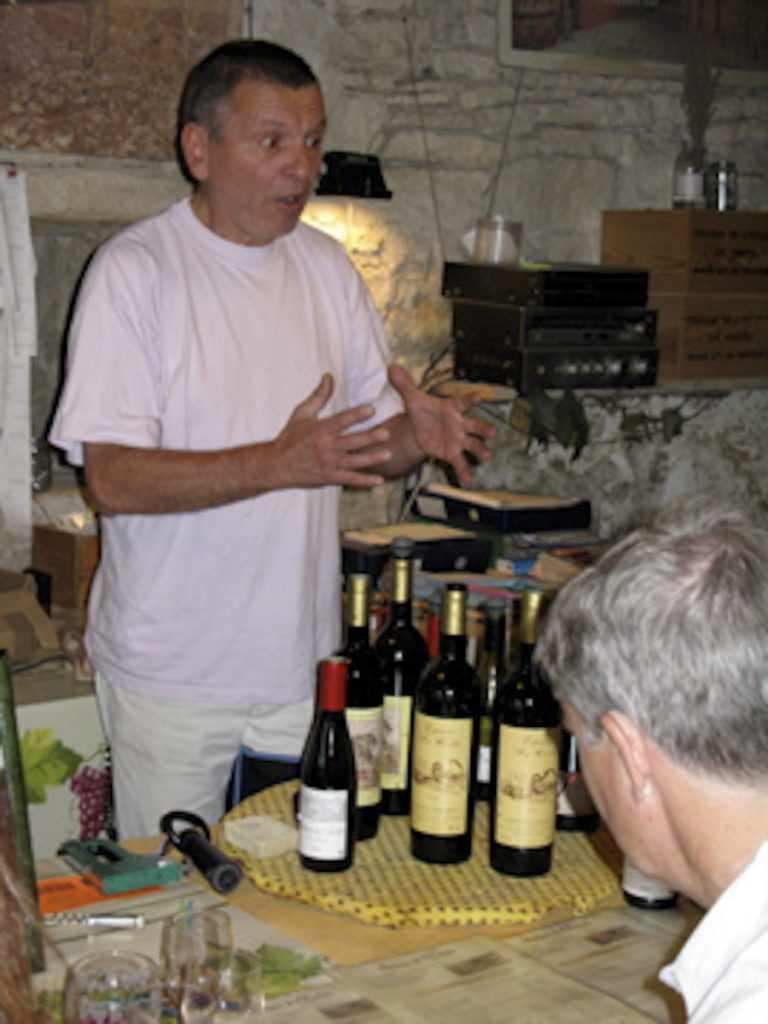 The château has been in the same family since 1635. Laure Pinatel-Gilles and her husband Denis Gilles now run the business, having taken the reins from Laure's parents, Micheline and Luc Pinatel.
In addition to my husband, Pierre Cardin also likes their wines– so much that he has signed wine labels for the château and featured their wine at his restaurant Maxim's in Paris.
Château de Mille
Apt
Telephone: 04 90 74 11 94
www.chateau-de-mille.com
This 12th century château looks like a castle on which you would expect to see a huge dragon swoop in and land. It is fantastic—there are windows of many sizes and shapes and part of the building itself was build atop a large rock formation. Wine has been made here since the Middle Ages and the medieval vats and wine press, carved out of rock, are there to prove it. The château was originally the summer home of Pope Clement V.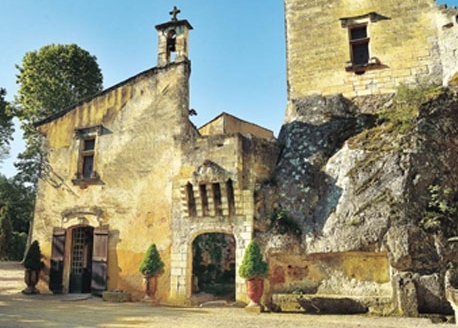 The Pinatel family has owned the estate since 1780. Interestingly, from 1916 to 1939, it was part of the Côtes du Rhône appellation, then part of Côtes de Provence, then part of Côtes du Ventoux and, now, part of the Côtes Luberon. Conrad Pinatel, the current owner, once wrote on his wine label, "Regimes pass, appellations change, quality remains."
Robert Parker writes that this winery "produces some of the best and most expensive wines in the Lubéron ."
The reds are highly acclaimed and we can attest to the fact that they age very well. They also make excellent whites and fine pinks.
Château de Val Joanis
Pertuis
Telephone : 04 90 79 20 77
www.val-joanis.com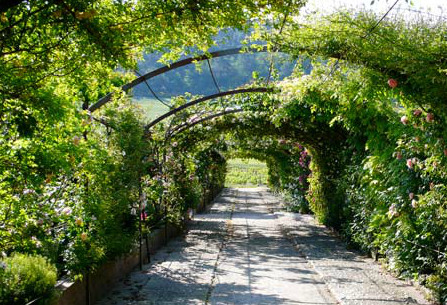 This château is build on the foundation of a Roman villa that produced wines that were good enough to send back to Rome over 2000 years ago. In 1977, Jean-Louis Chancel bought the property and, for the next two decades, worked diligently to restore the vineyards—he planted 186 hectares—and the winery. Beautiful terraced gardens, designed by Tobie Loup de Viane, were also installed and are now a draw in addition to the wine. The wines—AOP and IDP–are good and the grounds are lovely. It is a welcome stop after a visit to Pertuis.
Château Fontvert
Lourmarin
Telephone : 04 90 68 35 83
www.fontvert.com
Although I have jogged by this château for over a decade, I had never visited the winery until this summer. I tasted their wines many years ago when they were one of the only wines available in the village convenience store (for 3 euros, maybe even less) and I thought they were awful. Now, I hasten to write that they produce some wonderful wines and we highly recommend a visit to Château Fontvert. If you are staying in Lourmarin, you can easily walk (or jog) there, as I did for the first time in August of this year.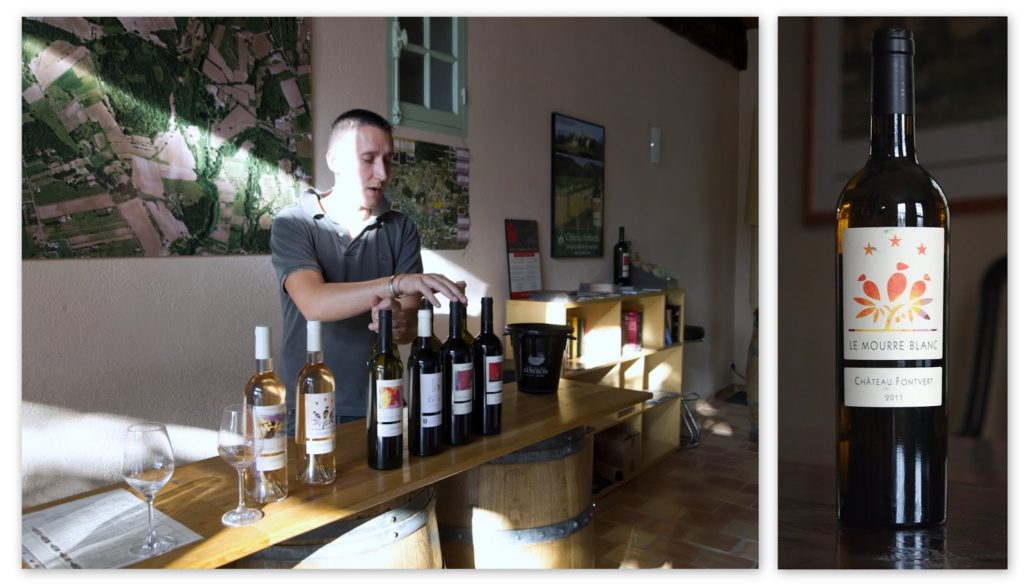 Château Fontvert was founded in 1598. Since that time, the same Huguenot family has overseen the estate. The past decade has seen major operating changes at this winery and the wines demonstrate the success of this renewed dedication to wine making. Great emphasis continues to be placed on bioligique wines.
Our visit to this winery was the surprise hit of the summer 2012 tastings. We tasted some excellent wines with a very knowledgeable young man, Alex. Although we arrived shortly before closing (for which we apologized), he was as welcoming as could be and encouraged us to stay after hours. We were having so much fun that we did stay on. We had already purchased so many wines that I wasn't sure our luggage could accommodate all of them, but we so thoroughly enjoyed the Fontvert limited-production wines that we couldn't resist buying more.
Robert Parker also tasted their wines in August 2012. The Château Fontvert rouge 2010 received a rating of 89 (out of 100) and the Mourre Nègre 2010 received a 90-92+.
Château La Canorgue
Bonnieux
Telephone : 04 90 75 81 01
The 17th century chateau is elegant and the grounds are lovely, including especially the vestiges of the Roman villa that occupied the area 2000 years ago. All will be familiar to many visitors, as Ridley Scott's A Good Year (based on Peter Mayle's book by the same name) was filmed, in part, on the property in 2005.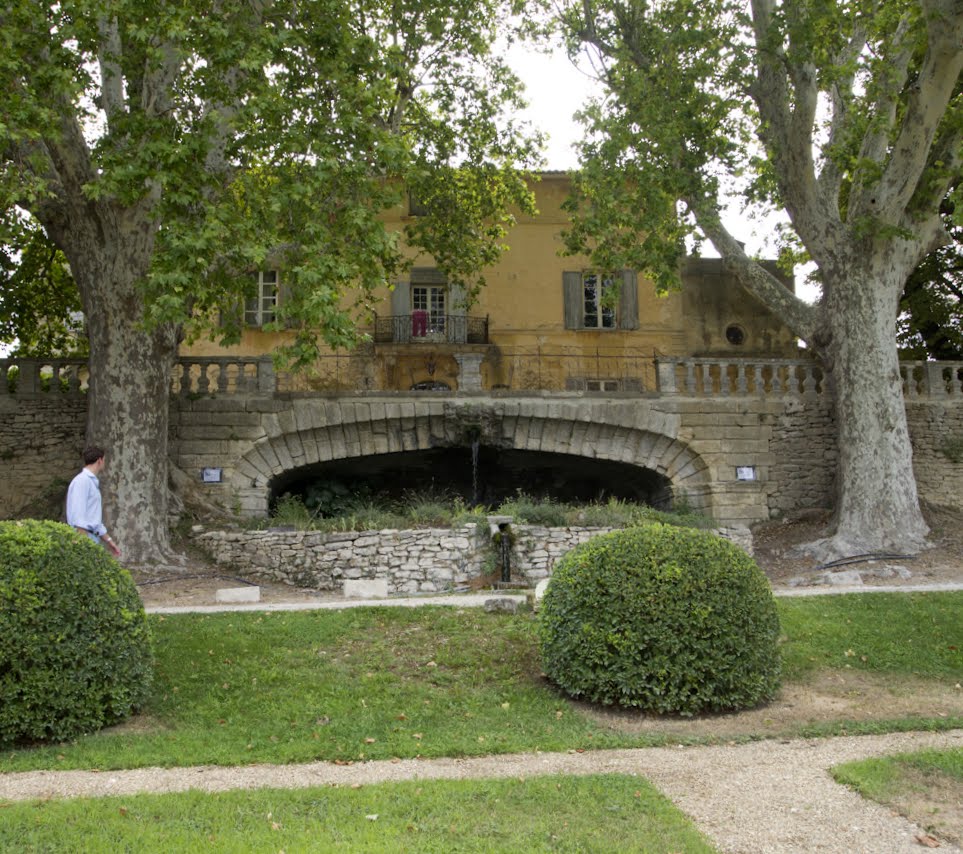 The estate has been in the same family for over 200 years, but it wasn't until the 1970s when Martine and Jean-Pierre Margan took over from Martine's parents, that serious wine making began. Today, the vineyards are certified biologique (the first organic vineyard in the Luberon), a brand new cellar is in the works, and awards are piling up.
Fortunately we visited this estate in the late 1990s, before all the Good Year hoopla that undoubtedly deluged the château with tour buses and trespassing tourists toting cameras. When we visited La Canorgue this past August, we were met by a very dour woman (not Madame Margan) who declined to pour even one tasting for us (or the English couple who had arrived 10 minutes before us). We had arrived too late, at 11:50, she scolded us. (The English couple was too late at 11:40 apparently.) She was closing for lunch at noon. It was her manner more than her message that was so off-putting. Perhaps it was just an off day for her or perhaps the effects of the Good Year invasion linger on. Either way, no wine tasting at La Canorgue that day.
Château La Verrerie
Puget sur Durance
Telephone : 04 90 08 32 98
www.chateau-la-verrerie.fr
The literal translation of this château is "The Glass Castle" which, interestingly, alludes to the elegance of these wines and the precision with which they are made. Peter Mayle is said to have described wine maker Jacky Coll as an "architect of wine." Imagine an architect of a glass castle.
This property was brought to life in 1981 by businessman Jean-Louis Descours and his son Gérard. Today, wines from this château are revered across the Luberon and indeed all of France. Most known for their reds (of Grenache, Syrah and Cinsault), they also produce whites and rosés.
We have not been to this winery for probably eight years; at that time, their prices were not commensurate with the outstanding quality of their wine. Prices have been inching up as the wines continue to get even better. Although we frequently enjoy their wines in restaurants while in France, writing this post makes me want to visit Chateau La Verrerie as soon as I return to Provence.

Domaine de la Citadelle
Menerbes
Telephone : 04 90 72 31 20
www.domaine-citadelle.com
This is one of our favorite stops for the wine, of course, but also to visit the Corkscrew Museum, Le Musée du Tire-Bouchon, that includes over 1000 corkscrews, some dating as far back as 400 years.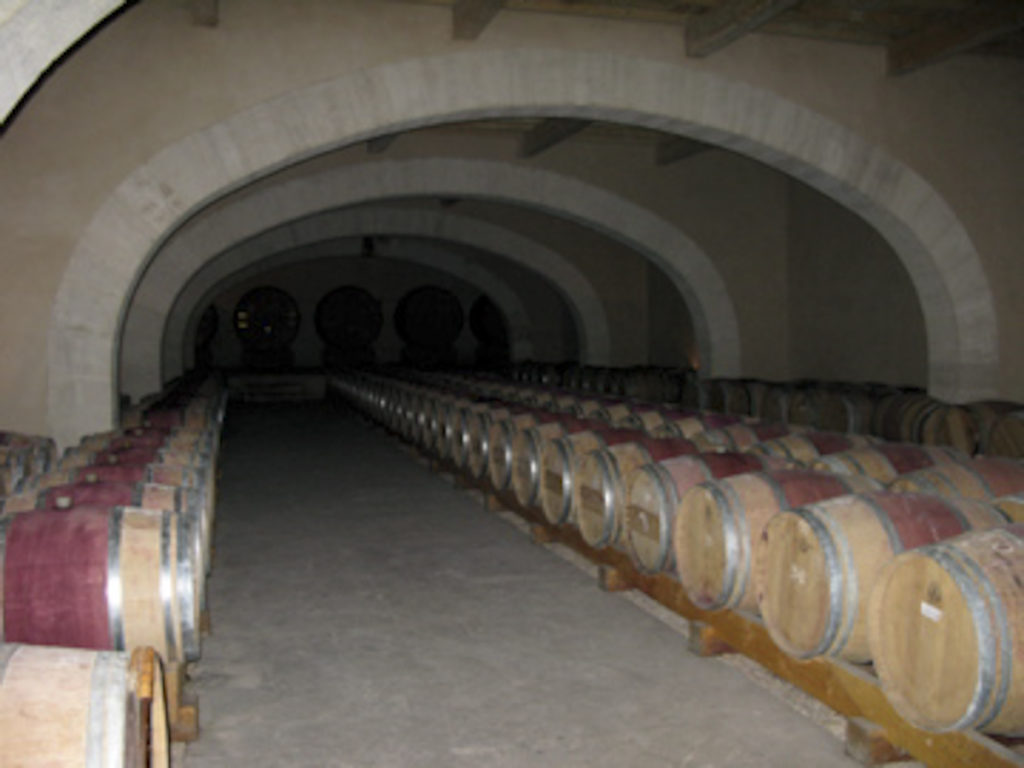 Located just outside Ménerbes, on 45 hectares (110 acres) of vineyards, it is a lovely spot. The owner, Yves Roussett-Rouard, is the current mayor of Ménerbes and a former film producer (most notably Emmanuelle). He is also the good friend of a family friend of ours, so we had the pleasure of meeting this patrician man who would easily be cast in a movie as the very successful winemaker that he is. His son, Alexis, now oversees the winemaking.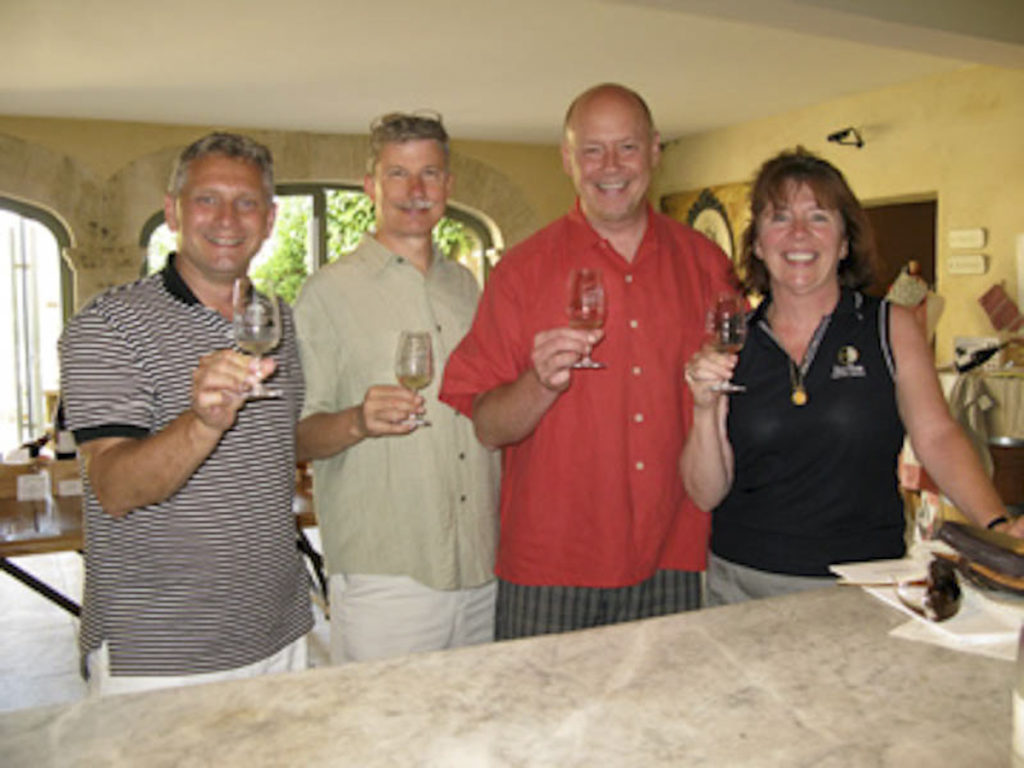 The wines produced here are more complex, refined, and elegant than many of the other Luberon wines. My husband is a huge fan of the reds although all the wines are exceptional. Most of the wines are AOP Luberon although this Domaine also makes some wonderful IGP Vaucluse wines from single varieties; the Viognier is particularly good.
Domaine des Vaudois
Cabrières d'Aigues
Telephone : 04 90 77 60 87
www.domainedesvaudois.com
We had the distinct pleasure of spending the morning interviewing Claude Aurouze, capped off with a lunch at a Cucuron restaurant that serves his wines. His wife is a descendent of the Vaudois, a Christian sect that was persecuted by the Catholic Church in the 16th and 17th centuries, and the property that now houses the wine cave has been in her family since the 17th century. It was a fascinating conversation about the Vaudois in the Lubéron ; their persecution and the devastation of several Lubéron villages; the introduction of wines from the Lubéron to South Africa when the Vaudois fled to the tip of Africa (via a long circuitous route); and the return of many South Africans to the Lubéron to understand their roots. I am in the process of writing about this memorable day with Monsieur Aurouze for a future post. But I digress….
It is well worth a stop at the Domaine des Vaudois to taste some good Lubéron wines and a very interesting IGP Vaucluse wine of Viognier; but more so to chat with this very interesting man. The wine cave is part troglodyte, meaning that it was once a (real) cave.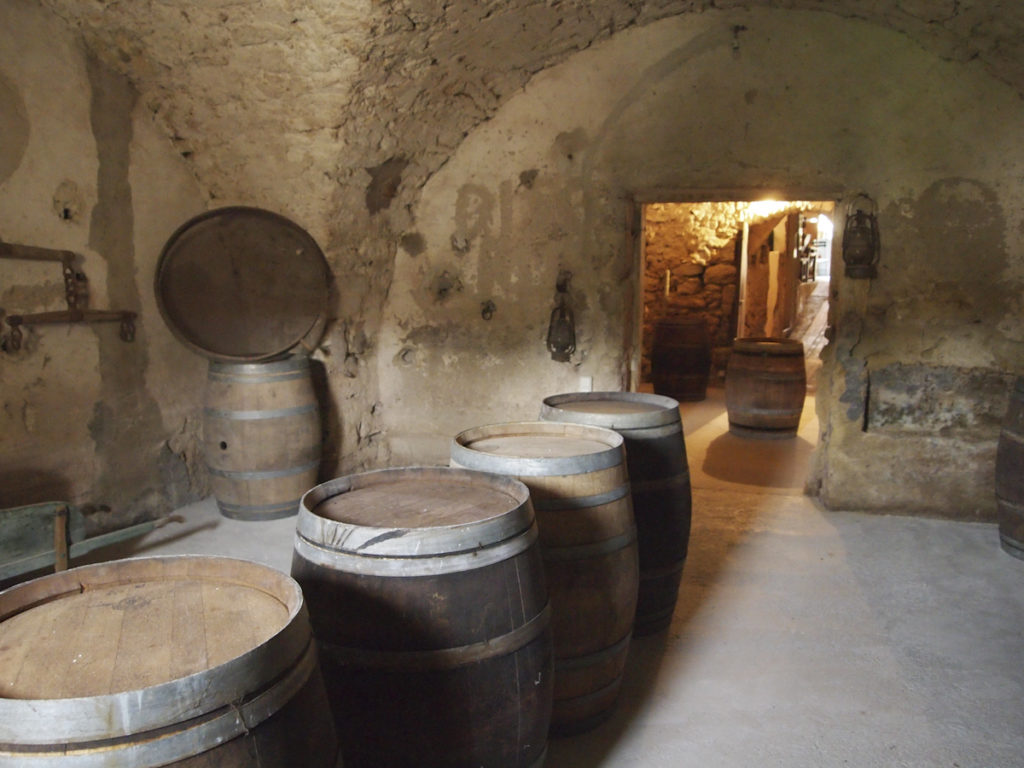 His son, Francois, runs the winery so I am not sure how frequently Monsieur Aurouze is there but you could call ahead and find out. It is a very small operation with 20 hectares of land, three quarters of which are dedicated to vines and one quarter of which is planted with olive trees (that produce a delightful olive oil). A few blocks from the wine cave, visitors may visit their restored olive oil mill.
Remember to have a designated driver or to use the spittoon. Santé!