CHÂTEAU LA VERRERIE: THE HOUSE OF RED
by Susan Manfull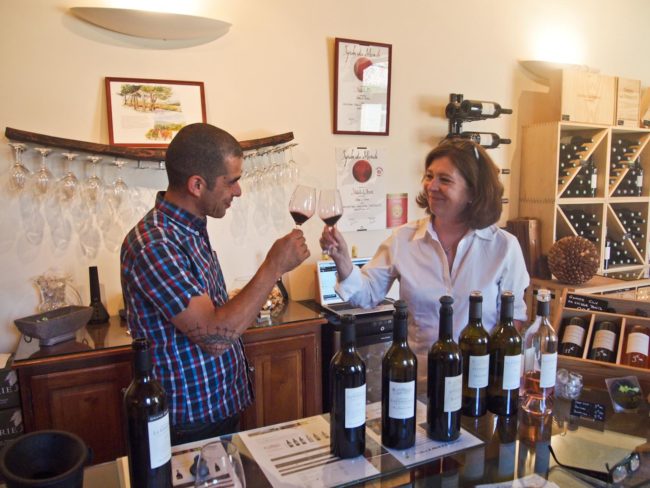 Set in the southern-most tip of the Rhone Valley Region, in the Luberon Appellation—where rosé is now the dominant color—Château La Verrerie is renowned for its fresh, dark fruit-forward, peppery red wines. On this property, 70% of production is devoted to red wine, followed by 25% to rosé, and 5% to white.
"This is the 'house of red'," said Christophe, who poured our tastings at Château La Verrerie.
Like most parts of Provence, wine has been produced in the Luberon since antiquity. In 1951, Luberon wines were designated as VDQS status (Vin Délimité de Qualité Supérieure, a level referring to second tier wines that was dropped when the new classification system was formulated). In 1988, after a major effort to modernize wine production was initiated by winemakers in this area, the wines were elevated to AOC status (now, since 2012, referred to as AOP or Appellation d'Origine Protégée). Today, much of the wine in the Luberon is still made in cooperatives, which have also modernized and are producing increasing impressive wines.
In fact, in 1981 when Château La Verrerie was purchased by Jean-Louis Descours, a successful entrepreneur in the high-end shoe business, grapes from the vineyards were converted to wine at a nearby cooperative in Lauris. But, it wasn't long before Descours' winemaking hobby turned serious and he built on-site facilities to produce wines.
A little history puts the domaine's rapid growth to success in perspective. In 1985, the first wines were produced and two years later, sales of red and rosé vintages began. One year later, white wine was marketed. In 1988, the estate was granted AOC Cotes-du-Luberon status. In 1989, the Château produced its first Prestige Grand Deffand cuvée, which would only be produced during a great vintage. In 2007, the Cuvée Prestige 2003 Grand Deffand received a coveted gold medal at its first competition at the Concours des Meilleurs Syrahs du Monde (otherwise known as the competition among the best syrahs of the world). In 2012, the 2009 vintage won another gold medal for La Verrerie at the same competition. In 2013, the first organic vintage was produced.
During this time, the estate also grew from its original 20 hectares (50 acres) of vines to some 52 hectares (128 acres) of vines and 15 hectares (37 acres) of olive groves and now produces AOC extra-virgin olive oil (organic) and even truffles have been known to emerge from the ground around the oak trees that dot this 158-hectare (390-acre) property.
The soil is clay and limestone with stony deposits. The hillsides face south. The vines range in age from 25 to 45 years. The yield is an average of 35 hectolitres/hectare.
The day that photographer Pamela O'Neill and I visited Château La Verrerie, we met Christophe who, while pouring our tastings, provided a wealth of information about each of the six cuvées the estate produces.
We began with a stellar AOP Luberon (2013) rosé made from 40% Grenache Noir, 40% Cinsault, 10% Syrah, and 10% Bourboulenc. A beautiful pale salmon color, this perfectly balanced rosé had a vibrant nose of grapefruit and a delicate taste of red berries as well as floral notes with some lingering spiciness. We took home a bottle of this and later served it with a spicy shrimp stir fry—to rave reviews. (12.5% alcohol, 9.00€)
Château La Verrerie makes two different white wines, both organic. We tried Château La Verrerie AOP Luberon Blanc (2013) which Christophe told us is a blend of Grenache Blanc (25%), Roussanne (25%), Clairette (33%), and Bourboulenc (25%). It had an oaky nose and buttery feel in the mouth, owing to one third of the wine spending some time in large oak barrels. We tasted white fruits, like pear, apple and peach and noted a finish of citrus and verbena. Both Pam and I really enjoyed this wine and thought it would be a perfect companion for a simple white fish. (12% alcohol, 11.00€)
The other white wine, a Viognier Blanc (2013), was made from 100% Viognier grapes, very unusual for the area and because it was not a blend as required by AOP Luberon guidelines, it is designated as an IGP Vaucluse wine. This was a very interesting wine—very refreshing and drinkable, making it a wonderful apéritif summer wine. (12.5% alcohol, 11.00€).
Château La Verrerie makes three red wines. The first one we tasted was an AOP Luberon Espirit Bastide Rouge (2011), a pleasant blend of Grenache Noir (40%), Carignan (30%), and Syrah (30%), especially at a price around 10.00€. It's perfect for a barbeque and should be served slightly chilled.
The second one, a delightful AOP Luberon Château La Verrerie Rouge (2010), is a cuvée of Grenache Noir (52%) and Syrah (48%). I have enjoyed this wine many times over the years we have vacationed in Provence, as it is widely available in local restaurants (and we would later that evening select it to perfectly accompany our lamb and pork entrées at Lou Pèbre d'Aï in neighboring Lauris). Oaked in big barrels for 22 months (grapes separately held), this is a significant wine with strong tastes of cherry and black currant.
Christophe poured another vintage, 2011, so that we could taste the nuanced differences between the different years.
"We want to make the same wine every year but with a vintage mark," Christophe said. "It is our work to represent the vintage."
The 2011 was much fresher than the 2010 which Christophe described as heavy and suggested it would benefit from a little more time in the cellar. (Nonetheless, we thoroughly enjoyed the 2010 bottle and, as I wrote above, it sure paired nicely with our rather rich dinner at Lou Pebre's.)
"Consistent character, expressiveness [of the vintage], and quality" are the guiding principles of this Château. In 33 years, this Château has only had two wine makers—Jean-Jacques Coll and Olivier Adnot—and only two men who sat at the helm. In 2013, Jean-Louis Descours died and the Château was passed on to grandson, Christopher Descours, who intends to preserve the spirit his grandfather instilled in him about winemaking at La Verrerie.
The cuvée that embodies this spirit most heartily is the AOP Luberon Grand Deffand Rouge. As mentioned above, this wine—comprised of 99% Syrah and 1% Grenache Noir—is only made when the quality of the Syrah, after vinification, warrants its own cuvée (with a dash of Grenache to create a blend to meet AOP Luberon requirements!). It was not made in 2008 or 2011, for example.
We tasted the 2012 vintage which is a full-bodied, ruby-colored wine evoking strong aromas of garrique and leather, tastes of dark fruit, liquorish, and violet, and a lingering spicy finish. According to Christophe, this wine can stay in the cellar for as many as 10 to 15 years or more. I brought home a bottle (about 29.00€) but I am not sure I can resist pulling it out before I am 70 years old!
As Christophe as told us when describing the red wines produced by Château La Verrerie, this wine, especially, shares characteristics of both Southern Rhone Valley wines and Provence wines—a beautiful marriage of powerful, ripe dark fruit and solid structure coupled with fresh acidity and spicy garrigue.
"Olivier makes wine like himself…shy," Christophe reflected. Shy but confident, I would say, as the Grand Deffand Rouge demonstrates.
The 2013 vintage of Syrah is still in the barrel, but, according to Christophe, "It's looking good."
If you are looking for exceptional wine in the Luberon, Château La Verrerie is not to be missed.
Notes:
Château La Verrerie
1810 Route du Luberon
84360 Puget sur Durance
+33 (0)4 90 08 97 97
For tasting room hours and tour information, click here
www.Château-la-verrerie.fr
Readers interested in other wineries in the Luberon, might want to read an earlier post entitled Looking for Wine in the Luberon.