McDo McBAGUETTE! McMON DIEU!
McDonald's in France Photo: McDonald's
The big news out of France this week is that America's most famous (or infamous, depending on your point of view) fast food joint will start rolling out its burgers on baguettes in France come April.
But, hold on to your berets before you roll your eyes and start waxing sentimental and barking sanctimonious: France is McDonald's second largest market (of course, the U.S. is its number one market) with over 1200 restaurants in the country long recognized as the home of haute cuisine.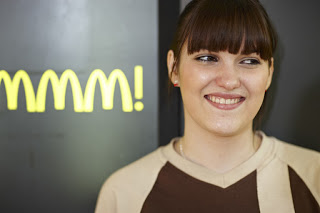 France is the second largest market for McDonald's Photo: McDonald's
Burgers on baguettes—les McBaguettes—is the most recent of many changes and additions to the menu seen most often in the States. Wine has long been offered (and beer, too). In 2007, the McCafé was introduced—a separate espresso bar featuring lattes, grand crèmes, croissants (naturally) and tarts and macaroons. Immediately, they were met with wild success, no doubt because it looked and felt like a Parisian café—you could linger for hours with a robust coffee and flaky pastry—and emerge with a considerably smaller l'addition. In an effort aimed straight at an audience known to demand the best, the macaroons come from Group Holder, the company that owns the renowned Parisian patisserie Ladurée. In the fall of 2011, slices of baguette with butter and artisanal jams were introduced in the McCafés. Currently, four "limited-edition" burgers are offered with locally-produced cheeses—wouldn't you love that here?—three of which are Appellation d'Origine Côntrolée (AOC) cheeses.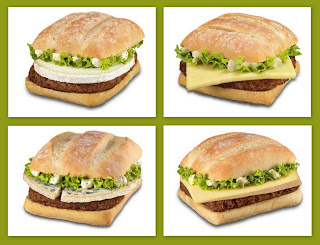 Les Grandes Envies des Fromages burgers Photo: McDonald's
The McBaguette will make its debut on April 18th, replacing the limited-edition burgers. The burger will be made of the famous indigenous Charolais beef that comprises all of McDo's burgers. The meat comes from one of the oldest beef cattle breeds in the world: grass fed, sans hormones, and accompanied by a "passport" detailing its provenance from birth to slaughter. The burger will be topped with domestic Emmental cheese and a mustard-based sauce already a popular component of McDo burgers.
La McBaguette Photo: McDonald's
According to data collected by the Bread Observatory in France (and reported in The Wall Street Journal on 2/24/2012), the French each consume about a third of a pound of bread each day, equally about 121 pounds annually. Another research center, Credoc, determined that just shy of 100% of French people enjoy…
bread every day. Finally, another study, also reported in The Wall Street Journal, revealed that two thirds of the two billion sandwiches that are sold in France are made with baguettes. You don't have to be the sharpest knife in the drawer to see that the McBaguette is a savvy addition to the menu—in fact it makes you wonder what took so long!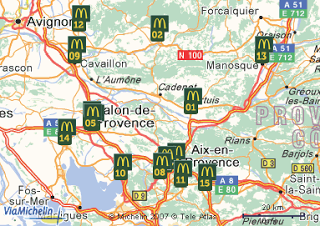 McDonald's locations near our stomping grounds around Lourmarin
The first golden arches appeared in France in 1971. The company sputtered along until the early 1980s when they worked in earnest to infiltrate the French market but they didn't make significant inroads until a Parisian by the name of Denis Hennequin, came on board in 1984. He quickly rose to the helm of McDonalds France in 1996 and to the executive vice president of McDonald's Europe in 2004. Under his leadership, McDonald's France has navigated very difficult political situations—the anti-MacDo protests led by food activist José Bové—and grown in leaps and bounds, largely through a shrewd and practical business plan: when in France, do as the French do…and eat that way, too!
Unlike the country that gave the world fast food, the French want to linger 'round the table, talking, reading, working on laptops, listening to iPods, and so on. In striking contrast to the States where take-out food is most popular—sometimes it looks like the majority of Americans don't even want to get out of their cars!—upwards of 70% of the French prefer to eat in the restaurant and they may spend upwards of two hours a day at a MacDo table, typically during meal times and most often in groups. Thus, in France, McDonald's restaurants are spacious with a relaxed atmosphere. Also, unlike their American counterparts, the French demand top quality food and French food.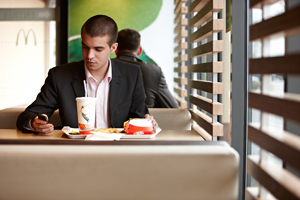 The French dine-in at McDonald's Photo: McDonalds
Research discussed in a recent National Public Radio piece (1/24/2012) confirmed that McDonalds' success in France is a direct result of catering to their eating habits and their taste buds.
But success was further ensured by appealing to pocketbooks and wallets and, interestingly, the French government (inadvertently, I'm sure) played a large role here. Chez McDonalds restaurants are designated as take-out eateries—even though the majority of the French eat their meals (and linger) in the McDonalds—and, thus the meal is taxed at 5.5 %, compared to the 19.6 % added on to the bills at conventional restaurants, including cafés that may be indistinguishable from a McCafé. Bills, therefore, are likely to be much smaller at McDonalds.
The McBaguette will cost about 4.50 euros, around the same price as other burgers featured at McDonald's and about a euro more than most sandwiches in France. It is slated to be on the menu for a six-week run but will return if it is popular (and profitable, of course).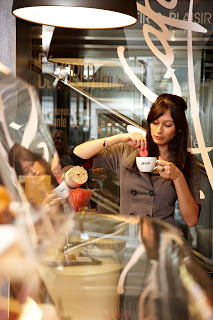 A McCafé where you may find latte art featured Photo: McDonald's
I'm curious what the Gallic reception will be. Did I mention that the baguette is reportedly square? If I find myself in a McDo this spring I will let you know….. Although, when in France, I am not likely to be in a McDonalds'. Nah, look for me in a local market, tracing the scent of roasted chicken; at the fromagerie, drooling over the fragrant cheeses; in the Boulangerie, tucking a baguette in my basket; in a brasserie ordering steak frites; in a chateau, tasting wine; at a seaside table, ordering Bouillabaisse. You get the picture, I'm sure. But, if I have the opportunity to duck into a McDo, I will do so.
Back on this side of the Atlantic, I sure wish we would find some of that grass-fed, hormone-and-anti-biotic-absent beef in the burgers McDonald's serves up here, whether they are sandwiched between sesame seed buns or French baguettes. Oh, and how about dumping that orange processed stuff in favor of some real cheese? Can you send over some of that Cantal or Fourme d'Ambert or Saint-Nectaire? Actually, now that I think about it, why not some of our own world-famous cheddar?!