Mirabeau Tasting Room Adds a Boutique
The Wine Snoop Report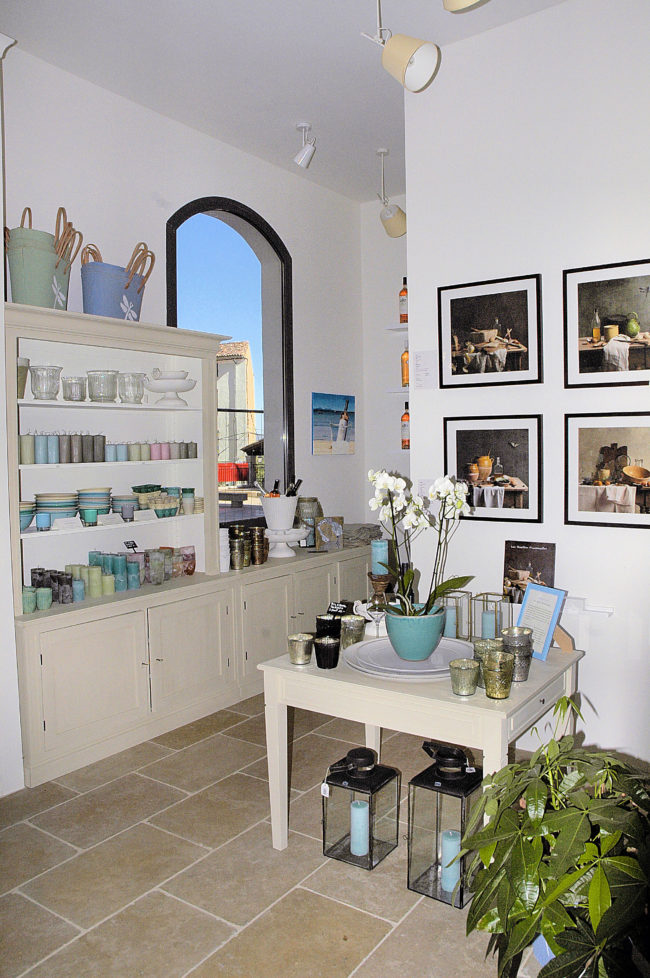 Mirabeau wine needs no lure. Now internationally known for their two award-winning rosés—available in 20 countries around the world—it is easy to forget that Mirabeau Classic (the first wine produced) was launched just four years ago in 2011 (vintage 2010) and the beautiful tasting room opened only a year ago. (I am proud to remind readers that photographer Pamela O'Neill and I were the very first customers!)
Yes, Stephen Cronk—along with wife Jeany—has brilliantly marketed Mirabeau wines. Stephen's video about "How to open a bottle of wine with a shoe," for example, went viral on YouTube. But, even the best marketing requires a decent product to be successful and, in the case of Mirabeau wines, "exceptional" is far more descriptive.
The awards keep coming. Pure rosé (2014) received the coveted Gold Medal at the Concours Général Agricole in Paris. Both (2014) rosés captured Bronze medals in The Drinks Business Global Rosé Masters 2015 competition and both received high scores (91 for Pure and 89 for Classic) from Robert Parker's Wine Advocate. (And there are more awards!)
The fans keep coming, too. This summer, on two separate occasions, while I was enjoying a little apéro with the Cronks outside the Mirabeau Tasting Room in Cotignac, I witnessed many would-be visitors approach the tasting room only to be disappointed that it was well past closing time.
As I wrote above, these wines need no lure. Nonetheless, as of late June, there is another enticing reason to drop by the tasting room: a very attractive boutique filled with an array of lovely items made, for the most part, by local craftsmen. This is Jeany's project.
"My goal is to include beautiful things that reflect the Provence life style," Jeany told me last month. "It's the 'life style element' to support the Mirabeau wine experience." Jeany used the French term, "produits derivés" to describe the theme of the boutique. Consisting largely of "art de la table" and decorative items, the products complement the spirit and style of Mirabeau wine: elegant, natural, and Provençal.
I was immediately drawn to the fine art photography of Tineke Stroffels, a local artist who creates what look like Dutch Masterpieces from her photographs. The boutique has a series of pieces entitled "Provence Recipes." When you visit, look for "Le Grand Aïoli," images that I was very taken with.
I would love to have taken home a suitcase full of the pottery adorning the wall. Jeany selected the pieces from a potter in Vallauras, near Nice, and then chose the colors—all a variation of the usual local pottery colors—and had them fired in the studio of Véronique Borentain Vagh in nearby Salernes. (Apparently, customers are filling their bags as, within two weeks, Jeany said she had to restock.)
Small wall-hangings of the "tree of life," similar to the one that graces the tasting room and Mirabeau bottles, are available as well as candles of varying sizes, and pots in a range of sizes and styles. Lest we forget that so much of the story of rosé is set on the beach, there are stylish baskets to throw your towels in, Leuchtturm1917 notebooks inscribed with a phrase I abide by, "Age Gets Better with Wine," to record your thoughts, and pretty flip flops to put your tootsies in.
Honey, olive oil, tapenade, and tea, produced by local vendors all known by Jeany, also line the shelves.
Jeany has very carefully selected products that help create the kind of environment in which Mirabeau fans would like to enjoy their wine. You can also pick up some glasses in which to enjoy your wine. You may need them for the wine you will surely purchase after the tasting in the next room.
Mirabeau en Provence is located in a 400 year old wine cave, as it happens, at 5 Cours Gambetta in the village of Cotignac in the Var. The building, called la Falaise, was painstakenly renovated by the Cronks (and may still be under renovation…it is Provence!).
— SNM