THESE ARE A FEW OF MY FAVORITE ROSÉS
by Susan Manfull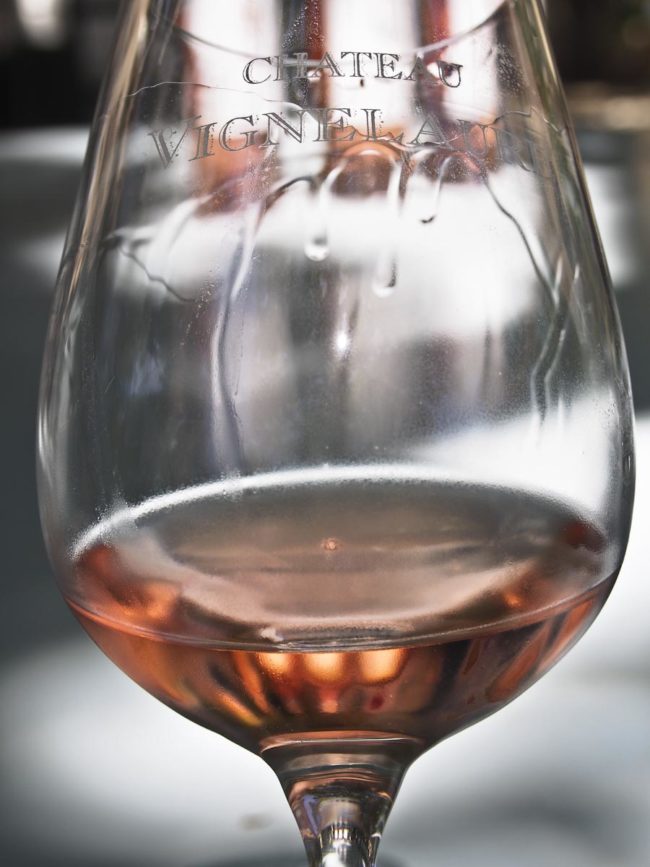 It's been a long hot summer, at least where I've been hanging my hat. I was in Provence for the hottest July on record, returned to New England where heat and humidity dominated many summer days, ditto for my visits to New York–in August what else would I expect?– and now, as I write in Southern California, the high is expected to be 99 degrees.
Rosé is in its element in these dog days. Although, readers may recall that I, like other inveterate rosé fans, started drinking the 2014 vintage in the dark, frigid depths of winter at the annual "Provence in the City" rosé tasting in New York City. (Okay, okay, we were popping bottles of rosé long after summer turned to autumn and into winter.)
As wine writers have suggested, there's a lot of really good rosé out there. Most of it, in the opinion of many sophisticated palates, hails from Provence, the region often said to set the "gold standard" of rosé for the world. France is the world's leading producer of rosé with 39% of French AOP (Appellation d'Origine Protégée) rosés coming from Provence. Rosé now accounts for twice the market share of French wine compared to white wine. Consisting of 26,500 hectares (65,483 acres) of surface area, Provence produces 5.6% of the world's rosé.
The United States now ranks second, after France, in its consumption of rosé. Not all of that rosé comes from Provence but my educated guess would be that a significant portion of it does! Exports to the U.S. from Provence climbed 29% on volume and 38% on value from October 2013 to October 2014, on top of a decade of double digit growth (based on figures from the French Customs agency and the Conseil Interprofessionnel des Vins de Provence, known as the Provence Wine Council in the U.S.).
The 2014 vintage of Provence wine totaled about 185 million bottles, 89% of which was rosé. I didn't put a dent in the number of different cuvées produced this year, but probably tasted well over 100 different rosés and, in this post, I humbly report my list of those that I thoroughly enjoyed (thus far). For some, I would leap over Mont Sainte-Victoire to acquire and for all, I would go to great lengths to drink again.
I am particularly partial to a dry, pale rosé (read a Provence rosé) with a fragrant nose, a crisp, fresh, and minerally taste, a creamy mouthfeel, and an enticing finish. I'm not drawn to rosés that are dominated by intensely fruit-forward flavors.
With that profile in mind, rosés for which I would leap over mountains or tall buildings or dig deep into my pocket book to purchase include either of Chateau Léoube's Côtes de Provence rosés: Secret de Léoube and Rosé de Léoube. The Secret is a blend of Grenache, Cinsault, and Cabernet Sauvignon and the entry level Rosé de Léoube is made from Grenache, Cinsault, Syrah, and Mouvèdre. I swear I could smell the sea in each of those blends and loved the minerally freshness of each wine and the lingering finish of each of sip.
I've not tried their top tier La Londe rosé (but have some on order so I promise to report back).
Château Margüi's Perle de Margüi, a blend of Cinsault, Syrah, Cabernet Sauvignon, and Rolle, and Domaine Ott's Château Romassan Rosé, made from Mouvèdre, Cinsault, and Grenache, are two stellar rosés that, for the third year of my serious rosé tasting, rank among my very favorites.
Rock Angel, formerly called Château d'Esclans, is also among my very favorites. A crisp refreshing, flavorful, and complex blend of Grenache, Rolle, and a wee bit of Tibouren, it costs a little more than entry-level Whispering Angel but packs a lot more complexity into the bottle. Although aged, in part, in oak, it is distinctly different from the more esteemed estate blends, Les Clans and Garrus, that are totally aged in oak (and it is a lot less taxing on the bank account).
Two rosés that I have only had the pleasure of tasting on one occasion–both at Provence in the City in New York City back in early March–had a lasting impression on my palate. Château Saint-Maur Cru Classée Clos de Capelune and La Mascaronne Quat' Saisons Rosé knocked my socks off at this tasting of over 60 different rosés.
The rosé from Château Saint-Maur is part of the second vintage since Roger Zannier acquired the property (although he's been making wine for twenty years in Portugal). It is a blend of Grenache, Cinsault, Mouvèdre, and Rolle. The rosé from La Mascaronne, newly acquired by Tom Bove, who owned Miraval before selling it to Angelina Jolie and Brad Pitt, is an outstanding cuvée of Grenache, Cinsault, Mouvèdre, and Syrah.
The other rosés listed below are those I have thoroughly enjoyed and would go to great lengths to acquire. Although it is a diverse list, they are, in my opinion, excellent examples of quintessential Provence rosés that have personality. I would be delighted to find my cellar filled with the rosés listed below.
Provence Rosés between $15 and $25
Producer
Cuvée
Appellation
Price
Château D'Esclans
Whispering Angel 2014
Côtes de Provence
$20
Château de Calavon
Rosé 2014
Coteaux d'Aix-en-Provence
$18
Château Léoube
Rosé de Léoube 2014
Côtes de Provence
$19
Château Margüi
Perle de Margüi 2014
Coteaux Varois en Provence
$18
Château Pigoudet
Classic 2014
Coteaux d'Aix-en-Provence
$15
Château Vignelaure
Château Vignelaure Rosé 2014
Coteaux d'Aix-en-Provence
$20
Clos de l'Ours
Grizzly Rosé 2014
Côtes de Provence
€12
La Mascaronne
Quat' Saisons Rosé 2014
Côtes de Provence
$18
Mirabeau en Provence
Pure 2014
Côtes de Provence
$17
Miraval Provence
Miraval Rosé 2014
Côtes de Provence
$23
Provence Rosés between $25 and $40
Producer
Cuvée
Appellation
Price
Château Barbeyrolles
Pétale de Rose 2014
Côtes de Provence
$33
Château D'Esclans
Rock Angel 2014
Côtes de Provence
$30
Château La Tour d'Evêque
Pétale de Rose 2014
Côtes de Provence
$28
Château Léoube
Secret de Léoube 2014
Côtes de Provence
$30
Château Saint-Maur Cru Classé
Clos de Capelune
Côtes de Provence
€36
Domaines Ott
Château Romassan Rosé
Bandol
$50
With well over 600 private vineyards and over 60 cooperatives in the wine region of Provence, it is next to impossible to taste all the rosés produced. I wasn't able to taste some of my favorite rosés from years past (for example, no rosés from Mas de Cadenet passed my lips). I did not taste any wines from Les Baux, Bellet, Cassis, Palette, Pierrevert, and, regrettably few from Bandol. There's still more time and there's always next year. It's a lofty goal, but I shall persevere. In the mean time, I would love to hear about your favorite rosés…from Provence and beyond!
Notes:
Not all of the wines listed above are available or widely available in the States. To help get them here, 1) ask your wine proprietor to talk to his or her distributor and 2) post a comment here. Many wonderful wines are looking for importers! While Provence is renowned for their very dry and pale-colored rosés, such rosés are increasingly being produced in other regions in France and in other countries, with excellent results. While I prefer a dry rosé that is relatively pale in color, I hasten to add that it would be unfortunate to see producers veer from their own traditions to jump on what they see as a popular band wagon.