NEW SHOW AT CARRIERES DE LUMIERES: BE ENVELOPED BY THE MUSIC, MOVEMENT, GLITTER, AND BRIGHT COLORS OF ARTIST GUSTAV KLIMT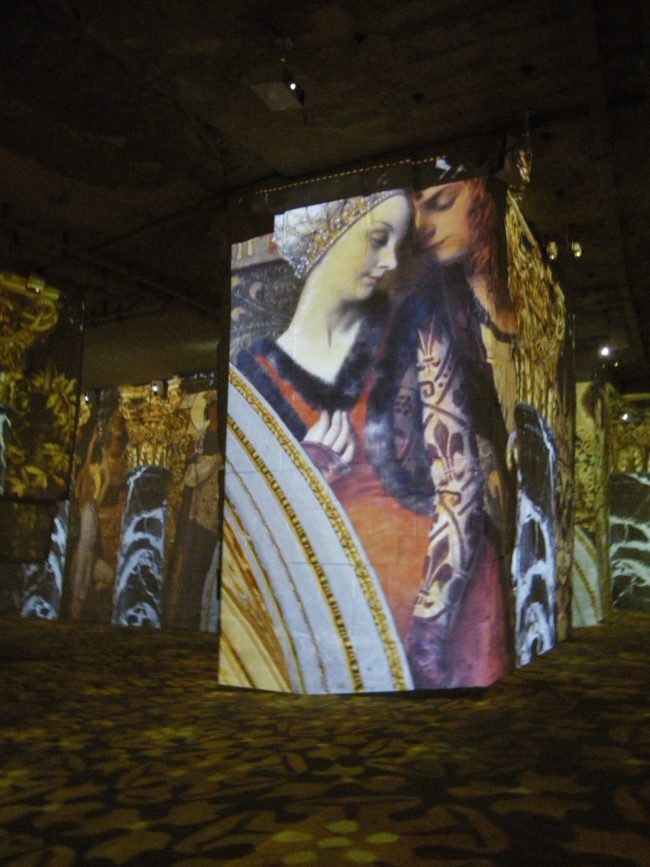 What does a town do with a vast web of stone quarries with a "Closed" sign on every door? The folks in Les Baux-de-Provence turned theirs into the largest permanent multimedia show in France. Carrières de Lumières (formerly called Cathédral d'Images) is a smashing success. Close to 400,000 visitors attended last year's show.
For over 2000 years, the quarries in Les Baux-de-Provence were a primary source of limestone for this area. The Romans exploited the quarries for material to rebuild the nearby Celto-Liguirian town of Glanum back in 200 BC and later the Municipal Arch and the Mausoleum that still stand across from Glanum. The Roman city of Arles rose up from the ground with limestone carted over from Les Baux. In the 11th century, the notorious Lords of les Baux built their formidable citadel out of limestone from these neighboring quarries. In the 14th century, the ramparts of
Aigues-Mortes
were created with massive stones from Les Baux (and Beaucaire).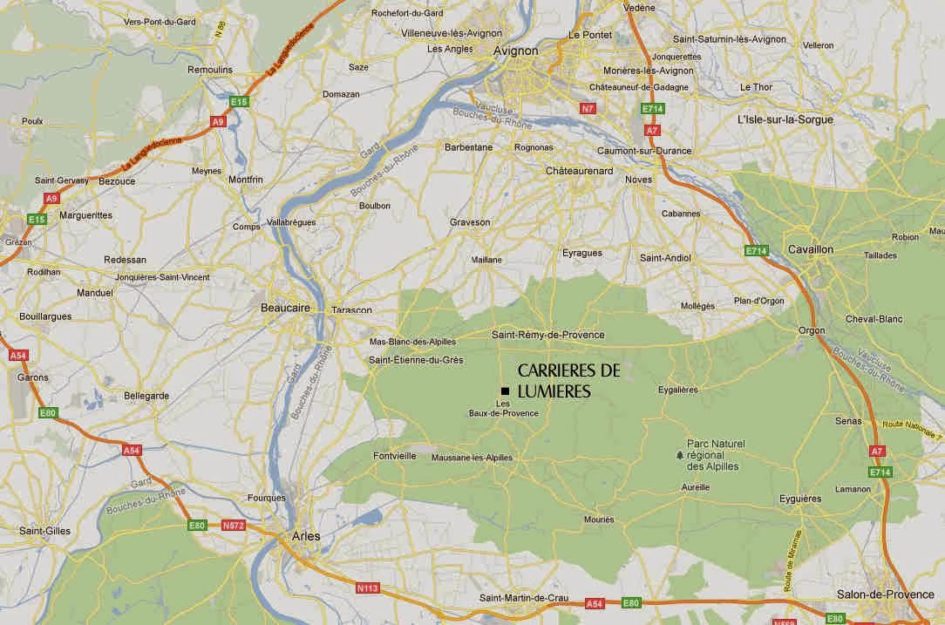 These quarries, which came to be known as Les Carrières du Val d'Enfer or the Quarries in the Valley of Hell, continued to provide limestone until they were closed in 1935.
The first time the quarries were used in any way other than their intended purpose was in 1959 when Jean Cocteau used them as a backdrop for his film, "Le Testament d Orphée." (Segments of this film have been shown in recent shows.) In 1977, a sound and light show that featured the work of world famous artists was projected on to the huge rock walls while music emanated from a state-of-the-art sound system, fully involving audiences. Similar shows followed until they started more regularly in 2006.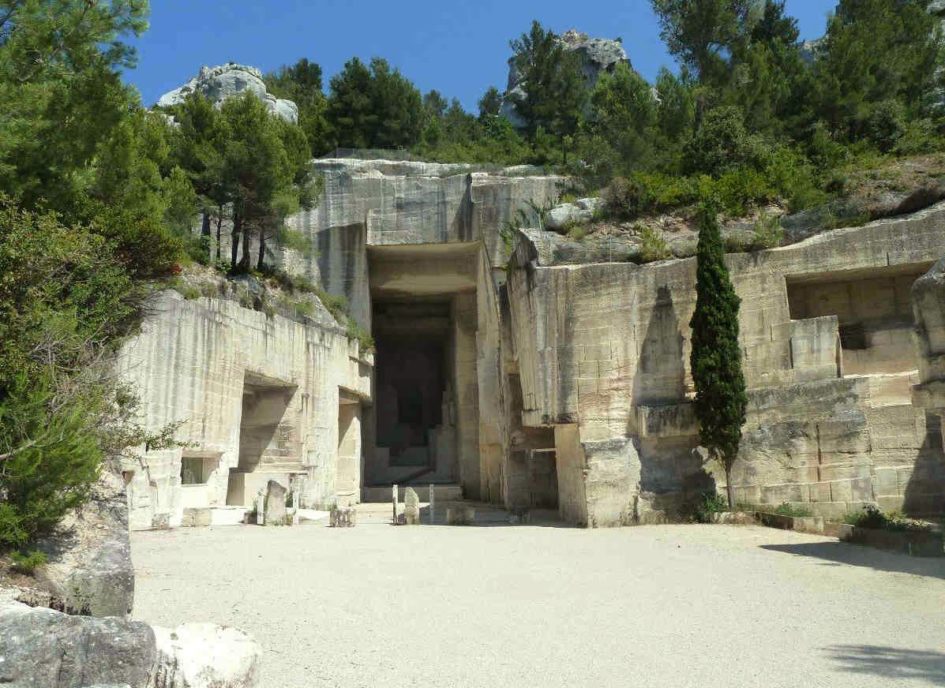 Entrance to Carrières de Lumières © Culturespaces
Today, the quarries are the venue for the wildly popular multimedia art shows that have featured Cezanne (2006); van Gogh (2008); Picasso (2009); van Gogh and Gauguin (2012); and Monet, Renoir, and Chagall (2013).
Kathy Coleman Wood, who knows this part of Provence very well and has attended these shows since 2008, said that she and her family "were enthralled by the experience" from the very first visit.
Kathy and her husband Charley Wood own and operate "
The Luberon Experience
" tours, a venture they began in 2006 and, since then, have welcomed…
thirty groups to the Luberon. A visit to Carrieres de Lumieres has become a regular part of the day when they tour "beyond the Luberon."
"I'm not sure there is anything like [these shows] in the world," Wood said. "It resonates with people of all ages….I love to see the small children dancing in the changes images on the floor."
The typical show is about 35 minutes long. Visitors may enter at any time or may wait until the beginning of the show.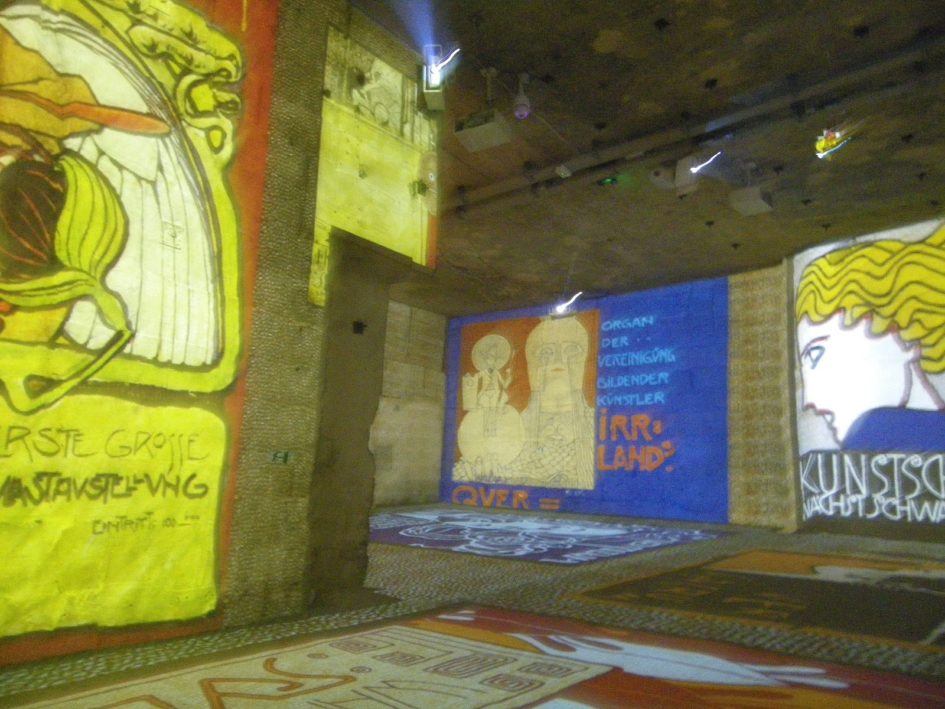 Carrières de Lumières Photo by Kathy Coleman Wood
"They really are an 'experience,' but there is a story or sequence to what you're seeing," Wood said. "You're really enveloped in the show, as something different may be happening on the various surfaces.
Sometimes I move around a lot during the show but often I stand in one place where I can see in many different directions."
When our family went to see the van Gogh and Gaugin feature in 2012, we stayed through two shows—it was captivating and, as Wood suggested, there were lots of details to assimilate. I think you can watch it until you have your fill!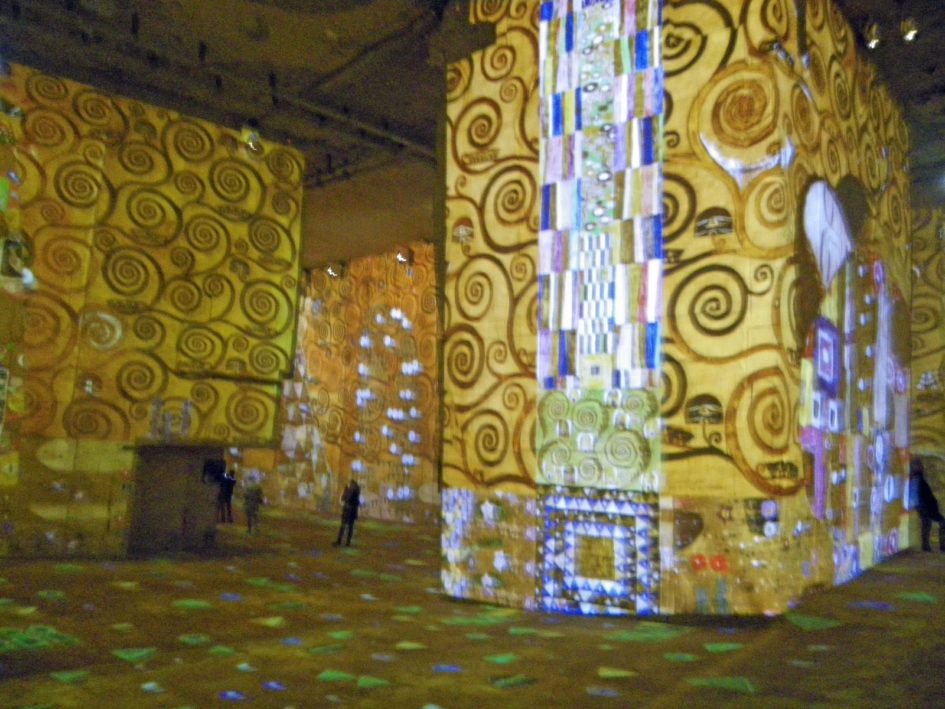 Carrières de Lumières Photo by Kathy Coleman Wood
This year's show is entitled "Klimt and Vienna, a Century of Gold and Colours" and is described as taking "you on a journey through 100 years of Viennese painting to the heart of the bright, colourful works of Gustav Klimt, his contemporaries and the artists he inspired."
Gustav Klimt (1862-1918) was an Austrian Symbolist painter who was a founding member and leader in the Viennese Secession movement. Begun in 1897, the goal of this group was to provide a platform in Vienna for "unconventional young artists" (regardless of their particular genre of art). He is best known for his use of gold and decorative motifs and for his focus on the female body as an erotic object. "The Kiss" is probably is most famous painting and typifies his unique style. The Carrières de Lumières includes portraits, landscapes, nudes, bright colors, and lots of gold, all of which changed the course of Viennese painting in the 20th century.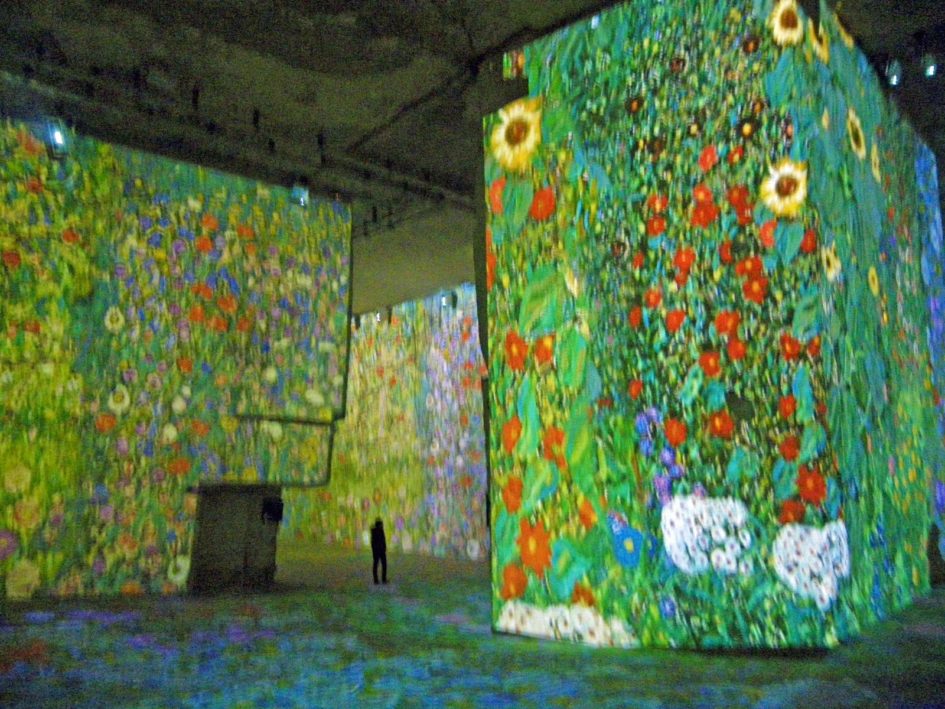 Carrières de Lumières Photo by Kathy Coleman Wood
After his death, his art work has commanded some of the highest prices paid for paintings. (For those of you in New York, one of those paintings, the 1907 portrait entitled "Adel Bloch-Bauer I," hangs in the Neue Gallery; it was purchased for the museum in 2006 by Ronald Lauder for $135 million, apparently the highest price ever paid for a painting at that time.)
The work of two other Viennese artists who were influenced by Klimt's work are included in the show: Egon Schiele (1890-1918) and Friedensreich Hundertwasser (1928-2000).
Kathy and Charley, along with Kathy's parents, went to go see the Klimt show a few weeks ago. They wanted to check it out for their upcoming groups of travelers.
Wood confessed that she was unsure whether she (or her husband and her parents) would like the Klimt show, but was surprised that everyone loved it and they enjoyed learning about the development of art in Vienna over the course of 100 years.
"The colors are incredible and the music is wonderful…the images and music really work together," Wood said. She added that it seemed there was more movement in the new show and new approaches in how the images appeared.
There is over 6000 square meters (65,000 square feet) of surface and 14-meter (45-foot) high walls on which over 70 video projectors shine their images. (There may be closer to 100 projectors with this show!) Images numbering as many as 3000 comprise the Klimt show. Music is amplified by a 3D audio system designed specifically for the unique surfaces of the quarry walls.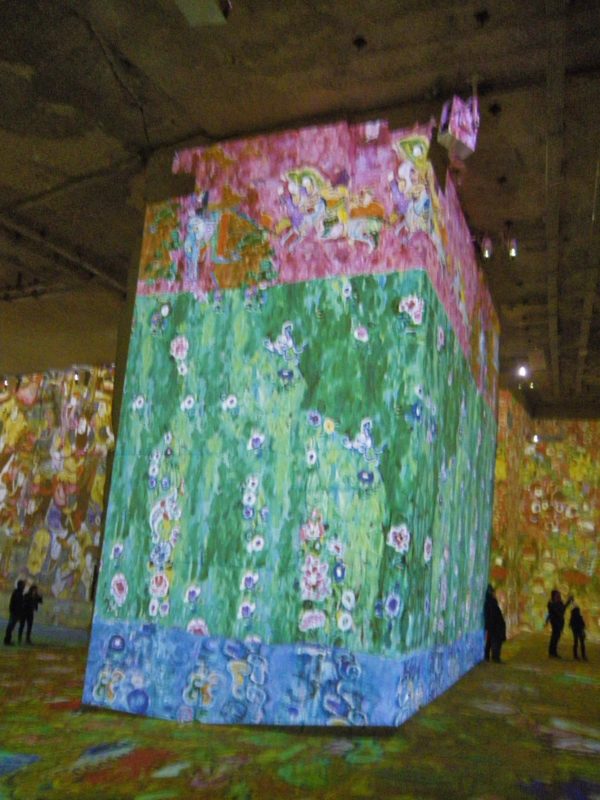 Carrières de Lumières Photo by Kathy Coleman Wood
Wood's mother seemed to capture the essence of the experience well when she wrote:
This place is very hard to describe. We were in a quarry and you have to notice the small people [in the photos] to appreciate just how large it is. The scenes on the walls are constantly changing and moving, even down onto the floor under your feet. Stereo music surrounds you. It taps into all of your senses at once. Almost overwhelming. A really spectacular experience.
______________________________________________
Notes:
"Klimt and Vienna, A Century of Gold and Colours" (35 minutes) runs from 7 March 2014 to 4 January 2015. A short film (8 minutes) entitled "Invisible Cities" is also showing.
The Carrières are open every day.
From 7 to 31 March: 10 a.m.-6 p.m.
From 1st April to 30 September: 9.30 a.m.-7 p.m.
From 1st October to 4 January 2015: 10 a.m.-6 p.m.
Last admission 1 hour before the Carrières closes.
Tickets are priced from 5€ to 10€, with children under 7 free.
Carrières de Lumières is located 800 m from the Château des Baux-de-Provence, 15 km north-east of Arles and 30 km south of Avignon. Route de Maillane 13520 Les Baux de Provence
Free parking upon presentation of the reservation slip for the Carrières.
Dress for the cool temperature inside the quarries: wear shoes and socks and bring a jacket or sweater!
For more information and to purchase tickets, visit their website.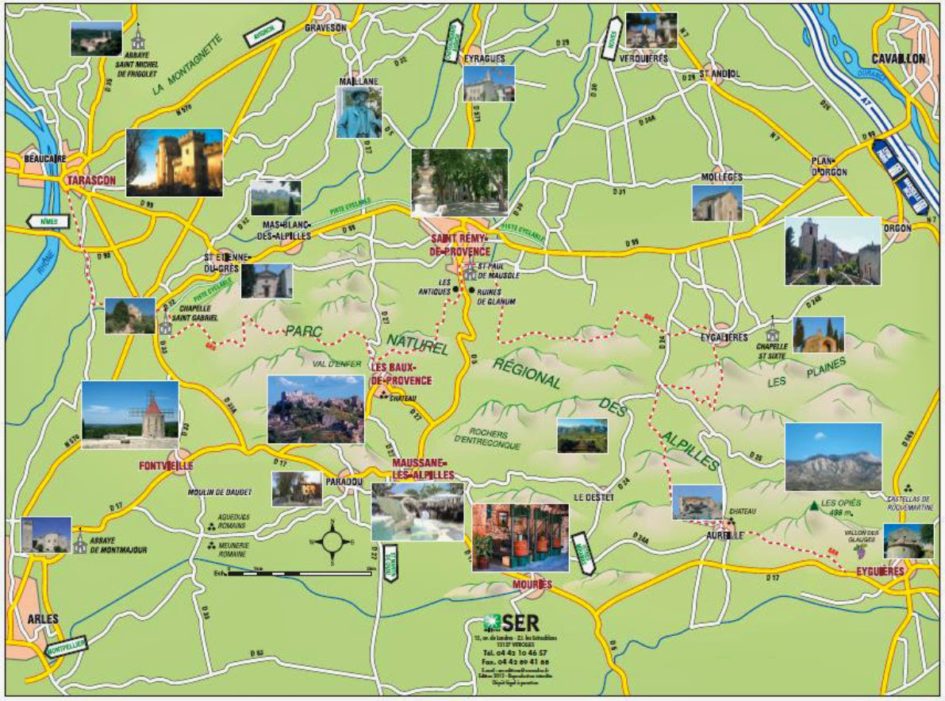 There are many other things to do in this area:
The medieval hilltop village of Les Baux and its citadel are right next door, but I think this stop would be too much to pack into the day. Likewise with the Celto-Liguirian-Roman ruins of Glanum–it is also very close to the Carrières de Lumières but too much for one day.
Saint-Paul-de-Mausole
, where van Gogh was hospitalized for psychiatric treatment, is also nearby and might pair well with a show in the quarries.
This is olive oil and wine country—consider some tastings!
For more information about the Wood's Luberon Experience tours, please visit their
website
. For a peak at their itinerary,
click here
. (Heads up: they book up quickly.)
The Woods also offer similar weeks in other parts of France and Europe, including the Dordogne, the Salzkammergut, the Bavarian Alps, Tuscany, and the Cotswolds. For more information, visit
www.european-experiences.com
Finally, they own and rent an apartment in Bonnieux; for more information, visit
www.vrbo.com/452357