Provençal Pairings: Wine with Food
A Perfect Picnic Pink
by David Scott Allen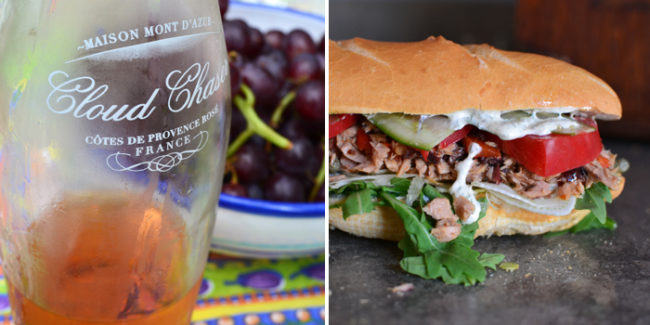 Winery: Maison Mont d'Azur
Cuvée: Cloud Chaser
Appellation: Côtes de Provence
Type: Rosé
Vintage: 2014
Varietals: 35% Grenache, 30% Cinsault, 12% Mourvèdre, 11% Carignan, 8% Syrah,
3% Tibouren
Alcohol: 13%
Average Retail Price: U.S. $23.00
When I saw this bottle of Cloud Chaser at my local upscale market for $15.99, I immediately called my friends at the Provence WineZine to ask their opinion. I had never heard of it and, as it had an English name, I was a little suspicious. The folks at PWZ hadn't heard of it either, but did a little research for me on the spot and found great reviews. They also let me know the price I had here in Tucson was excellent. I bought, I sipped, I liked. (My version of Veni, Vidi, Vici.)
This was one of two rosés I brought to a picnic this past weekend; we will discuss the other at a future date. I made a Provençal specialty to share with friends: Pan Bagnat. The flavors in this sandwich, to borrow a phrase from the sports world, throw some real curves when it comes to pairing… a toasted fennel and Pastis mayonnaise; raw fennel; capers; olives; roasted red peppers; lemon; tuna; white anchovies; and raw tomatoes. That is quite the pastiche of flavors for any wine to tackle. The recipe can be found at Cocoa & Lavender.
Cloud Chaser performed admirably for us all. Its color is a medium pink (their website claims light pink, and I beg to differ), and its nose shall remain a mystery till our next bottle. Why? We were picnicking near others, and the scents of burning charcoal coming our way made it difficult to get a sense (or a scent) of the wine's bouquet. One of the hazards of wine tasting and pairing at picnic sites…
The mouth was classic Côtes de Provence rosé: soft and round with a mineral feel, making it very quaffable with or without food. Lightly flinty, its flavor was floral with highlights of rose and hyacinth, and delightfully fruity overtones of strawberry and apricot. In the end, it paired beautifully with the sandwich, having the oomph to play well with such a panoply of flavors.
Side notes:
– The bottle gives no vintage date. I went back to the store and was told it was the 2014, so I will have to take them a their word. The bottles on the vineyard's website clearly show a vintage above the winery's name. A mystery, for sure.
– Maison Mont d'Azur has been producing in Puget-Ville since 1923
– the name Cloud Chaser refers to the cloudless blue skies brought by the Mistral
It is said to be amongst the most expensive rosés from Côtes de Provence; I was very fortunate to get it for the price I did. I liked it so much that I would be willing to spend more.