Provençal Pairings: Wine with Food

Meanwhile, in the Eastern Mediterranean…
by David Scott Allen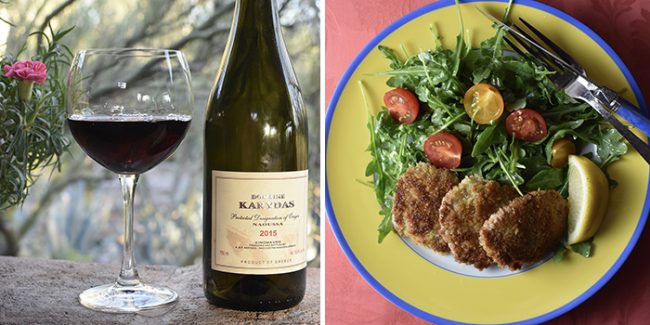 Winery: Domaine Karydas
Cuvée: Naoussa
Appellation: Naoussa
Type: Red
Vintage: 2015
Grape Varieties: 100% Xinomavro
Alcohol: 13.5%
Average Retail Price: U.S. $28
For a more-than-slight change of pace this month, I "traveled" eastward in the Mediterranean to Macedonia, the largest region of Greece. Nestled in the Imathia Valley, near the city of Naoussa, is Domaine Karydas, where Kostantinos and Petros Karydas (father and son) produce a wonderful Xinomavro (ksee-NOH-mah-vro).
How did this wine choice come about? Susan and I were doing a virtual wine and food pairing event with a shop north of Boston called The Cork Stop. Frank Stamos, the shop's wine director, created the Urban Wine Club, a venue for their customer base to explore and enjoy wines with little hassle and great prices. The Club hosts a variety of events online, including the one we did, which was a benefit for PANDAS/PANS education and research.
Frank — who goes by his Greek name Fotios — was speaking with us about the quality of Greek wines, and I had to admit that I knew very little about them. Susan reminded me that, "The Phocaeans (Greeks from Asia Minor) founded today's Marseille and brought vines with them to cultivate. Thus, they established viticulture in France. They were the first in all of France [even though] wild vines were around before." This great historical connection to Provence seemed the perfect reason to get a bottle of Xinomavro, which Fotios highly recommended, and give it a tasting and pairing.
And, what did I pair with this venerable Greek wine? Lamb, of course. I made very simple but incredibly tasty lamb cutlets and served them with an arugula and tomato salad and a squeeze of lemon. You can find the recipe on Cocoa & Lavender.
This Xinomavro is a dark ruby color, and has strong black cherry and tobacco aromas on the nose. It has intense tannins that soften as the wine opens up — make sure you decant this wine a couple of hours before serving. On the palate, the flavor profile is dark and full bodied, dominated by blackberry, leather, and black pepper. As you can imagine, it paired beautifully with the lamb, especially accentuating the black pepper.
It is a really terrific wine, and has decent availability here in the States. I'm thrilled to see the U.S. is getting more and more good wines from Greece, and I think we all owe it to ourselves to expand out palates as we drift along on the Mediterranean.
Editor's Note: This wine — as well as the Château Barbebelle red wine to support The Alex Manfull Memorial Fund — may be purchased online from the Urban Wine Club. Shipping is FREE.