1000 ROSÉS IN 10 WEEKS*:  ELIZABETH GABAY MW AND BEN BERNHEIM'S GUIDE TO THE ROSÉS OF SOUTHERN FRANCE
by Susan Manfull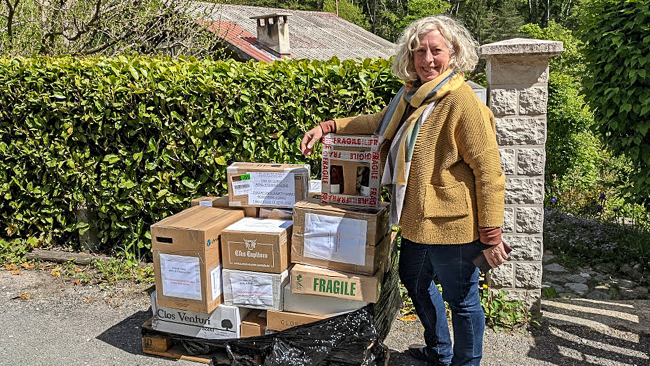 Full disclosure: The South of France is a small world and when one writes about rosé, this world is really small. Elizabeth Gabay MW is a friend but, that aside, this guide is an exceptionally impressive endeavor that belongs in the online libraries of anyone who drinks rosé from Southern France. For a modest price, this world of rosé will be at your fingertips. (go to https://pink.wine/ to purchase the guide and enter coupon code WINEZINE at checkout for a 20% discount; offer good until Thursday 15 July.)
Some families play board games together or, perhaps, hike together or even cook together. The Gabay-Bernheim family, in the South of France, taste wine together and, in the case of Elizabeth Gabay's Buyer's Guide to the Rosés of Southern France, Gabay and son Ben Bernheim wrote about these rosés together. Husband David Bernheim worked on the marketing side and even daughter Rosie did a little tasting. (And, just for the record, they also play games, hike, and cook together!)
It was an incredible endeavor to blind taste over 1,000 wines in just ten weeks! The sheer volume, of course, was impressive – I followed Gabay's posts on social media and I tried to imagine – and the final product is simply outstanding. The guide is far more than a comprehensive presentation of ratings of rosé.
Gabay explained in a recent Zoom interview with me that it began with a Decanter review in which they asked her to select her top 30 wines. "And then 300 came!" Gabay laughed. "I thought I've got to do something with the other 270 wines."
The Guide was Bernheim's idea. He reminded Gabay that she had just tasted 30 Bandol rosés and another 30 Tavel wines as well as 50 IGP wines. "Why don't we just put them together as a guide?" Gabay recalled him saying.
"And then he said, well, you know while we're at it, why don't we ask one appellation and then another, and then another" Gabay continued. "We thought maybe we would get to 500 and we just watched the registrations go up. It's like, okay, it's up to a thousand wines!"
"The most we ever did in a day was 60," Gabay told me. "We established a routine and worked out that flights of six wines were best." With few exceptions, they were tasted blind. The flights were based on cost, style, and provenance with each one containing an outlier or an odd wine. After the first flight, wines that were reviewed especially well (or poorly) or those that could fit into more than one flight category were placed in a different flight or maybe even several different flights. For example, an oaked wine would be tasted with other oaked wines and most likely also with other (unoaked) wines from the same appellation; or a particularly fruity wine might begin in a flight of other rosés within the same appellation and later regrouped with other fruity wines.
A great deal of effort was spent giving the wines "the benefit of the doubt." Gabay underscored, "We tended to err on the side of generosity." For example, some wines – typically those that seemed to have some good characteristics but did not shine – were also tasted with food. Some of the weightier rosés needed time to open so they were tasted a day or two later or decanted. (Both Gabay and Bernheim are advocates of decanting rosés, a subject to which I will return.)
Some wines, Gabay said, were seriously quirky. "We thought, 'Is it meant to be like that? I have no idea.'" A wine like that might be tasted several more times.
It was very clear that they really tried to understand the wines. Gabay recalled one case in which the wines from a well-known winery appeared to be oxidized. She said they weren't sure whether the wines were faulty or were supposed to be like that, but both she and Ben really liked them so they rated the wines quite high and simply recorded in the notes that the winemaking appeared to be more oxidative than is typical in a Provence rosé.
Still, some winemakers felt that Gabay and Bernheim had not understood their wine, prompting long telephone conversations (which were, in part, the impetus to begin regular posts called "winemaker profiles" in which the two authors would visit various estates to learn more about the winemaker and his or her wines).
Factor in the logistics of receiving daily shipments of wine which were then meticulously recorded, organized, and stored — eventually totaling 1000 — as well as managing the tasting flights themselves and, well, my head was spinning, just listening. Some days, they received as many as 200 bottles.
I asked them to tell me about a typical day and they laughed as if to say, "well, we tasted wine day in and day out!" But such a task required much more than tasting wine every day.
Bernheim began: "I think the typical day would have the tasting start about 10:00, after dealing with emails and new wines that had come in. We had a lot of emails and phone calls about the samples …. an insane amount of time was spent [organizing]."
They explained that Ben laid out the flights and bagged them night before so they could dive right into tasting. They usually tasted for about two or three hours each day.
"We did about six wines in 30 to 40 minutes," Gabay estimated. "We [usually] did about 30 wines before lunch." Then, it was back to emails and attending to the daily delivery from the mail carrier. Once they were rated and notes recorded and discussed, the half- and three-quarter filled bottles were usually shared with neighbors. The logistics of a project this large are immense.
"There were a few days when we finished the tasting part around 11:00 [at night]," Bernheim said, adding "if [the tasting] was going okay." When the pallets were arriving, gaining even an extra ten minutes of tasting could make a difference in saving the weekends for anything other than wine tasting. (They were able to save every weekend but the last one to themselves, usually taking long hikes…and carrying canned rosé to taste with their lunches!)
The enormity of the task was clear from our conversation and much greater than I had imagined. Notes were taken, scores recorded, and both were compared and discussed. Very few wines were tasted only once; sometimes the rating stayed the same, sometimes it went up or down. If the review changed as a result of tasting again, for example, with food or after decanting, that was noted in the guide and advice was included (e.g., serve with food).
It was very important to Gabay and Bernheim that their guide did not turn into a competition among the different rosés. As they put it, "We're not huge fans of reducing the effort behind a wine to a simple number….." Quality was the most important factor in the score but exceptional value earned the wine a point or two. "Interesting" was more important than "flawless," especially in the top price wine category. In my interview with them, they expressed how important they felt it was to encourage an independent style even if that style was not one either of them gravitated toward.
To their great credit, along with their recommended wines, they included rosés that were good but not remarkable. "Neutral" or "basic" rosés, as Gabay referred to them, have a very large market share but generally don't do well in a competition. They also included a separate category for "Recommended Rosés under €7." There is a place for the aforementioned rosés in the world of the consumer and the trades. In fact, "there is an enormous market for the €2 rosé," Gabay stressed.
They go into detail in their guide about what the scores mean so please read the Guide. The main categories, in brief, are:
84+ wines are "Commended."
86+ wines are "Recommended."
88-89 wines are still "Recommended," but show extra character.
90+ wines are "Highly Recommended" and flawlessly made as well as show "either good typicity or strong individuality.
94+ wines are "Outstanding," signifying "wines of the year that stand out both within their category and within the rosé/wine world globally."
Their ratings revealed 20 "Outstanding" rosés; 176 "Highly Recommended" rosés; 411 "Recommended" rosés; and 231 "Commended" rosés.
Beyond the scores, as the authors stress, is where the really interesting information lies in this guide. The individual descriptions of the wines are telling and fascinating. In our conversation, Gabay underscored how important it is that the consumer has a good idea what is in the bottle. With these descriptions, consumers are in a far better position to make their selections.
I asked Gabay and Bernheim how consistent their reviews and ratings are. For example, on one occasion, they both wrote "gingerbread" in their tasting notes which, especially in the case of rosés, would be an unusual descriptive. Apparently, there were very few times in which their reviews diverged significantly. On the two occasions when there were marked differences, Gabay felt that her MW hat was on while Ben's poetry cap was on. That is, she was considering structured points in her head while he was focused on poetry. Such complimentary skill sets seem to suit this work very well.
Were There Any Surprises?
Unexpected Ratings for Certain Wines. I was very surprised to see overall high ratings for wines from a particular estate – I am very fond of this estate's portfolio of rosés and Gabay is routinely less enthusiastic. Gabay, also, was surprised that her ratings were, overall, so high and she was perplexed! Was it the vintage? Conversely, other wines were much less well-received than usual. Vintage? Faults?
The Great Appeal of Canned Rosé. Both Gabay and Bernheim are now ardent defenders of canned rosé. In Gabay's words: "I was really not expecting to like canned rosé. I am not a canned drink person and I don't drink soda, and so the idea of drinking rosé out of the can went against everything I feel about wine. But to be quite honest, when you get to 2000 meters and it's hot and it's sunny and you've just had your cheese sandwich…a can of rosé, it was lovely." She added that they kept their temperature very well. Their only suggestion to producers is to create a closure or make the cans smaller (so that they can accommodate a variety of settings from hikes to long picnics).
There's a Red Wine in the Guide. While not as alarming as a fox in the henhouse, both Gabay and Bernheim were taken aback to discover that one of the rosés they rated "Outstanding" is actually a red wine. They wrote: "One of the most interesting wines this year – but is it rosé or red?" The carbonic maceration mentioned on the tech sheet was a dead give-away (that this wine should, by traditional standards, be classified as red but Gabay has long been arguing that the line separating rosés from reds can get blurry). When reached by telephone, the winemaker explained that it was rejected by the appellation because it was "too pale" to be red, so they called it rosé!
Do Tech Sheets Have to be So Boring? Perhaps this isn't so much a surprise because, truly, how many ways can you say night harvests, temperature control, stainless steel, and Grenache and Cinsault? But a note to winemakers: your tech sheet can stand out if you approach this document a wee bit more creatively. Further, shouldn't all rosé makers be doing at least the first two of these things?
Dark Glass Bottles are a Sure Sign of Good Rosés. Clear glass is generally preferred by winemakers because they want to show off the colors of their rosés but using clear glass makes the wine susceptible to "light strike." In their guide, Gabay and Bernheim write that light strike may occur when "UV rays of 'blue' light from the sun or artificial lamps, such as fluorescent tube lighting, react with components of the wine, creating off-smelling sulphur compounds (mild boiled cabbage). Less than 1% of rosés are bottled in dark bottles. They said that "not a single dark bottle was bad." They theorize that winemakers who use dark glass are confident in the quality of their product.
How Cold is that Rosé in Your Glass? Gabay and Bernheim were surprised that the suggested serving temperature for many the entry-level rosés was 6-8°C (43-46°F). For the less expensive rosés, you won't lose anything; but for those over €15, you may lose some of the complexity and subtle qualities of the wine. They recommend 12°C (54°F).
Decant that Rosé! Gabay and Bernheim describe themselves as big believers in decanting rosé. So, I include this point here because it was a surprise to me (not them!). Although most important for weightier rosés, they feel there is great value in decanting all rosés. Few benefits will be reaped at the lower end of the price point continuum but, generally, decant in the morning to realize the greatest benefit. They added that they weren't looking for a "crisp, crunchy, fruity" rosé, which is what you find when the rosé comes directly from the fridge; instead they were looking at the rosé as wine, as a beverage to have with food.
Rosé is Not One Style, Even in Provence. "The diversity of rosé shocked us," Gabay told me. Both Gabay and Bernheim found this factor particularly exciting.
The Guide Generated Much Enthusiasm. Gabay and Bernheim reported that they were shocked at the enthusiasm they have observed about participating in their project. Many estates have asked them to do it again. I certainly hope they will.
The Wine Business Embraces Family Business. While working on this guide, Gabay observed that people in the wine business readily accept her working relationship with her son as well as her husband who often accompanies her to conferences. Some of the best wineries in the South of France are family businesses, often going back many generations. Gabay wondered aloud whether that stems from wine making being part of an agricultural economy. I wholeheartedly agree, having worked with both my husband and my daughter to collect information and take photographs for articles.
Where Will the Remaining Bottles Go?
Most of the winemakers who submitted wine for consideration sent two bottles. Bernheim said that rarely did they open the second bottle as relatively few were faulty (and their reviews and ratings were so consistent). They donated the remaining bottles to the Lion's Club for auction to benefit humanitarian projects generally related to children.
What's Next?
This is already a busy summer in the Bernheim-Gabay home. Gabay and Bernheim have already started their follow-up estate visits and winemaker profiles. When we spoke last week, they had just arrived home from Clos du Temple in Languedoc. The Domaine Ott estates in Provence were on the calendar for the next day. Assuming they take on this task again next year, we may see more focused guides (e.g., micro guides for organic wines, natural wines, wines by appellation, separate guides for the trade and consumers, and so on). There are technological issues to work out and logistics to review.
And, of course, there are the board games, hiking, and cooking meals to plan.
* These are professionals: Do not try this at home.
____________________________
Note from the Editor:
I unequivocally and without bias highly recommend this Guide. The cost is $24 / € 20. Until 15 July, as a loyal reader of Provence WineZine, you have a 20% discount. Go to https://pink.wine/ to purchase the guide and enter coupon code WINEZINE at checkout for a 20% discount.)
About the authors:
Elizabeth Gabay MW is well-known and highly respected among winemakers and wine writers across Southern France and way beyond. While still in the United Kingdom, she began importing Provence wine in 1987. In 1998, she became a Master of Wine and, in 2002, she took up residence in south-eastern France, just north of Nice. Her bonafides as an expert in rosé have long been established: at nearly any rosé competition, including Decanter's annual World Wine Awards, one should expect to find Gabay. Her writings about Provence wine and rosé from around the world can be found in wine travel guides and in the wine books of Oz Clarke and Jancis Robinson. She regularly leads masterclasses with the Institute of Masters of Wine and many other professional organizations; I attended an outstanding masterclass on rosés from the Loire Valley at Wine Paris and, during the COVID pandemic, attended several webinars she gave on the wines of Provence. Finally, she is the author of Rosé: Understanding the Pink Wine Revolution. In June 2021, she released the aforementioned Guide to the Rosé of Southern France, along with her son Ben.
Ben Bernheim has accumulated a wealth of wine knowledge, especially on the subject of rosé, while growing up with his mother. In addition, he participated in competitive wine-tastings with Edinburgh University's tasting team, assisted Gabay in the tasting and editing of her first book, and worked in the 5-star Orient Hotel in Jerusalem.