SATURDAY MORNINGS IN PROVENCE: WE'RE APT TO BE IN APT
The heart of Apt, where the market unfolds every Saturday, is a labyrinth of narrow streets dating back to its Roman period. Julius Caesar is said to have christened the town Apta Julia in 125 BCE. Then, it was an important town on the Via Domitia, the main passage between Italy and Spain. Later, in the Middle Ages, Apt was a principal religious center.
Little evidence of Apt's Roman days remain but the lovely 11th/12th century Sainte Anne Cathedral–actually, it was relegated to a basilica in the early 19th century–dedicated to the mother of the Virgin Mary, is testimony to Apt's importance as a religious center for 500 years or so. The church was built on what was left of the Roman forum, parts of which can still be seen in the church's basement (I am told).
Now, Apt (population about 12,000) is the most important city on the D900 (formerly the N100). There, at the intersection with the D943 (otherwise known at the Route d'Apt), it retains its importance in Provence as the administrative headquarters for the Vaucluse Department.
Apt is also an important commercial center. It long ago established itself as the world's capital for fruit confit (sugar-preserved fruit). Apt is also widely known for its confiture (jam), honey, and lavender products; a thriving truffle business from December to February; ochre mining; and faience pottery.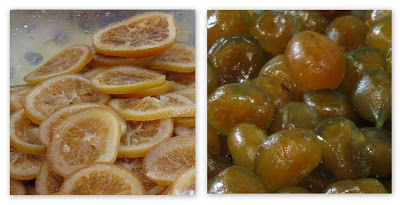 Fruit Confit
Bustling with government and commercial activity during the week, come Saturday, the streets are alive with top-notch vendors and faithful shoppers. It is one of the most vibrant markets in the area—and one of our favorites!
There are much prettier markets in the area—Aix, Lourmarin, and Cucuron come to mind—but Apt is for serious shoppers, practical shoppers who appreciate high quality. We always find what we are looking for, in abundance, beautifully displayed, and sold with huge smiles. The produce and prepared foods are especially good at this market. Specialty items, particularly those designed with tourists in mind, are better sought in other markets (St. Remy and Gordes come to mind).
It is a large market and it is crowded, even in the winter when the mornings can be pretty chilly. Take your basket and nothing more—okay, a camera, but no back packs, big purses, baby carriages or dogs—as too much baggage takes the fun out of navigating the tiny streets so filled with people.
From Lourmarin, drive north on Route d'Apt. Signage to Apt is very clear. We usually park on the main drag into town, Ave Phillippe de Girard, and walk up to the west end of the market. (There is other parking, further north, over the bridge on the left.)
Just before entering the west end of the market, at Place de la Bouquerie, there is a wonderful bakery, Le Fournil du Luberon. If you feel the need for a boost before beginning the market, pick up one of their beautiful pastries and settle into a table at Café du Louvre for a café crème to accompany your treat. (They don't sell pastries, so it's okay to BYOP!) Great people-watching spot, too!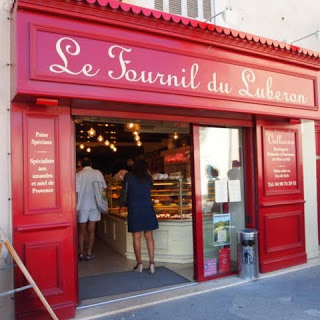 Le Fournil in Place de la Bouquerie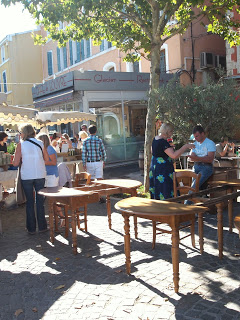 Café du Louvre
By 8:00, the large Place de la Bouquerie will be filled with vendors displaying their wares. One immediately sees hand-crafted furniture; brightly colored linens and fabrics as well as those in the more traditional earth tones; award-winning olive oils as well as olives galore; soaps bearing the scents of lavender, verbena, wild rose, orange-blossom; hats of myriad sizes and shapes, some to keep the southern sun off your face and others to contribute to the Provençal style you may be cultivating; jewelry; and sausages (but don't get me started on those just yet).
A pleasant cacophony of sounds—live music, chatter, laughter, honking horns, and the occasional roar of a motorcycle—fills the air and one feels buoyed by the energy (if not actually lifted by the crowds).
We ventured into the market one Saturday in August. Not wanting to be laden with cumbersome purchases as we began our tour of the market, we made a mental note to return to the vendors in this Place for pizza oil, cushions made of Provencal fabric for our chairs (4 for 15 euros), a plasticized round tablecloth (high quality ones are hard to find), a bundle of lavande (3.50 euros for a lovely, fragrant bouquet from nearby Mont Ventoux), and a braid of garlic.
The sausages—les saucissons—always command our attention. Rows of neatly lined tubes of air-dried sausage made from beef, pork, and sanglier—or some combination thereof—and infused with rosemary, garlic, mushroom, truffle, herbes de Provence or fennel (to name just a few) are hard for us to resist. We bought six (and immediately wondered how we could get them back to New England).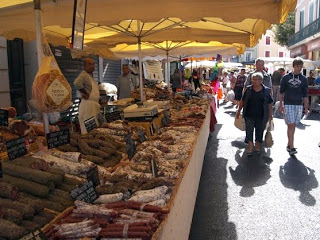 Les Saucissons
A nearby stall—new to us—was our next stop. Everything is made from epeautre, a relative of spelt. In English, this grain is called einkorn wheat (which is a German word that translates into "single grain"). Some readers may be interested to know that this grain is thought to be kinder than other forms of wheat to people with gluten intolerances. A local cooperative, Syndicat du Petit Epeautre de Haute Provence, produces the epeautre.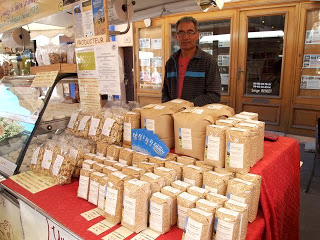 Petit Epeautre cooperative at the market
We purchased a hulled version of the grain called Le Petit Epeautre de Haute Provence. Risotto, soup, pancakes, and hot breakfast cereal are some of the meals one can make from le petit epeautre. We have thoroughly enjoyed the hot cereal, cooked with both water and milk and a couple of dates (for sweetness). We top our cereal with a few walnuts, almonds, and a dollop of plain yogurt. For two people, a quarter of a cup goes a long way.
We also bought a package of organic pasta made from spelt's relative, Tagliatelles de Petit Epeautre sans Oeufs. It was terrific. I am a big fan of spelt pasta but, generally, find it to be very fragile (little room for error in timing or else the pasta becomes chewy); this pasta was robust. We prepared it with a fresh tomato-basil sauce and were bowled over by its great taste and texture! Suffice to say that we will be returning to buy more from this vendor!
The stand with the stunning fresh-cut flowers and plants was next. The sheer beauty of these glorious flowers will stop you in your tracks (but not for long because the bewitching scent of roasting chicken is calling you).
You follow the scent to Place Gabriel Péri, a pretty square framed by the large town hall (la mairie) and the préfecture headquarters (administrative services including police). In this Place, you will find vendors selling picture-perfect produce—the huge heads of lettuce are amazing—and local honey produced by bees who have gathered nectar from trees and plants such as rosemary, lavender or even eucalyptus. The succulent chickens, turning on spits with wafting aromas you detect long before you lay eyes on them, are here as well as an enormous selection of cheeses, fresh pasta, and Chinese food. We left with our basket laden with tomatoes, eggplants, lettuce of several varieties, honey, and lots of pasta. (We ate the Chinese food on the spot and had a nice chat with the proprietor.)
We poked along rue des Marchands where we soon found a poissonier with a dazzling array of seafood. A long line wrapped around the stall, not surprisingly, as the fish were so fresh that their eyes were still bright and seemed to stare at us as we considered a purchase. Hard to resist; but we had just decided on a dinner of that fresh pasta along with a sauce made from those lusciously fresh tomatoes we just bought and a big green salad with baguette toasts, each topped with a thin layer of local honey, another of caviar d'aubergine, and a final coat of very fresh chevre, melted under the broiler.
Place du Septier, our next stop, is a lovely square where a wonderful vegetarian restaurant calls home. Les Gourmands Disent has simple tasty fare that is inexpensive and served in a friendly atmosphere. One of our favorite potters, Atelier Buisson-Kessler, also has a shop here. I love their brightly colored pottery! (They also have a store in Lourmarin, on rue de la Juiverie, right next to our apartment, La Bonbonnière.)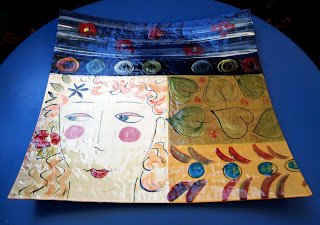 Atelier Buisson-Kessler Pottery
As we made our way back to the beginning, we walked along rue de la République where there is a small, very good Moroccan restaurant, La Fibule (120 rue de la République) and another newly opened restaurant, Chez Nous (87-93 rue de la République), which we did not visit however it looked very good.
We return to Place du Bouquerie where we pick up the items too cumbersome to carry around the market. We wonder how will we fit four chair cushions in our luggage, but all agree that they will look great on our outdoor chairs.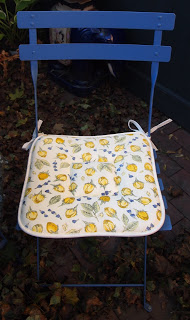 Our Apt market cushions look great!
As you ponder your possibilities for the rest of the day, consider a stop at the Tourist Office, across from that wonderful bakery to which we introduced you at the beginning of this piece. (Le Fournil, the bakery, offers light-fare for take-away lunch, too!)
Apt's greatest draw is its fabulous market, but Saint Anne's Church is worth a visit (if you didn't already make a stop while in the market!). Apt also has two museums, one on archaeology and area history and another on the history of the industrial era in the area.
Saint Anne Cathedral
Photo: Szeder László
Apt is also home to the world's largest sugar-preserved fruit factory, Confiserie Kerry Aptunion, on the out-skirts of town.
Le Pont Julien, a Roman bridge dating back to 3 BCE and in use until 2005 when a replacement bridge was built, is not too far away. (Americans–like those of us in Portsmouth, New Hampshire where the 88-year-old Memorial Bridge was just permanently closed and is awaiting dismantling–may wish the Romans were still around to build our bridges.)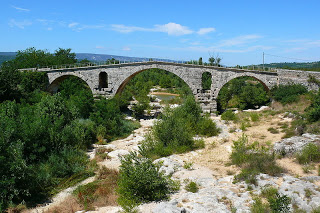 Pont Julien
Photo: Hawobo
There much to do and see. But, with all those goodies from the market, you may just want to go home and start dinner!
For a list of other The Modern Trobadors (TMT) posts about markets in Provence,
click here
.