STOMP SOME GRAPES IN PROVENCE
by Susan Manfull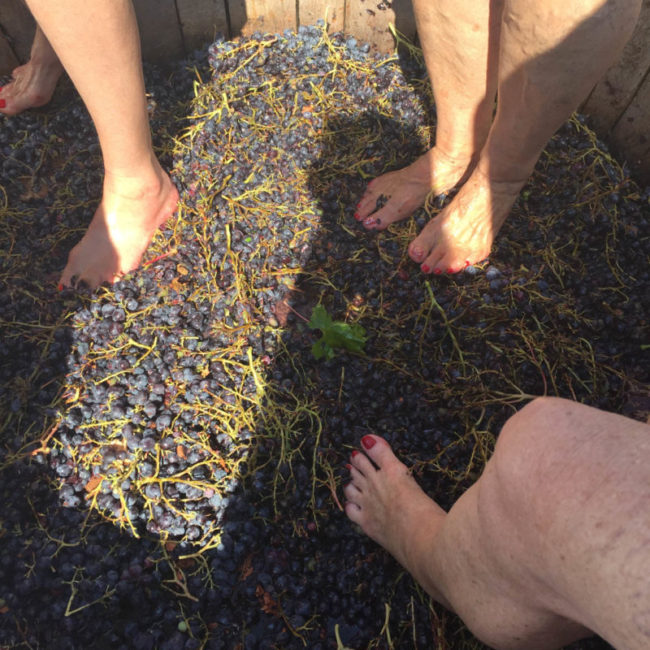 If you are in Provence and looking for something different to do—in between touring Roman ruins and visiting hilltop villages—I've got the answer: Kick off your shoes, climb into a huge oak barrel filled with grapes, and start stomping. That's what Provence WineZine photographer Pamela O'Neill and I did earlier this month when we visited Les Pastras, an organic farm, located in the southern part of the Luberon, most known for their truffles. We had a ball, not to mention felt a little like Lucille Ball in her iconic I Love Lucy episode about her adventure stomping grapes.
I've written about Les Pastras in previous TMT articles, for example, about hunting for summer truffles and owning our very own oak tree on the farm. I love to visit Johann and Lisa Pepin, who dearly love and care for this family farm, first purchased by Johann's grandparents some forty-five years ago. This Franco-American couple continues to create highly original activities for people who like to veer off the beaten path when traveling. In the month of September, it is grape stomping.
Now in their second season of this particular endeavor, the Pepins have nailed this experience. It is a perfect combination of levity and hands-on learning with, of course—we are in France—a gorgeous charcuterie and various culinary accompaniments served with their own wine. Guests are greeted by Johann, in his trademark straw hat, and Lisa, the epitome of aplomb and elegance when she receives guests for champagne and truffles after the hunt who is now decked out in an over-sized, bright orange dress with a peasant top baring her shoulders and hair back in a matching bandana, clearly reminiscent of Lucille Ball's famous grape stomping scene.
It was a warm Thursday morning when Pam and I made our way to Les Pastras (an experience in itself) where we were joined by two spirited women from southern California who were clearly up for an adventure on their vacation in Provence. We headed for the vineyard. Let the fun begin!
The Pepins have about two hectares (5 acres) of vines, among their many olive trees, various fruit trees, and rows of oak trees, surrounded by forest (in which more oak trees can be found). Everything is organically grown. The backdrop of the Luberon Mountains and Mont Sainte-Victoire complete this bucolic scene.
Several varieties of grapes are grown on the property, including the Grenache, Syrah, and Carignan from which their red and rosé wines are made. We would be picking Muscat table grapes. Johann began with a short demonstration about how to pick grapes and those who have never picked grapes would quickly learn that if this were work, we would describe it as back-breaking hard. For us, it was very interesting and fun. Laughter filled the vines as the grapes filled our bins.
Johann told stories about the simple Provençal life of generations past. In small vineyards such as the one we were working in, family and friends picked the grapes and they were sold to the local wine cooperative where they were combined with the grapes from other local farms to make wine that would fill jugs and bottles to be sold. Today, the Pepin's wine grapes are sent to the cooperative to make their own wine which they, in turn, bottle, cork, and (beautifully) seal at home.
Johann told us that, traditionally, neighbors who didn't have their own vines were free to come through their neighbors' vineyards after the harvest and remove any remaining grapes for their own use.
It wasn't too long before we filled six bins of grapes—about 35 to 45 kilograms or 75 to 100 pounds, according to Johann—which equals somewhere around 40 bottles of wine!
Crushing the grapes was next. Once the traditional way of creating the juice from which the wine would be made—and apparently still done in some parts of the world—our grapes, despite the fact we disinfected our feet, would not be turned into wine. (Instead, the crushed grapes would be used as compost.)
Stomping grapes is not easy! Stepping onto several inches of freshly picked berries and sinking in is an unusual sensation. (Visions of a mud bath I took in Saratoga, California, came to mind.) Squishy, silky, and soon very slippery. As much as I tried, I could not master the confident stomp Lucy eventually perfected. The Californians, however, were getting in their groove and were about to start line dancing when suddenly one had her legs go out from underneath her and all at once found her derrière in the grapes! Laughter erupted and no doubt echoed around the valley!
As inept as we might have looked, our efforts did produce some juice which Johann caught and served to those so inclined to try it. I did and must say it was delicious! I can't imagine that the juice squeezed out of our stomping exercise could come close to filling 40 bottles of wine. I suspect those who really make wine from their grape stomp work a lot longer and must feel very gratified once the juice is turned into wine and fills their glasses!
We were rewarded with a lovely spread of delicious French cheeses and meats, accentuated with grapes (Muscat and Dattier), stuffed grape leaves, and a few specialties of the house. The pâtés, in particular, were divine: a duck mousse with mushroom and a country pork delighted the group. I was also particularly fond of the chorizo and prosciutto. The wine, by the way, is quite good.
Details are carefully crafted to create an atmosphere that harkens back to an earlier period in Provence. For example, Lisa pointed out that they serve the wine in "ball" or "round" wine glasses, called "ballons de vin" in French. In the past—and this is still the case in the small villages of Provence—the glasses were small, making it easy (i.e., affordable) for one to buy a round of drinks. (I bemoaned the absence of this tradition recently when I bought a round of wine for our eight-person table!)
After a morning's work in the vines, the team was invigorated just in time for a few rousing rounds of traditional French drinking songs. You'll get the lyrics but if you want to practice before your visit, let me know and I will send them to you!
There's not much time left in September to partake in grape stomping this year, but you can make plans for next year. In the meantime, the olive harvest begins on November 1 and runs through the 15th (depending on weather) and mushroom foraging is on the horizon. Other activities include fishing trips, pétanque lessons, and soon "fossil hunting."
It's nice to know that while we are lucky enough to be having fun at Les Pastras, others less fortunate are benefiting; the Pepins donate 50% of the profits from each bottle of olive oil and truffle oil to the One Family orphanage in Haiti. Their goal is to eventually donate 50% of all products to this charity. Other groups have also benefited from the couple's generosity, as part of what they call, "Eat Well, Do Good."
Today, with so many of us tethered to our smart phones (even on vacation), it is nice to engage in some hands-on experiences, to learn a little more about the place you are visiting, and, especially, to relax around the table and talk and laugh. Johann and Lisa set a great stage for relaxing, exchanging stories, and having lots of fun.
Notes:
Visit their website, www.LesPastras.com , for more information or email Johann and Lisa at pepin@lespastras.com or call +33 (0)6 26 05 30 49.
The Modern Trobador Provence Tours (for small groups) include a visit to Les Pastras for truffle hunting (June tours) and for grape stomping (September tours).