DOMAINE SAINT ANDRIEU IS WELL WORTH THE DRIVE UP THE HILL
by Susan Manfull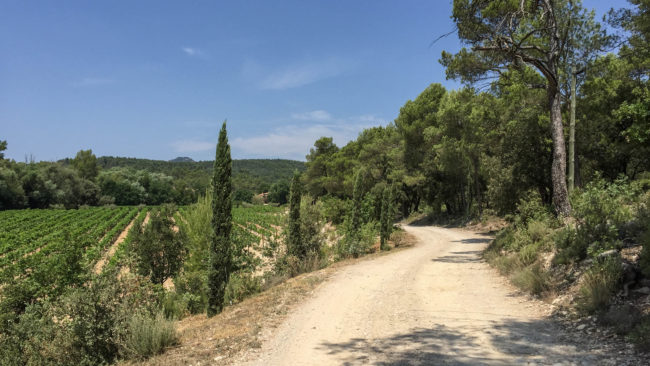 Deep in the heart of the Var, north of Brignoles, and a wee bit past the tiny predominantly organic village of Correns, there is a long and winding road just off the Grand Rue (also called the D45). Soon after making that turn, on to Le Collet de Recoux, that narrow but paved road abruptly ends, depositing the driver and her passengers on a slightly wider road, but one riddled with pot holes rivaling those of New England roads after a particularly harsh winter, and covered with loose rocks of limestone the size of those used to pave the Via Domitia. A year ago, when I first made this excursion, I recall regretting that I'd opted for a mid-sized Peugeot sedan rather a slightly more expensive quatre-quatre and fervently praying my radiator would remain intact. But, casting myself as the ever-intrepid reporter, I said to myself, "let the adventure begin," and forged ahead, bouncing, swerving, and weaving to the top.
Once there, I was richly rewarded with Domaine Saint Andrieu, a glorious sight, some 380 meters high, at the base of the majestic Grand Bessillon. It was a visit well worth the trepidation I confess to experiencing midway up; but like having a baby, I quickly forgot the road and, in fact, made the trip again just a couple of weeks ago (in another mid-sized rental car). Nothing had changed and, next summer when I will no doubt visit again, I suspect the ride will be just as vertebra-jarring (although this is Provence where, historically, deals more complicated than paving a road can quickly move forward on the basis of learning the location of a productive oak tree or on the outcome of card game.)
In the 16th century, a small hameau (hamlet) occupied the area where Domaine Saint Andrieu now stands. Today, an 18th-century Provençal mas graces the property across from a thoroughly modern tasting room and near a state-of-art vinification center that now produces exceptional and award-winning wines in all three colors. Grape vines have blanketed the land for hundreds of years.
Captured by the immense natural beauty of this area, Jean-Paul and Nancy Bignon, proprietors of Château Talbot Grand Cru Classé in Bordeaux's Saint-Julien appellation in Médoc, purchased the property in 2003. They kept the name of the domaine in recognition of the most significant of the natural springs in the area, Saint Andrieu, and, with the astute guidance of Régisseur Grégory Guibergia, soon began refurbishing the vines and modernizing the cellar. The current oenologue is Richard Bertin.
I, along with photographer Pamela O'Neill, had the pleasure of meeting Guibergia in early September, on the eve of the 2016 harvest. Accompanied by Susan Huet, Sales and Administrative Assistant (and translator par excellence), we talked about the latest projects while touring the vinification center and sipping wine.
It is immediately apparent that the domaine is as expansive as it is gorgeous. Approximately 600 hectares comprise the heavily wooded property with about 26 hectares of vines and 10 hectares of olive trees located in various plots on terraces across the land. Currently, 13 of those hectares are within AOP Côtes de Provence and 12 are within AOP Coteaux Varois en Provence. The soil is primarily clay on limestone.
Right now, Guibergia and his team are in the midst of expanding the proportion of land devoted to vines in Coteaux Varois en Provence. They are clearing the land to plant approximately 3 to 4 hectares of Rolle (aka, Vermentino) and Cinsault vines, thus making the two appellations more comparable in size. Last year, they planted 3 hectares of Grenache.
"Every year we add some vines," Guibergia explains. "Where we choose to plant them depends on the quality of the soil and, if [the plot is] flat, how the wind goes." He chuckled as he explained, "We are in Provence, where we have sun all the time, so planting vines is not dependent on the way the sun comes up or goes down" in contrast to, for example, Champagne, Bordeaux, or Burgundy.
Guibergia knows this terroir well. He grew up just 20 kilometers away in the small village of Cabasse. He hails from generations of winemakers and worked in the vineyard and cellar with both his grandfather and father before going on to receive a Brevet de Technicien Supérieur (BTS) diploma in winemaking. He still owns 10 hectares of vines that he inherited from his father, from which he harvests grapes for a rosé he makes in a nearby cooperative. Guibergia, a soft-spoken man with an engaging smile who appears younger than his 40 years suggest, speaks with intensity and passion as he talks about everything from grapes to wine.
The vineyard is perhaps best described as sustainable, relying on practices that are generally organic but not certified, according to Huet in a conversation I had with her last year. She reinforced that Guibergia is very conscientious about what he "adds" to the vines and prefers minimal corrections, even preferring to avoid some of those allowed in organic growing. "He takes the whole ecosystem of vines into account with particular attention paid to the living ground soil and what happens underground," Huet elaborated. At the risk of appearing persnickety—personally, I like a fussy winemaker—he even refrains from packing his bottles of red wine in cardboard boxes until the last moment before shipping, based on research that suggests cardboard may affect the taste (although he acknowledges the studies are inconclusive).
Guibergia is particularly interested in the viticulture of his native Provence.  He talked about a research project conducted by Centre du Rosé:  Recherche & Expérimentation (Rosé Research Center) with the support of Conseil Interprofessionnel des Vins de Provence (CIVP and, in the United States, known as the Provence Wine Council) in which they seek to determine whether "old" varieties of grapes (once grown in the area) can be integrated into the official appellation(s). He mentioned relatively unknown varieties such as "Rosé du Var" or "Mourvaison" (a suspected cousin of Mourvèdre).
Lily Rose is another project bearing Guibergia's imprint. Produced for the first time this year, this 2015 Côtes de Provence rosé is distinctly atypical in this area of Provence, with its cépage of mostly Mourvèdre (90%) with a little Rolle (10%) and its full vinification in Barrique Bordelaise (the traditional oak barrels from Bordeaux) for about three months. This cuvée was Guibergia's project—described as a "trial" by him—that had the endorsement of the owners and bears the nickname of their first daughter.  With only a half hectare of Mourvèdre on the property, production was limited; 724 bottles and 20 magnums were produced. The yield was 35 Hl/Ha. The price is €38 at the estate. The exceptional talent and innovative thinking of Guibergia is reflected in the contents of this elegant bottle. (Details below.)
It was an exciting time to visit Domaine Saint Andrieu. On the eve of the start of the 2016 harvest—la vendange—we were able to observe the preparation. The next day, the crew would be out in the vineyards around 3:00 in the morning to take advantage of the cooler temperatures to ensure freshness. (However Guibergia, like every vintner we spoke with, said that, this year, even at that time of the morning, the temperature is not as cool as he would like and he, like everyone else, expressed concern about the 2016 vintage.)
The harvest machine at Domaine Saint Andrieu—an ultra-modern piece of equipment—will be carefully cruising through the vines in those early hours, lights ablaze, to mechanically pick the berries. There is no hand-harvesting here; Guibergia, a man who clearly attends to the details from the vineyard to the bottle, explained that this machine is the "latest generation of harvester." It destems and, with the help of a computer on board, sorts the berries in the vineyard, gently moves the desired berries into bins. Having used this harvester for the past two years, Guibergia is convinced that the resultant quality of grapes is much higher.
"For rosé [particularly], we must go quickly and efficiently," Guibergia said, echoing the words of every producer that places a high value on Provence rosé's signature freshness and pale color.
The bins are tipped into a trailer that immediately carries them to the back of the vinification center, the highest level, where they are gently guided from the angled bottom of the trailer into another bin, which moves them through a tube into the temperature-controlled and nitrogen-filled pneumatic press (in the case of grapes for rosé and white wines) and directly into tanks (in the case of grapes destined for red wines).
Huet explained, "We try to do everything through gravity so as to manipulate the grapes as little as possible.
In the case of rosé, once the grapes are in the press, some juice (as much as 70%) will evacuate naturally on account of gravity, within the hour. Called "jus de goutte," this juice is highly prized. Over the course of the next 3 hours or so—as the membrane of the press continues to gently bear down—three more collections of juice will be made, each of which will be fermented separately. Depending on the quality of each successive collection, that juice may or may not be integrated into the bottled rosé. With rosé, of course, skin contact is minimal.
"Guibergia is a real stickler," Huet said. "The juice has to be really good…otherwise, he doesn't use it"
Fermentation and aging takes place in the lower level of the vinification center where the tanks and barrels are kept; this area is actually partially underground. Bottling and aging takes place on the lower level, too.
"It's not the most beautiful cellar, but in terms of production and efficiency, it's great," Guibergia said. The proof is in the bottle, I would add.
"The whites are killers," Huet said, barely curtailing her excitement. "We've sold out of the Côtes de Provence."
Back in the tasting room, I was relieved to see that we would get to taste the Côtes de Provence (2015) Domaine Saint Andrieu white as well as the Coteaux Varois en Provence (2013) L'Oratoire Saint Andrieu. I had very fond memories of both cuvées from last year. Both are 100% Rolle, exceptional wines with the Côtes de Provence presenting a little more complexity. Interesting to note, the whites are not entered into competitions because production is so low. If I lived in Provence, I would have stocked up.
The 2015 rosés are also exceptionally appealing, far more so than last year, confirming the words of Guibergia that 2015 was the "best ever" vintage. Both rosés have garnered multiple awards (including golds). The L'Oratoire Saint Andrieu from Coteaux Varois, a blend of Grenache (40%), Cinsault (25%), Syrah (25%), and Rolle (10%), is particularly nice for an apéritif (although I would certainly take it with food) and the Domaine Saint Andrieu from Côtes de Provence, a cépage of Grenache (40%), Cinsault (35%), Syrah (20%), and Rolle (5%) is more befitting for a meal. I love the minerality in both of these rosés.
The red wines from this Domaine are also impressive. We tasted the Coteaux Varois en Provence L'Oratoire Saint Andrieu (2014), a blend of Syrah and Cabernet Sauvignon, which is very pleasing but the Domaine Saint Andrieu (2011) blend of Syrah and Mourvèdre, stole the show with its striking mouthfeel, structure, and length coupled with its peppery notes of dark fruit and vanilla and its perfectly softened tannins. The 2012 is enjoyable, but not as flavorful and a little tight. The 2015, just bottled for release in 2017, has great promise, according to Guibergia and Huet. O'Neill and I readily agreed.
Finally, there was Lily Rose, the Côtes de Provence (2015) rosé (which we tasted before the reds but since it is not part of the regular line-up, I am referring to it last). It is such an interesting wine, I knew I needed to taste it by itself so I brought home a bottle. I invited my core team of tasters, husband Towny Manfull and former wine store proprietors Win Rhoades and Claire Fleming, to join me.
In sum, they loved it, describing it as exceptionally unusual and very special. Rhoades went so far as to report that it is "totally unlike any rosé I've ever had" (and I assure the reader he has had many). Distinct nose, nice structure, complexity, creamy mouthfeel, lovely minerality, surprising finish are starting points for this rosé.
"Its complexity begins with the robe," Rhoades said.
"A little white pepper in the mouth," Manfull said and "a feeling of mint in the mouth," Rhoades said.
Fleming described it as having "the minerality of a white wine," and Manfull concurred.
All agreed that it is a gastronomic wine, a thought later confirmed when we paired it with salmon, pan fried in a honey-soy sauce.
These are wines well worth seeking out in your own country although the whites and reds are not widely available. If you are near Correns, the wines are definitely worth the long and winding road to visit (okay, it's really bumpy, too). Just get in the car, put on some music—I recommend Mozart's Duettino Sull'aria from Le Nozze di Figaro or perhaps the longer and more soothing Berceuse and Finale from Stravinsky's The Firebird Suite—and let the adventure begin.  The most rewarding parts of life often begin with a little trepidation.
By the way, I just got word that the harvest is going very well, the hot dry summer notwithstanding.  Perhaps a trip to Provence is in order for next year!
Notes:
You may also be interested in these PWZ articles about other wines produced near Domaine Saint Andrieu: