Kevin Zraly Retires from Windows on The World Wine School and Champagne Corks were Popping
The Wine Snoop Report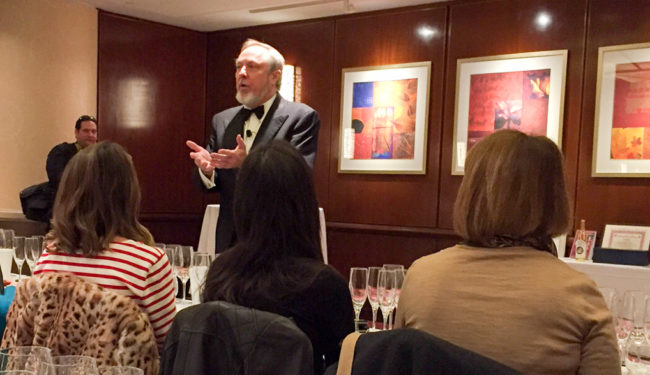 New York City wine legend Kevin Zraly bid adieu to his "Windows on the World Wine School" Monday night, ending 40 years of teaching his wildly popular 8-week wine course. Typically offered twice a year, over 20,000 people have enjoyed Zraly's words of wine wisdom across the years.
The ballroom of the Marriott Marquis in New York's Times Square was bulging at the seams on Monday night. Many people there had attended the previous seven classes of the fall course but others–long-time friends, family members, importers, and culinary folks who may have already taken the course in years past–were there just for the last night, propelled by sentimental reasons and a palpable love for this celebrated wine cognoscente.
I know Zraly only through a very old edition of his renowned book, Windows on the World Complete Wine Course, and a few telephone conversations but I wanted to witness this iconic teacher in his element. My daughter and I arranged to attend the last class.
Zraly's long-time friend John Novi, whom Time Magazine called "the Father of New American Cooking," was seated in the second row, just a few seats down from my daughter and me. Novi was the founder and chef at the highly acclaimed Depuy Canal House in High Falls, New York, just north of the city in the Hudson Valley, where Zraly got his start in the wine business. Zraly, all of 19 years old at the time, was working in the Canal House when a party of nine, as Zraly recalls, came in for dinner. It turned out that Craig Claiborne was among those at the table and he would return to his desk at the New York Times where, as one of the nation's premier restaurant critics, he would bestow four big stars on this small restaurant. Those coveted stars shook up the restaurant as they endeavored to live up the expectations set forth by Claiborne, and Zraly found himself behind the bar.
"No one drank wine back then," Zraly told the group on Monday night. "There was one bottle of Almaden Chablis that collected dust under the bar."
It was not long after the stars that the restaurant got a request for a wine and cheese tasting, which piqued Zraly's interest in wine, and somewhere around this time, according to the Introduction in Zraly's weighty tome, he tasted his first glass of "great wine." With that sip, his career in wine was launched.
Also in Monday's class was a large contingent of former employees of Windows on the World where Zraly worked as cellar master and launched his wine course. Opened in April 1976–as a private luncheon club on the 107th floor of One World Trade Center–this restaurant quickly rose to fame around the world. A few months later, in the fall of 1976, the Windows on the World Wine School began and in 1985, Zraly's book, based on class handouts and transcripts of the class, was first published. Many of the people with whom Zraly worked died on September 11, 2001 and Zraly remembered them on Monday night.
Seated in the center of the room, with a pot of tea and no sign of wine glasses, was Zraly's mother, beaming with pride whenever her son mentioned her that evening. His two sisters were nearby, also immensely proud that their brother had accomplished so much. Zraly's son addressed the crowd, thanking his father for introducing him to wine and the wine business. All were moved by the events of the evening.
I had wanted to take Zraly's course for years but the logistics of schlepping 265 miles from Portsmouth, New Hampshire to New York City (and back again) every week for eight weeks always proved too challenging. When I found out this was his last class, though, I had to make it happen. The last class of the course is always devoted to champagne and port and this particular course was preceded by a private champagne reception to mark the special occasion! Our good fortune!
Zraly's approach to teaching is a brilliant pedagogy of entertainment and academics with a dash of philosophy tossed in for good measure. Peripatetic is the only word that comes to mind to describe his delivery, a style that makes it impossible to close your eyes in spite of the late hour and the copious amounts of wine. A master showman, he effectively weaves facts in with his trademark humor as he dispenses a wealth of information. For example, what distinguishes French Riesling from German Riesling? What are the three grape varieties that may be used to make Champagne? There is a lot of bantering with the students, always calling out someone for doing something. Zraly ribbed my daughter and me for sipping one of the wines when we'd not been given the go-ahead to do so. Standing directly in front of us, he feigned incredulousness that we could have been so crass as to have broken all protocol and actually tasted the wine; I fully expected him to whip out a ruler from his dinner jacket, and he said as much! Everyone was doubled over in laughter.
Don't expect Kevin Zraly to take up shuffleboard any time soon. In January, he will begin teaching 12 advanced wine classes at Sherry-Lehman. Classes will take place on Monday evenings and each will focus on red wine from a different region. The cost is $150 per class. I noted two classes on red wines from the Rhône Valley–he told me he is a huge fan of Rhône wines–but no classes devoted to Provence wines. You can be sure I will bring this to his attention!
I hope to be in a few of those classes. In the meantime, I bought the newest edition of his book, significantly larger than my first copy of his book.
Congratulations, Kevin! We all left with smiles on Monday night but I saw a tear or two as well. It seems the end of an era.