Provençal Pairings: Wine with Food
An Old Friend I Had Never Met
by David Scott Allen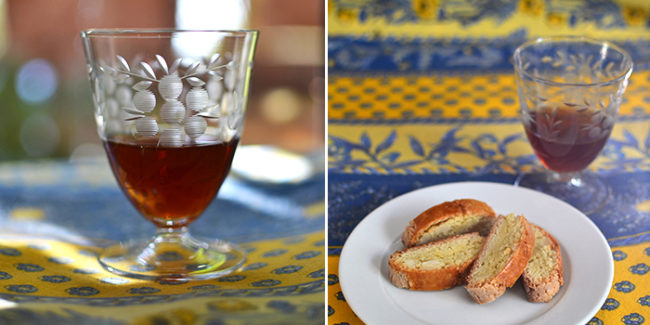 Winery: Mas de Cadenet
Cuvée: Vin Cuit de Provence
Appellation: Provence
Type: Dessert
Vintage: Non-Vintage
Grape Varieties: Rolle, Grenache, Cinsault, and Syrah
Alcohol content: 14%
Average Retail Price: $28 U.S., €14 at Mas de Cadenet
I must tell you that I have never tasted a wine like this before, and yet there is something so familiar in every sip. It's akin to meeting someone for the first time, yet feeling in your heart that you have known her or him all your life. It's a sense of immediate warmth and comfort. That is how this wine made me feel. Having enjoyed many dessert wines, from the sublime (Château d'Yquem Sauternes) to the ridiculous (no one shall be excoriated here), this wine stands apart – my new-old friend. I truly love it!
A little bit about the wine: produced by the Négrel family-owned Mas de Cadenet near Mont Saint-Victoire, a blend of Rolle, Grenache, Cinsault, and Syrah grapes are crushed post-harvest, and their already slightly sweetened juices are poured into a large cauldron set over an oak-wood fire. The juices are then cooked slowly and stirred with an oak branch – though never at at boil – for about two weeks, until the volume has been reduced by half; it is then aged in oak barrels for two years. The result is Vin Cuit, or cooked wine.
Its sugar content is high – it is, after all, a dessert wine – but unlike all the others I have tasted, this wine boasts a brightness that surprised me. The color of the wine is a deep, rich amber. On the nose I sensed the tartness of slightly fermented grape must. With a truly luscious, velvety mouth feel, its flavor is distinct with strong grape must, fermenting apple, and a hint of floral honey. The finish is subtly of woodsmoke, from the fire over which it was cooked.
Vin Cuit de Provence is a wine often served with the traditional Treizs Desserts De Noël following Le Gros Souper, a veritable Christmas feast. (Susan wrote a wonderful article On Les Treize Desserts two years ago for The Modern Trobadors.) As desserts go, these thirteen are on the lighter side – nuts, fruits, nougat (light and dark), calissons, breads, and cookies. I chose to make Croquets (often called Croquants), a nutty cookie, to accompany this wine, as I was looking for a light finish. Cookies and dessert wine are a lovely curtain call following an evening's opus. You can find the recipe for Croquets on Cocoa & Lavender.
It wasn't until fairly recently that Vin Cuit de Provence has been available for purchase in the U.S. The good news is that the Mas de Cadenet Vin Cuit can be found this holiday season in several retail stores in New York and New Jersey: Hudson Wine Merchants (ask for Jess if you have questions), Gary's Wine and Marketplace, Brix. I'm told it is also on the wine list at Le Bernadin in Manhattan and at Blue Hill at Stone Barns in Pocantico Hills, New York
If, for your dessert, you opt for cheeses and fruit, this wine is a perfect pairing for Gorgonzola dolce, Explorateur, Comté, and Parmigiano-Reggiano – some of my favorite dessert cheeses. Depending on its preparation, I can easily imagine Vin Cuit pairing beautifully with foie gras.