BEETS: CAN'T BEAT BETTERAVES CUITES FROM THE FRENCH MARKETS
by Susan Manfull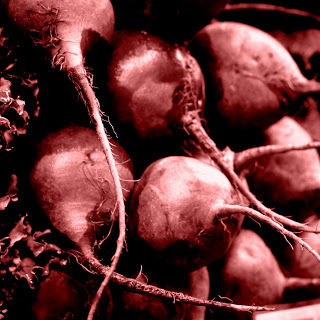 I was in the Lourmarin market one Friday many Junes ago when I first noticed them. There, in the midst of the gloriously fresh produce—the bright green clusters of lettuce leaves, the plump red tomatoes, the huge heads of perfectly formed cauliflower, and an impressive pyramid of dazzling green cucumbers—were these dark purple bulbous things. The misshapen balls, each encased in what looked like a very thin and slightly shriveled leathery skin, appeared dense and heavy. The outside covering had wrinkled up just a wee bit on a couple of the balls to reveal a very pretty, glossy purple color, reminiscent of beets.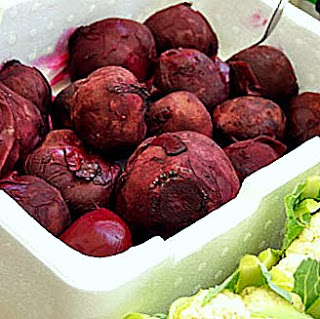 I made my way over to the unremarkable white bin where they rested and saw that each one was surrounded by the telltale crimson-colored juice of a beet. The sign read "Betteraves Cuites." Cooked beets. I can no longer recall the price but it didn't matter. I had to buy a cooked beet.
That was the start of my love affair with the cooked beets that one may buy in French markets. I love beets but they require a hot oven and a long time to cook. Yes, I know that you grate raw beets for immediate consumption and that their antioxidant powers are greater when raw, but I fancy them cooked, thinly sliced, and topped with a dab…
of chêvre on a bed of greens (preferably mâche).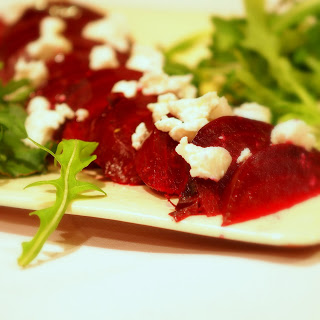 The idea that I could buy cooked beets in June, the start of their peak season (that runs through October), a season that coincides with the hottest months of the year, was, as they say in France, formidable. I love beets.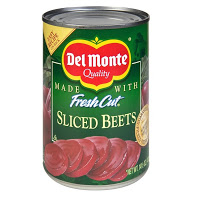 People fall into two distinct groups when it comes to eating beets: they either love them or hate them. I suspect that those who fall into the latter group harbor distasteful memories of early childhood experiences with canned beets, undoubtedly the most common preparation in the U.S. (As much as 95% of the beets grown in the U.S. end up in cans.) Let's face it: when it takes at least an hour to cook a vegetable, chances are most people will reach for the can.
And therein lies the etiology of the common beet aversion: a texture issue. Beets that find their way onto your plate via a Del Monte can, a familiar brand in my family's kitchen cupboard, suffer from a chewy and slimy feel in your mouth. Taste, however appealing, has the difficult task of overcoming feel and the ante is certainly raised when the dominant taste is, well, "earthy." Beets hardly have a chance!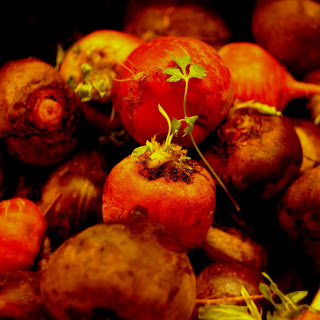 Not surprisingly, beets have the distinction of being at the top of a New York Times list entitled "The 11 Best Foods You Aren't Eating." It's a tough battle for a beet. Before they succumb to the can—in their fresh state, that is—beets are arguably not very appealing in the appearance department. They are sometimes dirty—they are roots, after all—and they have what could pass for strands of hair coming out of one end and pink stalks with dull-colored greens protruding out of the other end. It is not a coincidence, beet-haters may argue, that beets belong to the botanical species Beta vulgaris?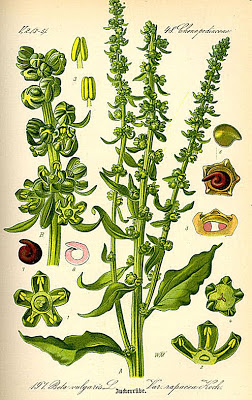 Those in the beet-hater group—a large group that includes President Obama—also object to the brilliant magenta color of beets that, they say, invades every other food on the plate. I think that is primarily a canned beet problem, but admittedly, peeling and slicing a cooked beet is not a clandestine affair.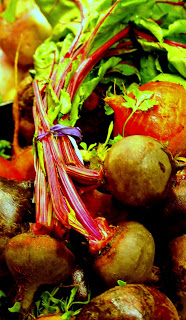 That beautiful magenta color is also related to a side effect that many people experience from eating beets. It is rather delicate subject but one that may cause alarm in people who are caught unaware. The group of pigments responsible for the bright crimson color, betacyanin, is difficult for many people to metabolize, leading the purplish-red pigments to pass straight through the urine and feces of these nonmetabolizers. The upshot is waste products with a red tinge to them, a disconcerting experience if one does not know the cause. This is a genetically determined trait that is perfectly harmless, but that news probably doesn't help the beleaguered beet.
Beets, god bless them, have been around a long time: since antiquity, as they say. Back then, only the greens were eaten and the root—apparently even more misshapen—was reserved for medicinal purposes. There is some evidence that the Romans cultivated them for their roots—remember who lived in Provence 2000 years ago—but the more rounded roots familiar to us today did not develop until around the 16th century and it was not until around the 19th century that beets really began to appear on one's plate.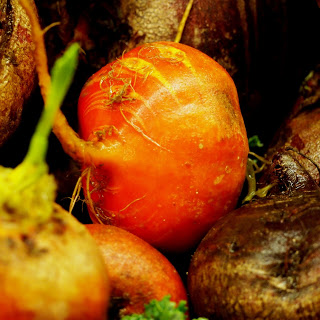 Today, beets seem to be enjoying increased popularity in the U.S. Nutritionists are promoting their value as a powerhouse of folic acid, calcium and iron; as being hugely beneficial for their antioxidant and anti inflammatory properties; as a great source of fiber; and even good for weight loss. High-end restaurants seem to have discovered beets, too.
In France, they have always had an impressive following. My favorite market vendor in Lourmarin (now retired) explained that during WWII when energy had to be conserved, beets were roasted in bulk for practical reasons and, then, sold to the public. Having cooked-beets readily available proved so convenient that, after the war, the public demand remained high and the practice continued. Today, in addition to finding cooked beets in every market in Provence, they also can be found in most grocery stores, cooked and in vacuum-sealed bags.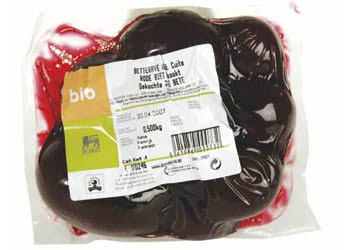 In nearly every café and bistro, as well as many gastronomic restaurants, in Provence, a beet and chêvre salad can be found on the menu. Since this is my favorite way to enjoy beets, I am happy.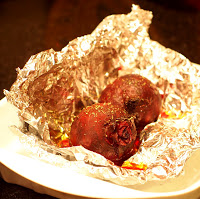 Until the U.S. sees the wisdom of selling cooked beets (outside of a can), I cook my own. I usually just cut off the greens—always decline the grocer's offer to cut of the greens—and save them for my salad; scrub the roots and pat them dry; rub them with olive oil and season with salt, pepper and your favorite herbs; wrap in heavy foil; and toss in a 375 degree oven for about 45 – 60 minutes. (Don't cut or peel them as their gorgeous red color will seep out, leaving dull brown beets!)
The roasting-in-foil approach is easy and works just fine. However, recently, we tried roasting a beet in a mound of salt. The result was divine. Use your imagination here. For example, add herbs, horse radish, blood red orange vinegar to the salt mixture. The beet that emerges from the crust of salt will be perfectly cooked and devoid of any of those aforementioned texture issues.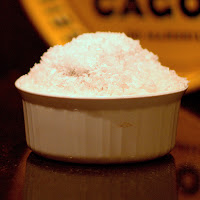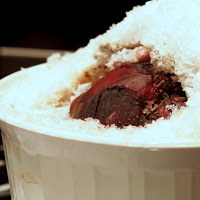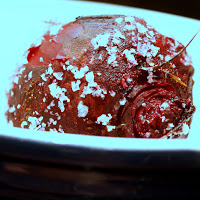 Our salad of beets–mixed greens, including beet greens but, sadly, no mâche—chêvre, and walnuts with a simple vinaigrette was terrific.
David, editor of Cocoa and Lavender, will feature a recipe for beet risotto, "Seared Tilapia on Beet Risotto with Citrus Beurre Blanc" in his June 16th post. I know this will be outstanding and I can't wait to read it. In the mean time, I would love to know your favorite beet recipes.
And, when in France, do look for betteraves cuites! You won't be disappointed!