Diary of a Master of Wine in Provence
Judging, Celebrating, Researching, Tasting
by Elizabeth Gabay MW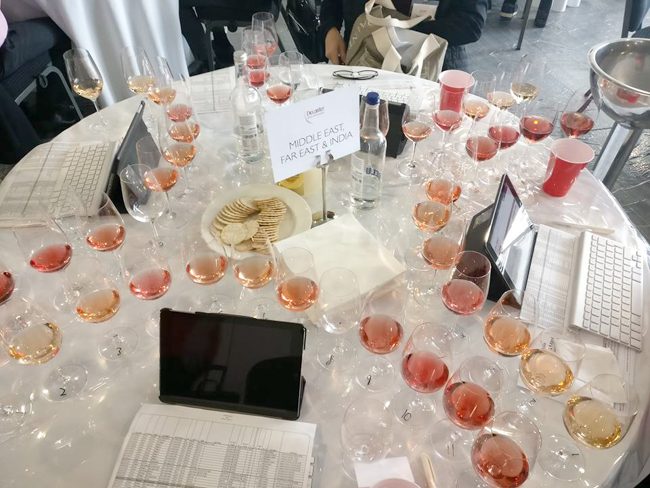 As with any business, living and working in Provence is not all sunshine lunches…. well, only a few…..
The past couple of weeks have been very busy. In late April, I was based in London, which, surprise, surprise, was cold grey and damp – although it did warm up a little by the end. I was there to judge in the Decanter World Wine Awards. This year the number of entries topped 17,000 wines with 250 judges.
This competition is organised around panels of four judges, judging wines by country or region, and usually includes judges who are knowledgeable about the region or style of wine. Eighty wines are judged each day. I was allocated a range of different countries: Hungary and Czech Republic day one, Provence day two, Languedoc-Roussillon day three and Middle East, India and Asia days four and five. This meant I had an interesting chance to taste very different rosé styles (plus the odd peak at what other panels were judging). The competition was based at the ExCel centre by the Victoria Dock in London's Thames Docklands area. In terms of judging, there is no quota as to the number of medals given. Some flights have almost all golds, some flights none.
Scores are given using a 100-point system. Top gold 98-100 for a great, exceptional and profound wine. Gold 95-97 for an excellent wine of great complexity and character. Silver 90-94 for a very accomplished wine, with impressive complexity. Bronze 86-89 for a well-made, straightforward and enjoyable wine and Commended 83-85 for an acceptable, simple wine with limited personality. As judges we were urged by Steven Spurrier (of Judgement of Paris Fame) to be firm, but fair, and if hesitating over a gold, to ask ourselves – 'What more can this wine do?'
Competition judging is slightly different to everyday drinking. Judges look for that extra edge of complexity, balance, finesse in order to award a gold, which, to a certain extent makes it difficult for a rosé to win a gold as it rarely has great complexity.
The Provence rosés all showed high quality and elegance with that unique Provence character of ripe fruit weight, fresh acidity, and dry minerality. The wines at Decanter are organised by variety so our first flight was predominantly Grenache-based and the second flight more Cinsault-based. The Cinsault dominant wines were noticeably more floral.
The Czech rosés that were submitted were considerably darker, fruity, unripe green acidity, and more residual sugar in comparison. Other central European rosés varied enormously on quality, style, and varieties used, making it impossible to generalise. Chinese rosés had good colour but lacked weight and concentration.
The results will not be released until mid-June – so still waiting to hear which wines received the medals. Not all vineyards chose to attach their medal stickers to the winning bottles, so worth keeping an eye out for the results. Outside of the judging hours, I spent a lot of time networking with fellow judges about rosés around the world, picking up interesting information. There were also a couple of fun social events.
The Institute of Masters of Wine held an office warming party in the new offices, and to celebrate the 90th birthday of Michael Broadbent MW. Another evening involved being introduced to the prestigious 67 Pall Mall – a private club overlooking Clarence House (part of the Royal estate and home to the late Queen Mother). This club is dedicated to fine wine. It has a number of private dining rooms which can be used for wine tastings, 12 sommeliers on hand, and a choice of over 700 wines offered by the glass.
On my return to Provence, I was greeted by relatively cool, grey weather with odd showers and the next day a flurry of snow. Numerous producers, even in Provence, especially in the higher cooler vineyards, had been hit by the frosts which were sweeping across France. It is still too early to tell how much the vineyards will be affected, as vines can be resilient and will grow back, but certainly there is worry after the losses received through frost and hail last year.
I spent a couple of days in central Provence to do some book research. During my visit I met up with Mr Nicolas Garcia, director of the Syndicat des Vins Côtes de Provence in Les Arcs to discuss future rosé trends and competitive markets. I am loving this part of my research for my book on rosé – looking beyond what is currently available on the shelves, and at how the market is evolving. I went on for lunch at La Bastide des Magnans in Vidauban. A warm sunny spell meant that we could eat outside in the courtyard of the 200-year-old former silk-worm warehouse.
The following day I had lunch at Le Nid in Flayosc, a delightful village restaurant:
After lunch I popped into the Maison des Vins at Les Arcs to taste the six rosés currently on offer this week. I asked the sommeliers how they choose the wines to taste and they said they try to show wines from different regions, different price points, and to include co-operatives and small and big domaines.
The rosés on offer were:
Croix de Basson, Les Vignerons de Correns 40% Cinsault and 60% Grenache.
Cuvée Diamant, Château de Beaumel 2016, Gonfarron. 20% Grenache, 40% Mourvèdre, 15% Carignan, 25% Cinsault
Château de Galinière 2016, Châteauneuf le Rouge. 60% Grenache, 20% Syrah, 20% Cinsault.
Les Trois Frères, Domaine des Aspras, 2016, Correns. 50% Cinsault, 50% Grenache.
Les Terraces, Domaine de Courtade 2016, Île de Porqueyrolles. 77% Grenache, 11% Mourvèdre, 12% Rolle.
Two B, Domaine de la Bastide Blanche 2016, La Croix Valmer. 55% Grenache, 30% Cinsault, 15% Tibouren
The two wines from Correns had the highest alcohol levels at 14% which made them a little heavy. The Aspras had a better balance of fruit. The Beaumel rosé, unsurprisingly considering the high percentage of Mourvèdre and Carignan was more structural. Galiniere, from vineyards on the limestone slopes of Ste Victoire, showed lovely fresh acidity with crisp minerality and a herby finish. The Courtade rosé was crisp, light, and elegant. The Bastide Blanche rosé showed beautiful peach and red fruit ripeness, long crisp acidity, and was very pretty.
Mr Eric Pastorino of Estandon Vignerons and chairman of the Syndicat turned up while I was there to survey the wines available. There was a steady stream of visitors ranging from foreign tourists, locals looking to buy presents, and restaurateurs.
While I was there I also had a look at the tasting rooms to decide where I will hold my big global rosé tasting at the end of June. With sixty-odd wines, and growing, to taste I have to decide whether to have a 'sit down, individual tasting', or a walk-around tasting. The wines will be served blind, maybe in black glasses, to prevent prejudice towards colour.
Returning, it was a week back to my desk and writing…. Children back to school and university and elections over… and catching up on the previous few weeks.