Musings of a Wine Maven
HENRI BONNEAU, le DERNIER ADIEU
by Jerry Clark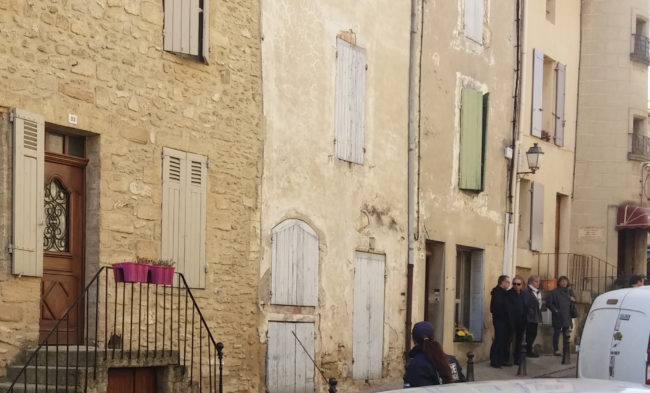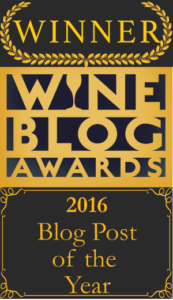 I arrived at No. 35 Rue Joseph Ducos just in time to watch five men, led by son Marcel Bonneau, carry the casket of legendary winemaker Henri Bonneau (1938 – 2016)  from his long-time home to the 11th-century church Nôtre-Dame-de-l'Assomption, across the street.  In moments, it seemed, the casket had been carefully placed in the center aisle in front of the altar.  That was March 26th.
Just five days earlier, I had been in Châteauneuf-du-Pape with business associate Jacques Navarre; it was one of the stops on our ten-day visit to wine producers in Burgundy and the Rhône Valley.  I had not anticipated returning to  Châteauneuf-du-Pape, yet when I heard the news that Monsieur Bonneau had died, I immediately made arrangements to do so.  But I am getting ahead of my story.
On March 21st, I happened to find myself in the company of Madame Bonneau and her son Marcel. At the time, I had no idea who they were as they came out of the maison village with the light green shutters on Rue Joseph Ducos. On that morning, Jacques and I happened to be in the company of Robert Barrot, owner of Château des Fines Roches, one of the estates where we would be tasting wines as part of our trip.  He had walked us up to the highest point in the village, the remains of the summer Château of the Avignon popes, as it provided a complete panorama of the vineyards, contrasting those on the hillsides with those on flat land.
On our return to the center of town, Madame Bonneau approached Monsieur Barrot in the street to let him know that her husband Henri was in a hospital in Marseilles due to serious complications of diabetes affecting one of his legs.
When he parted from them and rejoined Jacques and me he explained what he had just learned. I was dumbfounded when he made us aware of who he was speaking with, and, further, that I was standing in front of a small unobtrusive building—between numbers 33 and 35—that had served as wine cellar to the Bonneau family for several generations. There was a total lack of markings to advise what lay behind the ancient walls. I felt I had quite a story to tell my friends when I returned to America.
Monsieur Barrot, was raised in the adjoining house to the Bonneau family, number 33. Though he and Henri drew their livelihood from the wine of the village, they would have been friendly regardless of the proximity of their homes, as Châteauneuf-du-Pape has only 2,000 residents.
Three days later, on the morning of March 24th, Jacques and I, still on our tour of wine producers, were in the cellar of négociant Tardieu-Laurent in Lourmarin, doing a barrel tasting of the 2015 vintage. When we got to their Châteauneuf-du-Pape, and Bastien Tardieu explained it was 100% Grenache, I took the opportunity to relate my favorite anecdote attributed to Henri Bonneau:
" Châteauneuf-du-Pape is Grenache. All the rest is like salt and pepper in the soup."
Bastien nodded, and then said Mr. Bonneau had just died, at age 77. Again I was dumbfounded. He had passed away on the same day that we had crossed paths with his family. Over dinner that night I told Jacques I wanted to modify our schedule and to attend the funeral.
Though I have never had the opportunity to drink any of Bonneau's renowned Réserve des Célestins, for me he was the "other face" of Châteauneuf-du-Pape . There are thirteen grape varieties permitted in the appellation, and Famille Perrin take special pride in using all of them in the making of Château Beaucastel. Given Bonneau's focus upon a single grape and a lengthy aging practice, some folks would even say he was a maverick, yet his prices, especially when his wines show up at auction, outstrip the internationally known superstar properties like Chateau Beaucastel, Chateau Fortia, and Domaine du Vieux Télégraphe.
The Saturday morning of the service, on March 26, was warm and sunny, a significant contrast to the previous five days of classic Mistral intensity and cold. As the approximately 150 mourners settled into their pews, the priest stepped forward and began by telling us that we were here to say our final goodbyes to Henri. As an altar boy I had learned my Latin liturgy well enough. But that was a long time ago, and my attendance in church since Latin was discarded has greatly lapsed. Therefore, I was not familiar with the prayers in French, a language I speak better than comprehend. So I pretty much let the moment, more than the prayers, flow over me. It was solemn, as I expected it to be before entering. Only one lay speaker came forward, and for me he really set the tone for this final farewell. I would guess his age to be in the mid-thirties, and I immediately recognized him as someone standing at the door of No. 35 when I arrived, with a face of pure sadness, and at the brink of losing his composure. Now inside the church, in full control of his emotions, he told of the countless times as a younger man he had come to speak with Henri about his craft. Often Henri would invite him to stay and share a simple meal at the family table, and continue their dialog. He had lost both a mentor and a friend. All of us could feel his loss.
Forty minutes after it began, the funeral service ended, the casket was carried out to the attending hearse, and one by one the mourners exited, first giving their sentiments to his widow and son who were standing at the bottom of the church steps. I could only think to say to them was that I am an American who greatly appreciated the wonderful wines he made.
I believe I was the only American in church for his service. Initially I found that very strange. Where was Parker? Of the relatively few women present there was no Jancis Robinson. (London is a short flight, and Ryan Air can likely get one over for under a £100 , maybe under £50.) Then I relaxed and said it was surely much better this way.
The Bonneau family had been making wine long before the outside world took notice. (Monsieur Bonneau was the 12th generation of family winemakers.) Those that could most appreciate his winemaking talent were above, waiting for him. The monks preserved viticulture in the Dark Ages. For over a thousand years, they carefully improved upon what they were entrusted to protect. He would soon be with them – the Cistercians of Clos Vougeot, the Carthusians of Châteauneuf-du-Pape, the Benedictines of Macon and Chusclan. He would have little problem understanding them, nor them him, as what he practiced, and the cellar conditions in which he worked, would be very familiar to them.
But Catholic men that live upon wine
Are deep in the water, and frank, and fine;
Wherever I travel I find it so.
Benedicamus Domino.
—Hilaire Belloc
Notes:
To learn more about Henri Bonneau and his winemaking, click here.