OFF THE VIA DOMITIA
THERE'S VIOGNIER AND THEN THERE'S CONDRIEU
by Susan Manfull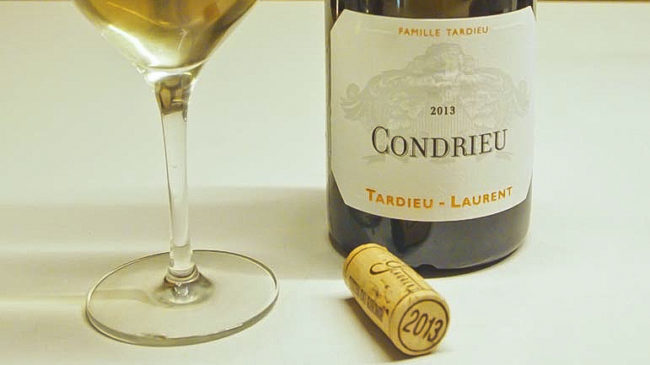 It was love at first sip. I was visiting the Tardieu-Laurent cellars in Lourmarin for a barrel tasting with Bastien Tardieu, lead oenologist for this renowned Rhône Valley négociant firm founded by his father Michel Tardieu and (former partner) Dominique Laurent. Jerry Clark, PWZ contributor, and his wife who have been invited to tastings every summer for 15 years, invited Pamela O'Neill, PWZ photographer, and me to join them this summer of 2014. We began our tasting of nine wines with three whites.
Our first pour was the Guy Louis Blanc Côtes-du-Rhône, a 2013 vintage that had been bottled just a few weeks earlier. A blend of mostly Marsanne with equal amounts of Grenache Blanc, Roussanne, and Viognier from six different producers in the northern and southern parts of the Rhône Valley, it was very good.
Say it like a French person:
Viognier = Vee-ohn-yay
Condrieu = Cohn-dree-uh
The next bottle was a (2013) Condrieu. It had been bottled just a few days earlier. Naturally, it was made from 100% Viognier as, in this appellation, only the Viognier grape is allowed. This particular cépage was made from grapes harvested from two vineyards on the favored right side of the Rhône where the small appellation is located. It was aged, Tardieu said, for 10 months in new oak barrels. It retails for about €31 (in France).
"Viognier," I thought as I admired the straw-like color of the wine I was about to taste, "not a favorite of mine except perhaps with Indian food."
I had all but given up on Viognier. I was introduced to that single varietal wine about 15 years ago by my local wine merchants who recommended it as a good accompaniment to Indian food and, about the same time, by Dorothy Gaiter and John Brechner, who had penned a Wall Street Journal column entitled "One Word of Advice: Viognier." For a few years, I opened a bottle now and again and usually I really enjoyed it. No idea now who produced those bottles or even what part of the world they came from as I simply took the recommendations of my local wine merchants. That is, nothing particularly memorable.
I got adventurous as the years passed—I suppose, as all people who like wine do—and began to order it out. I found I was almost always disappointed. Way too much flowery perfume on the nose or way too oaky on the palate (exactly what I was trying to get away from in Chardonnay). After a particularly unpleasant experience with an especially cloying Viognier, I stopped ordering it. The only viogniers that had crossed my lips since then were the very occasional purchase from my trustworthy wine merchants who understood my palate and could divine from the label what type of Viognier was in the bottle. That is, until that hot July day in the Tardieu-Laurent cellars in Lourmarin.
Aromas of distinctly fragrant vanilla and pear flavors wafted from the glass, maybe a wee bit of anise tempered by a minerality or saltiness. The nose was extraordinary and, in my limited experience assiduously homing in on the details of a wine's bouquet, I had never encountered so many layers of luscious flavors. So rich and textured were they that it seemed I could scoop them up from the air with a spoon. Intoxicating came to mind.
The taste was, at once, crisp and creamy, elegant and savory. Pears continued on the palate with notes of citrus and white flowers and an underlying minerality. Lovely mouthfeel, well balanced, substantial body, nice length. Begs to be tasted again to be sure it is really that good.
This was no ordinary Viognier. It took center stage in the flight of white wines we tasted that day and was a strong candidate for that position among all the wines we tasted. I learned that afternoon that there is Viognier and then there's the incomparable Condrieu.
Condrieu is a tiny white wine Appellation d'Origine Protégée (AOP) established in 1940 in the northern part of the Rhône Valley, just 42 kilometers (25 miles) south of Lyon. Seven villages, about 75 wineries, and a little over 130 hectares (321 acres) of vineyards comprise this appellation where about 50,000 cases of wine are produced annually. All are 100% Viognier, the only grape permitted in this appellation.
The vineyards are located on a 20-kilometer (12-mile) stretch of the right side of the Rhône River, where it bends just south of the red wine appellation, Côte-Rôtie. In fact the name Condrieu comes from the French phrase coin de ruisseau which means "corner of the stream."
The best positioned vineyards are on steep south- and southeast-facing granite slopes, enabling maximum warmth and sunlight in what is one of the coldest appellations in the Rhône Valley. Generally, the climate is considered continental with winters characterized by cold wet weather and summers marked by long hot days, apparently the perfect balance for such a finicky grape. The Mistral, the best known of the notorious northerly winds that whip through this region, potentially wreaks havoc in the vineyards but also cools them after the hot summer temperatures and keeps the vines free of powdery mildew, a condition that plagues Viognier.
Côte-Rôtie appellation regulations permit up to 20% Viognier in the red wine of that appellation (just north of Condrieu). Syrah and Viognier must be fermented at the same time. Pay close attention to the nose of the next Côte-Rôtie red wine you open!
Located within Condrieu is the Château-Grillet appellation (about 3.4 hectares or 8.5 acres), one of France's smallest wine appellations, one of the earliest to obtain appellation status (in 1935) and one of the few single-owner (monopol) appellations. From 1827 to 2011, it was owned by the Neyret-Gachet family and produced only one wine, a 100% Viognier wine. In 2011, French billionaire Francois Pinault, owner of Bordeaux's Château Latour and Burgundy's Domaine d'Eugenie, bought Château Grillet, and it now produces another wine, a Côtes du Rhône wine called Pontcin, also 100% Viognier.
Viognier thrives in the type of soil prevalent in Condrieu (and Château Grillet). Called "arzelle" by the French, it is a sandy mixture of decomposed granite, mica, shist and clay. Galets roulés (smooth round stones) are also often on the top and act to retain heat and moisture.
With its characteristic low yields (as low as 20 hl/ha) and naturally low acidity, Viognier tests the patience of its growers—harvest too soon sacrifices its distinctive aromatic flavors and can taste vegetal and thin but harvest too late leads to too much alcohol and flabbiness (too little acidity). A less than perfect climate requires the patience of a saint. But, when it works, the results are heavenly.
Not surprisingly, the Romans planted vines in this area over 2000 years ago— is there any place in Provence where they didn't plant vines? — and it is thought that they may have introduced the Viognier grape varietal to Condrieu. It remains unclear how it made its way to this region, but the story that is bandied around the most has Roman emperor Probus introducing the vine in 281 AD from Dalmatia (Croatia).
DNA profiling suggests that Viognier is closely related to the Piedmont grape varietals, Freisa and Nebbiolo, and to Syrah.
Of all the possible plots of land in Provence on which to plant this infamously hard-to-please grape, why the Romans picked Condrieu, one will never know for sure. But its latitude, its proximity to the Rhône, its steep granite slopes, and its soil have certainly contributed significantly to realizing the potential of this grape. The moment I put my lips to that glass of Condrieu, my first ever, I understood the difference between Viognier and Condrieu.
Referred to as "Possibly the most drippingly sensual white grape in the world" by Karen MacNeil in her book, The Wine Bible, and as the grape known for "its lush, voluptuous flavors and rich, seductive textures," by The New York Times wine columnist Eric Asimov, Viognier from Condrieu is indeed in a category of its own. To think this grape nearly disappeared.
"The most extraordinary thing about the story of Viognier is how very nearly and how very recently it almost shriveled to extinction," Jancis Robinson wrote on her blog. She continued, "When I wrote Vines, Grapes & Wines in 1985 (for publication in 1986) I was able to identify records of just 32 ha (80 acres) of [Viognier] planted in the entire world."
The paucity of vines in Condrieu was even more striking. Figures vary but, generally, in the 1960s, fewer than 12 hectares (30 acres) were dedicated to grape-growing, down from 146 hectares (360 acres) of vineyards in 1926. In the early 1980s, 14 hectares (35 acres) are on record. By 2000, the number had risen to 98 hectares (240 acres) and in 2005, there were 135 hectares (330 acres). The most recent figures I could find, from Oz Clarke's 2015 book entitled Grapes and Wine are that by 2013, 168 hectares (415 acres) were covered with vines. Capacity, Clarke says, is around 250 hectares (618 acres). By way of comparison, Châteauneuf-du-Pape is around 3200 hectares (7900 acres) and Sonoma comprises about (60,000 acres).
It seems that the popularity of Condrieu reached its peak in the 18th and early 19th centuries when wealthy Parisians, European noblemen, and cosmopolitan Americans like Thomas Jefferson were seeking it out (along with Château Grillet). Given the limited production capacity of an appellation the size of Condrieu, it would never enjoy a huge following but it would enjoy cachet. In 1940, it was granted appellation status but following World War II, production plummeted as the intensive labor requirements of hillside vineyards, like those of Condrieu, could not be met. The return on investment was so little that vines were pulled up or just went to seed.
Come the 1970s, however, interest in Viognier began to grow. Australia's Yalumba winery began plantings as did a few wineries in California. At the same time, interest in Rhône wines, in general, began to grow, attracting new blood, notably négociant Marcel Guigal, who began to grow the white wine business (including Condrieu) in Northern Rhône.
Interest in Viognier continued to grow in the 1980s and 1990s and exploded after the turn of the century. In the last 15 years or so, vineyards of Viognier can be found in Italy, Spain, Switzerland, Greece, Chile, Argentina, South Africa, New Zealand as well as continued growth in plantings in other parts of France (especially the Southern Rhône), the U.S. (especially California and Virginia), and Australia. According to Tablas Creek Vineyard's website, in California alone (where Tablas Creek is located) there are around 3000 acres of Viognier. (Tablas Creek brought over two new clones of Viognier from Château Beaucastel.)
Whatever the reasons—an alternative to Chardonnay, stepping up to the challenge of making a Condrieu-like wine outside of Condrieu, or simply experimentation with something relatively new—the New World's interest in Viognier ironically saved Condrieu. As Asimov wrote in 2007, "… the successful marketing of Viognier in the New World created a demand for the original source, and Condrieu was reborn in the 1980s and '90s." Thank Bacchus!
After tasting that 2013 Tardieu-Laurent Condrieu in the summer of 2014, I couldn't get it out of my head or off my palate. Every Viognier was compared to that first one and only a few measured up. By the end of 2015, I decided to throw down the gauntlet with a blind tasting of Condrieu and other Viogniers produced in the Rhône Valley. It's the same grape and the same general area but, sigh, it was not much of a competition.
I invited a few people whom I knew like Viognier and one young person who has a keen interest in learning more about French wines. Among the guests were Jerry and Benedicte Clark who were with me and, in fact, were instrumental in finagling my first taste of Condrieu in the Tardieu-Laurent cellars. We tasted seven Viogniers officially and one rather informally before the tasting. (See the complete listing in the "Notes" section.)
The first two wines, because they are single varietals, which is not permitted in the Southern Rhône's Luberon appellation (where they were made), were classified as IGP or vins de pays. Quite good, especially in light of the price; they were undoubtedly the best deals in our line-up.
Domaine des Vaudois, located in the unassuming village of Cabrières-d'Aigues, is a very small wine and olive oil operation run by direct descendants of the Vaudois, a 15th-century Christian sect that thrived in the religiously tolerant Luberon until the Wars of Religion.
Called the Cuvée Leonce, Win Rhoades described this 2014 Viognier as "refreshing, tart, bright, with plenty of fruit on the finish." He added that it seemed light but that the white fruit and pears gave it depth. Everyone liked this wine and, at €6.50 a bottle (purchased on the premises), it is a particularly appealing wine. Viognier production is quite low. (Not available in the States.)
The second wine, another IGP from the Luberon, was produced in a high-end cooperative of 350 vineyards in Tour d'Aigues, not far from Cabrières-d'Aigues. It is the largest cooperative in the administrative region of Provence-Alps-Côte d'Azur and produces 30% of all Luberon AOC production. This 2014 Terres Valdeze Viognier, according to some of our tasters, seemed closer to what one traditionally thinks of as Viognier (although I think the range of possibilities for Viognier is too wide to make such a generalization). All agreed it had more body than the first wine. Pears, vanilla, and floral notes on the nose, pineapple on the palate. Perhaps a little new oak contributed to the experience. Its 14% alcohol was well integrated. This wine was a steal at €3 a bottle (purchased on the premises with a membership discount). It recently received a Médaille d'Or at the Concours Général Agricole de Paris 2016. (Not available in the States.)
Château Beauchene produced the third wine, a Côte du Rhône AOP 2014 Viognier that rocked with 14.5% alcohol. Rhoades described the nose as having a very pronounced bouquet of honey and pear, a little spice. Others added vanilla and olives to that description. This medium-bodied wine felt more viscous, Clarke observed, and tasted sweeter than the first two, possibly due to the higher alcohol. Seemed more herbaceous than fruit-forward on the palate. Rhoades detected notes of tarragon on the finish, along with hints of extra virgin olive oil, observations I seconded. Overall, very nice wine and nice price. About $16 a bottle.
The fourth wine, produced by Xavier Gérard, is an IGP Collines Rhodaniennes 100% Viognier wine (2012), produced from vines just outside the appellation of Condrieu, using similar viticulture practices. The result is a very appealing floral and honey nose, a pleasant mouthfeel with accents of citrus and minerality that continue through the finish. Medium body. Rhoades was critical of the balance of acidity to fruit (too much acidity). This was the second bottle my husband and I opened and we both found the first one much livelier, fresher. Uncertified organic. About $29 a bottle.
The fifth and sixth wines were produced by Yves Cuilleron à Chavanay and imported by Rosenthal. Although the vines from which grapes came in both wines are in the commune of Chavanay, the fifth wine, Les Vignes d'à Côté, comes from just outside the appellation, and is an IGP Collines Rhodaniennes 100% Viognier wine, and the sixth wine is an AOP Condrieu (100% Viognier, of course).
The Viognier (2014) was not remarkable. Not much bouquet, a pleasant citrus-dominated palate that lacked brightness, minimal finish. Alcoholic and malolactic fermentation with native yeasts in temperature-controlled stainless-steel vats. About $21 a bottle.
The Condrieu (2013), on the other hand, as Rhoades put it, "had a lot more going on [than the previous wine]." Of course, the price tag is over twice as much as the previous wine. The bouquet was much more intense, characterized by honey, white peaches and faint notes of spiciness. The mouthfeel was strikingly different than the earlier wines—full and creamy, suggesting honey, citrus, and minerality, all more intense than expected and lingering. Clarke wrote, "The real deal…until #7." About $44 a bottle.
The seventh wine, as Clarke wrote, was a "superb" 2011 Condrieu produced by E. Guigal. Rhoades swirled, sniffed, sipped and after a very pregnant pause, he smiled broadly and said, "This speaks to me." Jacques Navarre described it as the most aromatic of the line-up and Towny Manfull concurred, saying "a big nose, pears with honey." On the palate, layered flavors of apricots, fig compote, honeysuckle, and more honey that, to me, was more savory like that of a chestnut honey. Fantastic freshness and minerality. Great mouthfeel. Maggie Sutherland aptly described this wine as "smooth, savory, and sweet." Rhoades added, "Great depth of finish." Malolactic fermentation, partially aged in new oak but mostly aged in stainless steel. About $65.
After we unwrapped the bottles, revealing the labels, we served appetizers of raw oysters, smoked salmon, and endive spears stuffed with lobster meat mixed with a light tarragon-laced crème fraîche. The savory bites added a new dimension to the experience of the wines. Even the sixth wine, the Yves Cuilleron à Chavanay Les Vignes d'à Côté Viognier, came alive and was much more appealing with food.
As the title of this article suggests, Viognier comes into its own in Condrieu. The terroir, in the broadest sense of the word, of Condrieu brings the best out of a grape that, in other environments, can be quite ordinary. Nothing revelationary about that. Consider Stephen Tanzer's definition of terroir:
Terroir (tair-wahr) is a French concept incorporating everything that contributes to the distinctive character of a particular vineyard site: its soil and subsoil; its drainage, slope and elevation; and its microclimate, which in turn includes temperature and precipitation, exposure to the sun, wind and fog, and the like. I'd argue that even the particular strains of wild yeasts that come in on the grape skins and live in the cellars can have a strong effect on the wines themselves.
Not even all Condrieu vineyards are putting out extraordinary Condrieu wines. Beyond terroir, in the case of Viognier, the age of the vines and experience of the viticulturist in cajoling this varietal into its best form are critical factors.
It is generally agreed that Viognier vines do not produce quality grapes until they are at least 15 years old and ideally 20 years old. Consider that the average age of the vines in some parts of Condrieu is somewhere around 40 and that some are as old as 70 years whereas some New World vines are barely 15 years old.
Consider that many of the New World viticulturists have relatively little experience working with such a persnickety grape. Even in Condrieu, many are relatively new, having hopped on the bandwagon when Viognier was taking off not too long ago.
Yield is another factor that probably accounts for the great variability in Viogniers. It is generally agreed to be one of the key factors in creating the best Viogniers. Because of appellation regulations in Condrieu, the yield is held constant (although it has fluctuated across years) at not greater than 35 hl/ha and, in practice, is usually well under 30 hl/ha, this is not generally a factor in explaining quality differences among Viogniers produced in Condrieu. But, it is very likely a factor in explaining why Viogniers produced outside of Condrieu are not up to Condrieu standards. In California, for example, were some Viogniers are very good, yields are around 50-90 hl/ha. (Clearly, it is complicated.)
This is all good news. As vines and viticulturists mature, if the right terroirs and cultivation practices can be identified adopted, we can expect better and better Viognier (and Condrieu). Prices might even go down. In the meantime, I will continue to covet Condrieu.
Notes:
Cuvée Leonce (2014)
Domaines des Vaudois (Cabrières-d'Aigues)
Vaucluse IGP
Viognier (100%)
13.5% Alcohol
Viognier (2014)
Terres Valdeze (Tour d'Aigues)
Vaucluse IGP
Viognier (100%)
14% Alcohol
Viognier (2014)
Château Beauchene (Piolenc)
Appellation Côtes de Rhône Controllée
Viognier (100%)
14.5% Alcohol
Viognier (2012)
Xavier Gérard (Condrieu)
Collines Rhodaniennes IGP
Viognier (100%)
13.5% Alcohol
Les Vignes d'à Côté
Viognier (2013)
Yves Cuilleron (Chavanay)
Collines Rhodaniennes IGP
Viognier (100%)
13 % Alcohol
La Petite Côte
Condrieu (2013)
Yves Cuilleron (Chavanay)
AOP Condrieu
Viognier (100%)
13 % Alcohol
Condrieu (2011)
E. Guigal (Ampuis)
AOP Condrieu
Viognier (100%)
13.5 % Alcohol
Sweet Condrieu, more prevalent before WWII, is still produced. Elizabeth Gabay recommends a few in her article entitled "'Anything but Rosé' – Provençal Wine Traditions' in VinCe Magazine (Autumn 2012).