IN PROVENCE, OYSTERS AT CHRISTMAS ARE LIKE TURKEYS AT THANKSGIVING
by Susan Manfull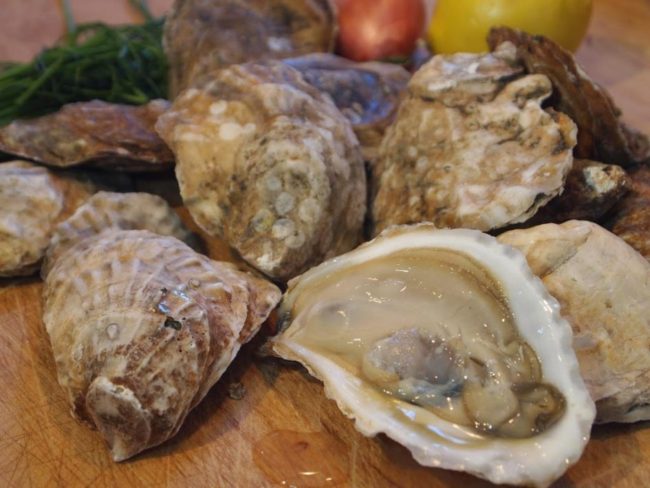 It's Christmastime in Provence and there is an unmistakable flurry of activité de Noël throughout the region.
In homes, the wheat grains has been planted in shallow bowls in hopes that it will grow straight and tall, foretelling an abundant harvest and prosperous year; the Santons have been arranged in the crèche; three white table cloths have been ironed in anticipation of le Gros Souper; and preparations are in process for les Treize Deserts.
White lights bedeck tiny villages and large cities alike—okay, bien entendu, I've seen some pretty kitsch decorations too—and marchés de Noël and fêtes de Noël are in full swing. Packages of wheat or lentils? Shallow bowls in which to plant the wheat? Perhaps a new Santon? Callisons? Croquants? A Buche de Noel? Vin cuit?
Did someone say huîtres? Oysters, along with foie gras, truffles, and caviar, are the epitome of French delicacies. In Provence, with the exception of caviar d'aubergines, I can't report that caviar rouge (i.e., salmon roe) is often seen, but foie gras, truffles, and especially oysters are widely found. At Christmastime, oysters are abundant.
About half of France's annual production of oysters—estimated to be as much as 140,000 metric tons—are enjoyed between Christmas and New Year's Day. The French love their oysters. They produce most of the oysters for Europe…and they also consume most of those oysters (90% of them!). (China is the world's largest producer and consumer with 3.7 million tons of oysters annually.)
In France, a country with over 2000 miles of coastline and about 3500 oyster growers, oysters are big business. The majority of oysters come from the Brittany and Aquitane regions of France, but Languedoc, in the Etang de Thau near Sète, just fifty kilometers (30 miles) from the line that divides that region from Provence, is also a major source for oysters, and even off the coast of Provence, notably around Corsica, oysters are harvested.
In Provence, oysters are readily available year-round in the local markets and in large grocery stores. But, if you don't want to shuck your own, head to Marseille where, around le Vieux Port, sidewalk stands, small cafés, and a few upscale restaurants offer a fantastic variety of oysters for bargain prices (compared to Paris). In Marseille, where fresh seafood is unparalleled in France, seasoned oyster shuckers—ecaillers—are practiced enough to open as many as 100 oysters in less than six minutes.
By far, the most popular seafood bar in Marseille is the renowned Toinou, located near the port on Cours Saint-Louis for over fifty years (and, now, with a location in Aix-en-Provence, too) .
http://www.toinou.com
Patricia Wells once wrote that "the selection of oysters and mussels [in Marseille's Toinou] reads like a map of the French coastline." You can point to the ones you want or ask for recommendations. We've never been disappointed.
Classic Mignonette
Stir together 1/4 cup Sherry or Champagne vinegar, 1 tablespoon minced shallot, and 1/4 teaspoon freshly cracked black pepper.
Come December, oysters are everywhere. No respectable Christmas party would be without a huge platter of these briny delicacies and no Christmas dinner is complete without at least an amuse-bouche de huître .
My favorite way to eat a fresh oyster is with a splash of mignonette. It happens that I married someone who shares my love of oysters and makes a mignonette formidable. With a slight twist on the classic recipe—a wee bit of Worcestershire Sauce, Sherry or Champagne Vinegar, and a dash of sugar, depending on the acidity of the vinegar—he has the guests raving.
For a traditional French Christmas, begin with oysters. Invite some strong men who can shuck the oysters while you make the mignonette; arrange the oysters on the half-shell, with their briny liquid, on a bed of ice along with lemon wedges and tiny bowls of mignonette; and serve with cold dry, crisp white wine.
Oysters are best slurped with a cold dry, crisp white wine, especially one with a clean finish so that it does not complete with the oysters. Classic pairings include Champagne, Muscadet, Chablis, and Sauvignon Blanc (e.g., Sancerre, Pouilly Fume, and white Bordeaux). Another classic pairing—chez Manfull—is with a dry rosé from Provence, especially one with lots of chalky minerality. Of course the right pairing for you depends on the oysters themselves (the species and point of origin), what accompanies them, and your palate.