RAW AND ROLLE
by Susan Manfull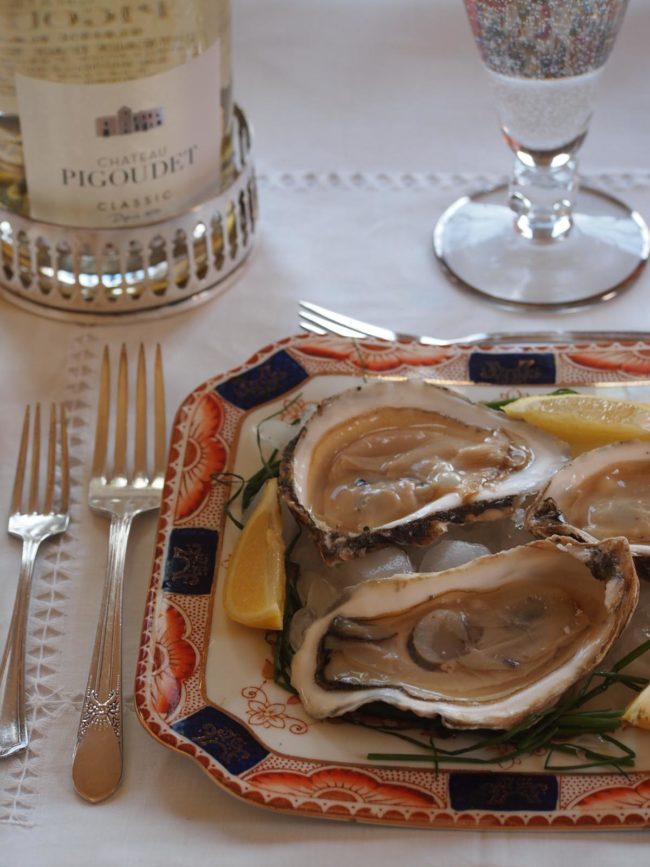 Oysters are everywhere in Provence this time of year. Often likened to the American turkey at Thanksgiving, oysters—along with foie gras and caviar—are an integral part of the holidays in France. Half of the country's annual production of oysters is consumed between Christmas and New Year's Day. That's about 140,000,000 pounds in one week. Even for a country that annually consumes 90% of the oysters they produce—and they produce the majority of oysters in Europe—that's a whole lot of oysters. But, I get it.
Is there another culinary experience as divine as it is simple than freshly shucked oysters with a glass of cold, dry crisp white wine? It has to be the right wine, of course, one with enough acidity to match the minerality and briny nature of an oyster but not too much to overpower it….we'll get to all this in a moment.
In Provence, despite having few bragging rights to the 130,000 to 140,000 metric tons of oysters that France provides each year, oysters are widely available in local markets and large grocery stores. If you don't feel like shucking your own, head to Marseille, a short drive from many parts of Provence, where fresh seafood is plentiful. There, around le Vieux Port, are sidewalk stands, small cafés, and a few upscale restaurants that offer a fantastic variety of oysters for bargain prices (compared to Paris) and seasoned oyster shuckers—ecaillers—who are practiced enough to open as many as 100 oysters in less than six minutes.
By far, the most popular seafood bar in Marseille is the renowned Toinou, located near the port on Cours Saint-Louis for over fifty years (and, now, with a location in Aix-en-Provence, too). Patricia Wells once wrote that "the selection of oysters and mussels [in Marseille's Toinou] reads like a map of the French coastline." You can point to the ones you want or ask for recommendations.
Nothing could be finer than slurping oysters with a splash of mignonette and a glass of champagne, whether wrapped up in my woolies or sporting a sleeveless top and shorts. (I know there's that "r" in- the-month business about only eating oysters in months with names that have an "r" in them—this works in French, too—but with today's proper refrigeration, we no longer need to harbor these worries…so oysters are okay in summer clothing!)
As a general rule, raw oysters are best enjoyed with a cold, dry, crisp white wine, especially one with a clean finish so that it does not compete with the oysters. Classic pairings include the aforementioned Champagne, Muscadet, Chablis, and Sauvignon Blanc (from Sancerre, Pouilly Fume, and Bordeaux). I also thoroughly enjoy them with Provence's dry rosés, particularly one with lots of chalky minerality.
The absolutely perfect pairing depends on the oysters themselves (the species and point of origin), what you are serving with the oysters (lemon, mignonette, or—God forbid—a cocktail sauce at which point I think, "Why bother to include the oyster?"), and your palate. The sticky wicket is the oysters themselves.
I have a long way to go before I will fully absorb the various characteristics of oysters and combinations thereof but, I do know that a perfect wine and oyster pairing is worth the effort to work toward. (And what could be more fun?) For me, that nirvana has been only occurred through serendipity.
While you are enjoying your oysters and white wine during the holidays, some facts to chew on include: There are five species of oysters, but many different names (based on their point of origin) and the differences in taste and texture stem from the species but are mainly due to the temperature of the water from which they come—the oyster's terroir—which affects, among other qualities, the oyster's muscle (which opens and closes, controlling the intake of water and nutrients).
Some of the qualities to consider when arranging a good marriage with a wine are its brininess, creaminess, leanness, fattiness, and fruitiness. If you are in a good restaurant, you are all set: ask your waiter (or sommelier) to recommend a wine. If you are on your own, talk to your fish monger or oyster grower (poissonnier or ostréiculteur, respectively) about the oysters you are about to serve.
Here in New England, where we tend to enjoy lean and briny oysters (and like them with a mignonette), I am drawn to the Sancerres, Pouilly Fumes, and white Bordeaux, all, of course, made from Sauvignon Blanc. I am very happy with these pairings.
Recently, we stretched our comfort zone and served our platter of oysters with a single varietal Rolle wine from Provence. In one of my nirvana moments, it knocked my socks off (and I looked around to find that everyone else was sockless, too).
The wine was a Chateau d'Esclans Déesse Astrée Côtes de Provence (2011) white wine that I brought back from Provence. It is light bodied, well balanced, exceedingly refreshing and perfectly complemented our oysters (with the mignonette). I'd love to have another bottle of the Déesse Astrée Rolle —or actually, I would love to have a case—but it is not available in the States.
Rolle, more commonly referred to by its Italian name Vermentino (and known by a dozen other names), is a common western Mediterranean grape variety that is widely appreciated, according to Jancis Robinson, for "retaining its acidity well even in relatively warm regions" such as Provence as well as Sardinia and Corsica where it is the dominant white wine grape.
During the last fifteen years, this grape variety has gradually replaced the more traditional Provence varietals, Ugni Blanc and Clairette Blanc. Up until twenty years ago, its use was confined to Vin de Pays/ IGP wines; but it may now be used in AOC wines. As many as half of the Rolle vines in Provence are under ten years old and it now represents more than 50% of the grapes grown for Cotes de Provence white wines. It is most often used as a blending grape in white wine and also in many rosés in Provence. In the appellation Bellet, white wines are required to comprise at least 60% Rolle.
Whether Rolle is genetically distinct from Vermentino is not settled however it is clear that both grapes (and the others such as Pigato in Liguria and Favorita in Piedmont) produce wines that are generally characterized by freshness, citrusness, a little minerality, and hints of salinity. The nose is often said to evoke the sea. (Sounds perfect for oysters!)
In anticipation of Christmas, we rolled out some oysters and two bottles of primarily or entirely Rolle—one of which I brought back from Provence—and both of which we thought would pair terrifically well with our oysters and mignonettes (we prepared two mignonettes: one with sherry wine vinegar and one with champagne vinegar).
The Château Pigoudet Classic White Coteaux d'Aix-en-Provence (2013) is a blend of 50% Rolle (Vermentino), 25% Sauvignon Blanc, and 25% Ugni Blanc. It is an elegant light-bodied wine with a distinctly floral nose, silky mouth feel and tastes of honey, citrus, pear, and salinity. It is surprisingly complex with layers of flavor. Very well balanced with a lingering feel of minerality (dare I say I smelled the sea?), it paired beautifully with the champagne vinegar-based mignonette and very well with the sherry vinegar-based mignonette. On its own, it was clearly our favorite. Not available yet in the States, it sells for €10.90 on the premises, an excellent price for this wine.
The second wine, a 100% Rolle wine from Corsica, where Vermentinu (Rolle) is the predominant grape, was a Domaine Maestracci 'E Prove' Corse Calvi (2010) White wine which, by comparison, is much more rustic than the Pigoudet White. This is a medium-bodied wine that, based on its nose, clearly hails from the sea. We tasted citrus, green apple, and pear on the palate. Although lacking the complexity of the Pigoudet, it was very pleasant and works very well with the oysters—this wine was actually a better match with the sherry-based mignonette and arguably a better match for all the oysters. Retailing at $20–25 a bottle, I would definitely buy this wine for my oysters again.
All three wines would be welcomed with open arms and empty glasses Chez Manfull on Christmas and New Year's Day. Excellent matches for oysters with mignonette, if only we could find a few bottles from Château d'Esclans and Château Pigoudet. If you are in Provence, stop by these châteaux, both in the Var.
We will continue to explore pairing predominately Rolle-based wines with oysters and report back to you. Château Miraval has released two predominantly Rolle white wines, both of which we will be tasting soon.
Let us know what your favorite oyster and wine pairings are!