Stephen Cronk Feeling Sanguine about 2014 Mirabeau Rosés
The Wine Snoop Report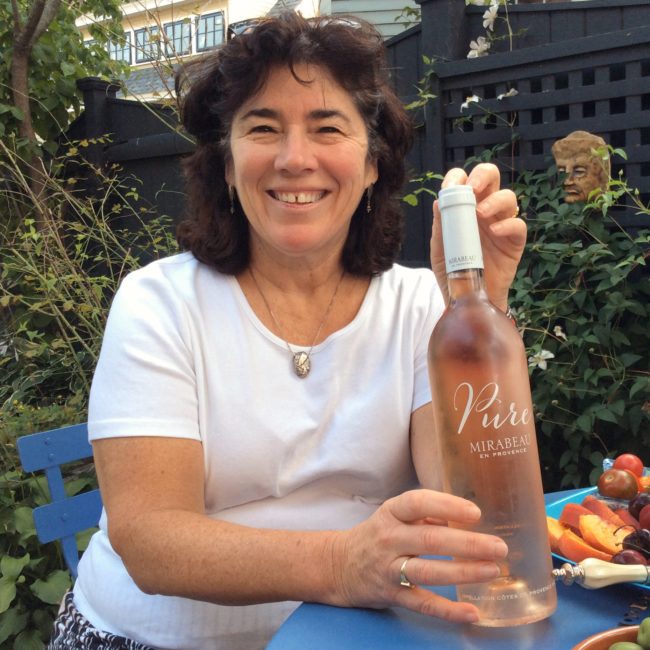 This morning I spoke with Stephen Cronk, proprietor of Mirabeau in Provence, who told me that he and winemaker Jo Ahearne just wrapped up the final blending session of the Mirabeau 2014 rosés. Woo-hoo!
Cronk produces two cuvées: their signature Mirabeau "Classique" Rosé and the relatively new addition, Mirabeau "Pure" Rosé, both Côtes de Provence and both boasting a list of accolades long enough to compel any rosé fan to grab a corkscrew and open a bottle tout de suite. (No corkscrew? No problem. Cronk produced a YouTube video—that went viral—demonstrating how to get a cork out of a bottle sans tire-bouchon!).
Photographer Pamela O'Neill and I stopped by Cronk's brand spanking new boutique and tasting room in Cotignac this summer to meet Stephen and his wife Jeany Cronk and to try his wildly popular rosés. The exceptional reviews did not exaggerate. I was particularly smitten with Pure, a lively and fresh quintessential Provence rosé. More on this visit in an upcoming article in Provence WineZine.
Back to the 2014 vintage….Cronk, barely containing his excitement, said that both rosés are "bursting with fruit and freshness" and are "so yummy!"
The blending took a long time, Cronk explained, because not only are they aiming for excellence but also for a consistent style across time. Classique is in its fifth vintage and Pure is in its second vintage. In the 2013 vintage, both were predominantly Grenache (50%) and Syrah (40%) with 10% of Cinsault added to Classique and 10% Rolle added to Pure whereas the 2014 vintages are a blend of almost entirely Grenache and Syrah. Watch for the details in the upcoming PWZ article.
Cronk, a négociant winemaker, said that these rosés are each made from a blend from grapes that, this year, came from three wineries, roughly equivalent to a total of 1000 hectares (2500 acres) of vines.
It's been cold and rainy in the Var in recent weeks. Cronk, clearly warmed by the blending session, reported that he felt like he had "bottled up the [very hot] summer of 2014."
We'll see if we agree in early spring…when it is still cold in this neck of the woods and in Provence! Can't wait.
–SNM
Pictured above is Robin Najar holding the Mirabeau Pure Rosé. Photo by W.T. Manfull.