IT'S TIME TO BREAK OUT THE VIN CUIT
by Susan Manfull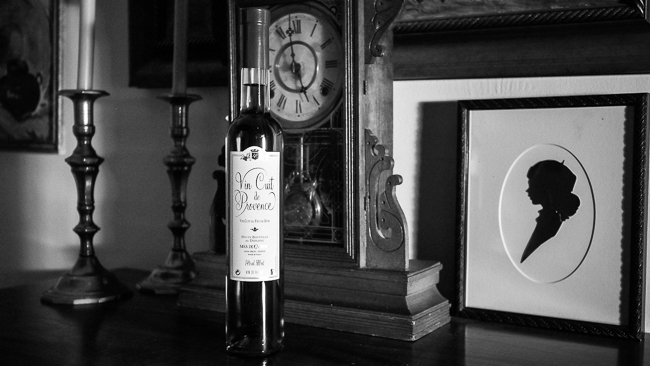 It's that time of year again. Some people think of Christmas trees, beautifully wrapped presents tucked under the tree, and stockings by the chimney. We think of wine and food: what will we prepare, and which bottle of wine will marry best with our meal on Christmas Eve? And, of course, we have visions of vin cuit dancing in our heads.
Vin cuit is a "cooked wine" that is traditionally enjoyed during the Christmas season in Provence. Made from a blend of the juices from, for example, Rolle, Grenache, Cinsault, and Syrah grapes, this juice is cooked in a huge open cauldron over an oak fire until it is reduced by about half. It is then put into vats for a long fermentation and then into old oak barrels where it is aged for two years. (It is not fortified.) The result is an elegant dessert wine with a gorgeous, deep golden amber color; intense and complex flavors from the first wave of aromas to the lingering finish; and a silky mouthfeel.
Although most of this holiday dessert wine never makes it out of the small village in which it is made, it is made and sold to a wider audience by a handful of wine producers in Provence. You are lucky if you can find a bottle!
Our bottle of vin cuit from Mas de Cadenet has been patiently waiting since September when three of the fabulous people on our Modern Trobadors Provence Tour surprised us with a bottle of this delicious elixir. It was a serendipitous find, they told us, in a tiny wine store on one of the narrow winding streets in the Vieille Ville (Old Town) part of Aix-en-Provence, on the north side of Cours Mirabeau
The back story is that these three people had been on previous Modern Trobadors Tours which, on those particular years, had included a visit to Mas de Cadenet, a lovely domain located near the base of Mont Sainte Victoire in the heart of the Var department in Provence. On one of those visits, Matthieu Négrel, seventh-generation winemaker and co-proprietor of this 200+ year-old estate, told us that they were bottling the vin cuit. Would we like a taste, he wondered.
Like most people who try vin cuit, they were enticed by the wafting aromas and captivated by the uniquely pleasant taste. As I remember, each person bought at least one bottle. When Christmas rolled around later that year, they each shared their bottle with friends and family and, later, shared their stories with us about introducing this Provençal specialty to those around their holiday table. (My husband and I already knew and loved vin cuit, having met it years earlier in Provence and then again in New York City when we tasted the coveted Mas de Cadenet version.)
Fast forward to September 2019 when these three travelers returned to Provence on our tour: they were disappointed to learn that Mas de Cadenet was not on the itinerary. We, thinking that our return visitors would want to visit different estates from those they had been to on earlier trips, had not included Mas de Cadenet on the schedule (even though it is also one of our favorite stops…for the vin cuit, certainly, but also for the other excellent wines they produce, in all three colors).
So, you can imagine their delight when, on our excursion in Aix-en-Provence, they spotted the distinctive vin cuit bottle in a small wine store as they made their way from the marché aux fleurs to Les Deux Garçons where they were meeting us for a mid-morning café. And, perhaps, you can imagine our delight — and surprise — when they gave us this gift.
Now, as it nears Christmas Eve and we begin to count our many blessings, we do hark back to important questions of wine and food: which dessert shall we serve the vin cuit with? There are at least 13 desserts from which to seek inspiration! Should you secure a bottle of vin cuit from Gary's Wine and Marketplace, I have reposted an earlier article with more detail about the history of vin cuit. À votre santé!
PROVENCE'S VIN CUIT: WINE COOKED IN A CAULDRON, AGED IN OLD OAK, AND STEEPED IN TRADITION
Reposted from December 20, 2014
Sometime in early October, after the harvest, winemakers—mostly located in a small area of Provence at the base of Mont Sainte Victoire, between Aix-en-Provence and Trets—begin the annual tradition of making "vin cuit" or "cooked wine." They each build a big fire of oak wood and fill a huge cauldron with the juice from the pressed grapes from the year's harvest. At Mas de Cadenet, an estate located in Trets, in the heart of the area where vin cuit originated, the grape varieties from which the juice has come are Rolle, Grenache, Cinsault, and Syrah.
The juice is cooked for about ten days, during which time the liquid is constantly stirred with a long tree branch and carefully monitored so that it does not boil. Heat from the fire causes the natural water in the grape juice to evaporate, reducing the liquid (by as much as half) and leaving a high concentration of sugar in the juice. The juice is then allowed to ferment but, with its high concentration of sugar, not all of it converts to alcohol so the end product is sweet (and high in alcohol at about 14%). Finally, this sweet wine is aged in old oak barrels for two years.
I don't know how far back the making of vin cuit goes, but I did read that when Thomas Jefferson traveled to Provence (around 200 years ago), he apparently developed a special affinity for vin cuit. On his January 7, 1822 record of "Stock of Wines on Hand," 17 vin cuits de Provence were listed.
Vin cuit production is very small, as you might imagine, and many of the estates that make it, do so for their own consumption with the rest sold locally. I tried vin cuit when we were in Provence for Christmas one year and I thought it was more fun, as part of a regional holiday tradition, than it was appealing. Then, last March at a tasting hosted by David Bowler Wine, a New York based importer and distributor, I tasted the vin cuit made by Mas de Cadenet. I was immediately smitten.
Guy Négrel, from the 6th generation of Négrel family members, who held the reins until he recently passed them on to his son Matthieu Négrel and daughter Maud Négrel, said, "I wanted this wine to be elegant. I wished to avoid the heaviness and to favor the lightness which sometimes misses in sweet wines." Mas de Cadenet has certainly accomplished that goal.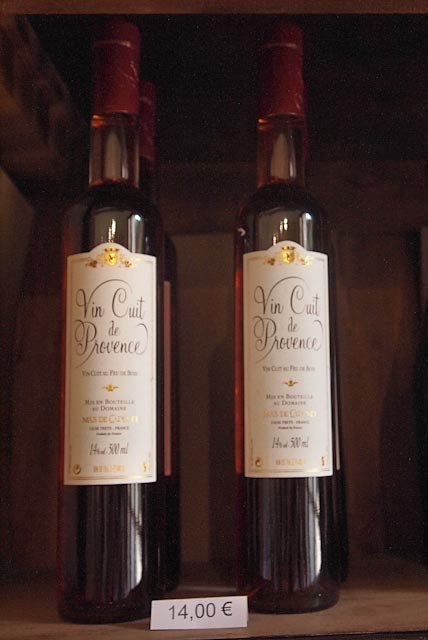 I am thrilled that this vin cuit de Provence from Mas de Cadenet is available for the first time in the United States. It just arrived in New York in early December-–in time for Christmas, as it is an integral part of the old Provençal Christmas traditions but it is a wonderful addition to any dinner this winter. (I suppose it would work well on a chilly early spring day but don't count on having any left by then!)
Mas de Cadenet's vin cuit is an elegant dessert wine with a gorgeous, deep golden amber color; intense and complex flavors from the first wave of aromas to the lingering, faintly smokey finish; and a silky mouthfeel. It is incredibly interesting and very smooth. (I can't say the same for other vin cuits I have tasted!)
On Christmas Eve in Provence, vin cuit plays a central role in the "Cacho-Fio" tradition before Le Gros Souper (The Big Supper) and, later, with Les Treize Desserts de Noël (The Thirteen Desserts).
For the Cacho-Fio (translated as "to set alight"), the family gathers around the fireplace where the youngest family member and oldest family member—representing the transition from the old year to the new one—carry a log from a fruit tree, walk three times around the table that has been prepared for dinner (with the three white tablecloths representing the Holy Trinity), and place it in the fireplace (creating a new fire, representing the new year). The oldest member holds up a glass of vin cuit and, just before tossing the wine in the fire, leads the others in a traditional toast that goes something like this:
"Alléluia, Alléluia
My dear children, God bless us!
When Christmas comes, everything goes well,
God give us enough strength to see the New Year,
And if we are no more, don't be less."

"Alègre! Alègre
Mis bèus enfant Diéu nous alègre !
Emé calendo tout bèn vèn,
Diéu nous fague la graci de veire l'an que vèn,
E se noun sian pas mai, que noun fuguen pas mens. »

From paper entitled "Le Vin Cuit de Provence" provided by Mas de Cadenet.
Although I have never seen this ritual, it certainly sounds festive and even fanciful. I can hear those Provençal accents as I write this! Many years ago, according to one source, the log was kept until the Epiphany (January 6) at which time the remnants of it were placed under the master bed to "protect the house against thunderbolts and fire."
After dinner, when the Thirteen Desserts (symbolizing Christ and his twelve apostles) are presented, the vin cuit is served again. It is a perfect accompaniment to the usual nuts, fruit (especially the oranges and tangerines), candied fruit, calissons, croquants, pain d'epices (spice cake), nougat, pompe à l'huile (sweet olive oil bread) and even the relatively new additions, chocolates and bûche de Noël. Our Panna Cotta aux Calissons married perfectly with the vin cuit!
If you are lucky enough to have some vin cuit left over—or if you don't receive your bottle until after Christmas—no need to fret. It is an excellent match for Roquefort and Pierre Robert cheeses, a superb wine with which to deglaze a pan after cooking meat, and, I am told, a perfect match for foie gras. I have never tried it with foie gras…perhaps that's another article!
Notes:
If you would like to purchase a bottle, try Garys Wine in New Jersey who, apparently, will ship to other states (where permitted). It is a fairly new item for stateside marketing, so the list of retailers is just developing. The retail price at Gary's is $34.99, but it is currently on sale for $26.99! It is also expected to be available in some restaurants in New York City. It's worth your effort to track some down. Serve at 57° F (14° C).
Other articles from The Modern Trobadors you may be interested in reading:
Provence's Les Treize Desserts: Not Just Another Article About Those 13 Desserts
In Provence, Oysters at Christmas are Like Turkeys at Thanksgiving
4 December Starts Christmas Season in Provence: Plant Your Wheat Seeds and Get Out Your Santons
Calissons, Croquettes, Beaumes de Venise, and Tea from Palais Des Thés: These are a Few of My Favorite Things In Provence at Christmas
Croquettes, Croquets, or Croquants: A Provencal Specialty by Any Name
A Cup of Christmas Tea from Palais des Thés
'Tis the Season for Verrines de Noël
What are All Those French Children Doing Under the Table?
Provence Christmas Markets: Lourmarin's Marché de Noël is Delightful
Address:
Mas de Cadenet
Chemin départemental 57
F-13530 Trets FRANCE
Tel: 00 33 (0)4 42 29 21 59
www.masdecadenet.fr
Open hours:
9:00am to 12:00pm / 2:00pm to 7:00pm
Open everyday except Sundays and bank holidays.