IS ROSÉ A SERIOUS WINE? LVMH INVESTMENT IN CHÂTEAU D'ESCLANS SUGGESTS IT CAN BE
By Susan Manfull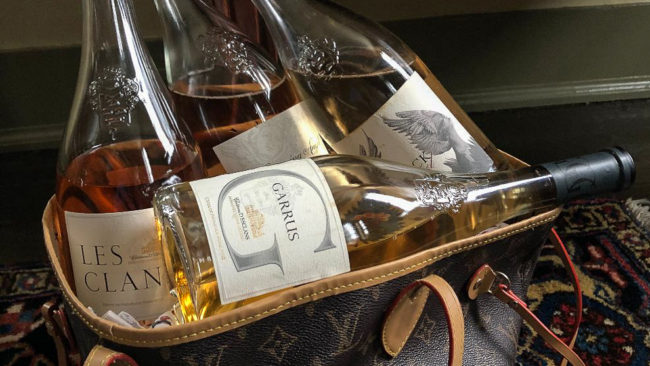 I posed that question in an article by the same name few years ago. Relying heavily on the high end of the continuum of rosés from the portfolio of Sacha Lichine's Château d'Esclans in Côtes-de-Provence, I put forth eight main reasons why rosé is indeed a serious wine.
Last week, Moët Hennessy, the wine and spirits division of LVMH (Moët Hennessy – Louis Vuitton SE), the world's leading luxury products group, provided a ninth reason: Château d'Esclans joined this ultra-premium group that includes the likes of Hennessy, Moët & Chandon, Veuve Clicquot, Dom Pérignon, Ruinart, Krug, Château d'Yquem, Cloudy Bay, Château Cheval Blanc, to name just a few internationally renowned brands. To consummate this partnership, Alix AM PTE Limited, Sacha Lichine's partner since 2008, ceded the entirety of its 50% ownership to Moët Hennessy while Sacha Lichine ceded 5% of his shares.
In May, Moët Hennessy purchased Château du Galoupet, Cru Classé in the Côtes-de-Provence, adding its first rosé producer to its incomparably impressive list of wines and spirits.
The acquisition by Moët Hennessy of the majority shares of Château d'Esclans (which includes Caves d'Esclans) brings six rosés into the fold. The three Château rosés are premium rosés—namely, the prestigious Garrus, Les Clans, and the recently reintroduced Château d'Esclans—and are made from estate-grown Grenache and Vermentino (called Rolle in Provence) with varying amounts of time in oak and varying potential for ageing.
Whispering Angel, the top-selling French rosé in the United States, Rock Angel, and The Palm (all négociant rosés) round out the half dozen rosés that comprise the Cave d'Esclans collection.
If there are any lingering questions about rosé and its ability to be serious or, good lord, whether rosé is a fad, we can now ask Bernard Arnault, the world's third richest man and owner of LVMH, what he thinks.
Rosé has clearly come a long way from 1940s when Julian Street diplomatically summed up the state of rosé affairs in his Table Topics: "He sniffed, tasted [the rosé], considered; then, with a slow nod of agreement, said: 'Nothing there—like kissing your aunt.'"
Rosés have been around for at least 2600 years in France, thanks to the Phoenicians who founded Massalia (Marseille) and planted vines to produce red wine so pale—the grape skin and juice were not together long enough to impart much color—that it probably really was rosé. Provence is thought to be the birthplace of rosé (as well as all French wine). But, until this millennium—with few exceptions such as Domaine Tempiers, Domaines Ott, and a few from neighboring Tavel—good rosés had not emerged. To quote myself in an earlier article entitled "Château d'Esclans Garrus Rosé Bedazzles," it was "a very long delivery but what an illustrious birth!"
Now, Provence is widely considered to set the gold standard for rosé quality around the world. Although many factors went into the exponential growth of the production of good rosé and the concomitant explosion in popularity, Sacha Lichine, with his purchase of Château d'Esclans in 2006, certainly led that vanguard in changing the landscape of rosé in Provence and around the world. This is particularly true in United States where 20% of the Provence rosés purchased come from Lichine's cellars in Provence. Production of Whispering Angel is expected to reach at least a half million cases this year.
In 1999, Lichine sold his Bordeaux Château that he inherited from his father Alexis Lichine; with the intention of making high end rosé, he proceeded to look at 32 properties in the South of France in the next eight years. Finally, in 2006, he purchased Château d'Esclans, an estate he had seen (and loved) in 1994. It was a rather run-down property, but it boasted vines as old as 80 years, running as deep as five meters. With the help of the now late Patrick Léon—of Château Mouton Rothschild, Opus One, and Almaviva fame, to mention just a few of his successes—he set out to make a "grand rosé."
In my first interview with Lichine (in February 2014 in Boston), told me he "sensed and felt that something was going to happen with rosé."
"I said to Patrick, 'Let's make something we'd like to drink in the event we can't sell [it],'" Lichine told me (in that February 2014 interview).
In the same 2014 interview, Lichine said, "It used to be that I would talk to a retailer about Garrus, the top-tier rosé that sells for around $100 and is arguably the most expensive rosé in the world, and when they heard the price, they would say 'Are you kidding?'" "Then, once they tasted it," Lichine went on, "they would stop and think and say something like, 'Look, I can't sell this, but I'll take two cases for myself.'
Today, Lichine's rosés sell themselves.
Many wine pundits, notably James Suckling, feel Lichine long ago accomplished his goal of making a grand rosé and even the best rosé in the world and, in the process, he helped to lift the whole category of Provence rosé onto a more serious level on par with its red and white siblings. Even the venerable Jancis Robinson liberally tosses around accolades when it comes to Sacha Lichine's rosés, especially Garrus. Moët Hennessy's acquisition underscores that the top tier of rosés from Château d'Esclans exude luxury. The question of the status of rosé is settled.
Now, what's next for Sacha Lichine? The huge commercial success of Whispering Angel coupled with this new alliance creates the opportunity for new frontiers. What will they be? Will they be confined to the wine world?
I have talked with Lichine many times since that first interview in Boston, but when the news surfaced about the inchoate Moët Hennessy-Lichine alliance, I found myself going back to that particular conversation more than others I had had with him. At that time, nearly six years ago, I asked Lichine what he wanted his legacy to be, thinking it would be an easy question for a man as accomplished as he. His long pregnant pause surprised me.
"I haven't figured that out…. Ask me in a couple of years." Well, here we are.
Here are a few other related articles you may find interesting: