La Fée Verte Has Her Day March 5th
The Wine Snoop Report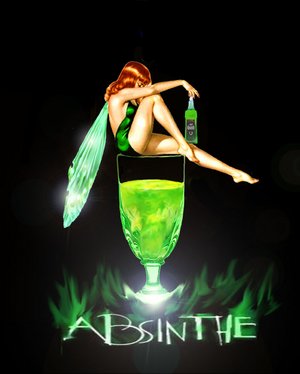 Ever on the lookout for a good theme to party to at chez nous, I was both surprised and pleased to learn that March 5th is National Absinthe Day. I know just where to find my '60s Peter Max 23" x 36" Toulouse-Lautrec poster, and as the "green fairy" liquor is now both legal and readily available, I just need to figure out the best way to dispense it. Sadly, I will not have time before friends come over, to try and find a replica of one of the Picasso Glass of Absinthe sculptures I saw on display in the major mounting of his work recently done at the Museum of Modern Art in New York City.
Then I began to wonder what other alcohol related national days might be considered as alternatives. I knew about Margarita Day (Feb. 22), having spilled a giant one at Mexican restaurant in town two years ago. So off to Google, and as always, what I learned was revelatory. Unknowingly, this year to date I have missed Bloody Mary Day (Jan. 1) and Drink Wine Day (Feb. 18). But I will be ready May 21 for World Whiskey Day, and August 7 for National India Pale Ale Day.
Most importantly, I will be prepared for National Rosé Day (June 11), but imagine my shock to learn this day owes its creation to the Swedes. Forward thinking Bodvár of Sweden – House of Rosés successfully petitioned the National Day Calendar organization in 2014, and June 13, 2015 launched it in the U.S. with a party in the Hamptons. (Where else?)
Bodvár's web site proudly proclaims that their annual celebration provides "awareness and gives Rosé lovers a day to celebrate with summer's water all over the world."" ("Summer's water"– great descriptor!) Its U.S. location has not yet been announced, but if again on the East Coast, I stand ready to crash it.
–JC