Provençal Pairings: Wine with Food
Wine for Food
by David Scott Allen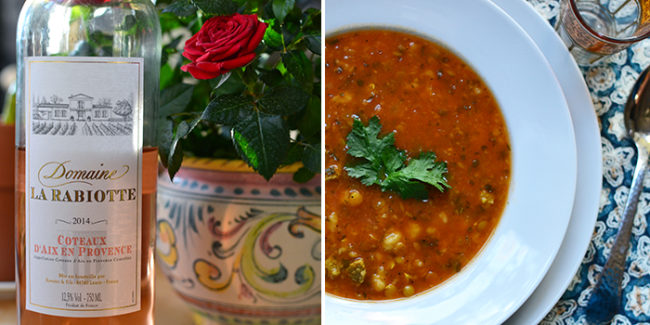 Winery: Domaine La Rabiotte
Cuvée: Coteaux d'Aix en Provence
Appellation: Coteaux d'Aix en Provence
Type: Rosé
Vintage: 2014
Grape Varieties: Grenache (70%), Cinsault (20%), Syrah (10%)
Alcohol: 12.5%
Average Retail Price: U.S. $13.00
I was perusing the rosé section at Total Wine last weekend in search of a bottle to have with my Moroccan harira, a soup I enjoyed when traveling in Morocco in 1991. The thing I love about winter – even here in Tucson – is that the stock of rosé wines is good. But this is also dismaying to me, as people – people who should know better – say that rosé is "summer wine." Yes, that is true, but why not drink it year round? It still pairs magnificently with a variety of meals, light to hearty. Which brings me back to my harira.
It is a wintry, hearty soup, chock full of pulses, lamb, tomatoes, and spices. Because the temperatures were near 90°F (32°C), I thought a good rosé would pair perfectly. I read the descriptions provided by TW, and was intrigued by a bottle of 2014 Domaine La Rabiotte, and particularly by the descriptive phrase, "It's definitely for food." Now, what did they mean by that? I got a bottle. Okay, I got two. The price point was good, and it had a decent review.
The nose is light, not unusual for rosé wines – metallic with hints of verjus. The first taste was light and slightly thin, but very pleasant. For me, strawberry was the dominant flavor. I liked it, but worried that pairing such a light wine with a complex and earthy soup might have been an error in judgment. I tasted the soup (which is pretty amazing, by the way – the recipe is at Cocoa & Lavender this week), then tentatively, I sipped the wine. It was a Jekyll and Hyde moment. What was meek, simple, and gentle was suddenly full, robust, and complex with a mineral mouth feel and bursting with berries, cinnamon, and stone fruit. I understood… It's definitely a wine for food.
It pairs well with intensely flavored foods, those with tomato sauces, and a variety of meats and poultry: lamb, veal, chicken, and duck.