PROVENCE IN THE CITY: MY GLASS RUNNETH OVER WITH ROSÉ
by Susan Manfull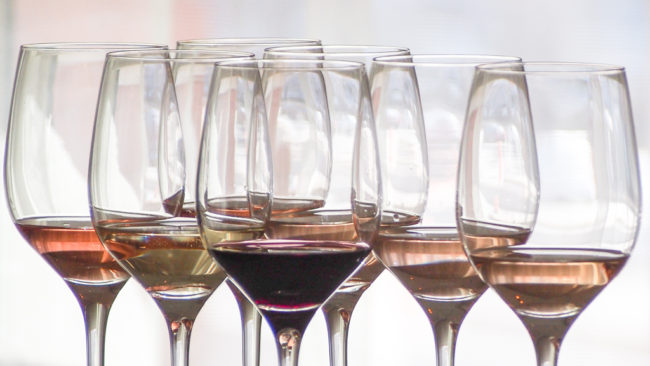 With the popularity of rosé wines from Provence continuing to skyrocket, let it be known that I have been drinking this pale, dry elixir long before it became trendy. Having been introduced to Provence rosé on our first trip to this region—the largest and oldest wine-producing region in France—we came home with a thirst for more. Thankfully, we had tucked a few bottles in our carry-on—you could still do this in the mid-nineties—because, aside from a Domaines Ott and Tempier here and there, there was nary a bottle to be found this side of the big pond. And on both sides of the pond, there was a lot of bad rosé. Since then, rosé has come a long way.
Last Monday, I attended the eighth annual "Provence in the City" rosé tasting. Located in various metropolitan centers across the country each year, I went to the event in Boston. About 35 people (including moi) attended a MasterClass and tasting and, later, about 100 people (including moi) attended the Walk-Around tasting, both events located in the stylish Hotel Commonwealth and Island Creek Oyster Bar.
Just three weeks earlier, I attended a rather hip rosé tasting in New York City. Billed as an "experiential wine tasting festival" and called La Nuit en Rosé, the two evening events sold out and the afternoon session came close to selling out. Just shy of 1100 people bought tickets–priced over $100 a piece—to drink the quintessential summer wine…in the dead of winter.
In the mid-1990s, who would have thought that 20 years into the future so many people would be clamoring to taste the latest vintage of Provence rosé, especially in the winter? Likewise, who would have dreamed that U.S. would be second only to France in rosé consumption?  Nonetheless, for 12 years now, imports of Provence rosé to the U.S. have increased in double digits.
Prior to that time, "[W]ith few exceptions like [the Domaines of] Tempiers and Ott, rosé-making was not very serious," according to Paul Chevalier, National Fine Wine Director of Shaw-Ross International Importers, and importer of Château d'Esclans rosé wines. (We found those exceptions on our trips, but quantities were low and generally consumed within France.)
"Most rosés were a byproduct of red wine making," said Chevalier whose impressive career has included winemaking and viticulture education at the University of Reims and the University of Bordeaux and professional experience at Château Margaux, Champagne Veuve Clicquot, and Cloudy Bay. "Producers thought 'Let's drain off a little juice and make some extra money over the summer'."
But by the mid-1990s, things had begun to change as evidenced by rosé becoming more popular than white wine in 1994—in all of France. And by the turn of the 20th century, things had radically changed. So noticeably that in 1999, the Center for Rosé Research (Centre de Recherche et d'Expérimentation sur le Vin Rosé) opened and, in 2004, the Conseil Interprofessionnel des Vins de Provence (CIVP)/Provence Wine Council was founded, organizations tasked with the missions of understanding best viticultural and vinification practices and in promoting Provence rosé. In the 20 years since the mid-1990s, the consumption of rosé in France has tripled and one out of three bottles of wine drunk in France is pink. Clearly, the rosés coming out of the caves in Provence had gotten a whole lot better and were developing an international following (even when not vacationing in Provence).
What propelled the changes in the making of rosés in Provence? Undoubtedly there are many factors that merged to turn rosé winemaking into a serious endeavor, leading to the explosive popularity of Provence's iconic rosé that we are currently witnessing in France and the States, and actually around the world. (There are too many to discuss here, but I reviewed many of these factors in an earlier article).
While the popularity of Provence rosé has grown steadily in the U.S., as mentioned above, the past few years have seen truly remarkable growth. From January 2015 to January 2016, Provence rosé imports to this country have grown 58% on volume and 74% on value, not including on-premise bars and restaurants (which comprise 20% of the market) or small independent retailers (all to say growth figures may be much higher). Provence rosé makes up 29.7% of all imported rosé sold in American retail stores by volume and 42.9% by value.
In other words, "Provence rosé is leading the market by far," said Pierre-Olivier Camou, Wine consultant at Cognac One and former Sales Manager at Sherry-Lehman, both in New York City.
"About three or four years ago, people starting asking for rosé from Provence," Camou said, likening these requests to those for wines from, say,  Bordeaux or Burgundy.
"When I first arrived around six or seven years ago [from France], there were three or four rosés on the [retail] shelves and customers were confusing blush wine and dry rosés."
"About three or four years ago, I started seeing a real change…customers started to understand the difference between dry and sweet rosés and that was when they discovered Provence rosés," said Camou.
Research from Nielsen appears to support Camou's observation about customers developing more discerning palates as, interestingly, in September 2014, they released findings that the volume share for blush wines had fallen during the previous year (e.g., -10.5% for White Zinfandel) while volume share for dry rosé wines had increased 5.1%.
Today, few people would argue with the view that the rosés of Provence set the world's standard for the third color of wine. Very pale rose color and oh so dry, chalky and minerally, fruity (not too, too much, svp) with matching acidity. Refreshing, thirst quenching, quaffable. One sip encourages more sips.
"…and few wines are as transporting," writes Eric Asimov in a 2010 New York Times piece about the appeal of good Provence rosés. "You really don't need to see the seaside shimmering in the heat to enjoy a bottle, or smell the lavender, garlic, anise and saffron. It's all there in the glass, along with the blues, pinks, and yellows of a pastel sky, and the sounds of the motor scooters chugging over the cobblestones. Those are my images, at least. Good rosés call forth from each of us their own."
"Provence in the City," as usual, was certainly transportive. I unwrapped the layers of warmth necessitated by a February day in New England (although that particular day was unusually mild) and settled in, facing the seven wines—five rosé, one white, and one red—that we would soon be tasting in the MasterClass. As I admired the various shades of pale pink in front of me, I felt my shoulders relax and the residual tension from the hour's drive into Boston from the Portsmouth, New Hampshire melt away. I poked my nose in each glass to draw in the aromas so closely associated with Provence for me. I was back in Lourmarin, lapping up the simple pleasures of a leisurely lunch at a curbside table at Café Gaby.
The MasterClass and Tasting
Eric Dufavet, Director of  CIVP/Provence Wine Council, and Cécile Garcia, Export Manager at CIVP/Provence Wine Council, regaled us with facts and figures about the explosive growth of Provence rosé around the globe, the state of the world market, and the "mosaic of terroirs and climates" that contribute to the nuanced tastes of Provence's rosés across the region—the highlights of which I have included throughout this article.  All the while, the line-up of rosés was also tugging at my attention.
The rosés in front of me were, all but one, the palest of pale pink. The fifth rosé in the line-up was slightly more salmon-colored. Because the pale colors of Provence rosé are such a significant part of its identity, The Center for Rosé Research has devoted a lot of attention to this subject. They have identified over 100 colors of rosé although Provence rosés generally range from very pale pink to salmon in color. Interestingly, since 2004 when the Center began collecting data, rosés from outside of Provence—in other French regions, including Tavel, and in other countries around the globe—are getting lighter (a subject I wrote about in an earlier post).
There is a delicate balance between achieving the coveted pale colors of Provence rosé and maintaining an aromatic, flavorful, dry rosé that refreshes and transports the drinker into the lull of Provence (without relying on excessively high alcohol content to get there!). More than one winemaker has told me that rosé is the most difficult wine to make well, for this reason.
The nose of rosé can be difficult to detect (or perhaps, better put, some rosés are rather lacking in the aroma department) due, in large part, to efforts made to produce their pale colors. That is, the grape skins and juice are not together very long so that minimal color is imparted. The rosés in the line-up did not suffer from this problem.
Like the vast majority of rosés, the aromas of these wines, with one exception, fell into one of two categories: fruit or flowers, some more pronounced than others and some producing aromas of specific fruits or flowers. Occasionally, what is referred to as a "vegetal" aroma may surface or an aroma directly related to one of the vinification processes, such as aging in oak; the singular exception I just mentioned presented with such aromas.
Once taste was added to the equation, the fun accelerated, as evidenced certainly by the increased amplitude of conversation and laughter in the room. Below is a sampling of my thoughts:
Domaine d'Eole Rosé Six Cépages (2015) Rosé is a blend of, well, six grapes: Grenache, Cinsault, Syrah, Mourvèdre, Carignan, and Counoise. From the northwest part of Coteaux d'Aix-en-Provence, this pale pink (with shades of salmon) organic rosé has a very fruity nose (likely strawberries) and a bright and elegant taste. A nice rosé for a lunch at the café. (About $20.00)
Pure Provence L'Opaline (2015) Rosé is Cuvée of Grenache, Cinsault, and Syrah. From the center of the Provence region, in the Coteaux Varois en Provence, its floral nose is followed by a very fruity palate. The upshot is a "sweeter" taste than I prefer but one that my friend Ellen would make a detour to find. This rosé may have tasted slightly sweet to me, but, in fact, it would not have much sugar in it; the residual sugar of Provence rosés cannot exceed 4.00 grams per liter. (About $13.00)
Mirabeau en Provence Pure Rosé is very familiar to me and I recognized it immediately. A blend of Grenache and Syrah,  it hails from Côtes de Provence and is one of my favorite rosés. This 2015, like its predecessors, has a very pale pink color with a nose suggesting strawberries and, as its name suggests, a pure freshness. Red berries on the palate balanced by a pleasant acidity, it has a crisp elegance. It has some structure and is interesting as well as easy and way-too-enjoyable to drink. I could serve it all summer. (About $20.00)
Saint André de Figuière Première de Figuière (2015) Rosé is a very pale blend of Mourvèdre, Cinsault, and Grenache from the Southern part of Côtes de Provence. The nose was very pleasant with notes of strawberry, for sure, and perhaps citrus (oranges?) that continued on to the palate. I detected some minerality in the mouth. My notes say, "Very enjoyable."
Château Gassier 946 Grand Vin (2014) Rosé, a blend of Syrah, Grenache, and Rolle from the Côtes de Provence Sainte-Victoire appellation, was the outlier in this group of rosés. A denser shade of pink with salmon hues, a more savory nose of nutty caramel, a smooth palate that suggested flowers and toasted vanilla, a little time in (Austrian) wood, and a suggested price tag of $49 that was more than double the price of all of the earlier rosés (and more than quadrupled two of them). This well-structured rosé was distinctive in every way—most unrosé-like—and grew more intriguing as it opened up; it begs to be accompanied by food. It is made to be part of the prestige rosé group.
As our line-up suggests, the bulk of AOP wine produced in Provence is rosé (representing 88.5% or 154 million bottles from the 2015 vintage), followed by red (8%) and white (3.5%). Although red and white wines comprise just a small portion of the 174 million bottles of wine made in Provence this year, neither the red nor the white wines should be overlooked. An upcoming PWZ article will make this point more compelling; so suffice to say here, that Provence reds, especially, are increasingly well respected—there are some stellar bottles to be had—and will soon be a force with which to be reckoned. A few of the whites are following this path, too.
Case in point is Côtes de Provence Château Sainte Marguerite Symphony (2014) White, made of 100% Rolle. It is a gorgeous golden pearl color that bespoke elegance. With an aromatic nose of nutty honeycomb and a palate that adds vanilla and a lovely mouthfeel to the experience, I loved this white. (At $25.00 to 29.00 a bottle, it should be good!)
The red wine, from Côtes de Provence Château Real d'Or, was a 2013 blend of Cabernet Sauvignon, Syrah, and Grenache.  It has a very appealing red velvet color and a distinctive nose of honey and blackberry, leading to a delicious, well-balanced and smooth palate of dark fruit with hints of licorice. The €8.95 wholesale price suggests a very reasonable retail price tag and a likely purchase in my future.
Walk-Around Tasting
About 25 estates were represented in this part of the tasting, a fraction of the 582 producers who are members of the Provence Wine Council. About 65 wines awaited us, a daunting number that not even I could begin to cover. Fortunately, I also have some input from PWZ contributing writer Jill Barth who attended the same tasting in Chicago the next day as well as husband/photographer Towny Manfull and Robin Lurie-Meyerkopf who co-owns a small wine store in Portsmouth, New Hampshire, both of whom attended the Boston tasting. Still, by necessity, the following notes are but highlights of the 2016 Provence in the City tasting. (I have included U.S. retail prices when available.)
With few exceptions, all the rosés sampled were from the most recent vintage; that is, made from those grapes harvested in 2015. Exceptions would include those that were aged; for example, the aforementioned Château Gassier 946 Grand Vin (2014) and Château d'Esclans' Les Clans and Garrus (both 2014).
Beginning with Château d'Esclans, Patricia Allen Lornell, Brand Ambassador for Château d'Esclans and proprietor of Off The Vine Sales & Marketing, was pouring wine for this estate. Château d'Esclans produces four Côtes de Provence rosés.
The entry-level Whispering Angel, now celebrating its 10th anniversary, is probably the best known rosé in the U.S. In a recent telephone conversation with Paul Chevalier, National Fine Wine Director of Shaw-Ross International Importers, and importer of Château d'Esclans rosé wines, he told me that Whispering Angel has three times more of the U.S. market share than any other rosé.
"In 2016, we will ship 200,000 cases to the U.S., and we will sell all of it," Chevalier told me. In 2006, the year Whispering Angel debuted, Chevalier told me that 1,000 cases were shipped to the U.S, underscoring the rapid growth of popularity of Provence rosé in general and America's appetite for Whispering Angel in particular.
This year's vintage, like last year's, is a blend of Grenache, Rolle, Cinsault, Syrah, and Tibouren.  To meet the demand for this wine, the grapes are harvested from vineyards in La Vallée des Esclans (The Valley of the Clans) where Château d'Esclans is located.  Like the estate vines, these vineyards are overseen by Château d'Esclans winemaker Patrick Léon and his son Bertrand Léon . It is a particularly good vintage: very aromatic, fresh, and full of life. Chevalier describes the 2015 Whispering Angels as having "more weight and fleshiness." Unlike any other rosé from Provence, it is available in 48 states. (About $22.00.)
Château d'Esclans Rock Angel (2015), the latest addition to the portfolio (replacing Château d'Esclans) is a crisp and refreshing blend of estate grapes, Grenache, Rolle, and Tibouren, that is fermented in stainless steel and oak, instilling layers of flavor. Remarkably fresh and balanced, as they say, "it rocks!" (About $35.00, this is a great value.)
The second tier rosé, Les Clans (2014), is a blend of 80% Grenache and 20% Rolle from the estate's older vines. Aged in French Oak Barrels (50% new oak and 50% one-year old oak) for 10 months, this elegant wine is layered with interesting flavors that begin in the nose and continue through the long finish. Its mouthfeel is particularly pleasing. One of my very favorites. (About $65.00)
Garrus, the top tier rosé, like Les Clans, is a blend of 80% Grenache and 20% Rolle however, unlike Les Clans, it is aged in 100% French Oak Barrels (all new) for 10 months. The upshot is an extraordinarily elegant wine, smooth, creamy, and exceptional layers of flavor. For my palate, I am confident this 2014 (the latest vintage) will benefit greatly with additional time in the cellar, mellowing the oak. This wine has long been one of my very favorite rosés. (About $95.00)
Château Réal d'Or, located in Côtes de Provence, was recently purchased by François Lethier, a rally racing team owner and driver, who has invested considerable funds to modernize the property with the latest technology. Lethier brought all three colors to the tasting, including the lovely red we enjoyed in the Masterclass. The (2015) rosé, a blend of Grenache, Cinsault, and Syrah, has a ripe strawberry nose with faint notes of marshmallow. In the mouth, I detected citrus, as did my husband but something more, which we agreed was vaguely reminiscent of an orange creamsicle. Greater balance, especially a little more acidity, would make this rosé more pleasing to my palate.
The Monaco Monte Carlo (2015) Rosé, however, was exceptionally appealing. (I wonder if Lethier raced in Monaco.) A blend of Grenache and Syrah from old vines, this well-balanced rosé has structure, complexity, and elegance. This was a favorite of mine, as well as Barth and my husband.
The (2015) white wine, made of 100% Rolle, was very pleasing…and went very nicely with my oysters.
Château de Brigue,  is a Côtes de Provence estate very familiar to me, having visiting it in June 2014 and written a post about it. I am a big fan of the rosés from this estate, particularly Brigue Prestige (2015) Rosé, although this year I focused on two red wines—Signature and Brigue Prestige—that were being poured by Olivier Brun, Director of Sales and Marketing and one of four brothers who comprise the third generation of Bruns at Château de Brigue.  Both  were perfectly crafted light-weight reds.
Mirabeau en Provence, in the heart of the Var, is the manifestation of a dream that Brit Stephen Cronk harbored for years. In 2009, he and wife Jeany Cronk decided to give it a go and moved from their London home, children in tow, to Cotignac and the rest—rosés snapping up awards, accolades, and market share—is history. Because Cronk is a negociant, he can choose the grapes he wants from a previously determined selection of vineyards in the Côtes de Provence appellation and oversee the vinification process from harvest to blending and bottling.  Anne Caroline Dussort, Mirabeau Brand Ambassador, and Tom Warner, longtime friend of Cronk's and Mirabeau Brand Ambassador,  were pouring the two Côtes de Provence rosés produced by Mirabeau. I described Pure above, as we tasted it as part of the Masterclass. Mirabeau Classic, a blend of Syrah and Grenache, is the entry level rosé and the first one produced by Cronk. It is a darker shade of pink than Pure and more savory than its companion. It has become increasingly lighter in color—and it seems to me, crisper and fresher—over the years and, concomitantly, I have grown increasingly fonder of this rosé.
"We've been bringing down the colour of Classic each year, little by little," Cronk wrote to me in a recent email. "But keeping within the taste parameters that our customers have grown to enjoy," he added.
Lurie-Meyerkopf, who is on a mission to bring more of her favorite rosés into South Street and Vine, the Portsmouth, New Hampshire wine store she and husband Rick Meyerkopf own, is hopeful that they can secure some Pure for their store this summer.
Nicolas Touchard, Commercial Director for Château du Seuil, brought three colors of Coteaux d'Aix-en-Provence wines to the tasting. I agree with my husband's assessment that Château Grand Seuil (2015) Rosé was "stylistically different" than the typical rosé, expressing more minerality and freshness. Barth said she "absolutely loved the 2009 rouge" that Touchard was pouring in Chicago. Tourchard told Barth that he wanted to showcase how Provence wines aren't just "drink-fresh rosés. I was particularly smitten with the Château Grand Seuil (2010) White. Composed of Sauvignon Blanc and Grenache Blanc, it has a fresh floral bouquet and a very interesting palate. I would like to try this one again!
Albéric Philipon who owns Château Carpe Diem, a small vineyard in Cotignac was pouring his Côtes de Provence wines. I enjoyed his Château Carpe Diem Cuvée Castille (2015) Rosé, a cépage of Grenache and Cinsault, and especially enjoyed his Château Carpe Diem Major (2013) Red, a blend of Cabernet Sauvignon, Syrah, and Grenache. The latter has an earthy nose with fleeting whiffs of black cherries, a palate of dark berries with notes of dried cranberries and licorice and maybe the faintest hints of black olives, soft tannins, and a finish that is surprisingly long and flavorful.
Miraval is renowned for producing a rosé that made Wine Spectator's "Top 100" List in 2013–one of only four roses to have achieved such status in the last twenty years–but probably much better known as the château owned by Brad Pitt and Angelina Jolie. Côtes de Provence Miraval Rosé is produced in partnership with Famille Perrin, the well-known multi-generational family in Châteauneuf-de-Pape.  Miraval (2015) Rosé, an elegant powder pink color, is a lovely wine with an aromatic nose, pleasing mouthfeel highlighted by subtle floral notes and a wee bit of red fruit. The grape varieties that go into this very appealing rosé are Cinsault, Grenache, Syrah, and Rolle.
I dropped by Château Beaulieu where Claudia Centola-Franey was pouring their (2015) rosé, Cuvée Provençale. I've had this wine many times; most recently, I tasted the 2014 vintage at last year's Provence In The City in New York City and also in Provence when I visited the Château, and on both occasions, it did not speak to my palate. The 2015 vintage, however, seems fresher and brighter and far more inviting than earlier vintages.
The belles of the ball, for me, were the three very sophisticated rosés from Côtes de Provence Château Saint-Maur Cru Classé. Last year I had the pleasure of tasting two of these rosés and meeting Marc Monrose, who has managed Château Saint-Maur since its purchase in 2011.  Although Zannier has been involved with winemaking for decades in Portugal, Château Saint-Maur is his first venture in Provence and he wasted no time moving into the top tier.
Château Saint-Maur Cru Classé (2015) Rosé, a mix of Grenache, Syrah, Cinsault, Carignan, Mourvèdre, and Rolle, is the "entry level" wine in this portfolio. L'Excellence Cru Classé (2015), a blend of Grenache, Syrah, and Cinsault, is next up the ladder. Clos de Capelune Cru Classé (2015) sits at the helm. As a group, these rosés are exceptionally elegant, delicate, fresh and lively, well-balanced, textured, brimming with flavor, and, in my opinion, are all top-tier. Few rosés combine fun and sophistication so adeptly. I need a little more time with each one to describe the nuances that separate each one, although this tasting reinforces my impression from 2015 that Close de Capelune Cru Classé is understandably at the very top.  I can't wait to meet these rosés at the tasting table again.
Regrettably, not even I could stop by every table. I know I missed some terrific wines altogether. But, that gives me a project for the rest of the year, before the next vintage is released.
Closing Thoughts about the State of Rosé
From all accounts, 2015 was a very good year. With the large number of micro-climates in Provence, it can be difficult to make general statements about a given vintage. Not the case with 2015.  From the Mediterranean Sea to Pierrevert and from Les Baux de Provence to Bellet, input from folks in the vines and others with their fingers on the pulse of Provence rosé concur that 2015 is a really good vintage.  Having sampled the collection of rosés poured at this tasting, I can now add my voice to the chorus of tchin-tchins around the region.
Rosé, you've come a long way indeed.  Wine stores across America will soon be restocking their shelves with various shades of pink from the latest vintage. More roses will be added to wine lists–perhaps roses will merit a separate listing like their red and white counterparts–and more glasses will be filled with pink wine at the bar. Scenes bearing no resemblance to those from twenty years ago when I was first looking for rosé.  Is this just a trend? I don't think so.
"Rosé started out as a trend before it started being a real wine," Camou said. "Early on, people would buy rosé because it was cheap [but] for the past two years or so, people expect to pay $22.00 to 25.00 [in New York City]." By comparison, he added, "Even just a few years before that, people would never expect to buy a bottle of rosé for $22.00 to 25.00."
The average price for "premium rosé" (defined as those bottles above $12.00) in the U.S. continues to rise, according to Nielsen. For example, it went from $16.83 in 2014 to $17.26 in 2015.  It's agreed that the average consumer will continue to buy cheap rosé (and cheap red and white wines, for that matter).  Consider that $10.00 to $15.00 per bottle was "the most common price point" when buying wine to consume at home in 2014¹ and even though there was double digit growth in all price categories of wine,  75% of wine purchased was under $9.00 per bottle in 2014.² However, nowadays, a small but growing percentage of the population is willing to dig deeper in their wallets for a good bottle of rosé, just as they do for red and white wines.
Once consumers become more educated about rosé and develop more discerning palates, they are probably more likely to consider "quality" when they choose their rosés—and be willing to pay for that quality (just as a growing percentage of the population attends to the quality of their food and is willing to pay more for that quality). There will always be a place for rosés that stay at the pool and on café tables but now there are more rosés that can be happily carried from the pool to the dinner table and a growing number that are deserving of a white linen cloth on that dinner table.  Why can't roses share the gastronomic table with whites and reds—beyond the aperitif?
Camou opined that when people understand rosé, they will demand more quality, and then, the third color of wine will be seen as "real" wine, leading to its consumption year-round. He, like others, believes this will happen, and that the Millennials are the likely engine that will drive this movement. In fact they already are. But, that's a subject for another post.
Rosé has a long history in France. It has been around for some 2600 years, thanks to the Greeks who produced red wine so pale—the grape skin and juice were not together long enough to impart much color—that it probably really was rosé. Provence is the birthplace of rosé (as well as all of French wine). But, with few exceptions, good rosés did not emerge until very recently, a very long delivery but what an illustrious birth!
It's a good time to be drinking rosé. It's a good time to open one now…I feel like smelling the sea and hearing cicadas.
Notes:
Unless stated otherwise, all statistical information was provided by CIVP/Provence Wine Council.
¹Liz Thach, PhD, MW and Kathryn Chang, Ph.D. , "2015 Survey of American Wine Consumer Preferences," Wine Business.com http://www.winebusiness.com/news/?go=getArticle&dataid=160722 November 11, 2015
²Liz Thach, PhD, MW, "Trends in the US Wine Industry for 2015–Surging Forward with Renewed Optimism," Personal Blog, https://lizthach.wordpress.com/2015/02/08/trends-in-the-us-wine-industry-for-2015-surging-forward-with-renewed-optimism/  February 8, 2015