LONGING FOR BLACK TRUFFLES, CONSOLED BY FRAGRANT MEMORIES AND PATRICIA WELLS' "SIMPLY TRUFFLES"
Today is the third Sunday in January, otherwise known as "The Mass for the Truffles" in Richerenches: the annual blessing, auction, and feast of the black truffle. We've been there, huddled among the masses in the tiny church to witness baskets of black diamonds offered up to be blessed, walked with the parade of people to the Hôtel de Ville where our successful bids put several truffles in our pockets, and relished in the glory of a lavish meal devoted to the beloved Tuber melanosporum.
I wish I were there now. But, alas, I am content with the memory of that chilly January day several years ago and consoled—okay, I am trying—by the scent of truffle wafting out from my kitchen where my husband is preparing our version of Patricia Well's "Artichoke Soup with Parmesan and Truffles" and her "Spaghetti with Parmesan and Truffle Butter," neither of which will actually have the benefit of a French black truffle, the absence of which explains why I must put an element of effort into consoling myself. But, I am getting ahead of myself….At least I have a lovely and very informative new cookbook on the subject and know that a delicious meal is imminent!
Patricia Wells, famed cook and cooking teacher of French food, particularly that which hails from Provence, and author of a dozen cookbooks on that cuisine, many of which line the shelves of my bookcase, has written a new cook book: Simply Truffles.
The full title of Ms. Wells' new book aptly continues: Recipes and Stories that Capture the Essence of the Black Diamond. It is not surprising that she begins her collection of recipes and stories with a full-page photograph of the Saturday truffle market at Richerenches. So much of the world of the French black truffle—le truffe noir–begins in this small village.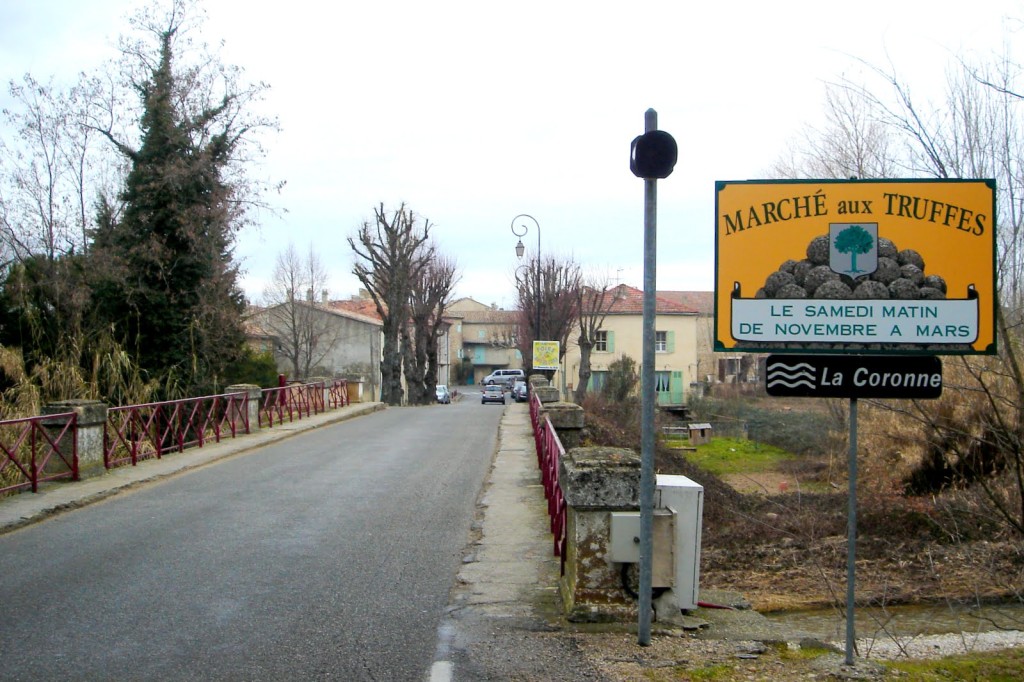 Richerenches, an inviting village about an hour north of Lourmarin (where we hang our hats when we go to Provence), is home to the internationally acclaimed truffle market every Saturday morning from mid-November to mid-March. It has also rolled out the red carpet for the Brotherhood of the Knights of the Black Diamond and all lovers of black truffles for the Blessing of the Truffle since 1946. While there are truffle markets and festivals elsewhere in Provence, none is more revered or more famous.
About 80% of France's black truffles are supplied from cultivators and foragers in Provence, and most of that comes from the Vaucluse département .  Note that this same black truffle is also referred to as the Périgord truffle (see our earlier article for an explanation) and by the Provençal term, rabasse. It is increasingly referred to by the rather generic term, "winter truffle," as it also comes from Spain, Italy, Croatia, and parts of Australia. In fact, if you should order a fresh "winter truffle" online—the only place where I could find one, within a 75 mile radius of our home in Portsmouth, New Hampshire—and inquire about its provenance, you will likely be informed that it could come from France, Italy, or Spain. I would put my money on Spain (and say my prayers that it wasn't from China whose inferior "truffles" sell for a tiny fraction of the cost of the real deal but are increasingly being pawned off as French black truffles).
Actually, according to Mark Stanvick, who, with wife Heidi Stanvick, imported black truffles from Europe to the States for several years before opening their culinary condiment business, Vervacious, "[A]n enormous percentage of "French" truffles cross the Spanish border [into France] in the trunks of cars in the middle of the night." He likens this truffle switcheroo to "the recent kerfuffle over the Italian olive oil forgery."
On the subject of Chinese truffles, Mark explained that that truffle is not a Tuber melanosporum, but rather a Tuber indicum. "[It] looks exactly like a true black truffle but has no odor." Or taste!
In a recent telephone conversation with Artur, our truffle-hunting friend in Provence who procures truffles for top restaurants in the area and whom we wrote about in an earlier post on truffles, he confirmed that the influx of cheap Chinese truffles into the French truffle market is a growing problem. "They are completely inferior," he said. He went on to say that unsavory vendors will add a few of the Chinese truffles to a bag of French truffles so that they absorb the distinctive Tuber melanosporum odor that will last long enough to sell them. Then the buyer gets home and there is little aroma and no taste!
In France, penalties for those sellers or restaurateurs who engage in such fraud can range from a couple hundred euros to up to 15,000 euros, but the culinary flogging that accompanies the fine might be a stronger deterrent: a public posting of their fraudulent activities.
So, when one is not in Richerenches, what does one do?
I first consulted the Stanvicks and found out that they were not importing truffles this year. They run a top-notch, high-end import business, catering to people who are hard to please—both home cooks and top-rated chefs—who demand the freshest possible Tuber melanosporum. Heidi and Mark would buy directly from the source. "Never a middleman," Mark emphasized, "and we [would]buy them in person, fly them back and then ship them to customers in a really tight time window which is why our truffles [were] so much better than the huge houses [that sell retail and are online]."
I next consulted D'Artagnan but found their prices very high–$125 an ounce plus shipping—and I could not be guaranteed the source of the truffle.
I had expected higher prices this year because when I was in Provence this past fall, talk was that it would not be a bountiful truffle season again due to lack of rain. Last season, the harvest was a disappointing 25 tonnes (a tonne, also known as a metric ton, is equal to 1000 kg or 2204.6 pounds), compared to the 1960's output of 200 to 300 tonnes.
Artur confirmed that it has been a very slow season in the Vaucluse, with higher prices, but expects that output will increase in January, thereby dropping prices a little which, he said, has already happened. In December, the market price in Provence was 1200 euros/ kilo; in January, the price has also dropped to 1000 euros/kilo now or about $37/ounce in Provence.
There was also talk—and newspaper articles—of the increasingly serious problem of the thievery of truffles, also contributing to decreasing harvest numbers. In one effort to combat this problem, les gendarmes have taken to setting up road blocks where cars are stopped to allow the officers to smell the inside of the car…in search of truffles!. (Of course, a dead give-away would be a pig in the back seat!)
Patricia Wells writes about "truffle wars" in her new book and there is no shortage elsewhere of bizarre stories adding to the folklore of the French black truffle, including the theft of dogs and pigs—and the return of those animals whose hunting skills were not up to par.  Then there are the truffle markets—where no truffles can be seen, as we discovered in Carpentras and Ms. Wells writes about—all adding to the allure and mystique of the coveted truffle…which, of course, inflates the price.
With output so low, it is not surprising that the price of "winter" truffles this year is high. I don't recall what we have paid for these delicacies—so fresh the soil still clung to the buggers—when we have been in France during truffle season. It was expensive, but it was definitely not even close to $100 an ounce.
Mark feels that prices are continuing to go up each year "because [in my humble opinion] of the demand from the new rich in China and Russia, not because production is down." Water is not the issue it once was, Mark said, because so many producers have incorporated irrigation. Production may be decreasing across the years, though, as "a lot of the best truffle territory in France has gone to condo development." Another factor, Mark said, is that the tuber brumale truffle, a very hearty but inferior truffle, is pushing out the melanosporum in France (and Italy but not yet in Spain).
Mark stressed, however, the fact that truffles are expensive. They are rare, even in France. "[A]s you know, [in France] everybody saves their centimes to buy a truffle to share with the family for Christmas. It's a big deal." He contends that there is a growing expectation that truffles are not expensive because of the "outrageous overuse of artificial truffle oil—and nearly all truffle oil is 100% artificial!—in the restaurant industry and on the Food Network."
The "hocus-pocus" of truffle oils was exposed (not for the first time) in the New York Times in a 2007 article; but, alas, even the finest restaurants use synthetic truffle oils. Mark contends, "The chef is just giving the customers what they want, which unfortunately is that truffle popcorn experience."
I was very interested to discover that Vervacious hasn't produced truffled products for several years "because folks didn't want to pay what we had to charge for them" and because Vervacious' truffled products "lacked the knock-you-off-your-feet impact" that synthetic products have and people have come to expect. Vervacious uses the very best real ingredients in everything they make. I suppose that is why such a young company has garnered so many awards: Gold at the Fancy Food Show, Silver for "Outstanding Product" at the Specialty Food Market, a Rachel Ray Fave, and a Feature in The Oprah Magazine, to mention just a few accolades. We have thoroughly enjoyed their products and have mentioned them, as favorites, in earlier articles  (e.g., in our post about verrines, we loved their fabulous Andalusian Orange Sherry Mignonette with oysters). If you want outstanding quality, head to Portland or Freeport, Maine (or go online) .
What to do then, when French black truffles are not accessible?
When French truffles are not available or are cost-prohibitive, David Scott Allen, co-editor of Cocoa & Lavender, recommends truffles from Oregon: "When in season, they are often available in my local high-end grocery store [in Tucson] and the expense isn't too great. And there is nothing like the scent of a truffle being sliced onto the plate at the table. Heady, earthy, musky – fabulous!"
Oregon truffles are very good and growing in popularity (as evidenced by the 7th Annual Oregon Truffle Festival to be held in Eugene, Oregon from January 27-29, 2012). They are not the tuber melanosporum— they are Leucangia carthusiana—and, as such, are less…well, less truffley. French black truffles, as many of my readers have discovered or have read, exude an intense aroma and a unique and delicate taste: distinctly earthy and musky, as David said. It is hard to describe; some people, in their struggle to describe what their nose is telling them, have said they smell like sweaty socks. While not an appetizing description, it drives home the point that the distinctly pungent aroma and yet delicate flavor are tough to put into words. Oregon black truffles are not the same as French black truffles, but they are very good and an excellent substitute.
I didn't have a fresh French or Oregon truffle—or any fresh black truffle for that matter—so I settled for white truffle butter from d'Artagnan, purchased from Portsmouth's wonderful South Street and Vine, a charming wine and gourmet food store, and truffle salt, purchased from a new store in the center of Portsmouth, Portsmouth Salt Cellar. I did not have time to fully explore this new salt store—it looks fantastic!—but we have thoroughly enjoyed a Christmas gift of a selection of salts from this store!  Watch for an upcoming post about them as they carry quite a few salts from France and I can't wait to try their "salt blocks"!
The butter, alas, was made from porcini mushrooms and white truffle oil. And, what is the truffle oil, really? Ahm…well, olive oil and "aroma." But, hocus-pocus aside, it was very good in our pasta preparation (to which we also added some Portobello mushrooms).
The salt contains 6% Burgundy truffles (also known as summer truffles). The aroma, to my nose, conjured up images of truffles and we found it to be a very worthy accompaniment to our artichoke soup. A little goes a long way but we all felt it enhanced our soup. We made this soup several years ago (it is in another of Patricia Wells' cook books) with a truffle brought back by Heidi and Mark—it was phenomenal then, with thinly sliced truffles, but it was very enjoyable now, with truffle salt.
Nothing is the same as having the real deal. Neither the soup nor the spaghetti were as good as they would have been had we picked up our truffles at the Saturday truffle market in Richerenches…or in one of the other top truffle markets in Carpentras on Fridays or Aups on Thursdays. Provence is the center of the tuber melanosporum world.
C'est la vie. Our meal was still wonderful. The smell of truffle wafted from our kitchen and, if I closed my eyes, I could swear it was real. It wasn't…but in my brain, it was. Our olfactory memory is said to be long-lasting and resilient and deeply entangled with emotion. Indeed our memory of smell is located in the brain's limbic system and in the tiny part of the brain called the amygdala, both intimately tied to emotion memories. The whiff of truffle, as synthetic as it was, was close enough to elicit all those memories of meals with real truffles in France. I wasn't in Richerenches, but it was a great meal!
I am sure Patricia Wells' new book added to my experience. For those of us who love truffles, it is captivating. I counted 60 recipes: appetizers, salads, soups, light meals centered on vegetables, cheese and eggs (the truffle's best marriage), main meals of pasta, rice, grains, poultry, and seafood, and more. I was pleasantly surprised to see a recipe for risotto with épeautre, a new "old" grain similar to spelt that both David and I have written about. Ms Wells did not include desserts with truffles, an exclusion I support as I've never found a sweet dish with truffles that spoke to me either. There is lots of history—who knew that the Neo-Sumerians wrote about truffles on their clay tablets in 2000 BC?—and loads of information about buying and storing truffles.  And, should you not be in Provence when you go to make your truffle dish, there are sources in the back of the book for fresh black truffles, tuber melanosporum and others.
And if you are in France now, there are other festivals devoted to France's black truffle, beyond today's in Richerenches:
Sunday, January 29 in Aups (in the département of the Var);
Friday through Sunday, February 3 – 5 in CarpentrasSunday, February 12 in Avignon
Sunday, February 26 in Isle-sur-la-Sorgue
If you can make it to a few of these festivals, you might even forget that France's black truffle is rare and elusive.