MILLE-FEUILLE IN MANHATTAN: PINCH ME 'CAUSE I THINK I AM IN PARIS!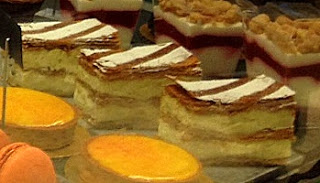 Serendipity, according to the Oxford Dictionary on my iPhone, refers to "the occurrence and development of events by chance in a happy or beneficial way." The French don't have a direct translation; but "un heureux hazard nous a réunis" or "a happy chance has brought us together" works just fine.
It was pure serendipity—un heureux hasard—that landed us in Mille-feuille, a bakery in New York's Greenwich Village, last Sunday morning. We were early for a rendezvous with our daughter and decided to have a couple of lattes with our New York Times. It was already very hot and, as we walked toward an espresso bar we knew, we opted to take a shady, tree-lined street. In the distance, we happened to notice a small sign attached to a massive stretch of scaffolding that currently covers the façade of a building that stands in the middle of LaGuardia Place, between Third and Bleeker Streets. In beautiful script, it read "Mille-Feuille."
Mille-feuille translates literally as "a thousand sheets or layers." More importantly, it refers to an exquisite French pastry. Traditionally rectangular in shape and about 2 x 3.5 inches in size, these beautiful rectangles are composed of three layers of puff pastry (pâte feuilletée) separated by two layers of pastry cream (crème pâtissière) and topped with a white icing or fondant with brown stripes, often "combed" to produce a sort of marbleizing effect. Originally called gâteau de mille-feuilles, today it goes by many names in many countries; it's called a Napoleon in the United States A good mille-feuille is well worth the struggle of pronouncing it (a subject to which I will return later).
In small block letters, the sign read, "Bakery Café." We were going to lunch soon and did not need pastries—honestly, under what circumstances does one ever need pastries?—but, okay, we were curious. We'll just take a quick gander in the window. Reconnaissance purposes.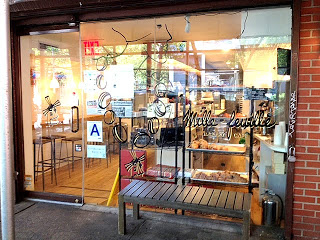 We peered in and found four large stainless steel trays, each piled high with flaky pastries. Right in front of our noses, separated by a thin sheet of glass, beckoning. The pains au chocolat, my favorites but so often disappointing, especially outside of Paris—because they're chewy with so little chocolate it's likely to be missed—looked buttery and flaky. The croissants, on the next tray, seemed a tad bit smaller than usual but were a golden color, flaky, and glistened with butter. Towny loves a good almond croissant and eyed the handsome specimens on the next tray. I don't recall what occupied the fourth tray, perhaps the ham and cheese croissants I later saw on the menu. We'll go in and look. Curiosity was rapidly morphing into desire.
We opened the door and, suddenly, a familiar smell of buttery pastry rushed toward us. It enveloped us and we inhaled deeply. We recognized that particular scent instantly, and without thinking: Croissants. We smiled broadly as we were immediately transported to Paris. If you've had the distinct pleasure of visiting pâtisseries in Paris, you know what I mean: the heavenly scent of…
a good croissant so thoroughly saturates the air that it is unmistakable that those delicate, flaky, and buttery crescent-shaped pastries are baking in a nearby oven. That distinctive aroma has never wafted out from the ovens of any bakery other than a French one. For my husband and me, that scent is so indelibly tied to France that we were swept across the Atlantic with images of our favorite pastries dancing in our heads. Desire had turned to lust.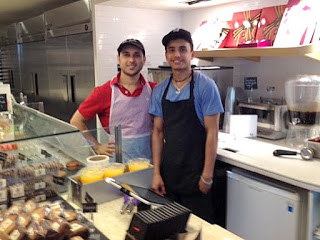 Kasam Dhakal and Jayant Parajuli


We ordered our lattes from a very friendly barista and pondered our choices. There were, of course, the luscious looking mille-feuilles, sandwiched between a row of lemon tarts and a row of verrines of panna cotta. There were also neatly arranged packages of very tempting chocolate diamonds cookies and rows and rows of colorful, perfectly formed macarons. I spied a chocolate-covered caramel loaf cake that, if I lived in New York, would have been in my shopping bag tout-suite, and then I saw the individually wrapped treats that included caramel cake (sans the chocolate), brownies, and something called a financier.

C'était très difficile!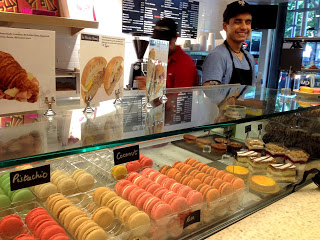 Bearing in mind that we were due for lunch soon, we opted for a slice of caramel cake, a financier, and my beloved pain au chocolat. We settled atop the stools at the small bar across from the goodies. The lattes—and we are discerning latte drinkers—were comparable to those in Italy. (Yes, Italy does do this better!)
The caramel cake was rich in butter and full of caramel flavor—our plan to eat just half evaporated quickly. The financier, I later learned, is a well-known French dessert: a rectangular shaped teacake made with finely ground almonds and, in this case, with matcha (Japanese green tea powder). The name comes from its shape, resembling a bar of gold. It was deliciously interesting—rich but not sweet and a hint of matcha.
The pain au chocolat was divine. I held each bite in my mouth as long as I could. There was nothing chewy: it was flaky and full of the buttery flavor matching the scent that greeted us upon arrival. The chocolate was rich and, well, there—I didn't have to worry that I might lose the tiny morsel by splitting the pain with my husband….we each found a satisfying amount of chocolate! Pinch me….am I in Paris?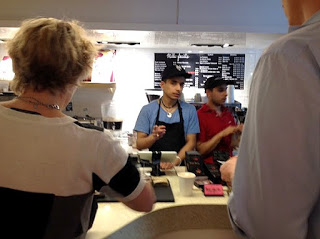 As we enjoyed our lattes and bakery goodies, a revolving door of customers came in and out, some who were obviously regulars and others who had read the stellar review of their croissants in The Wall Street Journal. (I later read terrific reviews in other newspapers, like The New York Times and The Village Voice, and many blogs.) We heard several people say that the almond croissants are the best in New York. We heard other people marvel at the plain croissants, echoing that they, too, are the best in the City. Still others came for the macarons.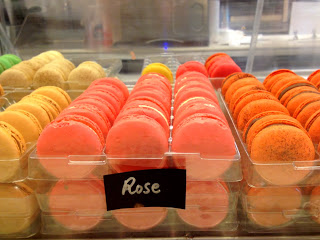 Those macarons, directly across from us, continued to tease us. We both love good macarons. I had always thought that Ladurée set the standard for macarons—a firm surface with a tender, slightly chewy interior; a flavor that resonates; and an appealing color that matches the flavor.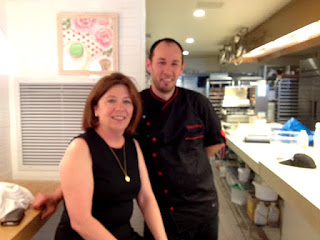 Sous-chef
Stéphane

Pourrez and Susan
Meanwhile, we began a conversation with the French sous-chef, Stéphane Pourrez, who sat near us at the bar. Monsieur Pourrez, who has fifteen years of experience in the pastry business in France, explained that the year-old bakery was the creation of owner and Chef Olivier Dessyn, also French. Pastry had long been the owner's love and, although he worked for many years in a completely different field, he had continued to study pastry-making from some of the best culinary schools and chefs in Paris. He refined his macaron-making skills under Paris chef Pierre Hermé, referred to as "The Picasso of Pastry," whose macarons are said to rival those of Ladurée. (Their macaron wars are apparently legendary.) I have never had a Pierre Hermé macaron, but I certainly will seek out one the next time I am in Paris.
Although, maybe I won't have to go to Paris after all….our defenses eventually weakened and we bought a macaron, a salted caramel one and it was wonderful. Lucky for us—and you, too—Mille-feuille will ship their macarons!
The chefs also offer classes in making macarons and croissants in the bakery. We hope to take advantage of those classes although I really only aspire to hold an even greater reverence for the superbly talented hands that create these delicate pastries I enjoy so much. I harbor no illusions that these old hands—the ones that pluck at the keys to make the words you are reading right now—might also turn out a flaky croissant or a tasty macaron. But that's okay…I know where to get them.
By opting for the shady LaGuardia on our way to another establishment for our lattes, we happened upon this gem. C'était un heureux hazard nous a réunis! We can't wait to return. We have more macarons, almond croissants, a chocolate-covered caramel cake, and the mille-feuille to try. Monsieur Pourrez told us that his particular pastry passion is decorating cakes…hmmm, I have to find an occasion!
Until then, I will endeavor to perfect my pronunciation of mille-feuille. Practice saying: mil fœj.
Oh yes, our lunch was not the least bit affected by our serendipitous adventure. A few pastries could not possibly detract from the fabulous food at Café Cluny, a French restaurant in the West Village. The meal was beautifully presented and scrumptious. The wine menu included one of our favorite rosés, from Château Constantin-Chevalier, a winery in our favorite village Lourmarin, but I am getting ahead of myself—that lovely rosé is the subject of an upcoming post!


________________________
Les Bonnes Addresses:
New York:
Mille-feuille
552 LaGuardia Place
(212) 533-4698
www.millefeuille-nyc.com
Ladurée New York
864 Madison Avenue
(646) 558-3157
Paris:
Ladurée Paris Royale (8eme arr.)
16, rue Royale
Au Levain du Marais (11eme arr.)
28 Blvd. Beaumarchais
Du Pain et des Idées (10eme arr.)
34 rue Yves Toudic,
La Pâtisserie by Cyril Lignac (11eme arr.)
24 rue Paul Bert
Lourmarin:
Stéphane Riquier
8 rue Henri de Savornin
Cavaillon:
Chez Auzet
61 cours Bournissac