ROSÉ, WHITE, AND BLUE ON BASTILLE DAY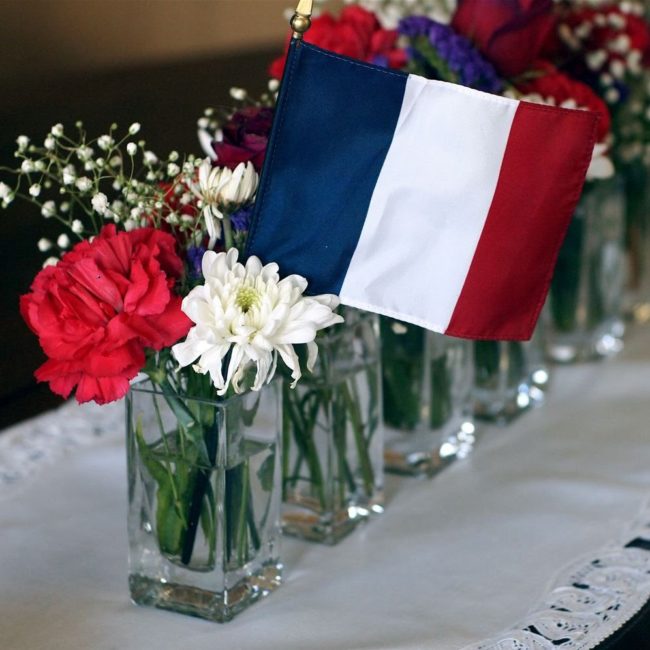 Superfluous piece of information for the benefit of readers who stumbled upon this blog in a completely unrelated search: Bastille Day, also known as La Fête Nationale or Le Quatorze Juillet, is a French national holiday that marks the anniversary of the storming of the Bastille (prison) in 1789 and the symbolic birth of modern France. It is celebrated on July 14th with fantastic pomp and circumstance in France, in many cities around the U.S., and in our home.
Yesterday was Bastille Day. I know I should have been thinking red, white and blue—thick swaths of each color—as I arranged our small French Tricolors around the dinner table, listened to French CDs, chopped fennel, onion and parsley for our soupe de poisons aux tomates avec rouille, and selected the wines that we would later fill our glasses with and raise in toast to a country we like so much.
But, I have to confess I was thinking pink, white and blue. I knew we would be opening one of our rosés from Château Constantin-Chevalier: a 2009 Pétale de Rosé. Regular readers will recall that we were thrilled when we happened upon a 2011 Pétale de Rosé from this small chateau when we had brunch in a popular French restaurant, Café Cluny, in the West Village of Manhattan.
This rosé is a relatively new addition to the wines produced by Château Constantin-Chevalier, the second of two rosés. Peter Mayle refers to it as "Rosé's Younger Sister." Although both rosés are made from the same grapes—Syrah and Grenache—the newer wine is paler in color due to its shorter maceration (i.e., contact with the grape skin). According to Mr. Mayle, the skills of today's winemaker enable these paler rosés to retain "the traditional attributes of a real wine." We would have to agree.
The wine is a lovely pale rose color. We found it to be full and interestingly flavorful. It had a distinct berry aroma—my husband thought raspberry and I thought blackberry—and we both found it crisp, dry, light, and exceptionally refreshing on that hot Sunday afternoon. It was a perfect choice for the brunch we ordered. It held its own with my husband's short-rib hash but was also a lovely compliment to the cucumber and avocado soup, and the salads my daughter and I ordered. Mr. Mayle's says…
that it has "enough complexity of flavor to be satisfying on its own." (Fortunately, we had a bottle—of a different vintage—at home and would be able to see for ourselves if Mr. Mayle is correct. I suspect he is.)
Château Constantin-Chevalier lies in the heart of the Appellation d'Origine Controlée (AOC) called Côtes du Luberon. (In 2010, the AOC will be shortened to Côtes Luberon.) It is a relatively new AOC, created in 1988, that lies in the southeastern part of the Rhone region. It is approximately 3200 hectares (7900 acres) in production size—about the size of Châteauneuf-du-Pape. It produces more wine than that renowned Châteauneuf-du-Pape because as much as 80% of the Côtes Luberon wine is produced in cooperatives. The increasingly impressive advances in the quality of the wine from Côtes Luberon have been driven by a few passionate and talented independent wine makers that are establishing an excellent reputation.
Thirty-six communes—all in or around the Luberon Natural Forest—comprise this AOC. Lourmarin, our favorite village, is one of them and, in fact, the cooperative in this village is producing some wines that have people in the know talking…and drinking!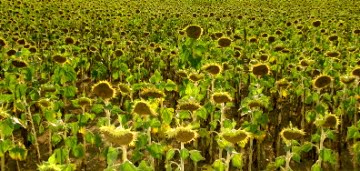 It is on the outskirts of the picturesque village of Lourmarin, on the way to Cadenet, that you will find this lovely château. From Lourmarin, take D27 toward Lauris. Take a left on to a very narrow lane that passes for a road (D139), lined on one side by a field of sunflowers and rows of grapevines and on the other by a forest of oak and olive trees. Up above the skinny lane stands the impressive 16th century estate. The setting is lovely. The grounds are tranquil. The château is elegant and stately.
Red wine dominates the production in Cotes Luberon—70%–with the remaining proportion composed of white or rosé. Syrah is the most widely used variety here, followed by Grenache, Mourvedre, Cinsaut, and Carignan. White wines are typically produced with a combination of Grenache Blanc, Clairette, Bourboulenc, Ugni, and Vermentino; Marsanne and Roussanne grapes may be included, too.
Rosé wines may be made with any of the red grape varieties mentioned above although 20% of the white varieties listed about may also be included.
But, I digress. Back to our dinner on Bastille Day.
Our 2009 Pétale de Rosé—composed of equal parts of Syrah and Grenache—represented its origin with great aplomb. Like its younger 2011 sibling, it was crisp—"clean" my husband said—and dry but surprisingly substantial. It titillated our senses! Although the taste of berries resonated from nose to mouth, there was no trace of sweetness (that some rosés from areas other than Provence often suffer from). Every taste was filled with flavor, delicate but strong enough to match our Provençal-style fish soup. Delicate but strong enough to remind us who stormed the Bastille, some 223 years ago, as we raised our glasses—Salut!
And, yes, Peter Mayle was right: it is definitely satisfying on its own.
I have visited Château Constantin-Chevalier several times. I had the pleasure of meeting Allen Chevalier, who with his wife Marie-Laure, bought the Château in 1990 with the goal, I am told, of making the best wines they could. Their dedication, I am told, transformed the winery into what we see today. Although I am always raving about their rosés, it is their wonderful white wine that has garnered the most attention, with many awards of distinction.
Sadly, Monsieur Chevalier passed away a year ago. We hope that whoever has purchased Château Constantin-Chevalier will keep the dreams of this family alive.
Let's raise another glass. A salute to the Chevaliers who produced these rosés we have loved so much.