Provençal Pairings: Wine with Food
Muscat Love
by David Scott Allen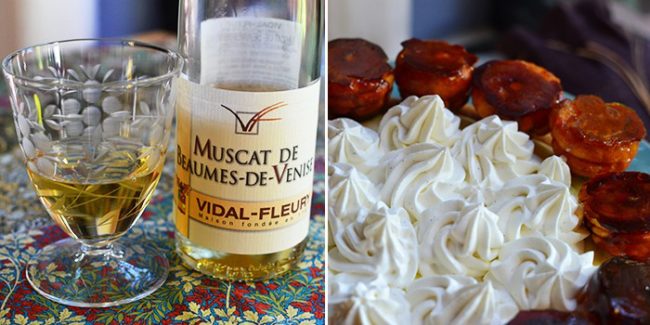 Winery: Vidal-Fleury
Cuvée: Muscat de Beaumes-de-Venise
Appellation: Beaumes de Venise
Type: White
Vintage: 2010
Grape Varieties: Muscat à petit grain (100%)
Alcohol: 15.0%
Average Retail Price (375ml): U.S. $17.50, France €16.50
It's been twelve months of Provençal wine and food pairings now, and I imagine you have seen some patterns. I love pairing special meals with special wines, and sharing the experiences with special people. Which makes me chuckle when I think of how the French use the descriptor "special" in not so nice a way. «Ouai, ça c'est très special…» But, I digress…
Special, to those of us in the United States, is indeed special. Like the cake I recently made to celebrate our friend Barbara's 60th birthday. A Gâteau Saint-Honoré is a special occasion cake, and my mother once made one for my birthday. At some level, I needed to find out the lengths to which she went for me… After making the cake, let's just say that choosing a companion wine was much easier than making the cake!
Provence is rich in dessert-appropriate wines, and I opted for a bottle of Muscat de Beaumes de Venise from Vidal-Fleury. This delightful wine from the Rhône region is strong enough to hold its own against intense cheeses and dark chocolate. Now it would need to hold its own with a significant amount of cream. On the nose, we all sensed pear and citrus. The first taste – prior to trying the cake – was distinctly of honey and Comice pear; the word "nectar" is the best way to describe the taste and mouth feel. A little further tastebud exploration brought out green apple and honeysuckle – an incredibly unctuous and luxurious mouthful. After first bites of the Gâteau – a bite that included puff pastry, choux paste, crème patissière, and crème Chantilly – the honey and pear remained the strongest notes. When we got to the outer edges of the cake – cream-filled choux paste balls dipped in dark caramel – the wine took on a smokey tone that we all loved.
It shines alongside creamy confections, such as my gâteau (you can find the recipe on Cocoa & Lavender), and pairs beautifully with a flourless chocolate cake served with fresh berries. This terrific dessert wine also works well as an apéritif. For cheese pairings, I suggest sweet Gorgonzola, Explorateur, and aged Parmigiano-Reggiano. This wine is also lovely with seared fois gras and all variety of liver pâtés and mousses.
PS – the title of this post is for those of us who remember (with regrets) the song Muskrat Love by The Captain &Tenille
Post and Photos by David Scott Allen