On a Rolle with the Cotignac International Wine Tasting Club
The Wine Snoop Report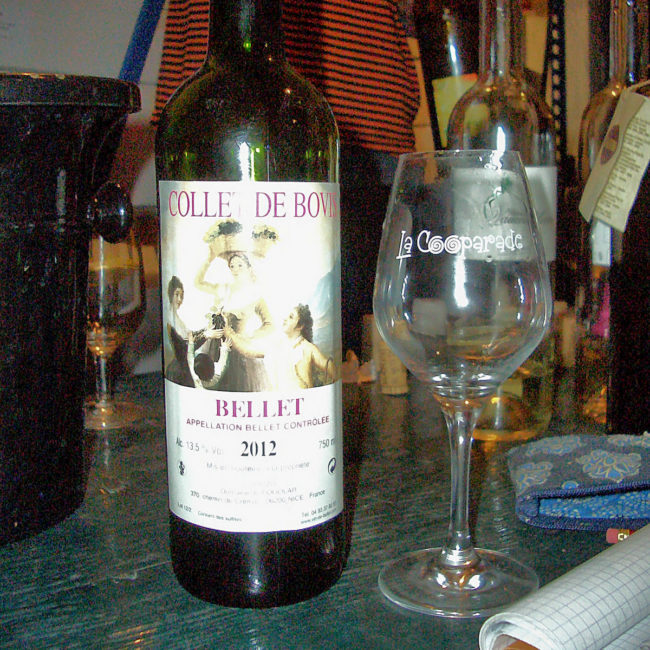 If you are in Cotignac on the last Tuesday of the month, you're sure to spy the local amoureux du vin, of all ages and nationalities, scurrying to La Cave, with wine glasses in hand, to swirl, sniff, sip and, in general, drink in the wine subject du jour. Our merry little group (becoming merrier with each sip) consists of individuals with varying degrees of savoir faire, from wine professionals to novices, but all enjoy batting about wine words and swapping critiques.
The star of our most recent rendezvous was the grape variety Rolle, known in Italy as Vermentino. Since the year 2000, this cepage has gradually replaced Ugni Blanc and Clairette Blanc (traditional Provence varietals) in popularity and now represents more than 50% of the cepages used in Cotes de Provence white wines. So exuberant has been the planting of this varietal, that over half of the Rolle vines in Provence are under ten years old. Typically, It produces fresh, citrussy wines, often with green apple, pear or peach fruitiness, a touch of minerality, and an almond finish.
Ludovic Asseman, from Domaine St. Croix la Manuelle and a member of our group, led us in tasting 15 wines (that I can remember), providing examples from the Var and Bellet in Provence and Tuscany, Liguria, and Sardinia in Italy.
Among the seven Var wines (in AOP Côtes de Provence), all 100% Rolle, two were wood-aged including a very nice Les Caves du Commandeur's (Montfort-sur-Argens) 2012 Secrète Blanc, the only cooperative-made wine that we tasted, which had fresh fruit and flowery notes with a smooth mouthfeel for 8€ a bottle.
Characteristically, none of the Italians were aged in oak and all four were straight varietal wines. My favorite was the 2012 Piero Mancini, Cucaione, from the Vigneti Piero Mancini vineyards in northern Sardinia, which was distinguished by its very pale, green-tinted lemon color, nice pear and green apple fruit, and a slightly salty smooth finish (8.30€).
Which brings us to the third stop on our Rolle, which is the little 40+ hectare Côte de Provence AOP in the city of Nice: Bellet, the only urban appellation in France. Thomas Jefferson once wrote that the wine of Bellet "was silky and a little astringent and was the most delicious wine I ever tasted." Well, we tasted three and, lo and behold, it was a wine from Bellet voted the tastiest of the evening by our esteemed wine club connoisseurs.
The numero uno Vermentino was an oak-aged 2011 Collet de Bovis Blanc from Domaine du Fogolar which had notes of peach, orange, and lime zest, was smooth and a bit leathery, but with a bright finish and just enough acid. The wines of Bellet sported the highest price tags, up to around 20 euros, but our number two favorite, also from Provence, was a pocket pleasing 8€ Var cuvée from nearby Domaine Sainte Croix La Manuelle, in Le Thoronet, which neighbors the famous Cistercian abbey (For the record, I remain unconvinced by whispers of vote tampering on the part of Ludovic in bringing his vineyard into second place!). Their 2007 La Manuelle, Blanc de Blancs is made from 100% Rolle, no oak, with notes of pear and white flowers and a crisp lime finish, which was well balanced with a smooth texture.
So laurels to Provence for a perfecta finish contra their more famous and established Italian neighbors. Félicitations !

–PJO