CHÂTEAU MARGÜI:
FROM PRIME D'ARRACHAGE
TO STELLAR BIODYNAMIC WINE
by Susan Manfull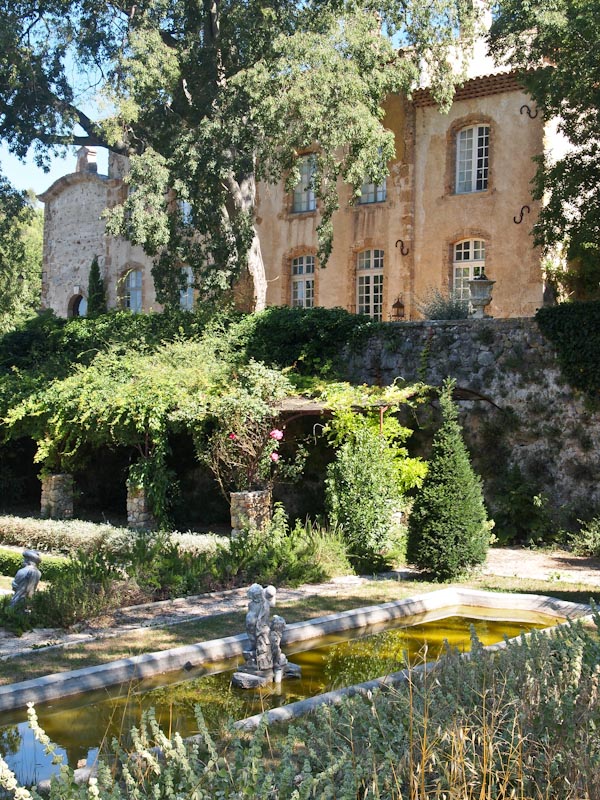 Vineyards covered the land around what is now Château Margüi for as many as two thousand years…until, sometime in the 1970s, when the vines were pulled up –"grubbed up," as it's often called—and "sold" to the French government as part of a plan—referred to as "prime d'arrachage"—to control the amount of wine produced in the country.
As photographer Pamela O'Neill and I strolled around this luscious property with Susan Huet, an American expat who began working at the château about a year before our July visit, the thought of such barren slopes was impossible to imagine.
But, dormant land was an extraordinarily fortuitous find for anyone in search of a place to pursue biodynamic farming. Dormant land—for thirty years—provides a jump start for organic agriculture. For the vineyards, olive groves, and the intensive gardens that Marie-Christine Baylet-Guillanton and Philippe Guillanton envisioned, this property was perfect. (Well, aside from the fact that the château was "semi-inhabitable," but more on this subject in another post.)
Marie and Philippe, originally from Provence—she from nearby Aix-en-Provence and he from Nice—were living in Paris when they decided to abandon their careers in favor of making wine and olive oil. Children in tow, they moved South around 2000 to begin this new life. They would not produce wine until 2004 and would not move into their new home for several more years.
Château Margüi is located in rosé country
I was first introduced to Château Margüi through a bottle of rosé. It was a Perle de Margüi (Coteaux Varois en Provence) from a vintage that long ago escaped my memory, but its refreshing taste of summer berries and a minerally mouthfeel remain firmly etched in my mind. I sought out this elegant wine again at the "Provence in the City" rosé tasting in New York City in 2013 and made arrangements to visit the estate this past July.
The estate is 116 hectares (287 acres) in total, with about 17 hectares (42 acres) devoted to vineyards on the property and another 3 hectares (7.5 acres) in fermage (explained below). About 60,000 bottles representing all three colors are typically produced each year. The olive grove is a little less than 3 hectares (7 acres).
Château Margüi 's address reveals that the estate is located in the village of Châteauvert, just north of Brignoles in the Var department of Provence. However, this description does not capture the estate's enchanting location. It is very remote–Pamela and I, driving along the narrow, winding, and heavily forested D554, felt that we had traveled so far from the Le Val traffic circle that surely we had passed the estate.
Our worries were assuaged when we passed Château Miraval—the now well-known property owned by Brad Pitt and Angelina Jolie, where (some of) the grapes for their popular Miraval rosé are grown and where they finally tied the knot last month. They are neighbors.
We eventually arrived, but not before navigating a long, very narrow and deeply rutted dirt road off D554 to the château itself. The stunning (15th to 18th century) home seemed to stand sentinel, overlooking a gorgeous patchwork of overgrown and coiffed gardens, dominated by glorious lavender and adorned with cherub statues, natural springs, tranquil pools, and dry-stone walls. Magnificent stairs lead to the main garden and a small stone building which we later found out was a magnanerie (silkworm house), stands in the center. In the distance lie vineyards, olive groves, thick forests, and, at the very edge of the horizon, the Sainte-Baum mountains (where Mary Magdalene confined herself to a life of penance in a cave for 30 years). It was, as others have said, a setting befitting a fairy tale.
Le meilleur engrais, ce sont les pas du fermier. —Dicton ancien
Marie, whom I had the pleasure of interviewing, is guided by the aforementioned dictum, roughly translated as "The best fertilizer is the footsteps of the farmer."
The name of the Château, "Margüi," means "source" in the early Provençal dialect (of the Occitan language). In its name for the estate, "margüi" has a double meaning: it refers to the three sources of natural spring water that are used to sustain the vineyards, olive groves, and gardens as well as for the family's purposes and is an acknowledgement that the land is a source of spirit.
Marie is intimately tied to the land in a very spiritual sense. It was when she lived in Tahiti, she said, that she learned to be linked to the land. She said that she puts her trust in Mother Nature, rather than "a lot of ego," in growing her grapes. She attends to the phases of the moon in her planting, believes that weeds are the vineyard's friends, makes tisanes (herbal teas) for the vines, and walks through the vineyards to taste the grapes every day as harvest nears and, again, after the harvest, to thank them.
"Nature gives us everything we need," Marie said. "We must have gratitude and humility [in exchange]."
These views, passionately espoused by this viticulturist, may sound downright weird to some readers but they are reflective of a biodynamic approach to grape-growing. The vineyard—as well as the olive groves and all the gardens—is seen as an ecological whole. The soil, weeds, animals, bees, butterflies, and ladybugs, for example, are each part of the whole picture and are interdependent. The result, adherents of the biodynamic approach say, is the sustainable growth of the highest quality grapes.
"Eighty percent of the work [of winemaking] is done in the vineyard," Marie believes.
A natural approach to winemaking is, not surprisingly, also followed at Château Margüi. Natural fermentation (with grape skins) is employed when possible; when this fails, only natural, organic yeasts are added.
Marie is personally involved with each step of the winemaking process, from the vineyard to the bottle, including the label on the bottle. I have always admired the label of Perle de Margüi (the only wine I knew from this château until this visit) and was fascinated to learn that not only did Marie design the label, but that the color of the label (and the cap) may change (for each cuvée) from vintage to vintage to match the shade of the wine—rosé, red, and white—in the bottle!
In the cellar of Château Margüi
We caught up with Marie again in the cellar where she was in the midst of an intense conversation with two other vintners while sampling wine from the vats of 2012 Titien de Margüi (2012) AOC Coteaux Varois Red with the winemakers. Because this wine is aged for 18 months, it will not be bottled until this fall.
Marie took a break to pour us a taste of Perle de Margüi (2013) AOP Coteaux Varois Rosé. She filled our glasses right from the vat (because that's all that is left in the château).
The 2013 vintage was drastically affected by an unusually harsh hail storm in July 2013. It decimated the grapes earmarked for this rosé, causing Marie and Philippe to obtain grapes from other vineyards through an "agricultural lease" referred to as a "fermage."
This rosé is a blend of Cinsault, Syrah, Cabernet Sauvignon, and Rolle. There was little detectable aroma from the glass but a vibrant array of tastes characterized by white fruit and a very pleasant minerality made for the delightful experience I have had in the past. Alcohol content is 12.5%. Because the grapes are from a different terroir, Marie explained that this vintage does not taste the same as earlier vintages but, origin of grapes notwithstanding, this vintage gathered accolades from Wine Spectator (90/100 points), Decanter Wine Awards (Commended), and other wine writers, including a resounding "Bravo!" from Pam and me. (Price: around $25)
Ironically, the hail storm which led to the fermage agreements resulted in two more rosé cuvées this year. We headed to the tasting room to find out more about them
In the tasting room of Château Margüi
Here we tasted the new cuvée, La Chapelle (2013) AOP Côtes de Provence Rosé, from the fermage in Pierrefeu. A blend of Syrah, Mourvèdre, and Grenache, it has a fruit-forward taste, a silky mouthfeel, and a slightly spicy finish. A balanced wine with 13.5% alcohol, it would pair well with food. I imagine it with scallops sautéed in olive oil along with shallots and red peppers. With a very small harvest that produced just over 3,000 bottles, most of us will have to wait to next year for more (and I will look forward to that).
The third rosé cuvée (AOP Coteaux Varois), I believe, also comes from fermage grapes. We did not try this wine.
We also tasted one of two whites, Les Pierres Sauvages (2012) AOP Coteaux Varois/IGP Var (13%). This is a blend of Rolle and Ugni blanc and is dynamite. It is a perky white with a citrus nose, white fruit taste, silky mouthfeel, and floral finish. (Price: around $30)
We tasted three vintages of the Titien de Margüi (2010, 2011, and 2012) Red. This wine, a blend of predominantly Syrah and one third Cabernet, is aged 18 months—one third in oak and one third in stainless steel. I have to confess that our conversation about these wines dominated over my note taking about these wines but I do know that they were a veritable symphony of aromas and tastes. The wines were silky in the mouth followed by very pleasant finishes. Complex, structured, and full-bodied—with 14.5% alcohol—any of these wines would stand its ground well with game or daube and the strongest of cheeses. Wow! I understand why it was the red wines that initially established Château Margüi's reputation as a top quality estate. (Price: around $30)
Finally, we tasted their Extra Virgin AOC Provence Olive Oil (2013). Without exaggeration, it might be the best I have ever had…but that is a story for another post.
Fairy tale or story of superheroes?
To rise from barren land to verdant vineyards in just a few years is impressive by any measure. In spite of the challenges Marie and Philippe faced in thoroughly renovating their home "in strict respect of architectural authenticity,'' endeavoring to create a biodynamic property, obtaining AOP status for all the vineyards not previously designated as such, and overcoming a devastating hail storm—all the while raising five children, tending to a gaggle of pets, and offering events to benefit the community—they have succeeded in breathing life back into the land that, in turn, gave back to the Guillanton family by providing the grapes for award-winning organic wines in all three colors. Let's toast to Marie and Philippe (and fairy tales and superheroes)!
---
NOTES:
Address:
Château Margüi
83670 Châteauvert, FRANCE
Tel:
00 33 (0)9 77 90 23 18
Email: contact.chateaumargui@gmail.com
http://www.chateaumargui.com
Open hours:
Tasting Room and shop
Tuesday to Saturday
9:00 am to 6:00 pm (probably closed at lunch!)
GPS Coordinates : N 43.30.36, E 6.02.20.