TO MARKET, TO MARKET… WHAT TO BUY WHEN YOU DON'T WANT TO BUY A FAT PIG?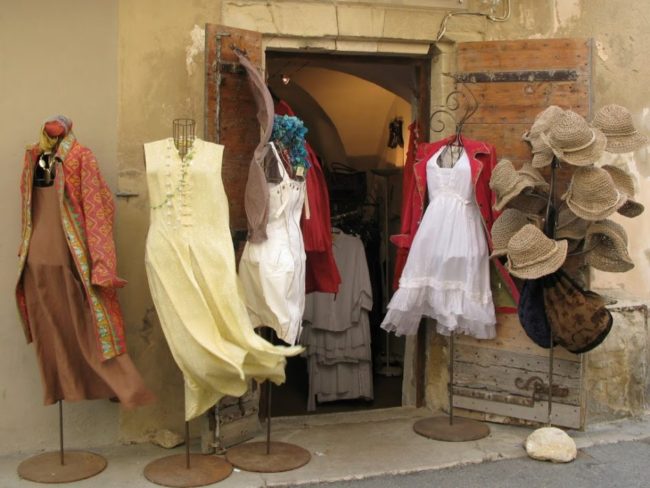 The long lazy days of summer in this part of the world officially come to an end this weekend. Already the days are abbreviated. After all the summers I've visited Provence, I have never lost my amazement at how long the days linger in the months of June, July, and August and how soon night begins to fall when September arrives!
By now, the last of the summer transplants has battened down the hatches of their country homes and returned north to places like Paris and Brussels. In their place are vacationers—probably more like you and me—striving to be satisfied with just a week or two in la belle Provence, folks who want to eke out the most of every day—while moving at a Provençal pace—before les vacances comes to an end.
What's on their list of things to do and see in Provence? Markets, markets, and more markets, I hear.
According to my informal survey of the travelers I know—including the many people over the years to whom we rented our apartments in Lourmarin— the markets of Provence still hover at the top of the list, as they do in the spring and fall months.
Fall is a great time to visit the markets. The elbow-to-elbow crowds are gone, making possible a leisurely stroll along the colorful vendor-lined streets—even toting a heavily laden basket of goodies, a rather daring act in August; café tables are much easier to snag for a mid-morning break from shopping; and parking is a lot less challenging.
Somewhere not far from where you are vacationing in Provence, everyday of the week, there's a market.   Come rain or shine or the fierce Mistral wind and even on holidays, independent vendors across the region are up by daybreak,loading their wares into trucks, vans, carts, and deux-chevaux to make the trip to one of the many markets in Provence. Markets open around 8:30 in the morning and close shortly after noon (in time for lunch!).
I am most familiar with the markets  in the Provence  departments of the Vaucluse and Bouche-du-
Rhône (although two of my favorite markets are in neighboring Alpes-de-Haute-Provence department).  Click on the map (above) to see which day(s) of the week each town has its market(s).  If you do your planning right, you could visit a couple of markets.
What do you buy in the markets when you won't be hanging your hat in the area long? The answer to this question was the subject of a conversation I recently had with some friends who were on the eve of their departure for Provence (for ten days!).  The glorious fruits and vegetables, beautiful fish, mouthwatering rotisserie chickens and roasted vegetables, and stinky cheeses that usually fill my basket and the pages of TMT articles about my favorite markets are not what short-stay travelers are most interested in.
The conversation prompted me to gather some photos—with a little help from my friends—to show what you might purchase when you go to market in Provence and are not in the mood to buy a fat pig. That is, when perishable items just won't do.
For more information on specific markets, please see earlier TMT articles by clicking here.  For more information on a specific item pictured below (e.g., what it is, which market it's from, who took the photo, etc.),  please shoot me a note in the "comment" section below.
Un grand merci to photographers David Scott Allen, WT Manfull, Mary Norcross, and Pamela O'Neill for allowing me to post their lovely pictures.
Home Again, Home Again, Market is Done….I would love to hear what you buy when you go to the market in Provence!