Musings of a Wine Maven
ON THE PASSING OF JOSEPH PHELPS (1927-2015)
by Jerry Clark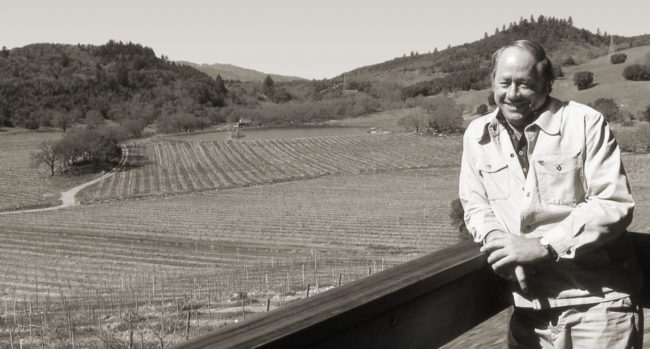 (Editor's Note: Provence WineZine, as its name suggests, focuses on wine produced in Provence, the history of the estates where the wine is made, and, especially, the stories of the men and women who make the wine, including the generations of wine makers that preceded them. Every once in a while, something happens that touches the soul of the worldwide community of wine that, even though it falls outside our purview, we are compelled to include here on our virtual pages. In this case, it is the death of iconic California wine maker, Joseph Phelps. I don't know if he influenced the world of French wine making—I would doubt that he did—but that world, particularly the Rhône Valley and Burgundy, certainly influenced Mr. Phelps. His choice of specific grapes, his blending of grapes, and what he put on his labels—all borrowed from longtime French practices in winemaking—were radical departures from the customary ones in Napa Valley, circa 1974, and all, in turn, influenced much of Napa Valley viniculture. It's a small world that knows no regional boundaries when it comes to influential figures in the world of wine.)
In April of this year, the California wine industry lost Joseph Phelps. Vineyards bearing his name line the famed Silverado Trail that winds its way past many well regarded Napa Valley vineyards that, for the most part, did not exist when he opened in 1973. He leaves behind his son Bill to continue the family commitment to the creation of outstanding wine.
A major part of his legacy are the hundreds of thousands of consumers who have come to know, first hand, that the Phelps label virtually assures high quality–no "shelf talkers" with Wine Spectator reviews or Wine Advocate scores were necessary beneath the Phelps wines on display. I am one of that appreciative population, and I buy without hesitation.
There is no acknowledged pantheon of distinguished wine figures in our society. Nothing of the sort in France for that matter either, though the Academie Française continues to recognize people in the arts who get it right, with commerce having little or no bearing. The wine world is as commercial as any other, yet an encouraging number of producers accept that, in seeking excellence, they knowingly place a strain on profit margins rather than settle for an "adequate" product (that would less likely cause such strain).
What Joe Phelps chose, from the very beginning, was to provide a range of quality wines, not just Chardonnay and Cabernet Sauvignon, the hallmarks of Napa when he arrived, but also Syrah, Pinot Noir and late harvest Reisling and Scheurebe.
My exuberance with Phelps began during my first stop there, which I recall happening around 1975. The tranquility of its setting, viewed from the terrace outside the tasting room, is depicted in a simple line drawing on the labels of all of its early offerings, and is still in use on much of the line. Since that time I have never gone to Napa without showing up there.
During a business trip to San Francisco in 1994, I convinced my clients from England to accompany me on a half-day tour of Napa Valley that I promised would unlock both its physical beauty and the reason for its growing international reputation. (I did not mention a detour to Muir Woods on the way up, which is still a must for me.) They came back mightily impressed, and later back in England I got their order for a printing press to produce Johnny Walker cartons.
Did that excursion to the heart of California's world renowned Napa Valley—of course including a stop at Joseph Phelps Vineyards—influence their business decision? Perhaps. Subliminally it surely didn't hurt my company's image.
To this day I tell people, "If you only have time to see one vineyard in Napa, make it Phelps."