PIERREFEU RELEASES ITS FIRST VINTAGE
by Susan Manfull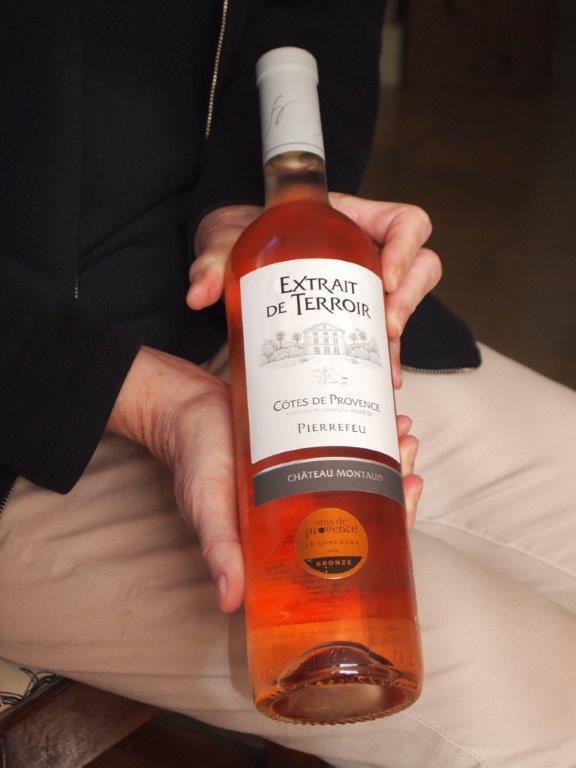 Last month, Château Montaud quietly released their first rosé under the new label "AOP Côtes de Provence Pierrefeu." Although Pierrefeu was officially recognized as a denomination de terroir (sometimes referred to as a sub-appellation) in March 2013, efforts toward this goal began way back in August 2003. This summer, 11 years after a small association of winemakers was formed to create this separate denomination, the first vintage of Pierrefeu rosé was released.
I am a huge fan of Provence's characteristically dry rosés—no secret to regular readers—and I am particularly fond of rosés with significant minerality which, not surprisingly given the geography of this area of Provence, is a defining quality of Pierrefeu rosés. I was hell-bent on tasting this rosé.
In June, Pamela O'Neill and I made arrangements to visit Château Montaud, located in Pierrefeu-du-Var and one of 31 private and cooperative wineries authorized to produce wine under this denomination. Could we wangle of taste of rosé from the first vintage—2013—to be released as Pierrefeu?
Côtes de Provence is rosé country—89.5% of the wine produced in this appellation is rose, followed by red (7%) and white (3.5%). The maximum authorized yield is 55 hl/ha and the average is 46 hl/ha. Its annual production is nearly 900,000 hectoliters (around 120 million bottles).
It is the largest Appellation d'Origine Protégée (AOP or protected area of origin, formerly referred to as Appellation d'Origine Contrôlée or AOC) in Provence. It is the fifth largest in France. Encompassing around 20,000 hectares across three French departments, the heart of the appellation lies in the Var, but it reaches into the Bouches-du-Rhône on the west and the Alpes-Maritimes on the east.
With such a vast area, an immense diversity of soils, geography, and climate conditions is not unexpected and, prior to the recognition of Pierrefeu, led to three other terroir denominations: Fréjus, La Londe, Sainte-Victoire. This essentially means that each of these four areas has a distinctive terroir—as identified by factors like microclimate, sun exposure, ambient temperature, geography, and soil—and that with the right grapes—that is, those grape varietals that will best reap the benefits of the aforementioned conditions—wines will be produced that reflect the qualities expected in Côtes de Provence as well as qualities that stem from a particular area within Côtes de Provence.
Identifying the character and quality of a given terroir and its wines to determine if the area is distinctive enough to merit a separate recognition of denomination de terroir takes years of study. This work is carried out by the Institut national de l'origine et de la qualité, typically referred to by as INAO (from its original name, Institut National des Appellations d'Origine). The original association of winemakers that initiated the movement for a separate denomination is, naturally, intimately involved in this process but it is the INAO, the organization charged with overseeing all French agricultural products, that will make the official determination.
For Pierrefeu, this official determination of "AOP Côtes de Provence Pierrefeu" came on March 7, 2013 for rosés and reds. Whites are expected to be included next year. Under the established requirements for this designation, Pierrefeu red wines (accounting for about 16% of production in this area) must be kept in the cellar for one year, making their release not possible until next year. Thus, only Pierrefeu rosés—comprising 82% of this area's production—were released in 2014.
Back to my quest to taste the newly released (2013) Pierrefeu rosé, Château Montaud was a very likely place to find some of this rosé. The estate is located in the denomination's namesake, Pierrefeu, which is also one of the largest areas of production in Côtes de Provence and, along with the communities of Cuers and Puget-Ville, forms what is locally referred to as "Le Triangle d'Or" or "The Golden Triangle" of viticulture. Grapes from this area have provided wine for its inhabitants for over 2600 years.
The proprietor, Frédéric Ravel, is the president of the Pierrefeu wine association, officially referred to as "L'Association des Vignerons de Cuers-Pierrefeu-Puget Ville." This is the association of winemakers that got together back in August 2003 with the goal of achieving official INAO recognition for Pierrefeu wines. We were confident he'd have a bottle or two in his cellar (and hopeful he'd open one for us).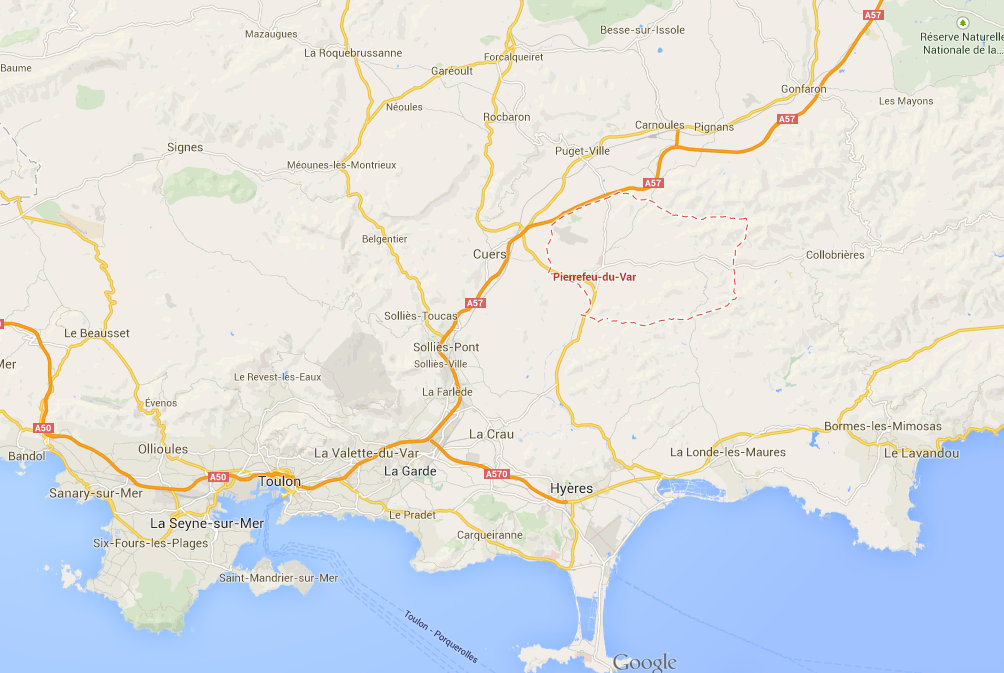 Pierrefeu-du-Var, the community, is one of twelve municipalities that comprise the denomination: Carnoules (part of), Collobrières (part of), Puget-Ville, Cuers, Solliès-Pont, La Crau (part of), La Valette-du-Var, La Garde, La Farlède, Pradet, Carqueirranne (and Pierrefeu-du Var).
Pierrefeu, the denomination, consists of about 3,900 hectares of potential surface area, with about 120 hectares claimed. Stretching from the coast, just east of Toulon, the area wraps north and east around the denomination of La Londe. The maximum authorized yield for both rosés and reds is 50 hl/ha.
Grape varieties permitted in Pierrefeu denomination: Grenache (principal), Cinsault (principal), Syrah (principal), Mourvèdre, Tibouren, Clairette, Sémillon, Ugni blanc , and Vermentino. At least two grapes must be used, one of which is a principal grape variety that comprises 50% of the blend.
It is the unique climate and soil of this area that set the stage for the distinctive Pierrefeu wines. With geography that includes the Mediterranean coast, hills, and depressions, the climate is both coastal and continental. According to Pierrefeu: L'Espirit du Terroir by Linda Suhr, the unusual climate is "characterized by an annual average temperature of 13.5 to 14.5 C (56.3 – 58.1 F) , a significant average of 30 to 45 frosty days, a high level of sunshine from 2800 to 2900 hours a year, a significant annual rainfall of 850-900 mm. (33.5 – 35.5 in.) , and winds from the north and northwest (Mistral) which are moderated by the surrounding coastal hillsides and the presence of sea breezes." The upshot is that the grapes reach optimal ripeness earlier in the season (thereby decreasing the probability of the weather-related surprises inherent in later harvests).
The complexity of a soil comprised of shale and schist (mainly on the hillsides), limestone (acting to store the heat of the day to be extended to the night), and red sandy clay (rich in iron) is what makes the wine so characteristically minerally.
By the time Pamela and I met Frédéric Ravel and Nathalie Pigalio, Export Manager, our heads were spinning with what defines a denomination (an entity I had always referred to as a sub-appellation) and the various geographical and geological factors that go into making Pierrefeu wines unique. I was beginning to wonder if I had replaced one of rose's greatest attributes—elegance in its simplicity—with enough facts and figures to spoil the palate. (You may be wondering the same thing at this point.)
On the contrary, neither facts and figures—nor the monsoon Pamela and I were caught in as we arrived, creating the impression, I am sure, that we had swam to the estate–could detract from the enjoyment of our tasting or our tour of Château Montaud (to be covered in a later PWZ article).
Ravel, following in the footsteps of his father and grandfather, is the third generation of family members to take the reins of Château Montaud. He was born and raised on the property and worked closely with both his grandfather and father as he was growing up. With the exception of a brief move about 10 kilometers away, Ravel has lived on the estate nearly all of his forty years. In 1964, his grandfather founded the business, which, today, consists of 320 hectares of vineyards. Operations his grandfather developed are still evident, alongside the more advanced technologies of today and the passion for winemaking was clearly passed on to the youngest Ravel.
We had the pleasure of tasting many Château Montaud wines that afternoon but, in this article, the AOP Côtes de Provence Pierrefeu rosé (2013) is the focus—what a treat!
Ravel explained that in order to maintain the distinct identity of Pierrefeu , every winery was required to submit samples of their 2013 vintage rosé to be tasted before they could include a Pierrefeu denomination label on bottles to sell. Some met the criteria and some didn't, explained Ravel. If the wine did not pass the taste test, feedback was provided (e.g., not enough minerality, too much fruit, not enough structure, etc.) and the more general "Côtes de Provence" label was used.
Château Montaud's rosé met the criteria. Named "Extrait de Terroir, " it is a blend of Grenache (50%), Cinsault (30%), Syrah (10%) and Mourvèdre (10%). Alcohol content is 12.5%.
As we tasted the Pierrefeu rosé, Ravel told us to consider its "fruit, flower, and structure" and, of course, minerality. The bottle we tasted at the château was a little too warm for a good tasting, according to Ravel who, at the time we visited, had only bottled a small amount of Pierrefeu rosé. My notes reveal that the wine's minerality was dominant and pleasing and that some light red fruit came through on the nose. I didn't detect floral notes of any kind. It was clearly not a "poolside" rosé; instead, it was medium bodied and had significant structure, making me curious about pairing it with food. So, I brought a bottle home to explore possibilities.
Ravel was very proud that, after 11 years, the first vintage of Pierrefeu is, at last, in bottles–45,000 bottles! "Now, we must sell it," he laughed.
Pigalio recently reported that the bottles are now on the shelves of stores, a month earlier than they had planned. Increasing awareness of this new denomination is now the challenge, she explained. "It took about ten years for Sainte Victoire to establish itself," she said, referring to another Côtes de Provence denomination, established in 2005.
I did my part this week when I shared my bottle with Win Rhoades, proprietor of South Street and Vine Wine and Cheese store in Portsmouth, New Hampshire. My husband and a couple of customers joined us. It was very well received.
Its lovely peach color excites the palate before the first taste. Rhoades detected "bright fruit notes" on the nose, maybe green pears and apples. He further enjoyed the distinctive minerality and structure to the wine. My husband noted white peaches on the palate and also noted, with pleasure, the minerality of the wine as well slight tartness in the mouth. I echoed appreciation for the wine's minerality as well as its light fruit flavors. We all agreed that the finish was minimal although certainly not unpleasant. When paired with cheese, especially a Humbolt Fog (goat cheese), the results were magical and later, with scallops, the result was very pleasing, too. As Ravel said, it is not a poolside wine—it is not for quaffing and a little food brings out the best in this wine.
At 8€ a bottle in France, I would definitely buy more. Let's hope it crosses the pond soon (in quantities larger than I can carry in my suitcase!).
---
NOTES:
Address:
Château Montaud
348, Route des Maures 83390
Pierrefeu-du-Var, FRANCE
Tel:
00 33 (0)4 94 28 20 30
Email: contact@chateau-montaud.eu
www.chateaumontaud.com
Open hours:
Open Year Round
Call for hours
GPS Coordinates : N 43°13.59,79' E 6°11.19,65