PROVENCE ROSÉ: TASTING AND TRAVEL NOTES FROM "PROVENCE IN THE CITY 2014"
by Susan Manfull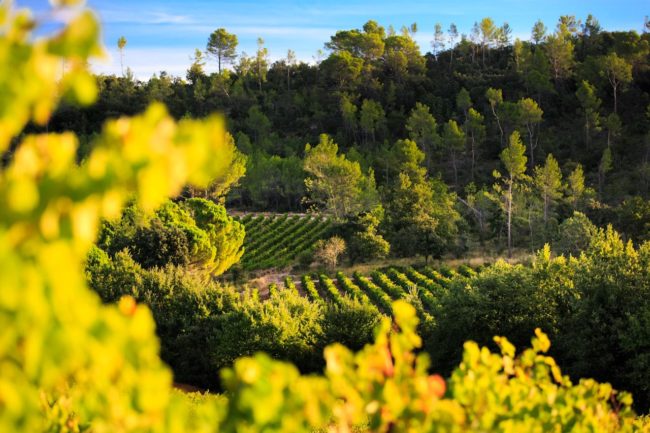 From the Modern Trobadors
In the 1950s, Julian Street diplomatically summed up the state of rosé affairs at that time in his Table Topics: "He sniffed, tasted [the rosé], considered; then, with a slow nod of agreement, said: 'Nothing there–like kissing your aunt."
Provence—today, the very word conjures up images of sipping rosé: on the beaches of the Côte d'Azur, by the pool of a handsome mas nestled into the garrigue-covered hills in the Luberon, in outdoor cafés along Cours Mirabeau in Aix-en-Provence, with bouillabaisse in Marseille's vieux port, and, for some folks, in yachts docked at St. Tropez. Mon dieu, rosé was born in Provence and, well, bred there, too.
The Greeks introduced rosé when they arrived in Marseille, some 2500 years ago. They planted grape vines throughout the South of France and produced red wine so pale—the grape skins and juice were not together long enough to impart much color—that it was really rosé. The Romans tended the vineyards a few hundred years later and introduced this popular wine to an even wider trading network. Rosés, like the reds and whites in the other regions of France, certainly improved over the centuries; but, with few exceptions—notably Domaine Tempier and Ott in Bandol– it wasn't until the last part of the 20th century that rosé winemaking turned serious.
For years, rosé evoked more images than it did accolades. And people who drank vin rosé were content with its simple, unpretentious — dare I say frivolous? — nature in exchange for tucking away fond memories of café camaraderie and pétanque matches. It worked for the farmers who could make up batches of rosé quickly as a byproduct from red wines, their real interest; its high acidity perfectly complemented the traditional Provençal cuisine; and the price was right.
But things changed in the rosé industry as the last century moved toward a close. Many factors merged to propel these changes.
In other parts of France, technological advances had already enabled more sophisticated wine-making processes that, in turn, led to more consistent (high) quality reds and whites from vintage to vintage.
"Champagne [reaped such benefits] in the 1970s and 1980s; Bordeaux in the 1980s; and Burgundy in the late 1990s," according to Paul Chevalier, National Fine Wine Director of Shaw-Ross International Importers, and importer of Château d'Esclans rosé wines. Perhaps it was to be expected that Provence would follow.
About this time, international tourism in Provence began to mushroom. Long a destination for the French and other Europeans, less expensive air travel, probably coupled with Peter Mayle's popular book A Year In Provence (1989), put la belle Provence at the top of tourists' lists of must-visit places.
Tourists undoubtedly associated rosé with all things Provence—its relaxed lifestyle, its famous lighting, its markets, its enchanting villages, its wafting aromas of lavender and rosemary, and its renowned gastronomy—and wanted to relive la vie Provence when they returned home. Between a jar of honey and a bottle of rosé, most wanted the latter and they didn't want to be disappointed.
I suspect that wine producers began to feel some pressure to produce more serious wines in the last couple decades because not only were travel writers singing the praises of Provence but so were food-and-wine writers and even lowly tourists were making their opinions heard on the internet.
Another factor that has surely elevated the quality of rosé production is the relocation of winemaking experts from other areas of France to Provence (including those hired by celebrities who have purchased châteaux in the region—most recently Brad Pitt and Angelina Jolie). At the top of that list would have to be Sacha Lichine and his team, led by Patrick Léon, at Château d'Esclans.
As Dana Nigro recently wrote in a Wine Spectator article entitled "Pinks from Provence," "Of all the outstanding scores our editors have given to rosés from around the world, only a handful predate the 2006 vintage, when former Bordeaux vintner Sacha Lichine upped the game for everyone with his Château d'Esclans rosés from Provence."
Fast forward to today, few would disagree that Provence rosés set the standard for the rest of the world. In 2008, a marketing study revealed that wine industry professionals perceive rosé from France as "the highest quality rosé and rosé from Provence as the 'gold standard.'"*
The AOP designation (Appellation d'Origine Protégée, meaning "protected area of origin") guarantees authenticity and production quality. This designation replaced AOC (Appellation d'Origine Contrôlée, meaning "controlled designation of origin).
About 10% of the world's wine production is rosé; France produces the most rosé; and Provence produces 35% of French AOP rosés. The crisp, dry rosés of Provence are full of character, flavor, and elegance. They are renowned for their pale pink to salmon colors, a range so wide with many nuances inb etween, that the Rosé Wine Experimentation and Research Center came up with a "standard set of colors to facilitate communication about rosé wines." They can stand on their own for l'apéritif or pair well with an remarkable variety of foods.
Last week, "Provence in the City 2014" came to Boston. Hosted by the Conseil Interprofessionnel des Vins de Provence (CIVP) which, in the United States, is referred to as the Provence Wine Council, this annual event—in its sixth year—invited media and wine industry professionals to sample rosés (and a few whites and reds) from as many as 25 Provence wineries. (This event was also held in Chicago and San Francisco and, tomorrow, will take place in New York).
"I like to go to events like this where [wines of the same category] are side by side so that I can pick apart the differences, said William Hendrikson, a sommelier in Boston's Abe & Louie and a bartender at Atlantic Fish Company.
Grenache, Cinsault, Syrah, Mouvèdre, Tibouren, Carignan, and Cabernet Sauvignon are the typical grape varieties used to produce Provence rosé.
"Provence rosé is dry [with] high acid, bright red fruit, citrus, and floral aromatics, but there is incredible diversity within this category [and] I want to expand my understanding of the influence of factors like the type of soil, age of the vines, inland versus Mediterranean [geography], altitude, and oak [within this category]."
Château d'Esclans, especially its premier cuvée Garrus, was one of two wineries that elicited the most extensive notes (and a few asterisks) from Hendrickson.
"Sacha Lichine's Garrus is awesome," he said, shortly after tasting this Côtes de Provence wine for the first time. Hendrickson later added that he found the commonality of the top three wines, in conjunction with the changes in complexity as one ascends the line, to be very interesting.
The other particularly memorable tasting for Hendrickson was a single varietal rosé from Château Roubine. A Côtes Provence Cru Classé rosé, Inspire, is made entirely from Tibouren. This black-skinned grape, thought to have been introduced by the Greeks, is typically blended with other varieties to produce rosé. "I'm loving this," Hendrickson said.
This event is an incredible opportunity to learn directly from the winemakers about their most recent vintage, in this case 2013 (with two exceptions). Some cuvées are so recently finished that they have not yet been bottled!
Christian Faucher, General Director of Les Quatre Tours, an Association of Wine Producers in the form of a Cooperative, talked to me about this subject. His Domaine la Rigouline, a Coteaux d'Aix-en-Provence rosé, had not yet been bottled for market….but, fortunately for us, they did get some of it into bottles for us to taste–a very appealing rosé of Syrah (65%) and Cabernet (35%) that would pair quite nicely with food, and one of the few organic wines that I noted at the tasting. Faucher poured two other rosés, representative of what I would call "classic Provence rosé," both of which are perfect poolside wines—light, fresh, and flavorful.
This tasting is also a chance to taste rosés that are not yet available in the US (they are looking for importers) and others that are imported for the first time.
Château de L'Escarelle, a Coteaux Varois en Provence producer, hopes to find shelf space in the U.S. for its three rosés. Its entry level rosé, iPink, has a very contemporary label designed for the U.S. market (as well as the Brazil and Caribbean markets) that is not used in France. I found the iPink rosé (a blend of Grenache and Syrah) to be a little too sweet for my tastes but I found the top cuvée, Prestige—a blend of Grenache, Mourvèdre, and Syrah—to have a nice mouthfeel, pleasant floral nose, and citrus flavor.
Château de Brigue, a Côtes de Provence winery (and olive oil producer), was founded in 1970 with just 70 acres, has grown to nearly 300 acres of vineyards of Grenache, Syrah, Cinsault, and Cabernet Sauvignon grapes. I met Olivier Brun, one of four brothers who are the third generation of Bruns to join the family wine business. In addition to the three traditional rosés he poured, he also treated us to a taste of Brigue Royal, only 2000 bottles of which were produced. A blend of Mourvèdre, Grenache, and Syrah, half of which was aged in oak, resulted in a very pleasing rosé with strong notes of vanilla. The bottle is atypically all white and opaque. (My notes reveal that they are seeking an importer, too.)
Provence, from a winemaking perspective, comprises nine Appellations and four sub-Appellations. The first three major Appellations produce 96% of Provence AOP rosés and, together make up more than 65,000 acres.
– Côtes de Provence (Sainte-Victoire, La Londe, Frejus, Pierrefeu)
– Côteaux d'Aix-en-Provence
– Côteaux Varois de Provence
– Bandol
– Bellet
– Cassis
– Les Baux de Provence
– Palette
– Pierrevert
Château Henri Bonnaud, the sole representative of Palette, the "smallest and oldest appellation in Provence," is a relative newcomer to the States. Andrew Craighead, who was pouring the wines, represents Master Brands, the importer/distributor that recently added two rosés (and a red) from this Château. The vineyards fall into both Palette and Côtes de Provence-Sainte Victoire appellations. One of the rosés, Château Henri Bonnaud, comes from the first appellation, and Terre Promise rosé was made with grapes from the latter appellation. I preferred the Palette rosé, made of Grenache (40%), Mourvédre (40%), and Cinsault (20%); in recent years, this wine has received quite a few awards. My husband and I visited this winery, just a few miles southeast of Aix-en-Provence, and thoroughly enjoyed their unique wines—all of which are aged (with at least some portion in oak, as I understand the regulation but don't hold me to this) and many of which are blends that include unusual grape varieties—so we were delighted to see that they are available in the States. This winery recently chose to introduce organic farming and organic wine production.
One of my favorite parts about a tasting like this is having the opportunity to begin to understand the differences—sometimes quite subtle—that surface in the same varietals under varying circumstances. (I underscore "begin" because there is also an overwhelming aspect to these tastings that impedes my ability to concentrate!)
Mas de Cadenet, a winery with vineyards in Côtes de Provence and Côtes de Provence-Sainte Victoire, produces three delightful rosés (all composed of Syrah, Grenache, and Cinsault), two of which are organic wines. Mas de Cadenet (40% Cinsault, 40% Grenache, 20% Syrah), the only one from Côtes de Provence Sainte Victoire, was my favorite; my notes reveal that one can taste the influence of the limestone terroir. I really look forward to tasting this line up again.
Château du Galoupet, a Côtes de Provence Cru Classé producer, had two bottles of rosé. Both were lovely, but I was very partial to the Château du Galoupet Cru Classé, a blend of Grenache (40%), Cinsault (45%), Mourvèdre (5%), and Syrah (5%). Laurence Gaillard, who was pouring the wine, described it as a "gastronomic rosé" with hints of "lemon, strawberry, lychee, and pink grapefruit" on the palate. "It just garnered a silver medal from Paris last week," she added.
Famille Quiot-Domaine Houchart brought two rosés (and a white and a red). The Quiot family has been making wine since 1748. They have properties in the Rhone Valley as well as in Provence. At Provence in the City 2014, I tasted Domaine Houchart from Côtes de Provence Sainte Victoire (Grenache, Syrah, Cinsault, and Mourvèdre) and Domaine Houchart from Côtes de Provence (Grenache, Syrah, Cinsault, and Cabernet Sauvignon), both of which were exceptionally pleasing. With such significant acidity, they would be particularly good with food. Both wines received awards at the international competition, Les Vinalies Internationales 2014—a gold for the Côtes de Provence Sainte Victoire and a silver for the Côtes de Provence.
Estandon Vignerons, a winery with vineyards in Côtes de Provence and Coteaux Varois en Provence had only one of the three bottles they had intended to pour, but it was a very nice dry rosé. It had a creamy mouth feel, as if it had been aged in oak but it had not been. Jérôme Degonde, the Export Director, said that Estandon Vignerons, back in 1947, was the first winery to bottle their rosés on the premises (as opposed to shipping in bulk).
My last stop was Château d'Esclans where Patti Allen Lornell, the New England Sales Manager for Château d'Esclans, was pouring the 2013 Whispering Angel and the 2013 Château d'Esclans as well as the 2012 Les Clans and Garrus. TMT readers know I am unabashedly smitten with these rosés and have written about them in several earlier posts (so I won't go on and on here except to say they are exceptional).
Is rosé just a trend? No one at this tasting seemed to think so. All indicators suggest that its popularity is increasing around the world. In France, it now outsells white wine. In the U.S., as reported by CIVP, "retail sales of premium imported rosé wines grew by 39% on volume in 2013—the ninth straight year of dynamic growth. At the same time, exports of rosé wines from Provence to the U.S. jumped 40%."
"The rosé market is exploding in Boston, especially with young people" said Craighead, who in addition to representing Henri Bonnaud wines, is a sommelier. "Young people used to think that rosé was their parents' white zinfandel; now the brand 'Provence' has established itself [and] rosé is here to stay."
Hendrickson also feels that rosé is here to stay if "the category can keep pace with consumer interest." He likened it to champagne, "the trend that never ended."
Hendrickson said that he has seen his customers become more adventurous and more educated in recent years. "But," he hastened to add that "there is a potential for greater market presence if the diversity of rosé were better understood [by the public]." He made the very interesting point that, if rosé is on a wine list, there may just be one and rarely is there more than five, a situation he feels stems from the public's basic lack of understanding of the "incredible diversity within the category." In another words, many people think all rosés are the same!
I hear this sentiment echoed by others. The tide is certainly changing, especially in certain parts of our country (such as New York City, The Hamptons, and Miami) and, as more and more people are introduced to rosé by events like "Provence in the City," and by sommeliers, wine merchants (although not all folks who sell wine are created equally), and representatives of the châteaux themselves.
A fabulous way to learn more about the diversity and depth of Provence rosé is to add a few visits to your itinerary when visiting Provence. Nearly all of the wineries have tasting rooms (some require appointments) and quite a few have restaurants and over-night accommodations. Wine tasting (and market visits) are always at the top of my list of things to enjoy in Provence. A great place to start planning your wine tastings in Provence is the Vins de Provence website. There, you can learn more about Provence rosé in general as well as the wineries, including which ones have tasting rooms, restaurants, and lodging.
In the meantime, go buy a bottle of Provence rosé. If you can't find one at your local wine merchant, suggest they get some!
As Eric Asimov wrote in a 2010 New York Times piece about a rosé tasting. "You really don't need to see the seaside shimmering in the heat to enjoy a bottle, or smell the lavender, garlic, anise and saffron. It's all there in the glass, along with the blues, pinks, and yellows of a pastel sky, and the sounds of the motor scooters chugging over the cobblestones. Those are my images, at least. Good rosés call forth from each of us their own."
Notes:
*This marketing study was conducting by EOC International in 2008