ROUSSILLON: BRING YOUR CAMERA, PAINTBRUSHES, AND BASKET FOR THE MARKET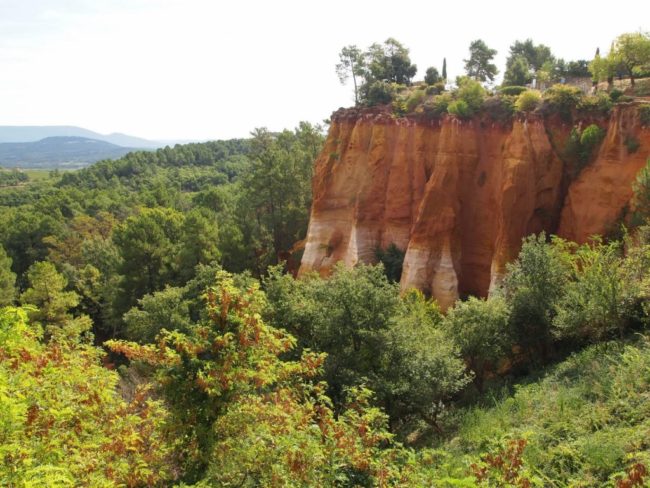 Roussillon is designated as one of "Les Plus Beaux Villages de France," and with good reason. Its brilliant array of colors–reds, oranges, greens, and blues of seemingly every shade–is enough to beckon even the most weary traveler.
As one approaches this village, along D227 from the east (my favorite drive in), the verdant green landscape meets the bright orange ochre cliffs and offers contrasts striking in their beauty. The typically cloudless blue skies of this part of Provence offer the perfect backdrop and, if you look back to see the Luberon hills on the distant horizon, you will be compelled to pull to the side of the road to fully appreciate the scene.
Before even setting foot in this charming village, you'll understand why cameras and paintbrushes are obligatory. You won't be able to put your camera away!
Even if you have never envisioned yourself as a painter, Roussillon may inspire you so much that you find yourself buying ochre pigments from the Conservatoire des Ocres et de la Couleur (the Ochre and Color Conservatory) on the outskirts of the other side of the village as you depart on the D104. (I, a person suffering from no illusions that I can paint, bought a box of ochre pigments to give it a try anyway!)
Roussillon (population about 1000) is located in the Parc Naturel Régional du Luberon, about 27 kilometers (17 miles) north of our beloved stomping grounds in
Lourmarin
. It is most famous for its replete deposits of ochre pigments (more on this in a minute) but it was also the setting (renamed Peyraud) for Laurence Wylie's 1957 cultural study of French country life, culminating in a book entitled
Village in the Vaucluse.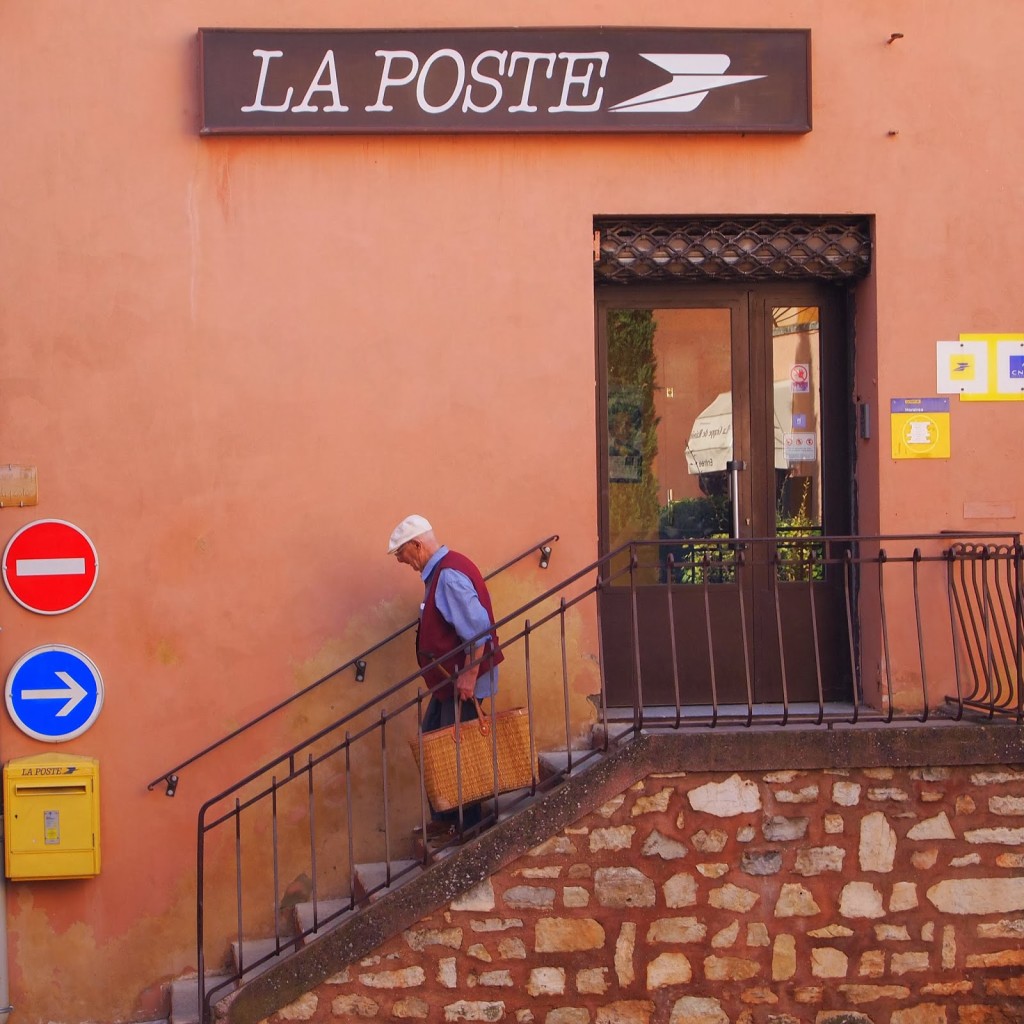 The village is absolutely charming. As one of the prettiest villages in France, I suppose it would have to be. But the draw of Roussillon, for me, is that this village has a natural charm that eludes other pretty villages.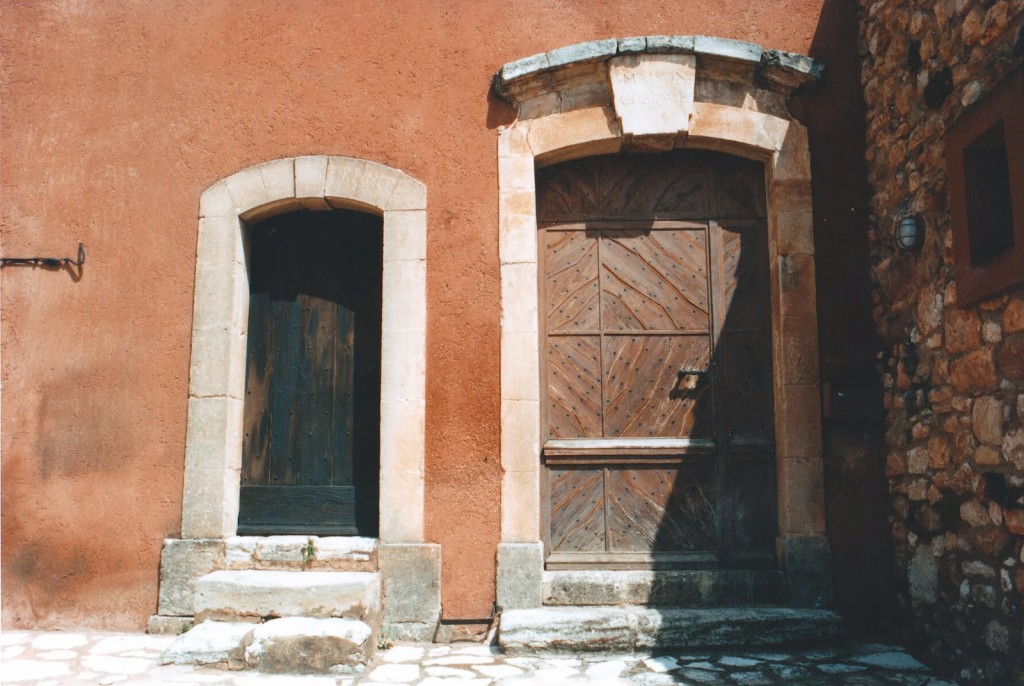 Yes, over the years–with more art galleries and swanky shops–it has recognized the value of attracting tourists' dollars. (Quite a few of my dollars have stayed in Roussillon where I found some of my favorite tablecloths!) Both tourism and home ownership by non-residents have increased significantly in recent years.
However, the narrow lanes lined with buildings the color of the various shades of orange and topped with red tiles maintain their allure. The 19th-century clock with its bell tower and campanile is beautiful. You will want to stop at the vistas to admire stunning views of the land's palette of colors, as far as the eye can see. Tiny squares dot the village, offering places to congregate and admire the details of this village, of which there are many.
The village is small and easily can be explored in a day. With an ever-growing number of restaurants–many with terraces offering lovely views–plan to have lunch,too.
If you are up for a hike, go to the
Sentier des Ocres
(the Ochre Trail) where you have the choice of a 30-minute or a 60-minute hike along trails through the main ochre areas. It is very well marked, so when you are finished you've not only expended the calories of lunch, you have learned a lot about the geology of ochre and history of ochre mining. Once the world's largest supplier of ochre pigments,the quarries were closed in 1930, after about 150 years of mining.
If you happen to be in Roussillon on a Thursday morning, you can visit their small but winsome market. Located on the main square in front of the pharmacy, you'll find a few short rows of tables each featuring their speciality: jams, macarons, calissons, table linens, ceramics, sausages, cheese, and and a little fresh produce. (Their market is not the reason to visit–go to Aix-en-Provence if you are looking for a special market on Thursdays–but it is a very nice bonus if you happen to find yourself in Roussillon on market day!) I always keep a basket in the car when traveling in Provence!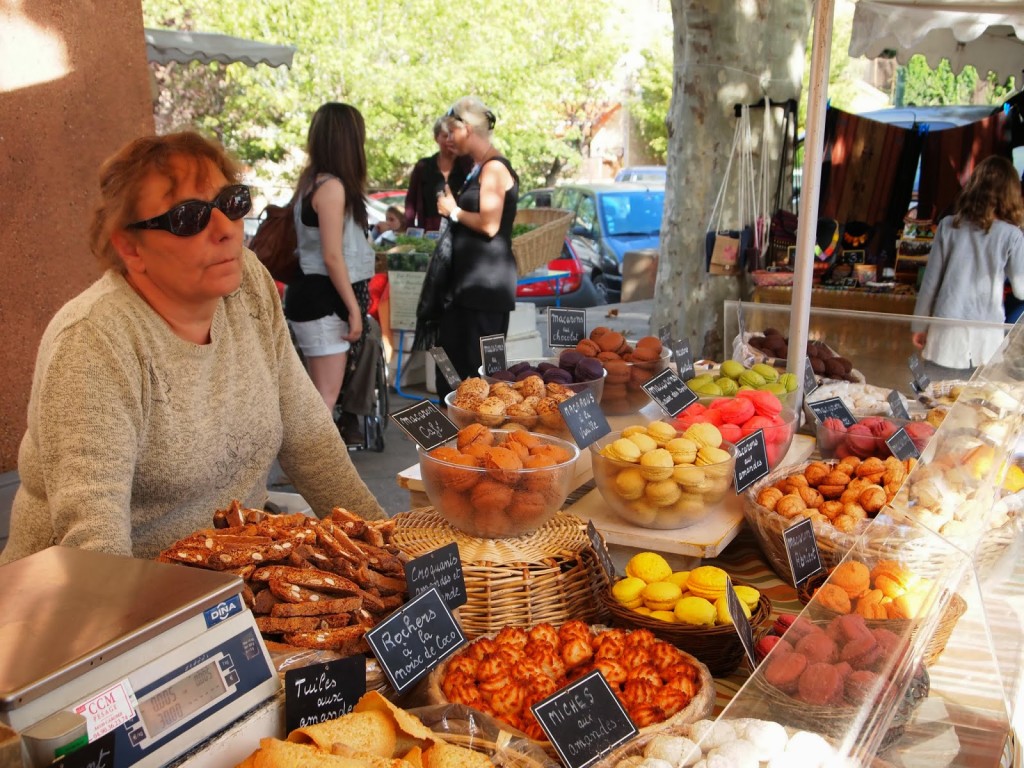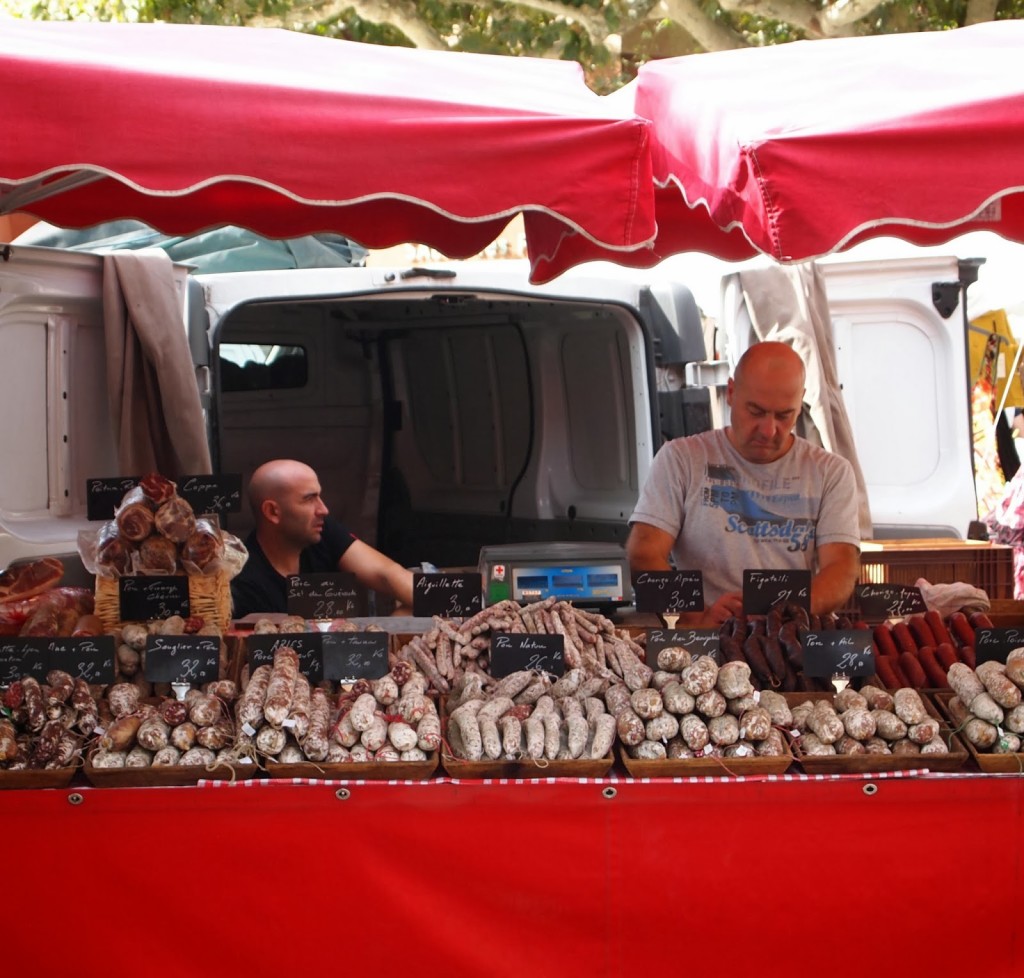 If your visit to the village ends in time to visit the
Ochre and Color Conservatory
on the way out on D104, definitely make a stop. It is located in a former ochre plant, the Mathieu factory, which is interesting itself. But, you can also learn exactly how the pigments are extracted and where they have been used. Tiles, ceramics, and pottery, of course, but did you know they were used to create the paintings in the Lascaux caves as well as some Louis Vuitton bags? (Check for the times for English tours.)
My ochre pigments did not turn me into a Cézanne but they sure provided some fun trying and are one of several souvenirs of Roussillon I've collected on multiple trips to this beau village.