SACHA LICHINE TALKS ABOUT MAKING ROSÉ IN PROVENCE AND WE TASTE HIS WINES…including the just released 2013 Whispering Angel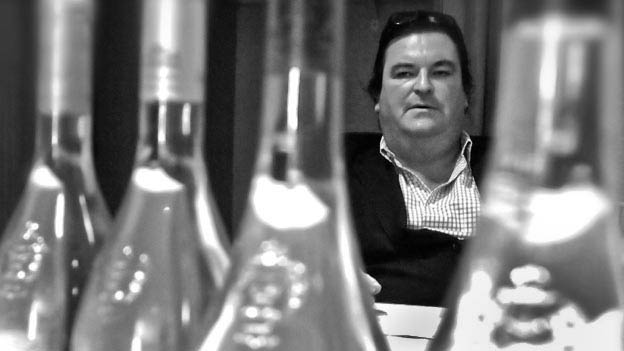 Sacha Lichine, the man behind the wine at
Château d'Esclans
, was in his old stomping grounds this week. In Boston for the city's Wine Expo, I caught up with him at the Seaport Hotel where he was hosting a seminar on—guess what—the four tiers of luscious rosé produced in his now well-known Côtes de Provence château. In ascending order of quality, our tasting at the seminar would include Whispering Angel (2013), Château d'Esclans (2012), Les Clans (2010 and 2011), and Garrus (2010 and 2011).
In the 1980s, Lichine worked as a sommelier just a few blocks away at the renowned Anthony's Pier 4. Back then, Anthony's boasted the country's second largest wine account and regularly welcomed the rich and famous—Frank Sinatra, Elizabeth Taylor, Richard Burton, Jack Nicholson and a long list of other luminaries whose photos graced the walls. At the same time, the rest of the Seaport comprised mostly rotting warehouses and parking lots. Not so today.
With tongue tucked in my cheek, I asked Lichine if he thought things had changed. With a burst of laughter he shook his head affirmatively and added, "Well, I think I've changed [too]!" Indeed he has.
When he was pouring wine at Anthony's, he was a student at Boston University and still learning about wine. As the son of the wine legend Alexis Lichine—credited with writing the veritable bible of French wine as well as introducing French wine to the United States—he was born with wine in his veins, but mostly Bordelaise wine. At Anthony's—with four full-time sommeliers at the time and a wine list that consistently received Wine Spectator's Grand Award—he was able to expand his wine horizons considerably.
"I learned so much about California wines [at Anthony's]," Lichine said, adding "It was a fantastic time." (I forgot to ask him if ever served any rosé from Provence in those days.)
My father famously said, "If you want to learn about wine, buy a corkscrew and use it." "It's true," Lichine agreed.
Lichine certainly mastered the art of using a corkscrew. After all, he went on to import, distribute, and broker wine; become the proprietor of Château Prieuré Lichine in the Margaux appellation of the Bordeaux region; and run a negociant business called "Borvin" which is still in operation "focusing on selecting the best wines from Bordeaux and Burgundy." His career centered on some of the finest and most complex red and white wines France produces. I don't think many people ever envisioned him using his corkscrew so often for rosé wine from Provence, let alone trading in the château he inherited from his father in Bordeaux for one in Provence. Dionysus must have turned over in her grave.
"When I left Bordeaux for Provence, people thought I was totally out of my mind," Lichine said. "I thought it was an exciting, new frontier."
Lichine explained that he had done as much as he could with Château Prieuré Lichine and that he was really just managing the winery when he set his sights on something different. It seems Lichine was looking for a new challenge and, perhaps, something he could call his own, separate from the domain of his father, with whom he had had a rocky relationship. Still he retained a deep respect for his father and ultimately followed another piece of his advice: set a trend, don't follow one.
While his roots were red, Lichine understood the magic of rosé from Provence. He told me that, as a child, he fondly recalls summers along the Côte d'Azur, usually in Monte Carlo, where his father (and everyone else) was drinking the pale pink rosés for which the region is renowned. Also, not often mentioned, Lichine had already been making French rosés as part of a line of "New World Wines" he called "Sacha Lichine International—Vins Sans Frontieres." Though this venture was not in Provence—the grapes, from anywhere in France, are vinified in neighboring Languedoc—it surely cast light on the business of rosé in the region to the east.
Lichine said he "sensed and felt that something was going to happen with rosé."
Whatever factor or combination of factors drove his decision to move south—business acumen, personal growth, the sunny weather, or something entirely romantic—he knew that he "wanted to make a difference, to have an opportunity to take a spot."
Lichine sold his Bordeaux property in 1999 and proceeded to look at 32 properties in the next eight years. Finally, in 2006, he purchased Château d'Esclans, an estate he had seen (and loved) in 1994. It was a rather run-down property but it boasted vines as old as 80 years, running as deep as five meters. With the help of Patrick Léon—of Château Mouton Rothschild, Opus One, and Almaviva fame, to mention just a few of his successes—he set out to make a "grand rosé."
"Let's make something we'd like to drink in the event we can't sell [it]," they said. That didn't turn out to be a problem although there is a lot of tasting, lasting as long as three continuous days when they begin to blend barrels and bottle the wines.
"I've never drunk as much of the stuff in my life," Lichine laughs.
"It takes a lot more effort to make good rosé," Lichine said. Because maceration is not used, it is difficult to get the character, longevity and flavor while keeping its distinctive pale color, Lichine explained (obviously rising to the challenge with enthusiasm).
"Quality is an accumulation of detail," Lichine said. He broke out the main factors in making wine: microclimate; soil; matching the grape variety to the aforementioned; and the "man behind the bottle."
The man behind the bottle is hell-bent on ensuring those details are attended to and has invested a lot of money in the technology to do so. Sophisticated temperature controls from the time the grapes are picked (late and by hand) to individual monitors for each oak barrel during fermentation (for the top three tiers) coupled with minimal exposure to oxygen are particularly important factors. Their "optical eye sorting system" enables the vintners to specify exactly what they are looking for in the grapes that will eventually go into the barrels. At the very end, it is the palates of Lichine and Léon that will determine what goes in the bottle.
Our tasting of the just released 2013 Whispering Angel foretells another banner year for Château d'Esclans' entry level rosé. Already referred to as "[t]oday's market leader for 'premium' rosé in the US," this vintage will surely secure that position (although Brangelina 2013 may vie for this title). Last August, Paul Chevalier, National Fine Wine Director with Shaw-Ross International Importers, told me that "[t]he winery in France [had] no more Whispering Angel for the rest of 2013." This year, Lichine reported that around 1.3 million bottles were filled with Whispering Angel. (We'll see how long that lasts in the Hamptons!)

The 2013 Whispering Angel is the quintessentially Provence—very pale pink—rose color we've all grown to expect from that region and the elegant, crisp, dry, immensely refreshing, minerally rosé we have grown to expect from Château d'Esclans' entry-level wine. This vintage had grapefruit on the nose, to me, and a floral aroma for my husband. The mouthfeel was silky, perhaps not as much as the 2012 (but another tasting may prove that initial feeling inaccurate). My husband tasted strawberries on the unexpectedly long finish. Very pleasing and quaffable—I hope to have a few bottles in the cellar all summer long.
The other wines—Château d'Esclans, Les Clans, and Garrus—elicited broad smiles and "oohs" and ahhhs" throughout the room of about 60 people. I have already reviewed them in earlier posts in
The Modern Trobadors
, so, in the interest of brevity, suffice to say that they knocked our socks off again.
Lichine said that convincing people that Provence rosé is a serious wine has been challenging (thanks to the likes of White Zinfandel, Lancers, and Mateus). Like his father, who is said to have ridden a Greyhound bus from New York to Chicago, proclaiming the eminence of his French wine, the younger Lichine has worn through a lot of shoe leather introducing people to his rosés.
"It used to be that I would talk to a retailer about Garrus, the top-tier rosé that sells for around $100 and is arguably the most expensive rosé in the world, and when they heard the price, they would say 'Are you kidding?'" "Then, once they tasted it," Lichine went on, "they would stop and think and say something like, 'Look, I can't sell this but I'll take two cases for myself.'"
These days, rosé from Provence is not the hard sell it once was. According to Vins de Provence, the trade group tasked with promoting the wines of Provence, a January 2013 Nielsen report revealed that, "US retail sales of imported rosé wine priced above $12 a bottle grew by 23% on dollar and 28% on volume in 2012. This represents a growth rate more than 15 times that of total retail table wine sales for the same period, meaning that rosé remains one of the fastest-growing wine categories in the nation."
A lot of credit must go to Lichine who bet against the odds and set out to make the best rosé in the world in Provence. Many wine pundits, notably James Suckling, feel he's accomplished that goal. Lichine acknowledges that he has helped to set a new standard in rosé making and that he has "brought the category forward." The venerable Jancis Robinson concurs and wrote in The Financial Times "Ever since tasting their 2006s, I have admired the groundbreaking wines of Sacha Lichine's Château d'Esclans in the hills of Provence, which seem to have lifted the game for all." (May 12, 2012)
Lichine seems gratified to have played an instrumental role in raising the bar of high-quality rosé in Provence and personally pleased with the success of his four wines. "I'm proud of them, like they are my own children."
"It was a lot of work and it didn't happen overnight," Lichine said, revealing to the audience that "having purchased the property in April 2006, last year was the first year we broke even."
"No risk, no fun," he shrugged.
"It's not a fad," Lichine said. "It will become a real phenomenon."
Lichine intends to continue to expand the US market further, beyond the primary hubs of the Hamptons, New York City, Nantucket, Martha's Vineyard, and Miami and to continue to grow the male market. (As much as 80% of the current market is women.) They will also place greater focus on the top three cuvées and will use Massachusetts as a "test state" for this marketing. The seminar attendees seemed pleased about that announcement.
In the audience was Peter Holt, who was the Wine Director and a sommelier at Anthony's during the time Lichine was employed there. "He's terrific, he's passionate" he said of Lichine. "What you see is what you get."
I suspect that it wasn't always easy to be himself and to carve out his own niche in the world of wine. Imagine your father being known as "The Pope of Wine."
Clearly, Lichine has made a difference, as he wanted to do when he left Bordeaux and created "the opportunity to take a spot." (And, today, no one questions his prescient decision to set up shop in Provence.)
I asked Lichine what he wanted his legacy to be, thinking it was an easy question for a man as accomplished as he. His long pregnant pause surprised me.
"I haven't figured that out….Ask me in a couple of years."