SERENDIPITOUS CONVERSATIONS WHILE TRAVELING: YOU NEVER KNOW WHERE THEY MAY LEAD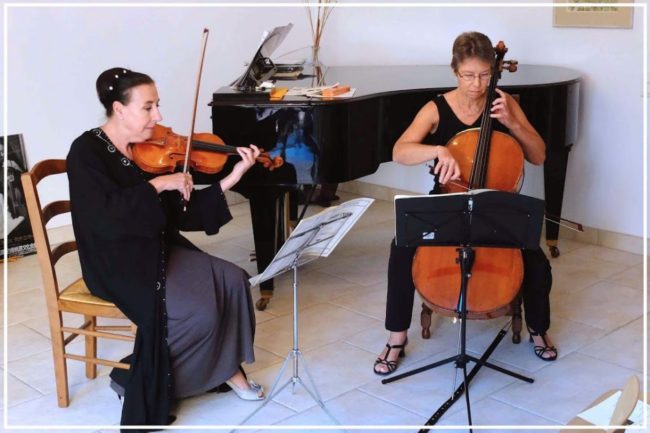 It's not a short walk from Charles de Gaulle's Terminal 2E, where Air France parks its planes from Boston, to Terminal 2F where one connects with another Air France flight departing to Marseille. The jumble of people waiting to board AF flight 7664 from Paris to Marseille on June 12th is  more civilized than it used to be—at least, there is some semblance of a line compared to the free-for-all that characterized the boarding process years ago (before CDG was renovated and boarding areas were ever so slightly enlarged).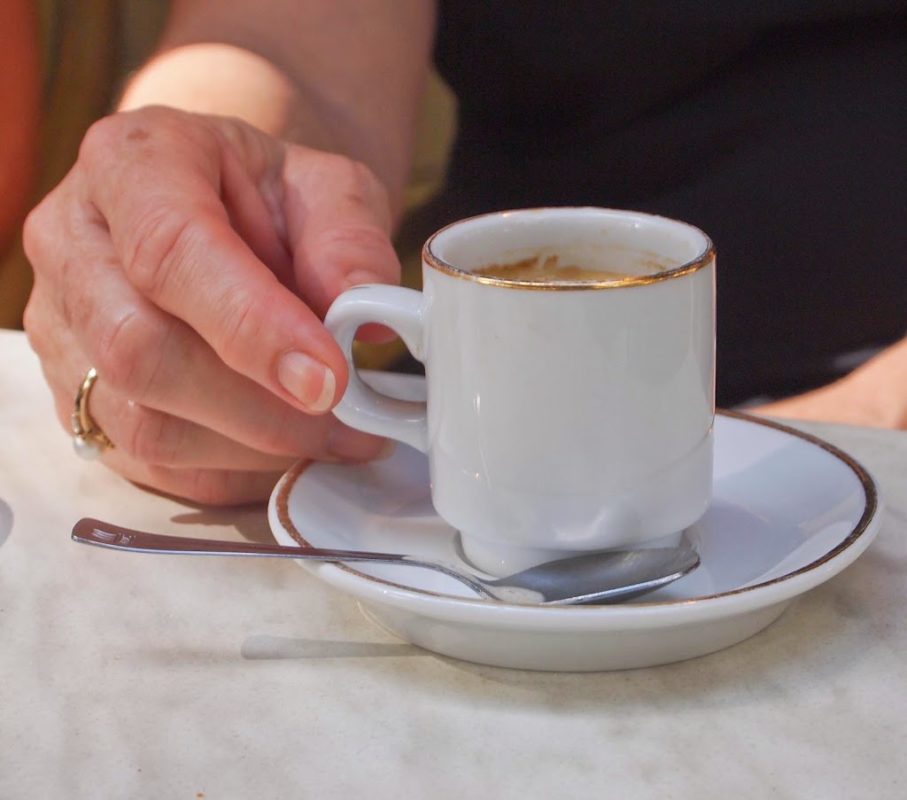 Photo by WT Manfull
Having just arriving from Boston, where I would still have been sound asleep on a typical night, I was tired. I had stopped for an espresso at Illy Cafe, hoping it would jumpstart my inert neurons, before I headed to the gate.
Traversing the upper portion of the large crowd at our gate was a gap with just enough space for a single-file line of people that wound from a neighboring gate, through our crowd, and onward (how far, I didn't note).  I was looking for my boarding pass and hardly noticed the couple that arrived after me. I was certain, though, that they were not aware that they had inadvertently entered the middle of the qausi-line waiting to board the Marseille flight. Who would have recognized this assemblage as a line?
Now, just so you know, no one would ever describe me as a loquacious traveler. My brother John or dear friend Patti, two people with whom I have often traveled, embody loquaciousness. They would already have made friends with everyone in line long before the couple entered the scene. I am not good at small talk, a skill both John and Patti have mastered. I sometimes find myself studying their approach, looking for lines to adopt for future conversations. But, I usually flub them.
The man was standing next to me and the woman, who I presumed was his wife, was in front of me, on the other side of the line that waited to board the flight at the neighboring gate. The man and I started talking. I might have initiated the
conversation in French but we quickly moved to English as my limited vocabulary and focus on first person and present tense don't set the stage for long exchanges.
"It's a little like the Wild West," I said at one point, making reference to the chaos in which we stood. "Ah, you should have seen it years ago," he replied. I told him I had seen it years ago and, after establishing our common experience with the throngs of people pushing toward the same gate in trips past, we were off comparing notes about our respective travels in Provence. It turned out we were both heading to villages near Lourmarin.
Provence and especially Lourmarin are subjects that, for me, make for an easy conversation. This one flowed seamlessly from one point to the next and before I knew it, I had agreed to attend a concert in Lourmarin that would benefit an organization with which he worked called Calcutta Rescue.
So, the following Tuesday evening, I found myself walking along D27, wearing my heels reserved for special occasions in Provence and balancing a platter of fresh figs with a round of chêvre and a ramekin of miel de forêt—guests were asked to bring something to share—on my way to the private home, just outside Lourmarin, where the concert would take place.
Calcutta Rescue, I learned in the days between meeting Glen Kendall and his wife Ems Magnus and the concert, is a nongovernmental organization (NGO) centered in Kolkata (referred to as Calcutta, in English) and parts of rural West Bengal in India. For over thirty years, it has served the poverty-stricken people of this area by providing medical, educational, and social services as well as vocational training on how to make and sell handicrafts. It was founded by Jack Preger, a British physician who began working in a street clinic in Kolkata in 1979. Today, there are support centers in at least ten countries, including the one in Provence, started by Kendall; all raise funds for these programs in India and for the awareness of the need for volunteers in this area.
It was a full house for "Une Soirée Cariatative Donnée au Profit de Calcutta Rescue, Lourmarin" and the lovely music filled the air as I took my seat. Featuring soprano Sandrine Devester, pianist Caroline Fauchet, violinist Adèle Auriol, and cellist Jenny How, the works of Beethoven, Puccini, and Rachmaninov among others were performed with exceptional talent.
As I listened, I noticed someone in the audience I had just met earlier in the day. I had stopped by Château Saint Estève de Néri in Ansouis to taste a little wine. In the cellar of the maison village where I was staying, there were cases of wine from this château . Germaine Juneau, with whom I was staying, and I were curious to try the wine.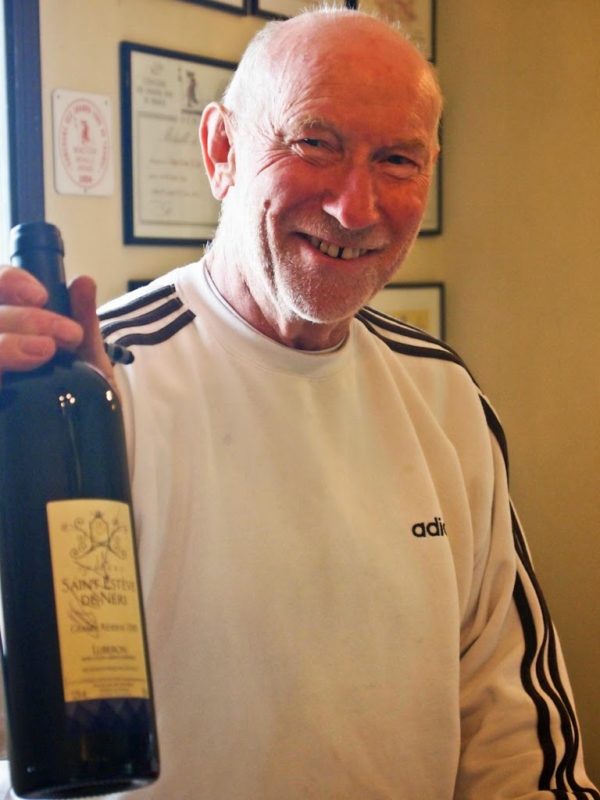 Allan Wilson, Proprietor of Château Saint Estève de Néri
Photo by Susan Manfull
At the winery, I had the good fortune to cross paths with Allan Wilson who, with his wife Alexandra Wilson, own and operate Château Saint Estève de Néri. A little over ten years ago, these British ex-pats decided they wanted to live the good life in France and to expose their children to a different culture, so they bought a vineyard and have been making wine since then. Well, maybe it wasn't quite that simple, but I will elaborate in an upcoming post devoted to this estate.
Back to the concert, there—two rows in front of me—sat Allan Wilson. I caught up with him afterwards and had the pleasure of meeting his wife. In another stroke of serendipity, it turned out that she manages the property we were renting in Ansouis! So, I got to learn more about the history of the Ansouis home and its owner, Yvone Lenard, who wrote a book, The Magic of Provence, about her experiences in Ansouis, punctuated with lots of history and local lore. (I have not read it but everyone I was staying with in Ansouis raved about it.)
That evening, I met many interesting people, thoroughly enjoyed the music, food, and wine, and learned more about Calcutta Rescue.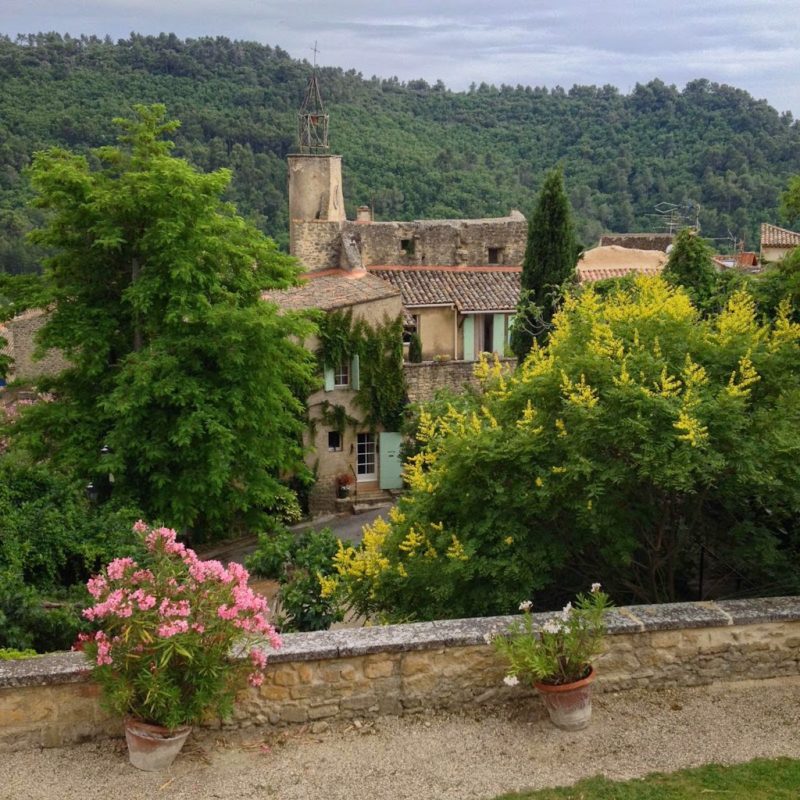 Home we rented in Ansouis  Photo by Susan Manfull
I met Kendall at Café Gaby in Lourmarin a few days later and learned more about his involvement with Calcutta Rescue. It all started with a tiny advertisement in The Guardian. Calcutta Rescue was looking for an administrator in Kolkata and Kendall was looking for a place where he could make a contribution. In 2008, that small ad led him to spend a year in Kolkata, working to accomplish the mission of Calcutta Rescue.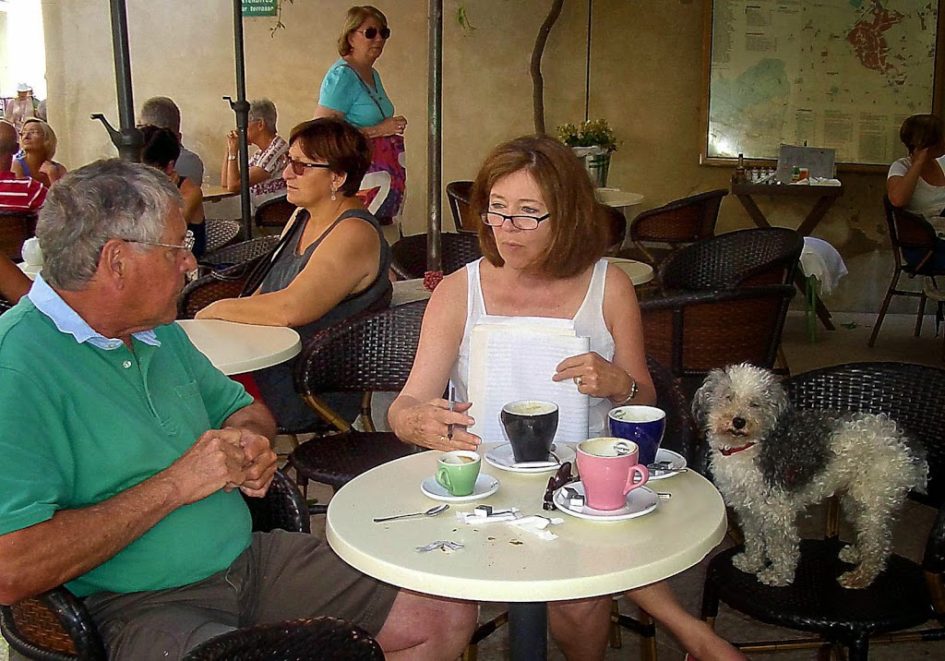 Glen Kendall, Susan Manfull, and d'Angeau  Photo by Pamela O'Neill
"It was amazingly chaotic, the most energizing place I have ever been," Kendall said. "The generosity and giving nature of the poor people is remarkable," he added.
Kendall spoke passionately about the work carried out by Calcutta Rescue and the role he has been able to play. There are many ways that people can help, he said. "I feel very good about what I am doing [with Calcutta Rescue]," Kendall said, as was evident in his enthusiasm as he spoke.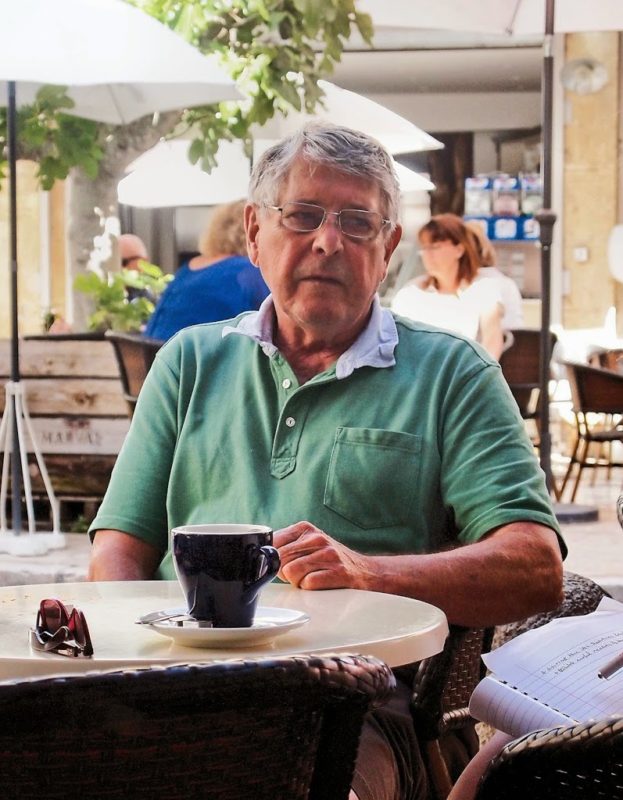 Glen Kendall   Photo by Pamela O'Neill
If I had not struck up a conversation with the stranger standing next to me in the middle of a crowd of people waiting to board AF flight 7664 from Paris to Marseille, I would have missed all this. I am so glad I did. Actually, this story is even more complicated by the serendipity that brought Germaine and me together. Again, it began with a conversation in Provence, about ten years earlier, which, if it had not happened, I would not have been staying in Ansouis and would probably not have traveled to Provence on June 12th. Ah, but, I will save that story for another post!
Notes:
For more information about Calcutta Rescue, please visit their website:
http://www.calcuttarescue.org/
For more information about Calcutta Rescue Provence, please write to info.calcuttarescueprovence@gmail.com or call +33 (0)6 15 43 44 46