THE LIKES OF LEONARDO DA VINCI, RAPHAËL, AND MICHELANGELO ARE HEADING TO THE CARRIÈRES DE LUMIÈRES
The quarries in Les Baux-de-Provence were once renowned for their abundant supply of limestone. Over 2000 years ago, the Romans made use of this limestone for rebuilding the Celto-Liguirian town of Glanum and for building the Municipal Arch and Mausoleum that still stand across from Glanum. The Roman city of Arles was built with limestone from these quarries.  Over a thousand years later, in the 11th century, the infamous Lords of Les Baux built their formidable citadel from the limestone in these neighboring quarries and, three hundred years after that, in the 14th century, the ramparts of Aigues-Mortes rose up from the ground with limestone from Les Baux (and Beaucaire). These quarries, which came to known as "Les Carrières du Val d'Enfer" or "the Quarries in the Valley of Hell," were a significant source of limestone until 1935, when they were closed.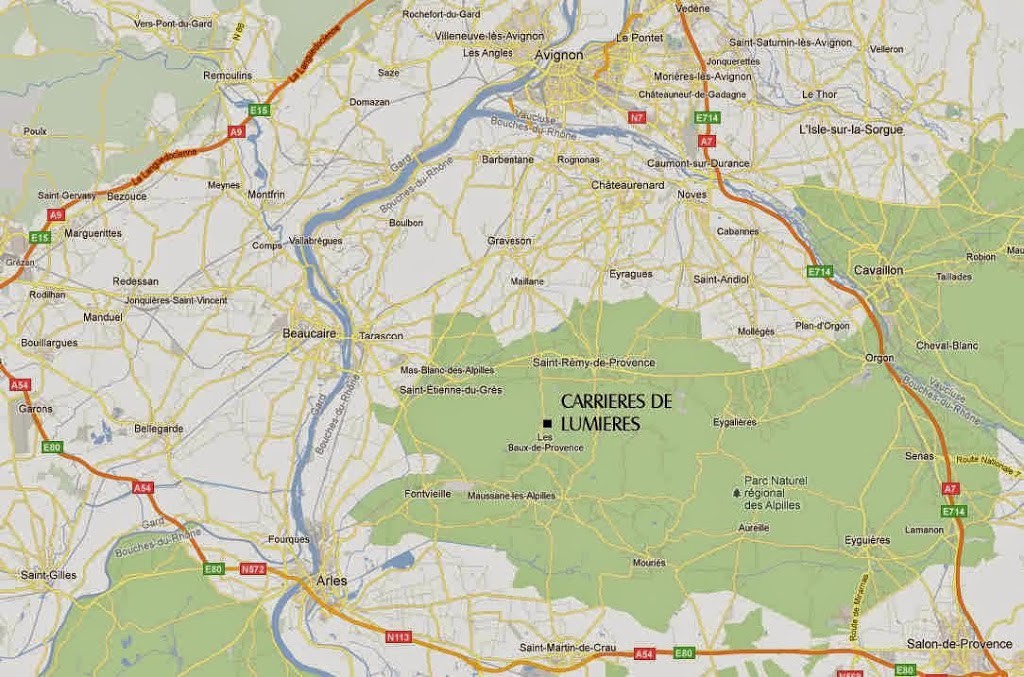 Today, these quarries—now called the "Carrières de Lumières"—are famous for the remarkably popular multimedia art shows that take place there. These shows are a feast for the senses. Images of the artists' work are projected, by as many as 100 projectors, onto the walls—6000 square meters (65,000 square feet) of surface with 14-meter (45-foot) high walls while music is amplified by a specially designed 3D audio system. The show usually lasts about 35 minutes and visitors may enter at any time (or wait until the beginning of the show).
Projecting huge art images on the high walls of a cavernous quarry famous for the limestone it once provided to nearby villages and cities may seem peculiar at first blush, but it works! And it's fun!
Although the quarries had been used for purposes other than extracting limestone as early as 1959—as a backdrop in Jean Cocteau's film, "Le Testament d'Orphée"—and beginning in 1977—as a venue for music extravaganzas—such shows were not regularly scheduled until 2006.
Provence's native son Cezanne was the subject of
the first multimedia art show (in 2006). The work of other artists followed: van Gogh (2008); Picasso (2009); van Gogh and Gauguin (2012); and Monet, Renoir, and Chagall (2013).
The current show, "Klimt and Vienna, a Century of Gold and Colors,"
focuses on Gustav Klimt (1862 – 1918) who was an Austrian Symbolist painter and a founding member and leader in the Viennese Secession Movement. This show is described as taking the visitor "on a journey through 100 years of Viennese painting to the heart of the bright, colorful works of Gustav Klimt, his contemporaries and the artists he inspired."
Like its predecessors, this show has been wildly popular. I did not get to see it, but everyone I know who did, raved about it. You have until January 4, 2015 to see it!
On March 6, 2015 the next show opens: "Léonard de Vinci, Raphaël, Michel Ange: Les Géants de La Renaissance." It runs through January 23, 2016.
This multimedia show promises to focus on the richest periods of the Italian Renaissance period. Beginning in Milan, it takes visitors to Florence, Vienna, and Rome where these artists created some of the greatest works of the Renaissance, the images of which will be projected on the quarry walls.
There are no other details available at this time but I promise to keep you posted. If you are going to be in this part of Provence any time between March 6, 2015 and January 23, 2016, this is a stop to consider! It is appropriate for all ages and is particularly popular with children.
I am wondering what music may accompany these works of art, created from the end of the 15th century through the middle of the 16th century. Anyone want to register a guess?
---
Notes:
For more information on the current show, please
see the earlier TMT article
(3/29/2014) entitled, "New Show at Carrières de Lumières: Be Enveloped by the Music, Movement, Glitter, and Bright Colors of artist Gustav Klimt."
You may also want to read a
TMT article
(6/17/2012) entitled, "Carrières de Lumières: A Cool Place to Visit."
"Léonard de Vinci, Raphaël, Michel Ange: Les Géants de La Renaissance" runs from 6 March 2015 to 3 January 2016.
Carrières de Lumières is located 800 m from the Château des Baux-de-Provence, 15 km north-east of Arles and 30 km south of Avignon. Route de Maillane 13520 Les Baux de Provence
The Carrières are open every day.  Tickets are priced from 5€ to 10€, with children under 7 free. Free parking upon presentation of the reservation slip for the Carrières.
Dress for the cool temperature inside the quarries: wear shoes and socks and bring a jacket or sweater!